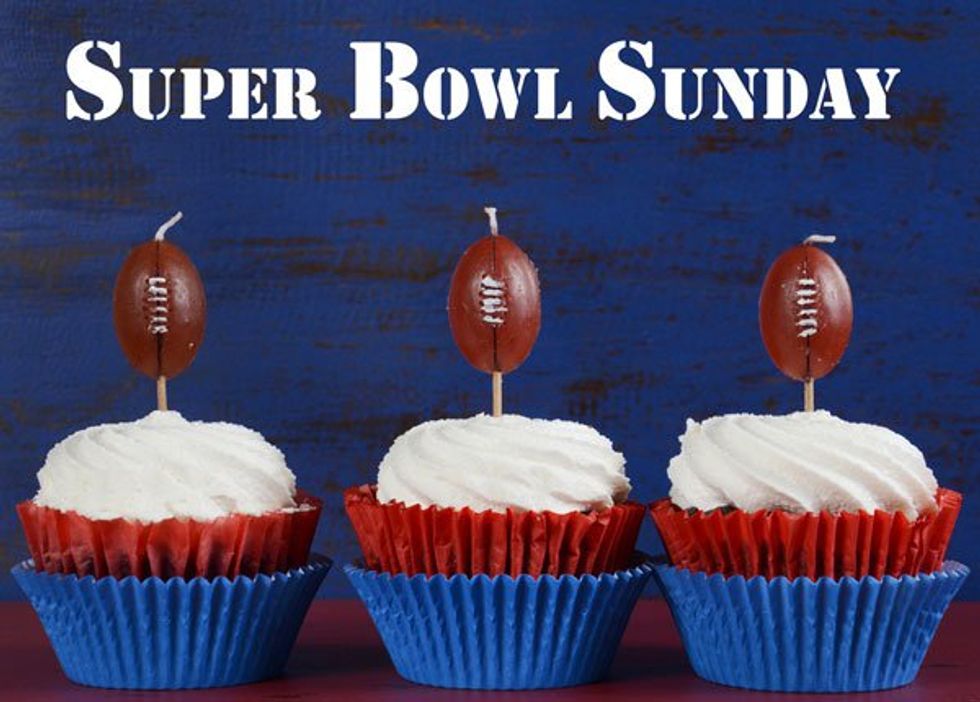 ---
Let's face it: Super Bowl Sunday is a tough day to be healthy. Even if you're not a football fan, you may find yourself at a party, trying to be sociable without eating your weight in junk food.
During the four-hour game, the average Super Bowl viewer will chow down on snacks containing 1,200 calories and 50 grams of fat. I'm a notorious nibbler, so my consumption could be even higher. That could push me—and many other women—way over the recommended calories for a day. The average sedentary middle-age woman only needs 1,600 calories a day to maintain weight. (If you're younger, it may be as many as 2,000, but that still won't go far at a Super Bowl party!)
So, what's the worst that will happen if you vastly exceed your calorie allotment for the day? Experts say that consuming lots of high-fat and high-sodium foods leads to temporary spikes in blood pressure and in the amount of lipids (think cholesterol) in your blood stream.
For people who are generally healthy, a single episode of overeating probably won't trigger a heart problem—just a minor shock when you look at the scales Monday morning. But, for people with health problems like obesity, diabetes or a heart condition, it could cause problems.
So, for all of us, here are some strategies to help us declare victory over Super Bowl calories:
Pregame Strategies
Warm-ups. Just as the players will warm up before the game, make sure you're in game shape, too. Get in a good workout before the Super Bowl—go to the gym, ride your bike, walk, run, even clean house vigorously. Some intense warm-ups in those hours before the game will burn off some calories and jump-start your metabolism. 
Pregame meals. Eat healthy, nutritional meals and snacks before the Super Bowl party. If you arrive famished, you'll not be able to show the self-control needed for a good performance at the buffet table.
Offensive Strategies

Have a game plan. Pregame strategies figure into this, but also be ready to go on offense when you arrive at the party. Bring a healthy snack that you know you'll enjoy eating (with minimal guilt) like some of these recipes featured at HealthyWomen:
Hydrate. Hydration is important for all athletes—and the rest of us. While those of us on the sidelines may be consuming more beer and wine than water and sports drinks, it's important to switch it up with big glasses of water before and between the alcoholic beverages. Water fills you up so you don't consume as many calories in food or alcohol (plus it will make it a lot safer for getting home after the game).
Pay attention to the count. No, not the quarterback's count, but the caloric count of your food and beverages. Rather than eating foods that come up nutritionally short like chips and fatty dips, look for veggies, fruits, whole grains and lean proteins. Cheesy dips may have more than 50 calories per tablespoon, including lots of saturated fat. Guacamole usually has fewer calories and is healthier. High-protein snacks like lean turkey, steamed shrimp and even chicken wings (minus the skin and heavy sauce) can also fill you up with healthy nutrients, rather than empty calories. And don't forget that beverages must be counted in your caloric lineup. No free plays at the beer tap. 
Defensive Strategies

The red zone. While being in the red zone is a good thing for the offensive team, it's where the defense needs to show its strength. For us on the sidelines, the red zone is the food table—and we want our defenses to keep us out of the red zone as much as possible. Sit far away from the food and limit your visits to the red zone—maybe once each quarter, or, if you have a really strong defense, once a half.
Blocking and tackling. All good linemen know how to block and tackle. Your strategy is to block out some of the fatty, high-calorie foods by tackling the healthier choices first. On your first trip up the field (or to the food table, as the case may be), pile on a plate full of veggies for starters. They'll help fill you up and block some of your cravings.
Extra Points

Focus on your game plan. Whether you're a football fan or just want to enjoy the party and watch the commercials, focus on what's important to you. If you came to socialize, make it a point to meet some new people. If you want to watch the game, stay focused on the action—and keep your hand out of the chip bowl. 
Stay warmed up. Players on the sidelines have to be ready to jump into action. You can stay warmed up, too. You may not want to do planks and pull-ups in the midst of the party, but you can burn more calories standing than sitting, and you can move around during lulls in the action. If you're not into Katy Perry, you could take a walk during halftime—or during the game itself, if halftime is your thing.
Monday Morning Quarterbacking

Forget about it. There's nothing to be gained from second-guessing what you could've done differently during the game. Just get back to your game plan—healthy eating and regular exercise—and put those Super Bowl regrets behind you.
Sights on next year. Think long-term. Like the many NFL teams that will spend the off-season rebuilding, this can be your year to ditch your overindulging and finally win the big game by leading a healthy life every day of the year.