You've heard it time and time again. Make your meals on the weekends and you'll save time and eat healthier during the week. Still, how many of you have actually done that? It's doable, we promise. When you map out your meals, you'll be more likely to stick with your weight-loss plan and make healthy choices.
---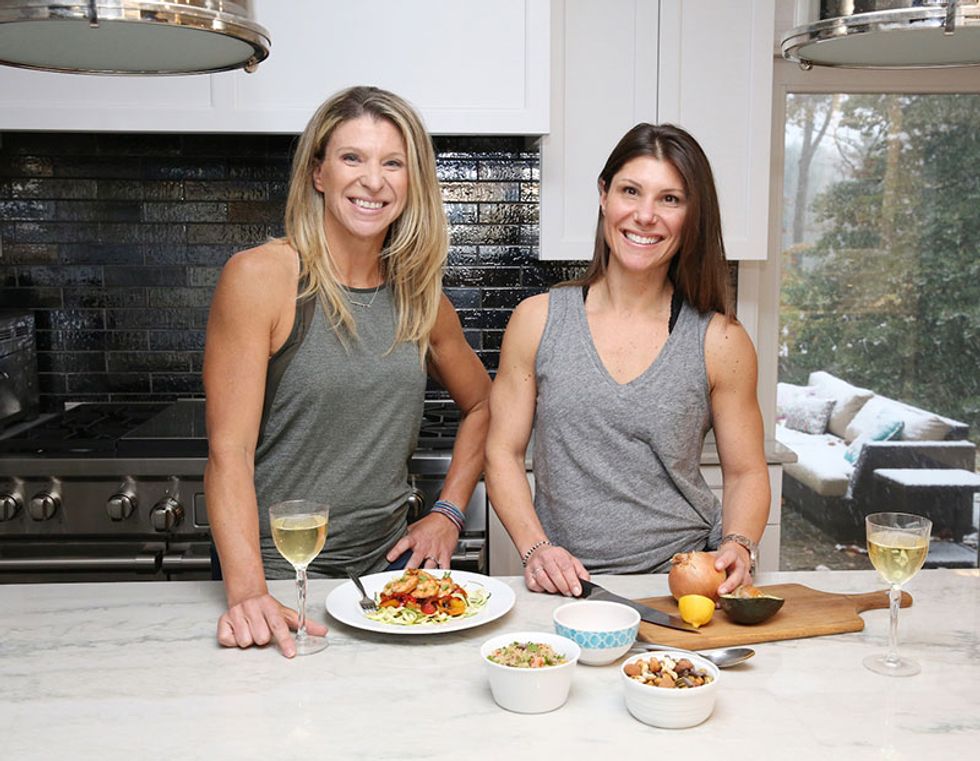 We spoke with Caren Boscaino and Lori Sawyer. They're founders of Clean Cut Fitness & Nutrition, a program that will help you balance work, life, nutrition and fitness. They're also authors of Shrink Your Body, Grow Your Mind. They gave us tips and tricks to help you prep some belly-busting meals and snacks over the weekend to ensure that your diet doesn't veer off track during the week.
Begin slowly.
You don't have to go in guns blazing on week one, whipping up all your meals in one sitting. You'll only get discouraged at how long it takes and how messy it may be. Rather, start slowly, making a few days' worth of meals at a time. "We say think three days at a time," says. "Then regroup and look at your week and fill it in until the weekend." Boscaino says that for example, instead of making enough food for four people, double it. "You're already in the kitchen," she says. "It isn't difficult to make more servings." You can use those leftovers for lunch, heat them up the next night, repackage them into another meal or freeze it, she says.
Prep at the right time.
You want to meal prep when you're not really hungry and thinking about food. "If you know that you're hungry at 3 p.m., don't make your meals then," says Sawyer. "You're setting yourself up to fail." A ravenous meal planner may not make the best decisions.
Make friends with your appliances.
Don't have time to cook up a storm? Make meals that freeze and easily reheat. Or make ones that you can throw in the slow cooker, air fryer or instant pot, says Sawyer. Think turkey meatballs or burgers, vegetable casseroles, soups, stews or chilis. That way, when things get hectic, you can grab a homemade meal instead of dialing for takeout or eating a bowl of cereal.

Chop and slice, if you want.
Cut and slice vegetables and fruit. Or if you're short on time, take advantage of your market's ready-to-go chopped, sliced, spiralized or riced fruits and veggies. "You have no excuses anymore," says Boscaino. Easy fruits include berries, grapes and cherries, says Boscaino. That way you don't have to commit to a whole apple, she says. And simple veggies include baby bell peppers, string beans and carrots, she adds. Store them by type in individual containers. Now, when you're cooking during the week, you can just reach for the ingredients to make a salad or side dish (such as veggies that you've already roasted or sautéed). Fruit can be used as a sweet ending to a meal instead of cookies or ice cream. Plus, you'll have the fruits and veggies on hand for snacking. And read about the Best Fruits for Weight Loss.
Stock up on snacks.
When you're famished, you may head to the vending machine or eat something that's processed. So, remember to prep snacks for the week to ensure that you have nutritious options on hand. Divvy up healthy fare into single-serve containers or baggies to make them easy to bring to the office or your son's soccer practice. Sawyer suggests munching on nuts (1 ounces is a serving of about 10 to 15 nuts), high-fiber or seed crackers with hummus or a vegan spread, ½ avocado with pink Himalayan salt out of the shell, nitrate-free turkey or ham wrapped around a thin-sliced apple with mustard or sliced peppers, ½ plain Greek yogurt with 1 teaspoon of nut butter, or one to two hard-boiled eggs with pink Himalayan salt and pepper or hot sauce. Learn about the Best Nuts for Weight Loss.
Watch how much you make.
It can be hard to know how much to prepare. If you're playing it safe with portion sizes, then you may not have enough food to last you for a few days. Or you'll be eating unsatisfying small meals, leading you to indulge in too many snacks or too much at your next meal (or both!). And if you over prep, you'll waste food and feel like you have to eat it all. For the first two weeks, keep a paper or online journal to see your real patterns, says Boscaino. She likes MyFitnessPal, which helps you track calories, break down ingredients, log activities and more. Note if you're hungry after each meal or if you feel full. If you often have hunger pangs, consider increasing your portion sizes. Too full? Do the opposite. "It feels different when you're writing it down," she says. She also says to be sure to look back at your journal to see what worked and what didn't. "It's a powerful tool if it's used correctly," she says.
Pass on processed fare.
Store-bought condiments like dressings, sauces and marinades may be convenient. However, they're typically loaded with added sugars, sodium and calories. Instead, drizzle olive oil over your salad. Sprinkle spices on chicken. Or make your own dressings and marinades, which Sawyer says are so easy to make. This balsamic vinaigrette recipe is so simple you'll barely need to follow the instructions.
Focus on timesavers.
Know that you have dinner meetings two nights this week? Spending all weekend at the baseball field? Think about what food prep will save you the most time during the week and focus on that. Bag nuts for quick snacks. Boil eggs to eat with your breakfast. Grill chicken to top on salads. Sauté ground turkey meat for tacos. You can even get these items prepped for you at most health store or supermarkets. Hit the deli counter for grilled chicken and the refrigerated section for already made hard-boiled eggs, says Sawyer.
Eat what you like, in moderation.
If you despise turkey burgers, don't force yourself to make them just because they're healthy. Prepare what you like or something that sounds delicious. Yes, you may have heard about the wonders that quinoa does to promote weight loss. But it's pointless to make a batch if you won't touch it. "Forcing yourself to eat what you believe is healthy and not enjoying it will lead you right back to what you know," says Boscaino. "Stocking up on things you hope you will eat isn't a tool for success. Finding a few go-tos that you're actually looking forward to is your first real step to make change."