When I was a kid, I wasn't exactly a veggie lover. My repertoire consisted of (canned) corn, carrots and, occasionally, zucchini. Anything else was met with stubborn resistance. If the dog was nearby, I'd sneak her whatever I refused to eat—and she got a virtual rainbow! The more my parents begged me to eat my peas or lima beans ("There are so many reasons you should eat your vegetables," they insisted), the more stubborn I became.
I'd show them.
But taste buds change, and so does stubborn resistance. Of course, I got older and discovered new and better ways to prepare vegetables. Veggies took on different meanings and tastes, and I embraced and enjoyed them all from A to Z—with the possible exception of okra.
I thought I knew everything about vegetables until I recently discovered a new love: kale. Where has it been all my life? Suddenly, kale is everywhere and I can't ignore it any longer.
I can list quite a lot of reasons you should eat this veggie. But, I've found when it comes to trying to convince people to like new vegetables, they can easily revert to acting like children—and rather than welcome them into their lives, they run as far away as possible.
Well, I can play that game, too. Forget it.Please don't eat kale. And to prove my point, here are three good reasons why you shouldn't:
There are too many ways to prepare it. You can eat it raw, gently sautéed, lightly steamed, juiced or roasted into crispy savory chips. Who wants to be bothered with so many different preparations, all in the name of health and great new tastes? Sometimes it's easier just to be boring and predictable and stick to the same old, same old. Why should food be interesting, anyway?
If you eat kale, you'll be doing your body a big favor. But, then again, you do your body a favor every time you exercise or eat a carrot or two. Who needs another superfood packed with more vitamin C than an orange, more provitamin A than any other leafy green, plus healthy doses of calcium, omega-3 healthy fat and a bevy of healthy molecules known as phytonutrients? People might accuse you of being a health addict, and who needs that kind of ridicule, really?
Kale is too much work for your body. After all, when you ingest it, your body puts kale's valuable resources to work to help protect you against diseases like cancer and diabetes. Kale also gets your body busy boosting your brain and cardiac health, your bone health and your immune system. Why overtax your body when all around you other people are just rolling the dice with their health? You should just lighten up already and let well enough alone.
So, please don't eat kale. Refuse it if you think your diet is just fine and your health doesn't need a boost. Stay away from it unless you're interested in the health of your eyes, due to its eye-health compounds of lutein and zeaxanthin. Only eat it if you want to treat your body to some weighty health benefits, including cancer protection and lowered cholesterol.
It's quite addicting, this veggie. I've just ingested this amazing plant a handful of ways: in its raw form (as a salad), cooked (sautéed kale with garlic and oil) and—my favorite—chips (as in potato chips, but with much less guilt). There are at least 50 ways to enjoy it all day long, and you can find out about them in a new book.
Jennifer Iserloh (aka, "The Skinny Chef") and author and psychiatrist Drew Ramsey, MD, after seeing the wild success of their e-book, now offer the book in print. It's called Fifty Shades of Kale: 50 Fresh and Satisfying Recipes That Are Bound to Please.
I promise the book won't make you blush. (But it may tease you and make you lust after kale). This impressive book is bursting with all things kale—nutrition info, cooking tips and 50 yummy ways to prepare my new favorite veggie.
If you find yourself a kale convert and want to win a free copy of their book, just leave a comment at the end of this post and you'll be entered to win. One name will be chosen at random. Once your name is chosen, I'll notify you by e-mail (so make sure to include your e-mail address!). If you don't acknowledge my notification within 48 hours, I'll pass your winnings on to the next random name, who will be oh-so-happy. U.S. residents only.
Compliments of the authors, here's a peek into what kale can do for your taste buds: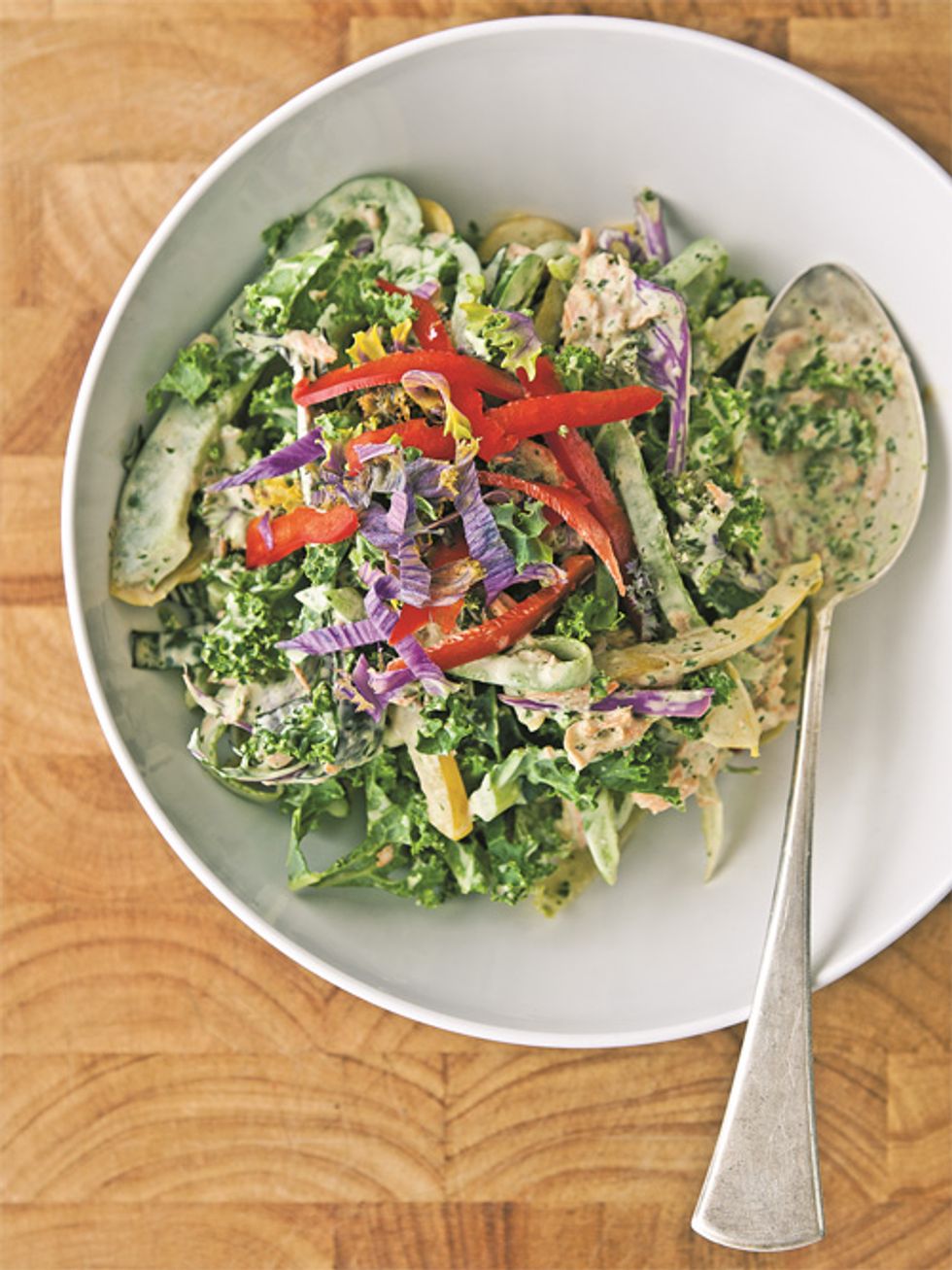 Kaleslaw
You may not think of coleslaw as sexy, and you'd be right—most coleslaw is far from a turn-on. But this colorful, lighter version brings the sexy back with superfoods like carrots and red, yellow, or orange bell peppers. It's also a great way to enjoy your kale in the raw.

Serves 8.

Ingredients:
1 (10-ounce) bunch kale, stemmed and roughly chopped (about 10 cups)
6 carrots
1 red, yellow, or orange bell pepper, cored, seeded, diced or thinly sliced
1 1⁄2 cups kale-onaise (recipe below)
Directions:
Fit a food processor with a shredder attachment. Shred the kale and carrots and transfer both to a large bowl. Add the bell pepper and Kale-onaise and toss well. Cover and refrigerate at least 1 hour or up to overnight before serving.

Nutritional Information:
Amount per serving (1 cup): 187 calories, 3 g protein, 10 g carbohydrates, 16 g fat (2 g saturated), 8 mg cholesterol, 2 g fiber, 591 mg sodium.

Kale-onaise
Dress up any dip, sandwich or dressing with this flavorful and healthy mayo that also offers the nutrient value of raw kale and fresh garlic. This creamy condiment will soon take the place of butter on your breakfast toast.

Makes 3 cups.

Ingredients:
2 cups packed chopped kale
1⁄2 teaspoon sea salt
2 garlic cloves, chopped
1 cup mayonnaise (organic if possible)
Zest and juice of 1 lemon
Directions:
In a food processor, combine the kale leaves, salt and garlic. Process until finely chopped. Add the mayonnaise and lemon zest and juice and process until smooth.

Nutritional Information:
Amount per serving (2 tablespoons): 60 calories, 0 g protein, 0 g carbohydrates, 7 g fat (1 g saturated), 3 mg cholesterol, 0 g fiber, 93 mg sodium.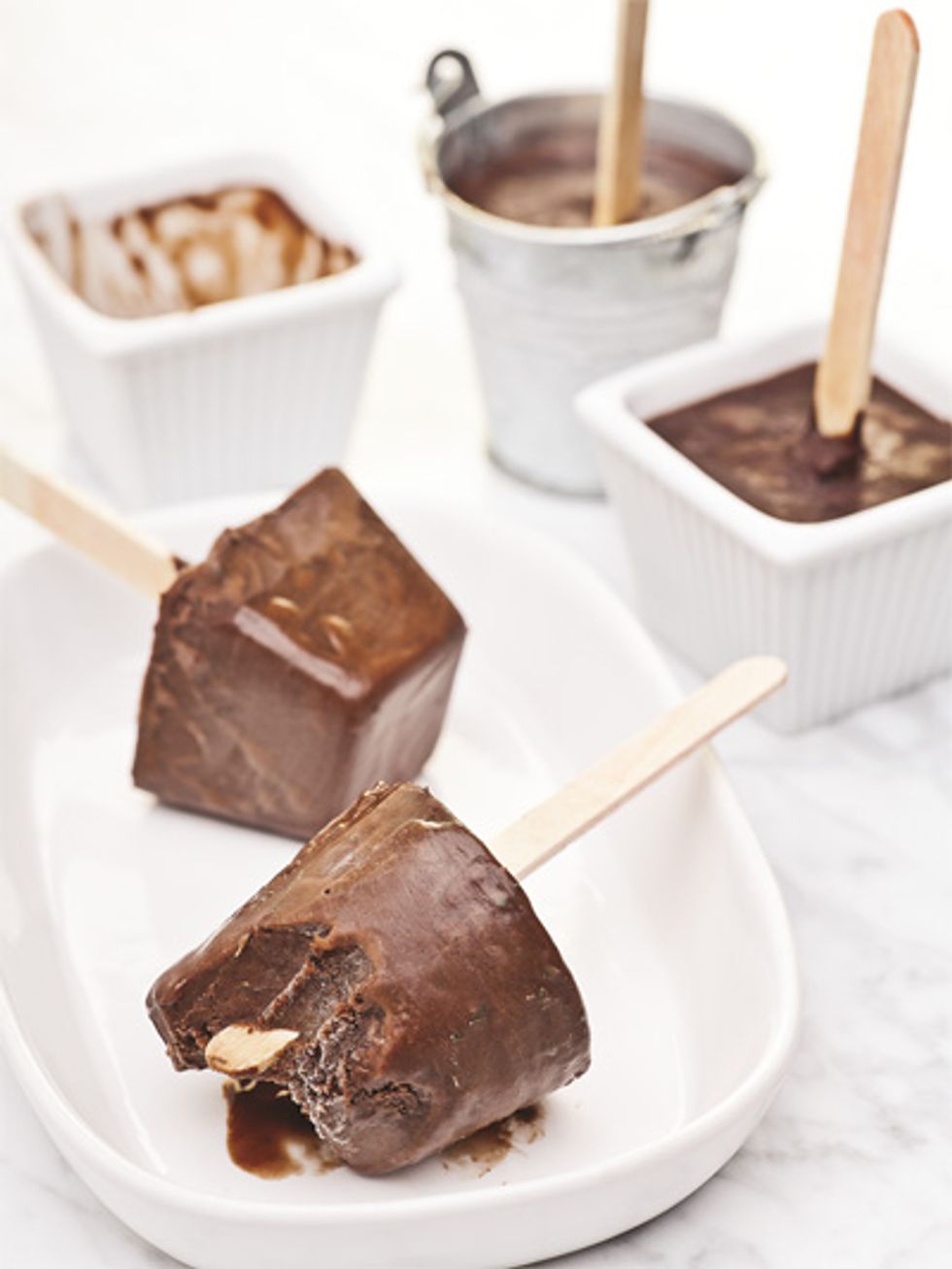 Chocolate Kale Fudge Pop
These rich, indulgent fudge pops get a boost of fiber thanks to a hearty dose of kale.

Serves 8.

Ingredients:
1 cup granulated sugar
1 cup unsweetened cocoa powder
1 teaspoon vanilla extract
1/2 teaspoon ground cinnamon
1/8 teaspoon ground nutmeg
1/8 teaspoon ground coriander
2 cups warm water
1 cup torn kale leaves
Directions:
In a large saucepan, combine all ingredients except kale and add the warm water. Bring to a boil, then reduce the heat and simmer for 2 to 3 minutes, stirring occasionally until the mixture is smooth and thick. Remove from the heat and cool to room temperature.
Place kale in a food processor and pulse until finely chopped. Stir the kale into the chocolate mixture and divide it among 8 ice pop molds and insert ice pop sticks.
Freeze for at least 4 hours before serving. The pops will keep for up to 3 weeks in an airtight container in the freezer.
Nutritional Information:
Amount per serving (1 pop): 127 calories, 2 g protein, 32 g carbohydrates, 1 g fat (1 g saturated), 0 mg cholesterol, 4 g fiber, 8 mg sodium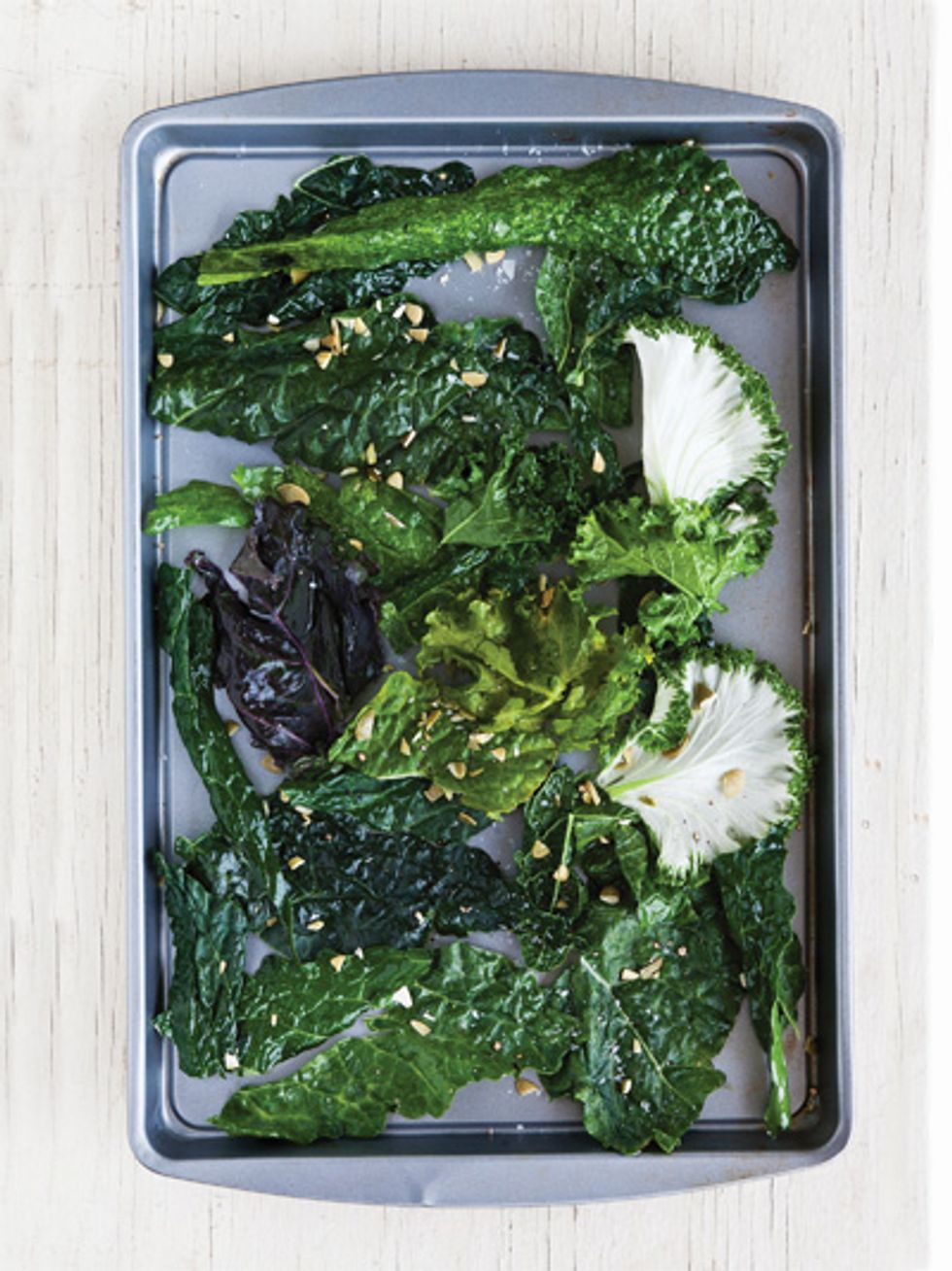 Kale Chips
Baking kale for a brief time doesn't damage its nutrients, so these are chips that deliver all the goodness of kale.
Serves 4.
Ingredients:
1 bunch kale (about 1 pound)
1 tablespoon olive oil
1/4 teaspoon salt
Directions:
Preheat oven to 350°F. Set out two ungreased baking sheets with sides.
Rinse kale under cold running water and pat dry with a paper towel or dishtowel. Wrap kale in another layer of fresh paper towel or another dry dishtowel—kale must be dry to crisp up. Squeeze and unroll. Roughly chop leaves and discard stems or save to add to your favorite soup recipe.
In a large bowl, toss leaves with olive oil and salt, rubbing leaves with your fingers to coat well. Transfer leaves to the baking sheets, spreading them out in an even layer, so they do not touch.
Bake 12 to 15 minutes, turning once or twice, until crisp. Serve immediately.
Nutritional Information:
Amount per serving (2 cups): 86 calories, 3 g protein, 12 g carbohydrates, 3 g fat (0 g saturated), 0 mg cholesterol, 2g fiber, 132 mg sodium