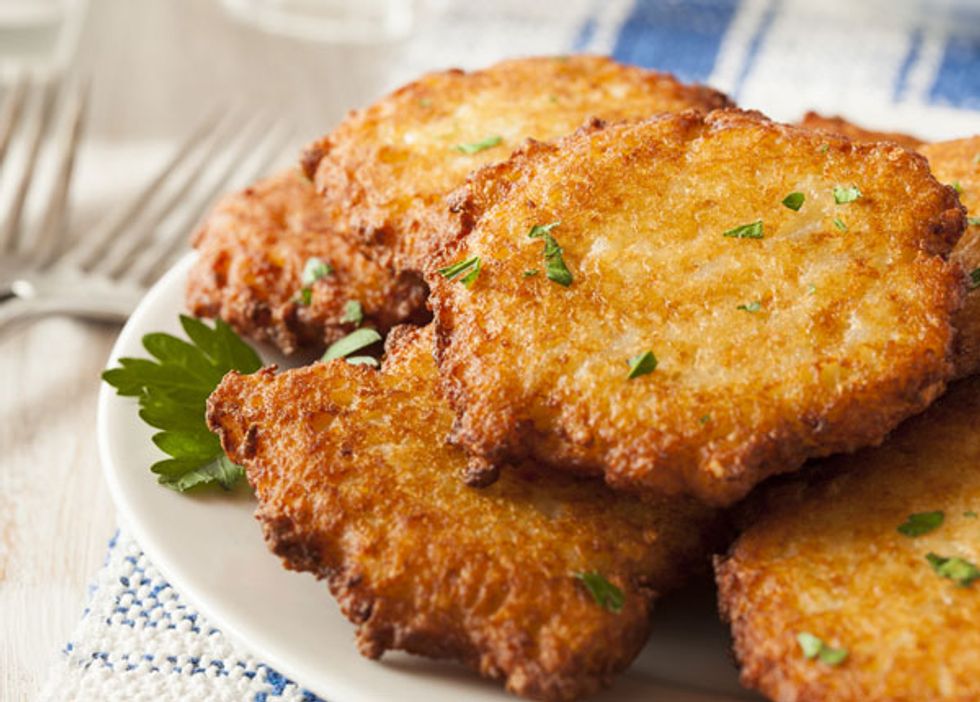 ---
It's inevitable that sometime during the eight days of Hanukkah, I'll be making latkes. And when I do, I'll be preparing Moroccan Potato Latkes, created by two sisters, Vicky and Ruth, who grew up in Barcelona, Spain. Vicky and Ruth are Chief Foodie Officers at  mayihavethatrecipe.com, a fabulous food blog, where they share fresh, seasonal, vegan, vegetarian and kosher recipes with an ethnic flair.

I met the sisters, who live near me in Southern New Jersey, through a mutual friend. I was delighted that they agreed to provide these recipes for the holiday.

Both sisters enjoy matchmaking in the kitchen. That's how they came up with the recipe for Moroccan Potato Latkes. "Can you think of a better marriage between two traditions? The Sephardic flavors of all Moroccan spices pair nicely with the traditional Ashkenazi Hanukkah favorite," said Ruth.

"Maybe not a match made in heaven, but in our kitchen, with love, from us to you," added Vicky.

Moroccan Potato Latkes
Ingredients:
2 pounds Yukon gold potatoes, grated
2 teaspoons salt, divided
1 teaspoon cumin
1/4 teaspoon black pepper
1/2 teaspoon turmeric
2 teaspoon sweet paprika
2 teaspoon jarred diced hot cherry peppers
1/2 cup chopped cilantro
1/2 cup chopped parsley
1 egg, beaten
1/4 to 1/2 cup garbanzo bean flour*
3/4 cups vegetable oil for frying

Instructions:
Preheat the oven to 350F. Line a baking sheet with parchment paper.
Place grated potatoes in a colander with a bowl or plate underneath. Sprinkle 1 teaspoon of salt on the potatoes and mix well. Let stand for 10 minutes (the potatoes will release some liquid).
Using a cheesecloth or a clean kitchen towel, ring out the excess moisture from the grated potatoes (make sure to squeeze out as much liquid as possible).
Add cumin, black pepper, turmeric, paprika, remaining 1 teaspoon salt, hot cherry peppers, cilantro and parsley.
Mix well and add beaten egg.
Add garbanzo bean flour, 2 tablespoons at a time until you have a mix that you can form into patties.
Using your hands, form about 15 small latkes.
Heat about 1/4 cup of oil in a non stick skillet and drop in about 5 latkes at a time.
Cook at medium heat, 3-4 minutes per side or until golden brown. Place them on a plate lined with paper towels to absorb excess oil.
Repeat the process 2 more times, using 1/4 cup of oil each time.
Place latkes on the lined baking sheet and bake for 15-20 minutes or until crispy.
*Note: You can find garbanzo bean flour in the gluten-free or organic sections of supermarkets such as ShopRite or Whole Foods. Bob's Red Mill brand was used in preparing this recipe.

I hope you enjoy this special twist on this favorite Hanukkah dish. Be sure to visit mayihavethatrecipe.com for more delicious ethnic dishes.

I think I am going to try their recipe for Fresh Cranberry, Pear & Chianti Chutney—it sounds yummy. I love cranberries. If you want a sweet treat, check out the sisters' recipe for Moroccan Cinnamon Cookies – Montecaos. OMG, they brought me some of these cookies when we met and I couldn't stop eating them when I got home. They are simply scrumptious.

The latkes are gluten-free, but the cookies are not. The cookies are vegan.

This post originally appeared on aboomerslifeafter50.com.