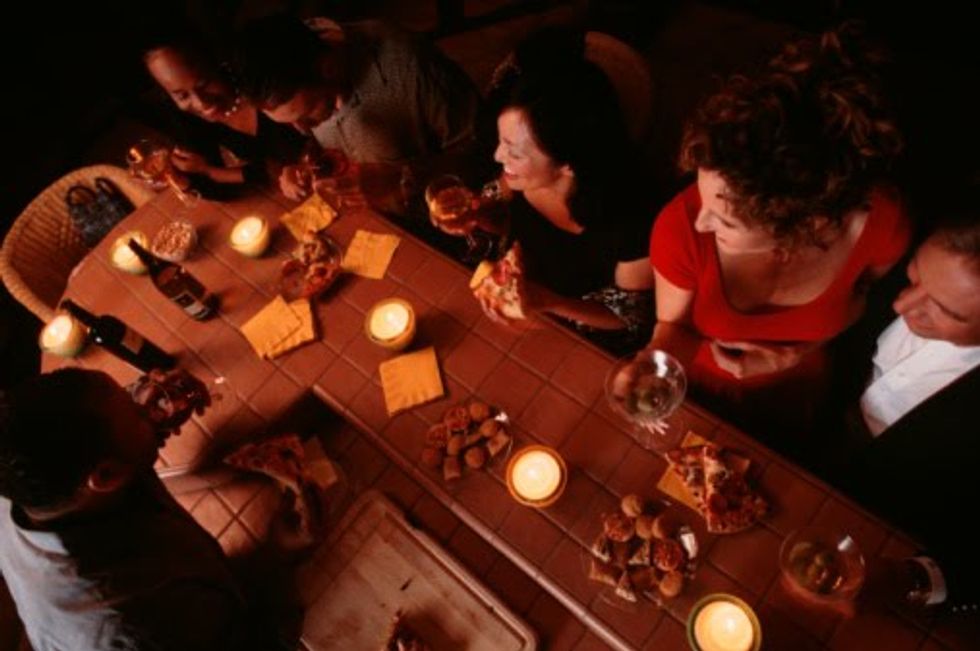 I hope everyone had a good weekend. I did!
---
Saturday night we had a small dinner party, attended by a bunch of my very oldest friends (not oldest as in age - but oldest as in how long we've known one another :) To me, there's something so unique and special about being around people who have shared so many joys and also too many losses; a quiet understanding and comfort that is hard to match.
Cooking is especially satisfying, I think, when it's done for people you love. That being true, I must admit that dinner that night was extra-delicious, infused with some real meaning added to rather simple everyday ingredients. Everyone loved the food so much that my friends asked me for the recipes. They suggested that I share them with everyone who reads this blog, which I agreed was a great idea. After all, we're most likely like-minded, so why not spread the word? The recipes are super-easy - but taste like something very complicated and fancy.
First, we started with a salad - but not any salad. It was a watermelon, feta and arugula salad with balsamic glaze. I can't entirely take the credit for it - I ripped the recipe out of a magazine and can't remember which one, so whoever you are, thanks for the great salad! It's not only delicious, but looks beautiful on a platter, and I had fun making pretty patterns with the balsamic glaze that I drizzled over the top:
1 5-ounce package baby arugula
8 cups 3/4-inch cubes seedless watermelon
1 7-ounce package feta cheese, crumbled
2 tablespoons balsamic vinegar glaze
Arrange arugula over large platter. Scatter watermelon, then feta over. Drizzle with balsamic glaze and sprinkle with pepper.
Makes 8 servings (we cleaned the plate clean!)
Note: Balsamic vinegar glaze can be found in the vinegar section at many supermarkets - I bought mine at Trader Joe's. If you can't find it, you can make your own by boiling 3/4 cup balsamic vinegar in a small saucepan until it's reduced to about 3 tablespoons; it takes about 6-7 minutes.
And now, for the piece de resistance - the main course: Grilled Shrimp. It's the recipe my boys always request for a "special" dinner and is from one of my favorite cookbooks, Essentials of Classic Italian Cooking, by Marcella Hazan. The recipe is for 4 to 6 servings, so I doubled it (I promised my sons there would be leftovers). I've had the book forever and it's easy for me to locate the recipe because the well-worn page is stained and crumpled from turning to it so often. (And it's great for company, because you can prepare it all ahead of time.)
2 pounds medium shrimp, unshelled weight
3-1/2 tablespoons extra virgin olive oil
3-1/2 tablespoons vegetable oil
2/3 cups fine, dry, unflavored bread crumbs
1/2 teaspoon garlic chopped very fine
2 teaspoons parsley chopped very fine
Salt
Black pepper, ground fresh from the mill
Skewers (if you're using wood, soak them in water for a few hours)
Optional: a charcoal grill
1. Shell and devein the shrimp (I skip this step by buying them already shelled and deveined). Wash in cold water and pat thoroughly dry with cloth kitchen towels.
2. Put shrimp in a roomy bowl. Add as much of the olive and vegetable oil, in equal parts, and of the bread crumbs as you need to coat the shrimp evenly, but lightly all over. You may not require all the oil indicated in the ingredients list, but if you have a large number of very small shrimp you may need even more. When you increase the quantity, use olive and vegetable oil in equal parts.
3. Add the chopped garlic, parsley, salt and pepper and toss thoroughly to coat the shrimp well. Allow them to steep in their coating a minimum of 20 to 30 minutes, or even up to 2 hours, at room temperature.
4. Preheat the broiler at least 15 minutes before you are ready to cook, or light the grill.
5. Skewer the shrimp tightly, curling one end of each shrimp inward so that the skewer goes through at three points, preventing the shrimp from slipping as you turn the skewer on the grill.
6. Cook the shrimp briefly, close to the source of heat; about 2 minutes per side, until they form a thin, golden crust.
My husband grilled some vegetables - eggplant, asparagus and mushrooms - and we sat down to a feast. Of course, the wine that one couple brought and the home-baked desserts brought my another added to it all...
So, there you have it, simple and delicious. Do you have a favorite, healthy, go-to menu for special company? Please share - after all, if my friends come over again, I'll need something new!