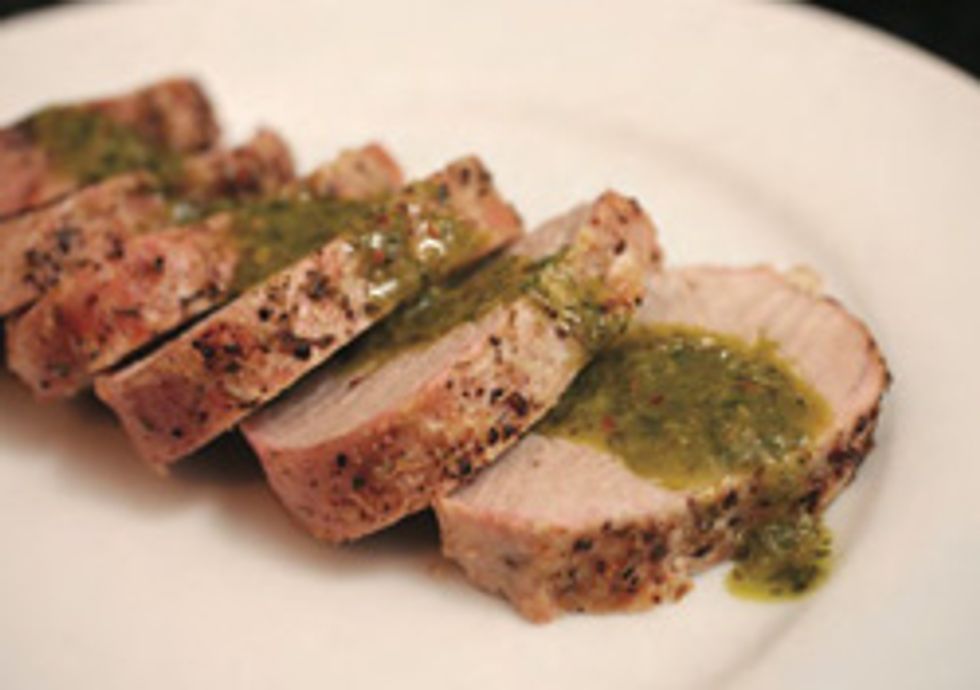 From Argentina, flavorful chimichurri sauce produces show-stopping results when paired with pork tenderloin.
---
Prep Time: 15 Min
Cook Time: 20 Min
Ready In: 35 Min
Servings: 6
Ingredients:
2 pork tenderloins (about 2 pounds)
1 tablespoon olive oil
1/2 teaspoon kosher salt
1/2 teaspoon freshly ground black pepper
1 1/2 teaspoons fresh oregano or 1⁄2 teaspoon dried oregano
Directions:
Preheat a grill to medium heat. Rub the pork tenderloin thoroughly with olive oil and sprinkle with salt, pepper and oregano.
Grill the pork for 12 to 15 minutes, turning occasionally, until it reaches 145°F on an instant-read thermometer.
Let the pork rest on a cutting board for 5 minutes before cutting it into 1⁄2-inch-thick slices. Place the slices on a platter and spoon Chimichurri Sauce over the pork just before serving.
Nutritional Information:
Amount per serving: Calories: 443; Total Fat: 34 g; Saturated Fat: 5 g; Trans Fat: 0 g; Cholesterol: 97 mg; Sodium: 865 mg; Carbohydrates: 6 g; Fiber: 1 g; Sugars: 0 g; Protein: 32 g.
Recipe courtesy of Living Without magazine's Best Gluten-Free Cookbook.