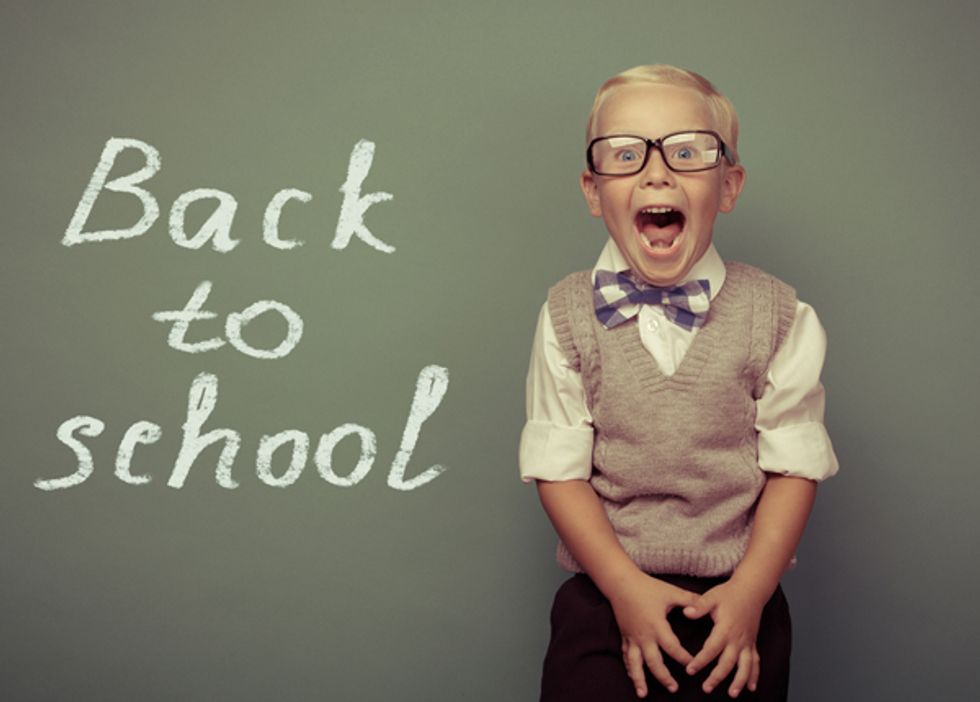 ---
It's happening: The kids are going back to school. Whether you can't wait for them to get out of the house, or you dread the more regimented days ahead, there's one thing you can count on: Back-to-school is a big transition.
Now's the time to get organized. Sure, you need to get pens and the most awesome backpack. But sparkly notebooks are useless without these four things many moms forget to do.
4 Back-To-School Things You're Forgetting to Do
1. Organize documents for the school nurse
Take notes during your child's back-to-school doctor's appointment. Be sure to log any info regarding food allergies or chronic illnesses. For example, if your child has asthma—inflammation of the large and small airways of the lung—you'll need to work with a healthcare provider to put together an Asthma Action Plan that can be shared with the school nurse (learn more at GetSmartAboutAsthma.com). Bottom line: Start the school year off with the tools you need to treat any illnesses or conditions your child may be battling. This will prevent emergency situations. 
2. Stock up on healthy, grab-and-go snacks
We all know kids love sweet snacks, but we want them eating something healthy when they reach for a treat! Keep bins in the kitchen with a variety of healthy snacks, so they can mix it up and pick a different favorite each day. California raisins are one of my favorites to include. They are an all-natural, dried-by-the-sun fruit you can feel good about, and the ingredient list says it all: Raisins. No fat, no cholesterol and no added sugar—plus fiber, potassium and iron. LoveYourRaisins.com has a bunch of recipes, as well as ideas for mixing them with nuts and seeds in little baggies so you can have a variety of combinations ready for lunch boxes.
3. Create a fun morning routine
Replace your morning battles with something your child looks forward to. For example, switch up their boring vitamins for something like the new Star Wars Gummy Vitamins by NatureSmart. They feature the most iconic Star Wars characters—and taste great. Plus, they provide over 10 essential vitamins and minerals, and they come in an Immune Support formula, so you can be sure they're starting their day healthy.
And try to make brushing their teeth fun. Companies like Colgate, have been using kid-friendly characters and flavors for years to encourage kids to focus on healthy oral care. It has just introduced its first kids' mouthwash—a new anti-cavity fluoride rinse that can strengthen kids' enamel, freshen their breath and swish away particles brushing may miss. It mixes in a little fun with characters like Teenage Mutant Ninja Turtles and flavors like Bubble Gum Swirl, which is sure to help kids WANT to rinse.
4. Ease any pre-school jitters
Some children become anxious before the first day of school. When children enter the classroom with a positive attitude, they're more likely have a good year. The best way to get them excited about the year to come: communication. You can't help them unless you understand what's troubling them. It could be that they are concerned about what teacher they're getting or whether they'll make new friends this year. Reassure them that they'll make new friends and that their friends from last year will be there, too. Take the lead by showing your excitement for all of the amazing things this new year will bring.
This post was created with the support of Get Smart About Asthma, California Raisins, NatureSmart, and Colgate.