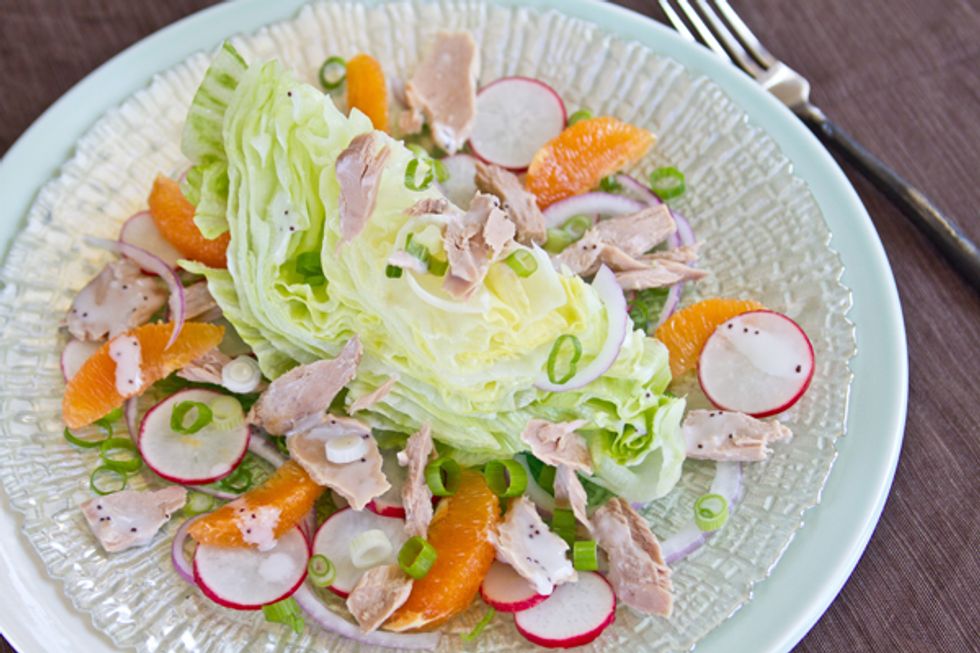 Prep Time: 10 min
Ready In: 10 min
---
Servings: 8

Ingredients:
1 head iceberg lettuce, cleaned and cut into 8 wedges
1 cup low-sodium poppy seed dressing
4 (5-ounce) cans tuna, packed in water, drained and flaked
2 cups red onion, thinly sliced
1/2 cup green onions, thinly sliced
1/2 cup radishes, sliced (optional)
1 orange cut into 8 wedges
Directions:
1. Place one wedge of lettuce each on eight serving dishes. Dress each wedge with 2 tablespoons of dressing.
2. Combine the tuna in a bowl and toss with the remaining dressing. Evenly distribute tuna mixture onto lettuce wedges.
3. Garnish salads with equal toppings of onion, green onions, radish (if using) and orange wedge. Serve immediately.
Nutritional Information:
Amount Per Serving: Calories: 263 | Total Fat: 14g | Saturated Fat: 2g | Unsaturated Fat: 10g | Trans Fat: 0g | Cholesterol: 26mg | Sodium: 408mg | Potassium: 352mg | Carbohydrates: 15g | Fiber: 2g | Protein: 19g
Recipe courtesy of Get Real About Seafood.