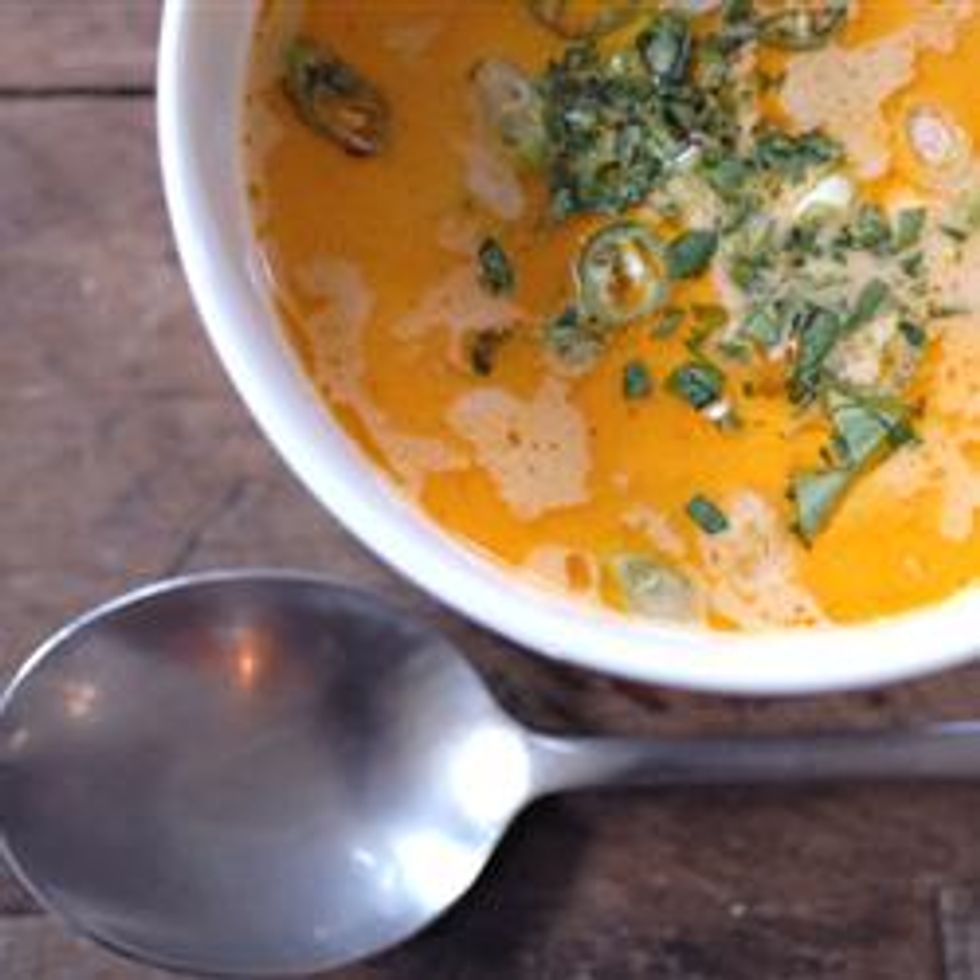 Prep Time: 30 Min
Cook Time: 20 Min
Ready In: 50 Min
---
Servings: 8
Ingredients:
1 tablespoon grapeseed oil
3 shallots, chopped
2 tablespoons chopped cilantro
4 cups chicken stock
2 (14 ounce) cans coconut milk
1 tablespoon agave nectar
1 (8 ounce) package crimini mushrooms, sliced
1 head broccoli, cut into florets
1 pound thinly sliced chicken breast meat
2 teaspoons red curry paste
3 tablespoons lime juice
3 tablespoons fish sauce
1/2 cup chopped fresh cilantro
2 serrano chile peppers, thinly sliced
1/4 cup chopped green onions
8 lime wedges
Directions:
1. Heat the grapeseed oil in a large saucepan over medium heat. Cook and stir the shallots and 2 tablespoons chopped cilantro in the hot pan until the shallot has softened and turned translucent, about 4 minutes. Pour in the chicken stock, coconut milk, and agave nectar; bring to a simmer over medium-high heat. Once the broth reaches a simmer, strain through a mesh strainer into a clean saucepan; discard the shallot and cilantro.
2. Return the broth to a simmer; stir in the mushrooms and broccoli and cook until the broccoli becomes tender, about 4 minutes. Add the chicken and cook until no longer pink, stirring constantly. Stir the curry paste, lime juice, and fish sauce in a small bowl to dissolve the curry paste; mix into the simmering soup.
3. Ladle the soup into bowls and sprinkle with 1/2 cup cilantro, serrano peppers, green onions, and lime wedges to serve.
Nutritional Information:
Amount Per Serving Calories: 327 | Total Fat: 25.2g | Cholesterol: 33mg
Recipe courtesy of AllRecipes.com