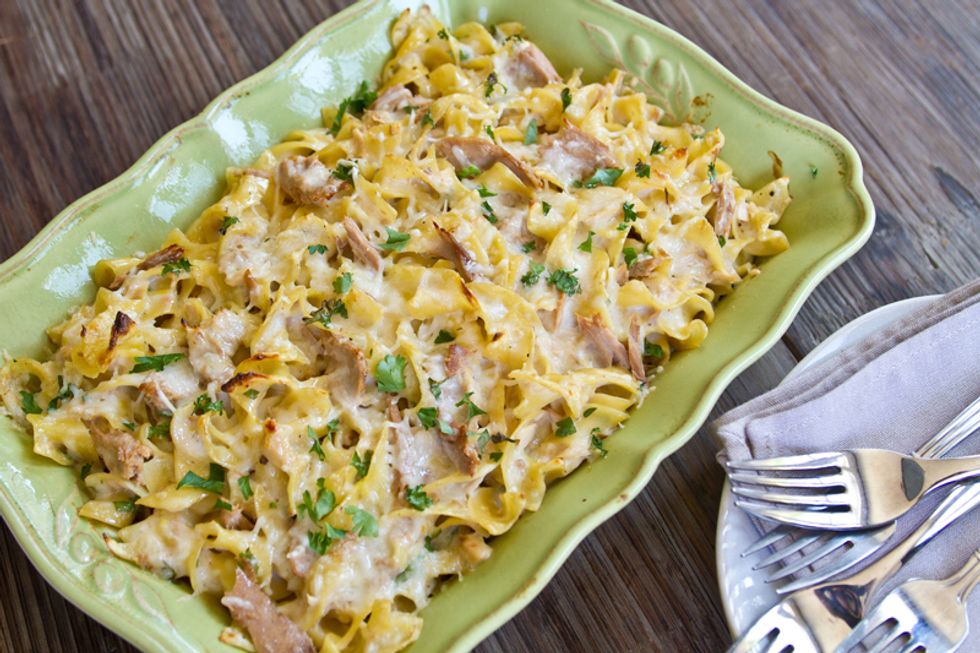 Prep Time: 10 min
Cook Time: 25 min
Ready In: 35 min
---
Servings: 8

Ingredients:
4 (5-ounce) cans tuna, packed in water, drained
1/2 cup fresh parsley, chopped
3/4 cup grated Parmesan cheese
1 lemon, zested and juiced
1/3 cup fat-free mayonnaise
1 cup low-fat yogurt
Salt and fresh ground pepper to taste
1 pound egg noodles, cooked and drained
Directions:
1. Preheat oven to 375˚. Place the first 6 ingredients in a large salad bowl and toss. Season with salt and pepper. Gently toss in egg noodles.
2. Place mix in 10-inch glass casserole dish. Bake at 375˚ for 25 minutes until bubbling hot.
Nutritional Information:
Amount Per Serving: Calories: 362 | Total Fat: 6g | Saturated Fat: 2g | Unsaturated Fat: 3g | Trans Fat: 0g | Cholesterol: 84mg | Sodium: 479mg | Potassium: 415mg | Carbohydrates: 45g | Fiber: 2g | Protein: 31g
Recipe courtesy of Get Real About Seafood.