By Terrie Livingston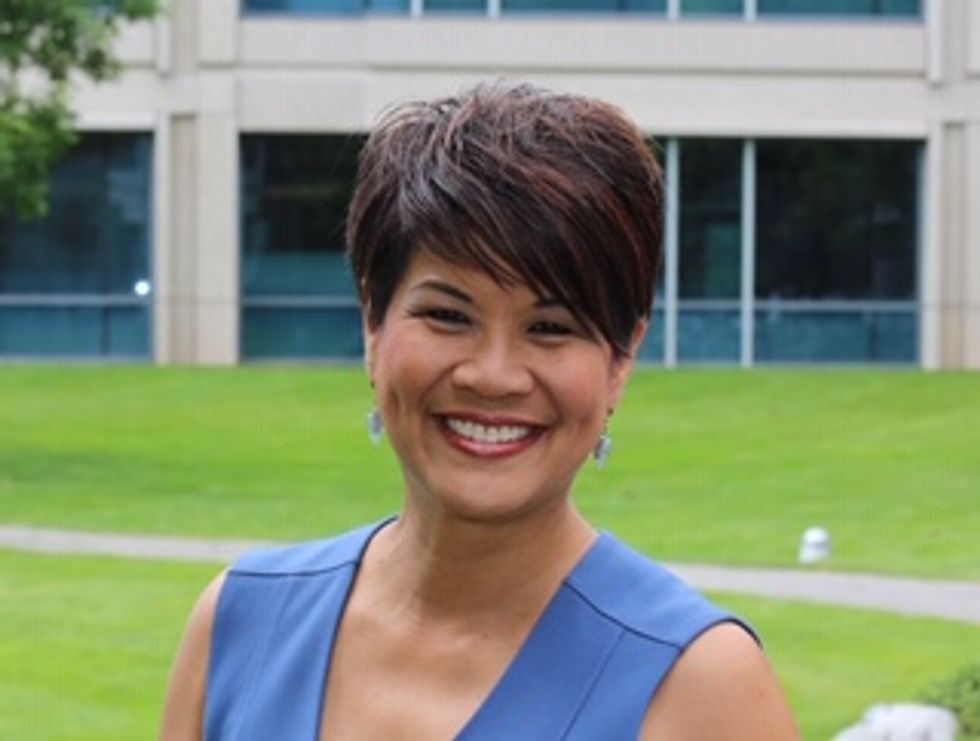 Falling down the stairs was the first sign something was wrong. I attributed that to a herniated disc I had suffered from awhile back. Soon after, I stepped off a curb and fell straight to the ground. I made an excuse that I was just clumsy. I started experiencing numbness in my arm, but at the time, I was on hydrochlorothiazide and thought it was just a side effect. And then I began having issues with my short-term memory. I would forget my close friends' names when I went to introduce them.
These symptoms were vague and seemed disconnected, but I knew something was wrong. I just didn't know what it could be. I had recently given birth to my second child so I assumed some of my memory loss was due to my pregnancy and lack of sleep with a newborn. What finally prompted me to go to a physician was hearing loss and vertigo. The physician diagnosed me with Meniere's disease, but then I started having other symptoms that didn't seem to fit with my diagnosis. I developed right-sided weakness in both my arm and leg and I had difficulty walking. I couldn't even open a water bottle on my own! I experienced profound fatigue where the fatigue was so debilitating, I couldn't move off the couch. It took all my energy to breast feed my son. Shortly after that, while traveling for a meeting, I experienced double vision and lost strength in my right side. My body went completely numb. Later, people who were with me told me I had blacked out. I ended up in the emergency room and was told that the Meniere's disease combined with dehydration had caused my symptoms. But I knew this didn't make sense.
For the next two years, I searched for the correct diagnosis. Since nobody could tell me what was wrong, I felt like I was imagining all these things that were bothering me. I had received multiple diagnostic tests, been hospitalized, went to the ER twice and was diagnosed with various diseases, until a rheumatologist proposed that I see a health care provider who specializes in multiple sclerosis. There wasn't a specialist in Las Vegas where I lived, so I went out of state and finally a diagnosis was confirmed. All of my symptoms and MRI pointed to multiple sclerosis.
Many concerns and fears rushed through my mind. I had two young children, so my first worry was that I would end up disabled and unable to care for my children. Am I going to end up in a wheelchair? How long do I have before that happens? Will I still be able to work? These concerns can play with you mentally, and they still linger in the back of my mind today, 13 years later. Multiple sclerosis is so unpredictable—I can be fine today and not able to work tomorrow.
I started treatment and also opted to go into a clinical trial. I know that it is hard to find research patients and I wanted to contribute back to science. Also, as a pharmacist, I was able to find a position in a company where I could learn more about my disease, interact with neurologists working in the field of MS, and meet other patients. I am extremely thankful for this opportunity. My position made me realize that I could have a bigger impact in the field of MS by truly making the patient voice front and center. I give back by ensuring that the research we do leads to improved patient outcomes. And I have the privilege and opportunity to use my profession to help make things better for people living with this disease.
People will say, "You look so good. You don't look like you have MS." And that's hard to hear. What is MS supposed to look like? I also heard this when I was diagnosed. I was 43 years old, which is considered older for an MS diagnosis. I also am Asian, so I am not what health care providers considered the typical MS patient since the incidence at this time was highest in Caucasian women. Now we know in the U.S. that MS patients come in all ages, shapes, sizes, and backgrounds. There is no one image of what a person with MS looks like. What people also don't see are the hidden symptoms. I have major fatigue. I suffer from bladder issues. I can have trouble finding my words or concentrating. And although people think that you are symptom-free when you are in remission, this isn't true. I have symptoms every day. I know every day that I have MS.
I'm often asked how I manage. For me, I have decided not to let this disease define who I am. When I relapsed, I needed a cane. I still traveled to a meeting in Europe and went to work. Some people wondered why I made the trip—but for me, I had no choice. I won't let this disease keep me on the couch. Connecting with others also helps me feel less alone. I always say that I have my personal family as well as my MS family. You form an instant bond with someone who has the same story as you, who also has MS. They understand what you are going through and you can truly go to them for anything. You find a community to tap into – to discuss new things that you're experiencing, provide you with advice on how to work through issues, or offer tips and tricks on how to deal with fatigue and cognitive issues.
I would encourage people to share their stories. I share my story because I want to help people. One year, I presented at my company's patient advocate meeting. The following year, a man who had heard me present came up to me and said, "Seeing you up on that stage and hearing your story gave me the strength to go back to school and finish my degree."
At my last appointment with my neurologist, he confirmed that I was entering into the secondary progressive phase of the disease. This is an extremely tough part of this disease—knowing you are progressing into another stage, getting closer to what you're most afraid of, and needing to find a way to adjust your mindset to it.
To help me live each day to the fullest, when I was first diagnosed, I developed the acronym HOPE.
H is for Hopeful that one day there will be a cure.
O is for remaining Optimistic and not allowing the disease to define me.
P is for having Purposeful Passion in the work I do.
E is to Endure all things that life throws at me, to never forget the power of Empowerment and to make Every moment matter.
I truly believe how you deal with this disease is all about your attitude. It will either make you or break you. And I choose to keep fighting and never give in.
Terrie Livingston serves as Head of Patient Outcomes and Solutions at EMD Serono. Terrie leads initiatives focused on advancing MS science to improve the lives of people living with MS. Terrie's work contributes to EMD Serono's commitment people living with MS, their caregivers and healthcare providers.