As told to Kimberly Rex
In October 2015, I had a busy life with a demanding career as a deputy head teacher at a high school in England and two daughters, ages 6 and 10. At 43, I was an active swimmer and tried to eat well and stay fit.
One Sunday, after a frazzled morning of wrangling my kids into the car, I sat poolside next to my older daughter while my youngest had her indoor swim lesson. I was correcting student papers, when a friend approached me and started talking. As I tried to listen, intense heat washed over my body, and my head started spinning. He was standing right in front of me, but I couldn't focus on his face or hear his words. I suddenly felt so dizzy.
"Can you just give me a minute?" I said, "I don't feel too well." He walked away, and I sat there, trying to will the feeling away. It was something I'd never felt before. I was hot and sweaty and very detached from myself.
Then a pain sprang up in the middle of my chest, just underneath my collarbone, and my breaths became short and stifled. I was scared and wondering what this could be, but I tried to stay calm, so I wouldn't frighten my daughter. I asked her to get me a drink of water and was about to get up for some fresh air when the pain spread to my left shoulder.
"Oh my goodness," I thought, "is this my heart?" My body stiffened. I grew more afraid and rubbed my hand up and down my arm. My daughter came back with the water. "Go and get your sister. We're going home," I said.
While I waited, the pain subsided a bit and my body was starting to cool, so I slowly walked toward the door. We stepped out into the fresh air, and I paused to take in a deep breath before climbing into the car. I started to drive home, but my intuition kept telling me something was really wrong. I drove to an emergency walk-in center instead.
I rang the bell and asked for help through the intercom. "I've got chest pains. I just feel something's not right," I said.
Two ladies at the front desk watched my daughters while a nurse took me to a room and performed electrocardiography (ECG), a procedure that records the heart's electrical impulses, and gave me nitroglycerin spray. She turned to me. "There's some unusual activity on your ECG. We're going to call you an ambulance," she said. Fear rose up inside me. I called a friend to come for my kids. The paramedics arrived and as they wheeled me through the lobby, I saw panic and sadness in my daughters' eyes. They looked just how I felt.
At the hospital, I waited for the results of my troponin test. Troponin is a protein that's only present in the bloodstream when heart muscles have been damaged. After a long eight hours, three doctors entered the room, each wearing a serious expression. "You can't go home today, Gill. Your troponin levels are very high," one of them said, "You've had a heart attack."
The room started spinning. I felt sick and panicked. I saw the faces of my girls and my husband in my mind and wondered how I'd ever tell them. I wondered how this could be true. I was young. I thought I was healthy. And I had no family history of heart disease.
An angiogram showed zero blockages in my heart, and my cholesterol was good. The doctors concluded that my coronary artery had gone into spasm and blocked the blood supply to the heart. They said it happened because of stress.
Though I didn't know it before, stress is a risk factor for heart attacks, especially in women.
Before my attack, I had a very hectic life. My school had 1,600 students and 200 staff members. I worked from 7:30 a.m. to 6 p.m., often returning to school in the evening and most weekends for events. In addition, I coached the swim team.
I was juggling a crazy schedule and ignoring the signs that I needed to slow down. A year earlier, I'd been diagnosed with labyrinthitis, which is similar to vertigo, and pre-diabetes. I was often fatigued. Even after a good night's sleep, I'd wake up tired. I had brain fog too.
The doctors explained that my body was out of kilter. All these things were linked and they were all part of my body breaking down. The heart attack was my body's way of saying, "Hang on a minute. You need to listen. This is not good."
After a week of treatment in the hospital, my recovery really began. I couldn't go back to swimming or any exercise on my own. Instead, I went to a cardiac rehabilitation program. I took it slowly and gradually increased my activity over a few months. I also went to weekly counseling. But what really helped me cope with what happened was learning and embracing mindfulness. I attended workshops on the subject, took stress management classes, and started yoga. These gave me the tools I needed to control stress, and I still use them six years later.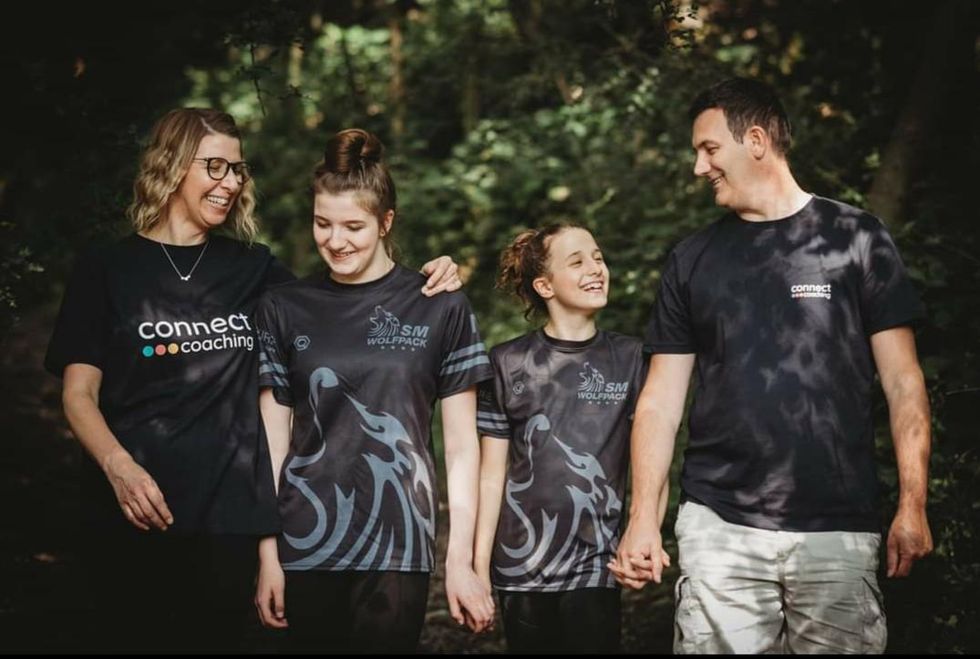 Smith with her husband and two daughters in 2020. Photo/Small Adventures Photography
Today, I practice mindfulness daily. I journal and use Emotional Freedom Techniques tapping to bring balance into my life. I exercise regularly with a combination of activities. I'm still monitored by a cardiologist and take calcium channel blockers to help keep the artery blood supply flowing.
I've also made major changes to my diet. I increased my intake of nuts, seeds, green leafy vegetables, lean meats, fish and fresh fruit, especially red berries, which have heart-friendly polyphenols. I also decreased my intake of dairy, sugar, gluten, caffeine and alcohol, and I drink water all the time.
I focus on leading a restful, stress-free life and making sure I don't live in that high-alert state anymore. I left teaching and re-educated myself in mindfulness, nutrition, holistic therapies and massage, and now I help women of all ages as a wellness coach.
I've really used what happened to me as a springboard for positive change. Walking away from my career was probably the scariest thing I've ever done, but it's one of the best choices I've ever made.
I'm very much an optimist, and I think it all happened for a reason. As horrible as it was, I now have a much better quality of life, and I feel very fulfilled with what I do.
My heart is full.