---
It's freezing outside. There are icicles on my patio. While very beautiful to look at, my mind, body and spirit keep saying, "Take me back to warm Miami."

Since I don't have any plans to visit anytime soon, all I can do is drink some hot cocoa and reminisce about the wonderful vacation that my boyfriend L and I took to South Beach in November. For those of you who are visiting Miami this winter, here are my favorite spots and things to do:

The Sunny Savoy Hotel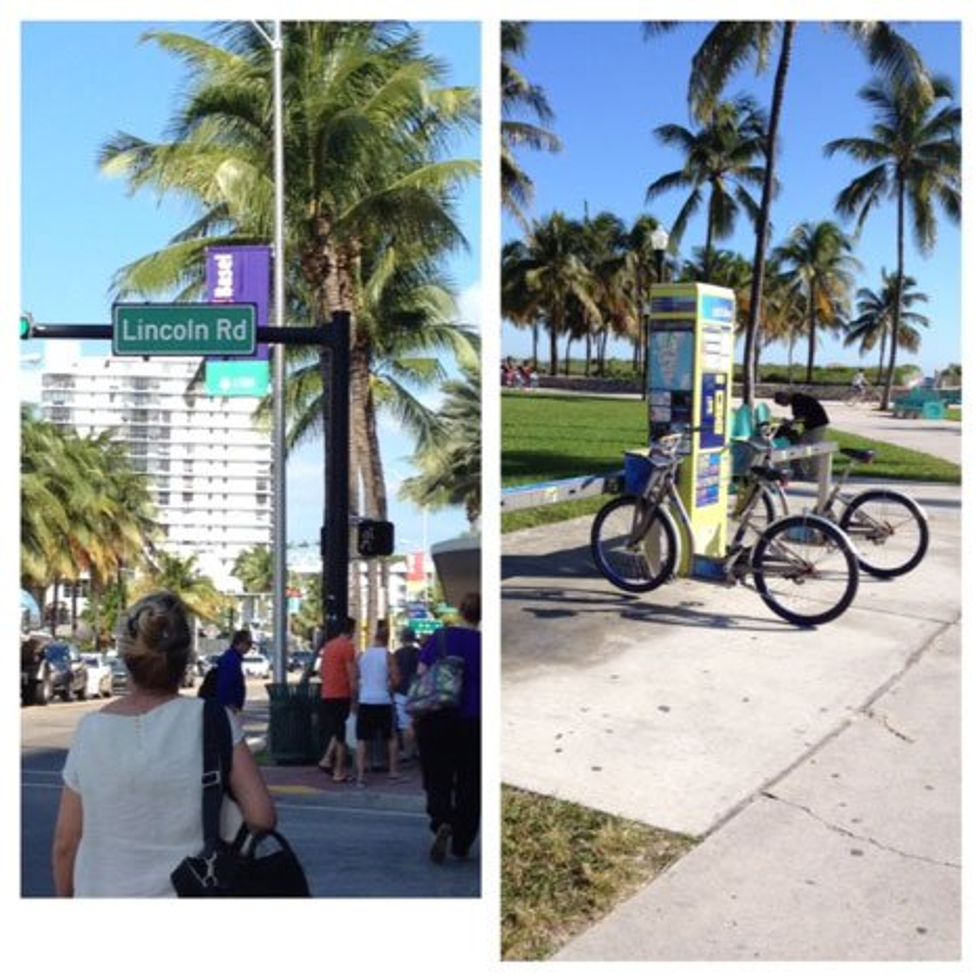 This is the second time L and I stayed at The Savoy Hotel in South Beach. (Read about the first time in my February 2014 post.) It is a small hotel on Ocean Drive near 5th Street. We like the location because it is far enough away from the main drag, yet close enough to walk everywhere. You don't need a car. We stayed in a suite with a partial ocean view. You can easily access the beach and there's a lovely pool. Prices go up after around November 15, which is why we go earlier in the month.

Biking and Walking
Miami is a great place to ride a bike. There are DecoBike stations around the city. I rented a bicycle each morning, adjusted the seat and off I went. Rentals are inexpensive. You'll need your credit card, and bring a bottle of water that you can pop into the bike's basket. I recommend paying for an hour minimum so you don't have to rush. You can return the bicycle at any stand.

While L and I are very compatible, he is not a biker. He does like to walk, and we walked several miles each day to Lincoln Road. There are many nice shops and good restaurants for alfresco dining. We like Paul French bistro for breakfast —the best iced coffee, croissants and baguettes—and the Café at Books & Books for tasty luncheon salads.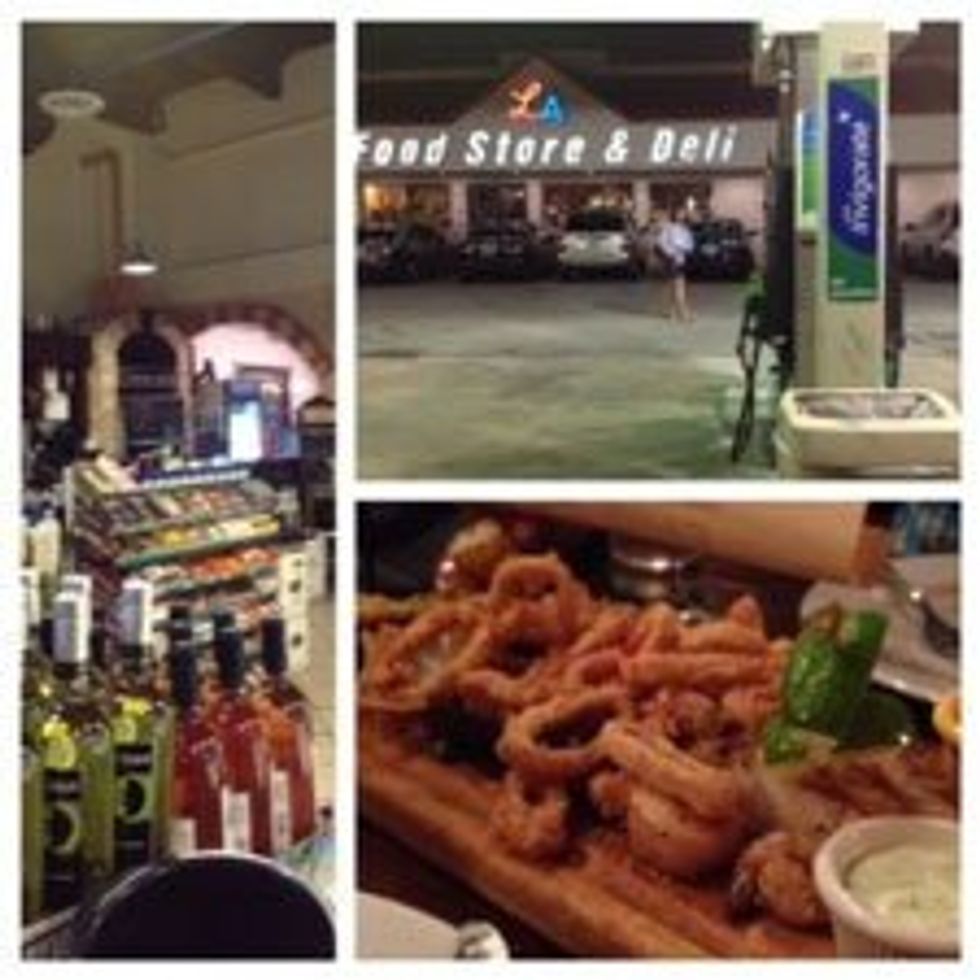 Food, Glorious Miami Food
Some days it felt like we literally ate our way around Miami. It's amazing we didn't gain weight (thankfully we did a lot of exercise.) Between L's friend M, his son G, and my cousin R, who all live in Miami, delectable dining was on the daily menu:

Monday's supper was at Sugarcane Raw Bar Grill in Miami's emerging Midtown district with a menu that is "inspired by international influences and South American spirit." Not a fan of oysters or sushi—which looked fab—we shared several tapas, including roasted Brussels sprouts with sweet soy and orange, which I am determined to replicate at home. Our main dish was a perfectly cooked whole branzino—which I will never be able to replicate at home.
Tuesday's dinner was traditional Italian at Cafe Prima Pasta, located farther from downtown, but well worth a cab ride to 71st Street. The portions are huge at this Italian restaurant. My cohorts enjoyed big bowls of pasta, and I savored another branzino—this time baked with tomatoes, capers, onions and Kalamata olives.
Wednesday night we went to Española Way, a historic area in South Beach. Unfortunately, the popular Tapas & Tintos was closed for renovation so we went across the street. Our meal was not on par, so I will not share the restaurant. Let's just say that when on Española Way, go to a Mexican restaurant or wait for Tapas & Tintos to reopen.
Thursday evening was the best night of all. "I'm taking you to El Carajo, a Spanish restaurant that is behind a gas station," said L's friend M. "Yep, we're going to a gas station," said L. I was a bit leery until we passed through the front of the convenience store to find an incredible wine shop and bar that serve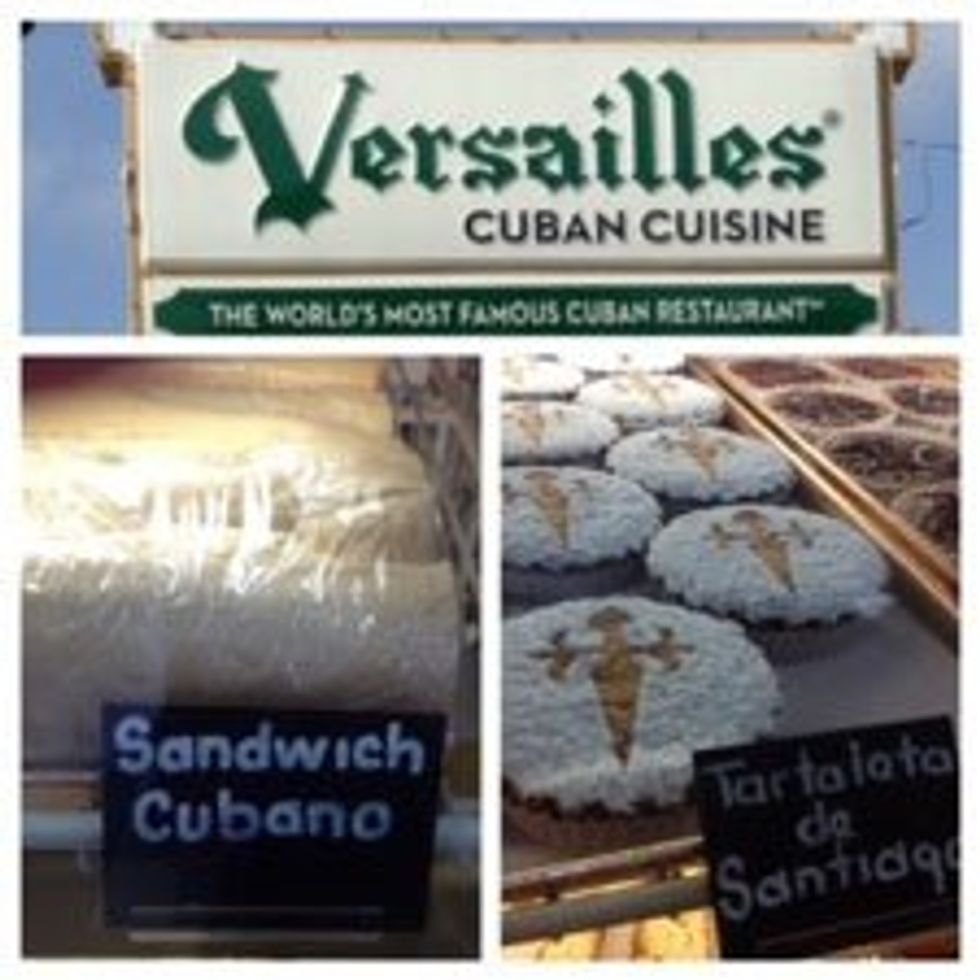 s some of the most authentic tapas I have ever eaten outside of Spain. You must go there—it is worth the experience. Buen provecho!
Friday, our last evening in Miami, was spent at Michael's Genuine Food & Drink, in the new Miami Design District, which is being transformed from a rundown area to a vibrant neighborhood. The food was fresh, made with local ingredients. My comrades slurped oysters on the half-shell. I preferred the char-grilled octopus appetizer and the tasty roasted fish entree from the wood-fired oven.
Saturday is Little Havana Day. I could not leave Miami without going to Little Havana for a Cuban sandwich. Ever since seeing the movie Chef, I've wanted to go to Little Havana and eat a Cuban sandwich at Versailles Restaurant—The World's Most Famous Cuban Restaurant. "That's where we are taking you for breakfast before you leave for the airport," said my cousin R. We packed our bags and were ready to go. Breakfast was fair. Cuban sandwich was fair—but maybe not as good because I ate it for breakfast. The desserts looked luscious, and when I go back I'm definitely going for lunch.

I can see why Miami was ranked by The New York Times as one of its "52 Places to Go in 2015."  I'm hoping I can visit again next November.

This post originally appeared on aboomerslifeafter50.com.