At 62, Fran Drescher is as vibrant and energetic as ever. Between adapting her popular 1990s sitcom, "The Nanny" for Broadway and running the nonprofit organization Cancer Schmancer, the veteran comedian has her hands full.

The much-loved actress is especially grateful for her good health, having been diagnosed with uterine cancer in 2000.
"Thank God, I am about to celebrate 20 years of wellness," Drescher told HealthyWomen in an exclusive interview. "Cancer opened my eyes and put me on a path that I never could have imagined. I changed the way I eat, all of my personal care items, cleaning and gardening products."
Misdiagnosed
Reaching that path was not easy. It took Drescher two years and eight doctors to get an accurate diagnosis.
"I had typical uterine cancer symptoms, which primarily are staining between periods and cramping after sex," Drescher said.
Drescher as "The Nanny"Photo by Chris Haston/NBC
"Everybody thought I was perimenopausal because I was actually too young and too thin to be the usual patient with uterine cancer. I kept slipping through the cracks every step of the way and was given hormone replacement therapy four different times. Each one did not agree with me."
As time kept passing and Drescher wasn't feeling better, she knew she had to continue to advocate for herself.
"I was feeling worse, and nobody was helping me. I was feeling scared and frustrated, in need of taking charge of my own destiny," she explained. "So I kept seeing other doctors. Most people wouldn't challenge a doctor who's telling you, you are essentially well, let alone seven doctors! But I knew I felt something strange."
Doctor number eight knew Drescher had had these symptoms for two years and had seen seven other doctors, but agreed with the other doctors that she didn't fit the profile so didn't want to test her for cancer.
At this point, Drescher was on her fourth round of HRT and began bleeding round-the-clock, so she phoned her latest doctor (number eight).
"I said, 'this can't be the right treatment. It's making me worse!' And she had me stop it, thinking it was probably just the wrong amount of estrogen. She said, 'I think we should do an endometrial biopsy.' Doctor number one had said I was too young for that. So because of my age, they did not want to consider that I had uterine cancer.
"And then three days later, she called and said, 'I am very surprised. You have adenocarcinoma. I said, 'what's that?' And she replied, 'uterine cancer.'"
Feeling betrayed
Ultimately, Drescher felt "very betrayed" by the medical community for not giving her this "ridiculously simple" test to rule out cancer sooner.
"I realized that doctors are so bludgeoned by big business health insurance to go the least expensive route of diagnostic testing . . . This could cost you your life. I was very lucky because I was still in stage one, with a very slow-growing gynecologic cancer.
"But a woman with ovarian cancer would not be so lucky, because that is a more aggressive cancer. When I meet a woman who has been told she has irritable bowel syndrome, I say, 'I hope that is what you have. But you should make sure your ovaries are not diseased. Because very often, at the cancer's earliest and most curable stage, ovarian cancer is misdiagnosed for irritable bowel syndrome, just like uterine cancer is often misdiagnosed for perimenopause."
On a mission
In 2002, Drescher wrote " Cancer Schmancer," a memoir about her cancer journey. While on her book tour, she met many women with similar stories.
"One of the most significant things that I learned is that my story was not unique, which was very mind-blowing to me. I wrote the book so that others wouldn't go through what I did. I very quickly realized that my experience is really quite common and happens often. It became clear that the book was not the end, but just the beginning of what became a life's mission."
Drescher turned her passion into advocacy, founding the Cancer Schmancer Movement and Cancer Schmancer Foundation in 2007. The foundation works in three areas: prevention, early detection and policy change. Drescher served as a public diplomacy envoy for women's health under presidents George W. Bush and Barack Obama, and is well known on Capitol Hill for her lobbying efforts on behalf of various women's health and consumer product legislation.
"I [started the foundation] because I realized that what had happened to me has happened to millions of Americans, by means of misdiagnosis and mistreatment. And for many, the unfortunate consequence is late-stage cancer diagnosis.
"This has to change. People have to transform from being patients into medical consumers. We have to become better partners with our physicians. Doctors are not gods; they are very busy people. They make mistakes and have their own problems."
Drescher is adamant about patients staying on top of what is happening in their bodies.
"When the doctor calls and tells you, you have cancer, at the end of the day, he goes home and eats dinner with his family. You go home and eat your heart out with yours. It's your life. It's your responsibility ultimately to take the bull by the horns and make sure everything is being done on your behalf," she said.
"That requires you to be extremely proactive, to see what the early warning whispers are of the cancers that may affect you and know the tests that are available," she said.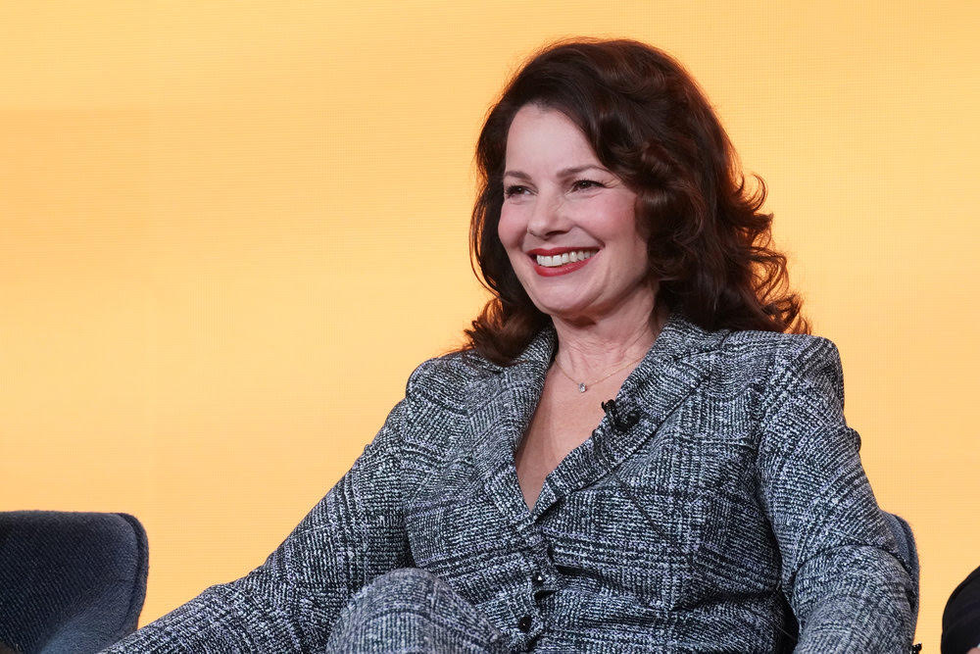 Drescher, this year, at the Television Critics Press TourPhoto by Evans Vestal War
Gather your posse
Drescher says it's imperative to have friends that support you in your cancer journey.
"Gather together a posse of supporters who will go with you to the doctor with a list of questions. They will write down the answers and learn how to write difficult medical spellings. So you could go home, go online and start doing your own research."
Drescher advises women to be prepared to go for a second or third opinion — and yes, even a seventh or eighth opinion — if you're not getting results you need or want.
Drescher is passionate about this topic. "We have to pivot our thinking and become more connected to our bodies, moving toward a more holistic approach," Drescher said. "We have to change our lifestyles and stop abusing ourselves and the planet. We have to support our immune system so that our immune system can support us. And we have to do that right away. Because there isn't a moment to lose."
Resources:
Cancer Schmancer
American Cancer Society
Foundation for Women's Cancer
Susan L. Hornik is a veteran entertainment and lifestyle journalist, who has interviewed numerous celebrities. She's written for InStyle, Shondaland, The Los Angeles Times, Health, Livestrong, Grammy.com and many other publications.