My first trip to Greece with my sister N and daughter A would soon be ending. Thankfully, we saved our seaworthy adventures in Santorini for the later part of the week, including a trip to the Perissa black sand beach and a sunset catamaran cruise around the island.
---
I visited Greece with my daughter A (center) and sister N (right).
Breakfast and a Visit to the Black Beach
On Thursday, we headed out for breakfast at Passaggio, a cute spot on the edge of Oia's town center. Passaggio is a small bistro where you can get takeout or eat in. We ordered coffee and yogurt and fruit bowls. We sat on the terrace and enjoyed the beautiful island view. Passaggio's breakfast bowl contained the creamiest Greek yogurt I've ever eaten, and the honey on the bottom was thin and light with just the right sweetness. It was so good, so good, so good.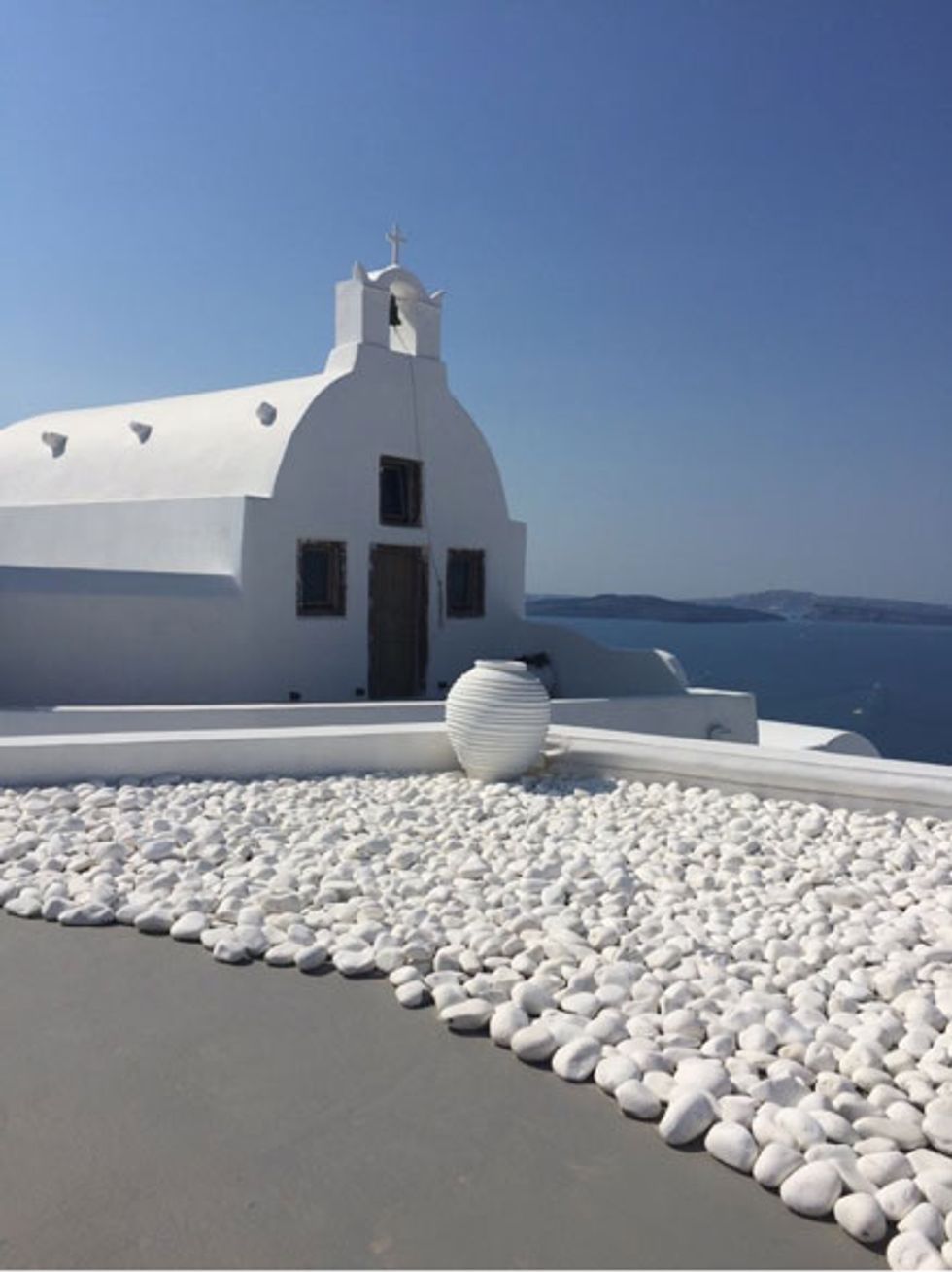 A lovely view from the Passaggio terrace.
After breakfast, we boarded the local bus to Fira (the capital of Santorini) and from there took another packed bus to the beach on the other side of the island. It took about 90 minutes one-way for the trip. (Note: We had planned to rent a car, but after seeing the rugged roads in Santorini, we decided against driving, which was a wise decision.)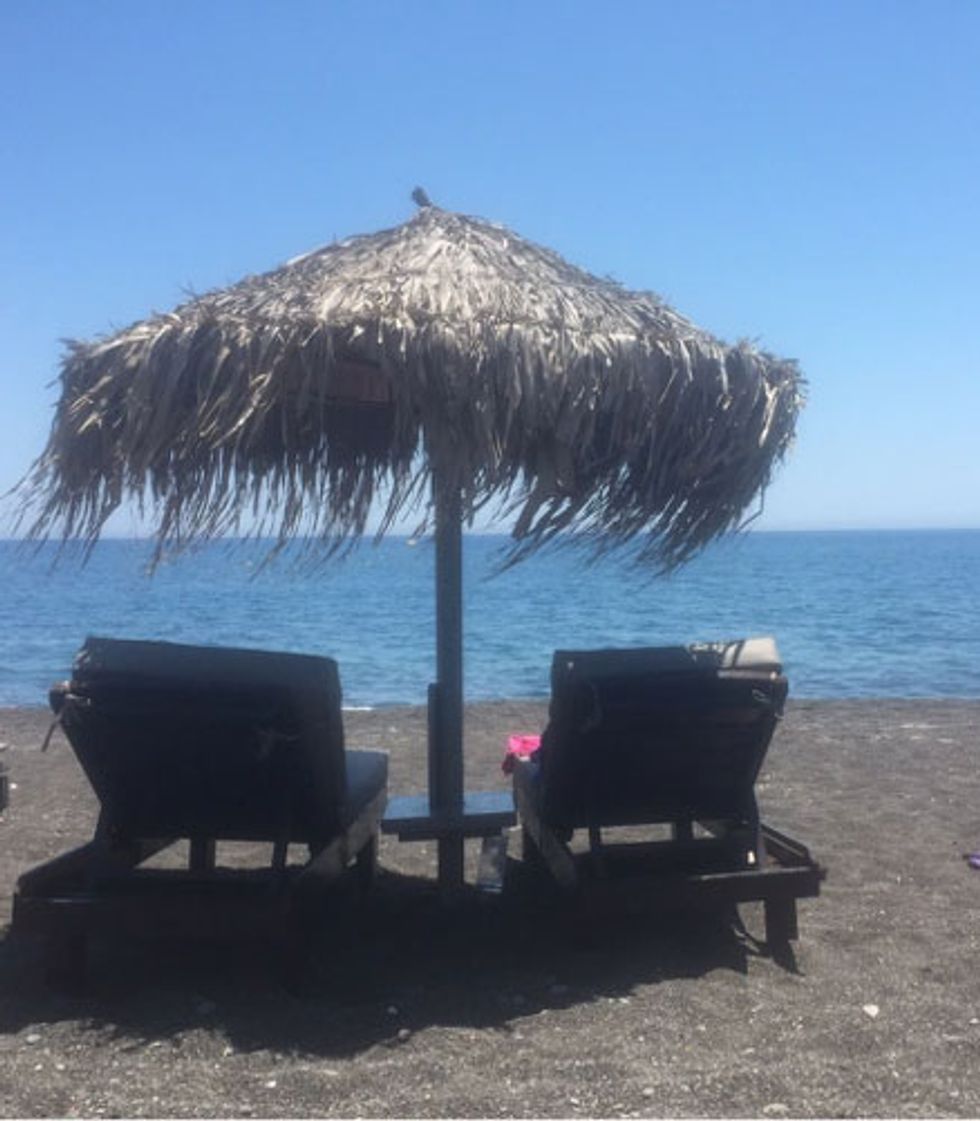 The black beach in Santorini has pebbles for sand.
It was a long, hot journey, but once we arrived at the black beach, it was very relaxing. The "sun beds" and thatched umbrellas are free, as long as you buy drinks or food from the beach's restaurant. There are also bathrooms available in the restaurant.
The sand is made of black pebbles from the volcanic ash. The sea water is calm and clear and very nice for swimming.
Our return bus rides were equally crowded and hot, hot, hot. We were glad to be back in Oia for the evening to enjoy dinner at Karma, where we shared Greek salad and tomato fritters, and I had veggie kabobs for my entrée. We had dessert at Lolita, Oia's popular gelateria.
Karma restaurant in Oia has delicious tomato fritters and veggie kabobs.
A Captivating Catamaran Cruise
Our Amorous Lagoon 520 Sunset Tour with Sunset Oia Sailing Cruises was set for Friday. We had reserved a five-hour group tour for the afternoon and into evening to see the famous Santorini sunset over Amoudi Bay.
Sunset Oia offers catamaran cruises around the Santorini islands.
We met our van service pickup at the Oia post office, packing bathing suits, hats, a change of clothes and lots of sunscreen for our voyage on the Aegean Sea. It took about 45 minutes to pick up the travelers, and there were many, many boats and catamarans to organize before leaving port.
The Sunset Oia team was super-friendly. Helen gave us safety tips and other members shared stories about the 1956 earthquake that divided Santorini into three islands. We visited the Red Beach for swimming and snorkeling. Our second stop was nearby at the White Beach for more swimming. We anchored there for our on-board barbecue.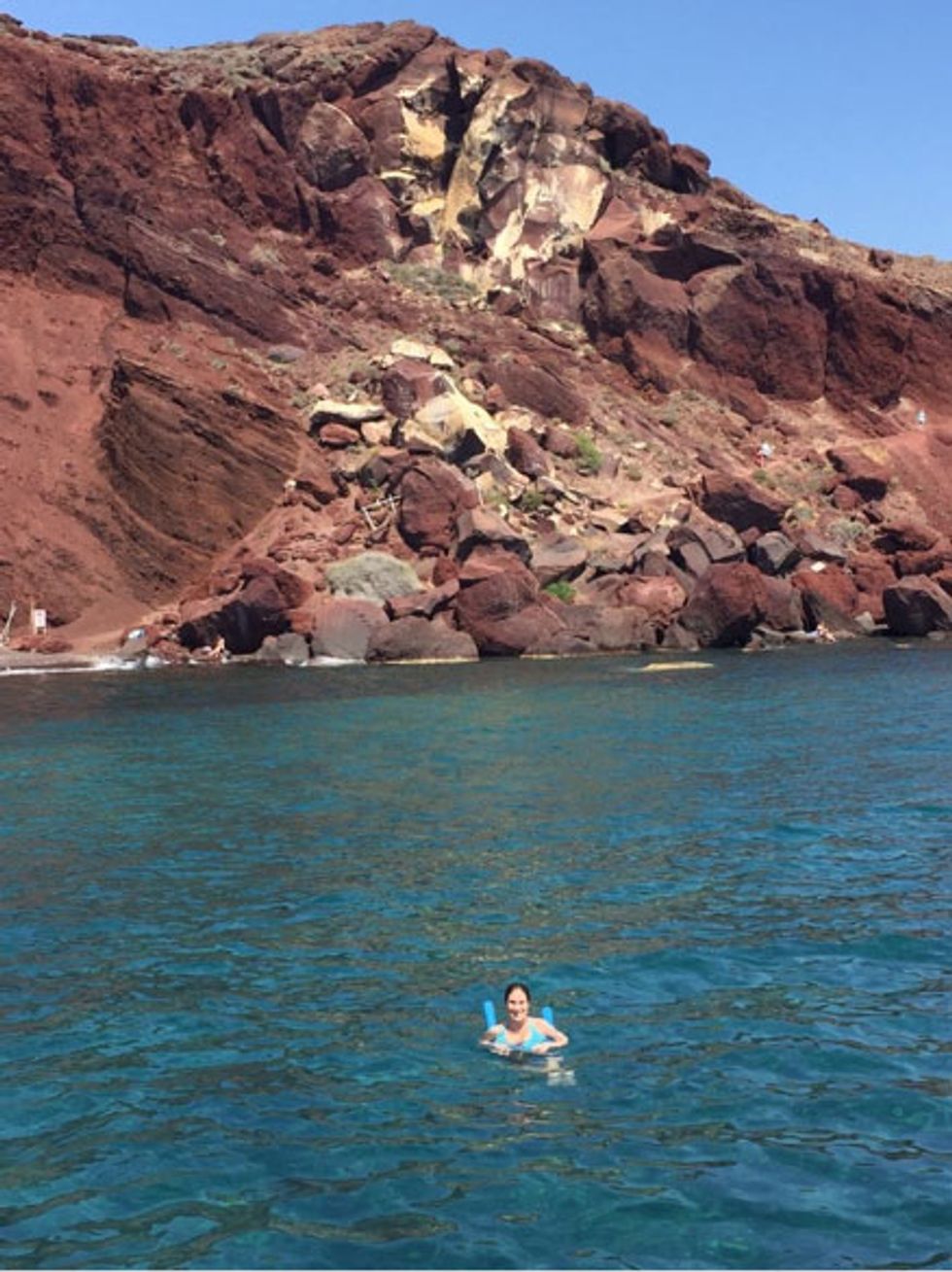 The red rocks overlook the Red Beach.
After dinner, we sailed around the two volcanos, which are closely watched by local authorities, and visited the Hot Springs for more swimming. (Note: There is sulfur in the Hot Springs water, and it can turn your white bathing suit orange. I recommend you wear a dark bathing suit if you plan to go in the water here. I skipped swimming, not wanting to ruin the white trim on my bathing suit.)
The catamaran takes you around the volcanos.
Our last stop was below Oia village, where we watched the sunset from the best point on the island. As we sailed into the port and the sun was setting, a song was playing: "These are the days we won't forget. These are the days we won't forget. These are the days that we waited for. These are the days that we'll never forget."
A beautiful Santorini sunset.
It was just as the Sunset Oia cruise promotions promised: It was a fairytale experience and a great way to end our week in Santorini.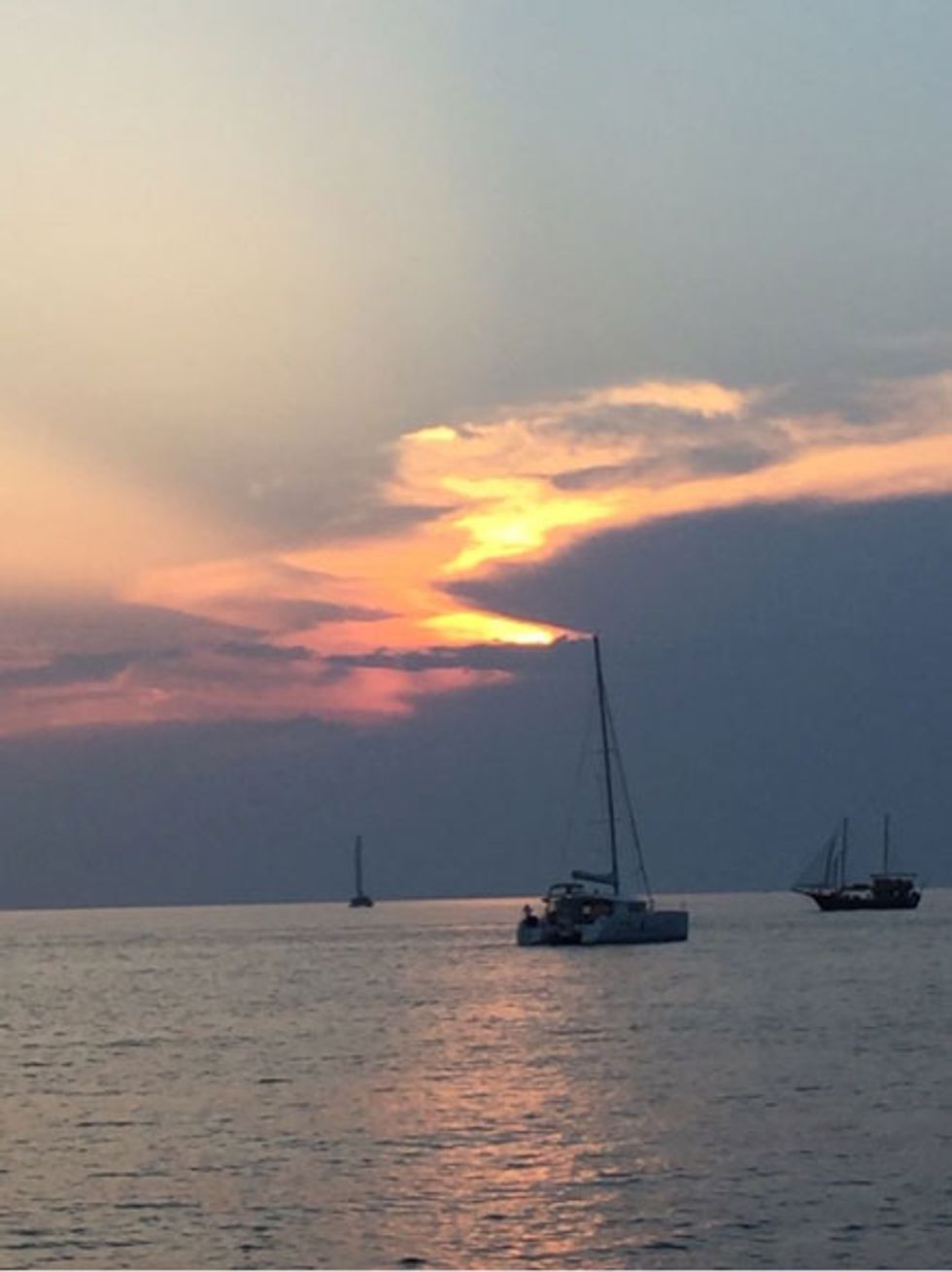 Viewing the setting sun from the catamaran.
Farewell Dinner at Floga and Fond Memories
There would be one more highlight of our stay, and that was our Saturday night farewell dinner that A had booked in advance at Floga, one of the more expensive restaurants in Oia. Floga has the biggest terrace in Oia to view the breathtaking views of the caldera.
We decided to splurge since it was our last night. We dined on tomato fritters and Greek salad to start. I ordered the sea bass fillet with fennel and ginger sauce for my entree. Our dessert finale was a best-ever baklava. We each took turns scrapping up the last bits of phyllo, honey and nuts.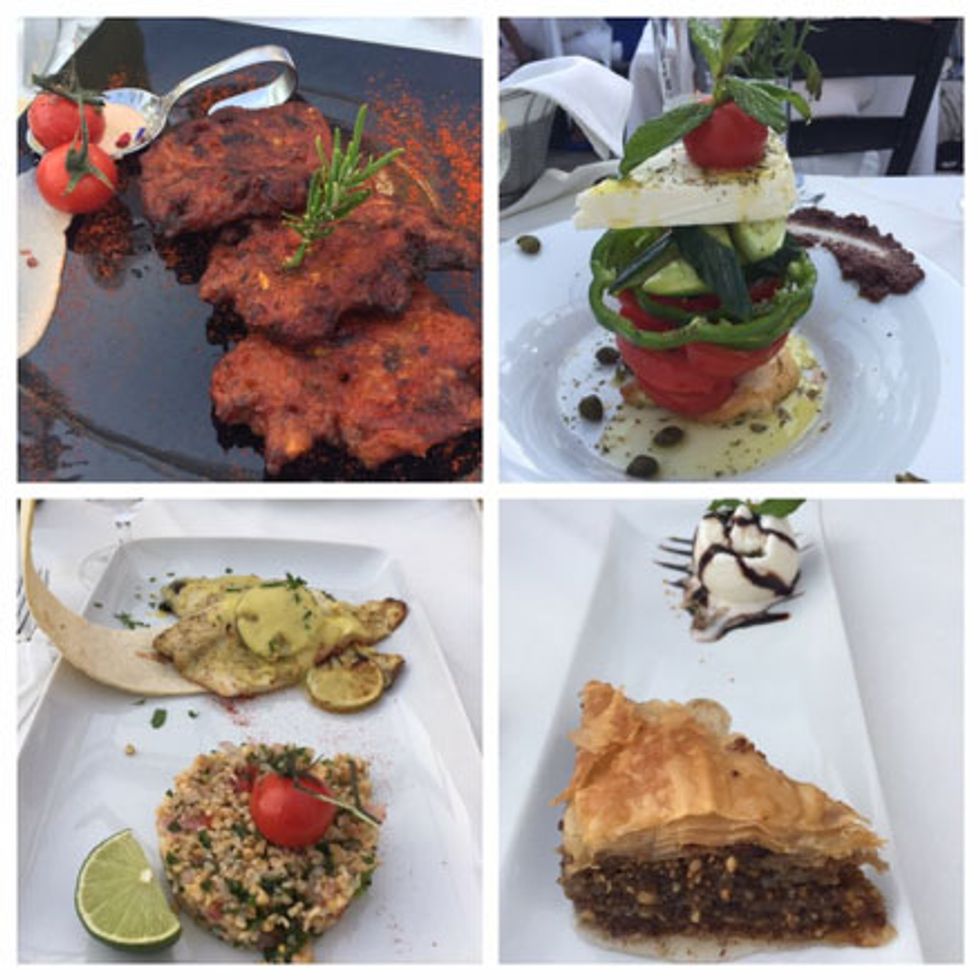 Our final meal at Floga included tomato fritters, Greek salad, sea bass (for me) and baklava.
By Saturday evening, our bags were packed for the next morning's flight from Santorini to Athens and then Athens to New York.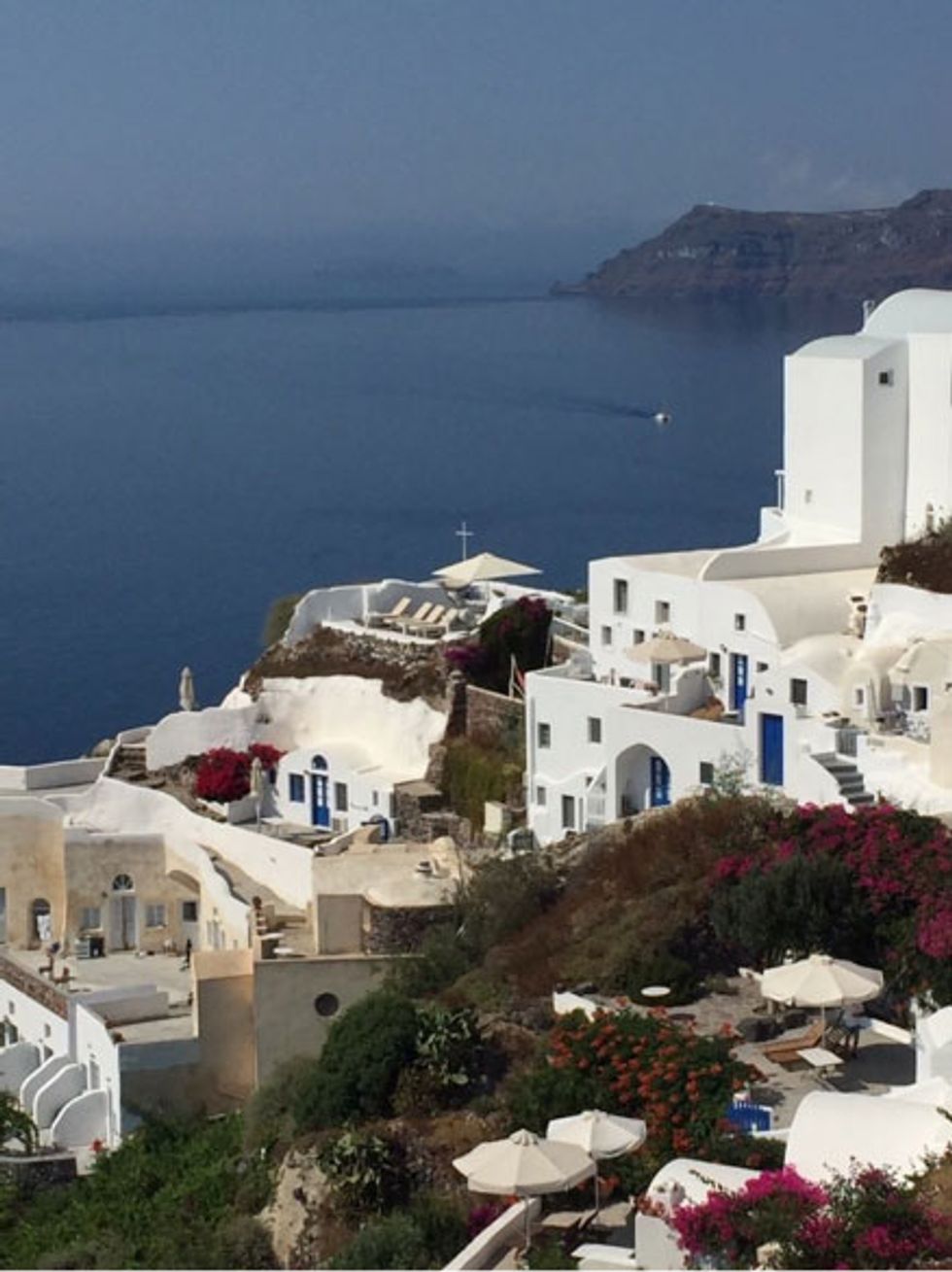 Santorini offers picture-perfect views.
My first visit to Greece is filled with fond memories. I hope you get to experience Greece, especially Santorini—it's well worth a trip. This Santorini quote below reminds me that every day can end beautifully.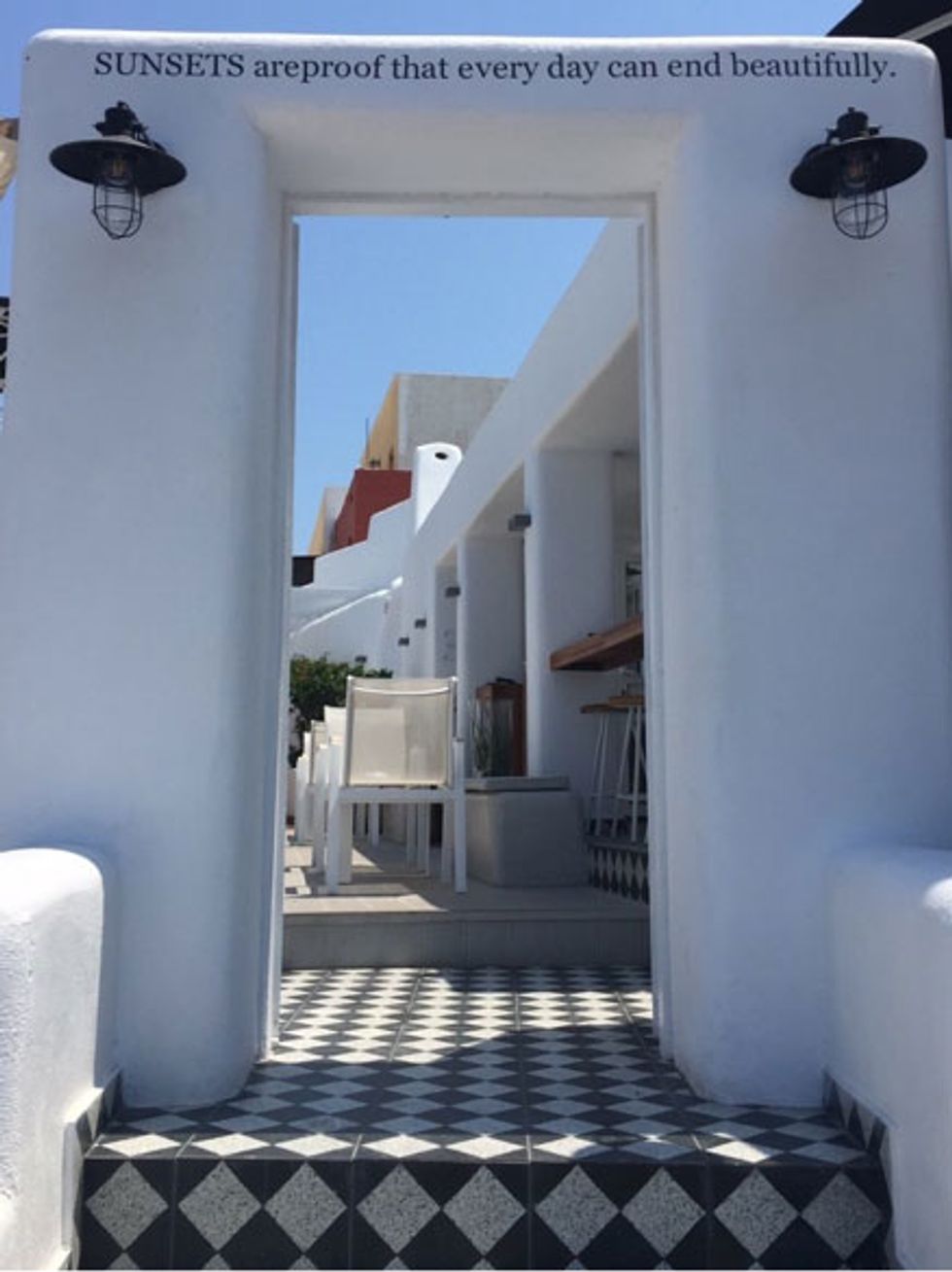 P.S. In case you missed my earlier posts about my vacation to Greece, check them out below:
My First Trip To Greece: The Amazing Old World of Athens
My First Trip To Greece: Climbing To The Top Of The Acropolis
My First Trip To Greece: Soaking In The Splendors of Santorini
My First Trip To Greece: Enjoying A Wine and Food Tour in Santorini 
This post originally appeared on aboomerslifeafter50.com.