"I really like your blog, and wondered if you would care to come and visit us at Inn on the Beach for a two-night stay. To tell you a little about ourselves, we're a complex of recently refurbished self-catering cottages and rooms situated on St. Pete Beach, many of them offering beautiful views out over the Gulf," said the invitation from D.*
---
Having never explored the west coast of Florida, I was excited to visit. My boyfriend L was also glad to get away. So, when the cold winds roared in January, we packed our bags and headed for a long weekend in sunny St. Pete Beach. We added a few extra nights to lengthen our stay giving us time for a pleasant winter retreat at the Inn on the Beach in Pass-a-Grille.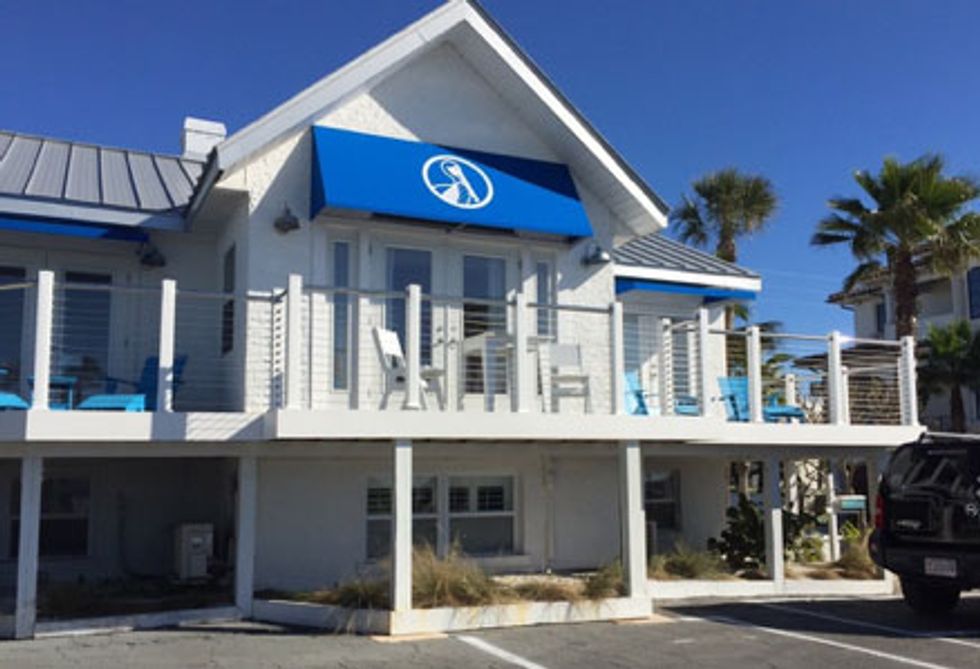 The Inn on the Beach in Pass-a-Grille, St. Pete Beach, Florida.
The Inn on the Beach Is a Little Bit of Paradise
We arrived after a short flight from Philadelphia to Tampa International Airport, rented a car and were at the Inn on the Beach in about 30 minutes. The inn is on 14th Street and Gulf Way in the historic Pass-a-Grille area.
We rented the Blue Heron room on the second floor with a terrace overlooking the beach. The room had a king-size bed, open closet to hang our clothes, renovated bathroom and efficiency kitchen. There is onsite parking, maid service and coffee, and continental breakfast is served in the courtyard on the weekends.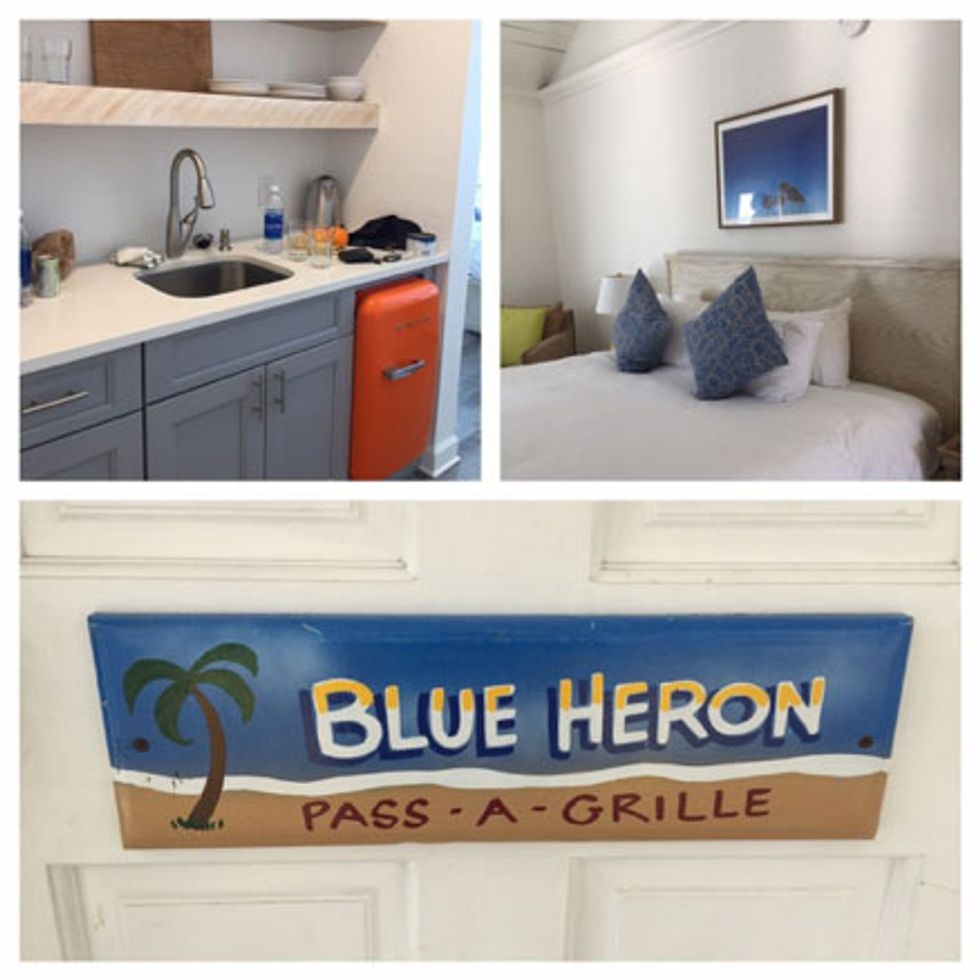 Our room had a kitchenette and king-size bed.

A beach view from our balcony.
The weather was a perfect 75 degrees, and the sun was shining. The beach was just a few steps away. On went our shorts and flip-flops, and before we could snap our fingers, we were walking on the narrow sand paths, dipping our feet in the cool water and watching the pelicans and royal tern gulls and other sun coast birds. It was absolutely glorious!

It was warm enough to wear shorts and flip-flops!

Royal tern birds are common on the Gulf Coast of Florida.
Pass-a-Grille Is a Charming Town
Pass-a-Grille is a small neighborhood on the south end of St. Pete Beach. According to the community's website, its name derives from the Passe aux Grilleurs (the passageway of the grillers), which may be a reference to the fishermen who camped there to obtain fresh water and grill their catch. 
The 8th Avenue Shopping District is a short walk from the inn, with clothing boutiques and shops, an art gallery with local arts and crafts and casual restaurants with outdoor dining.  

The shopping district includes unique boutiques.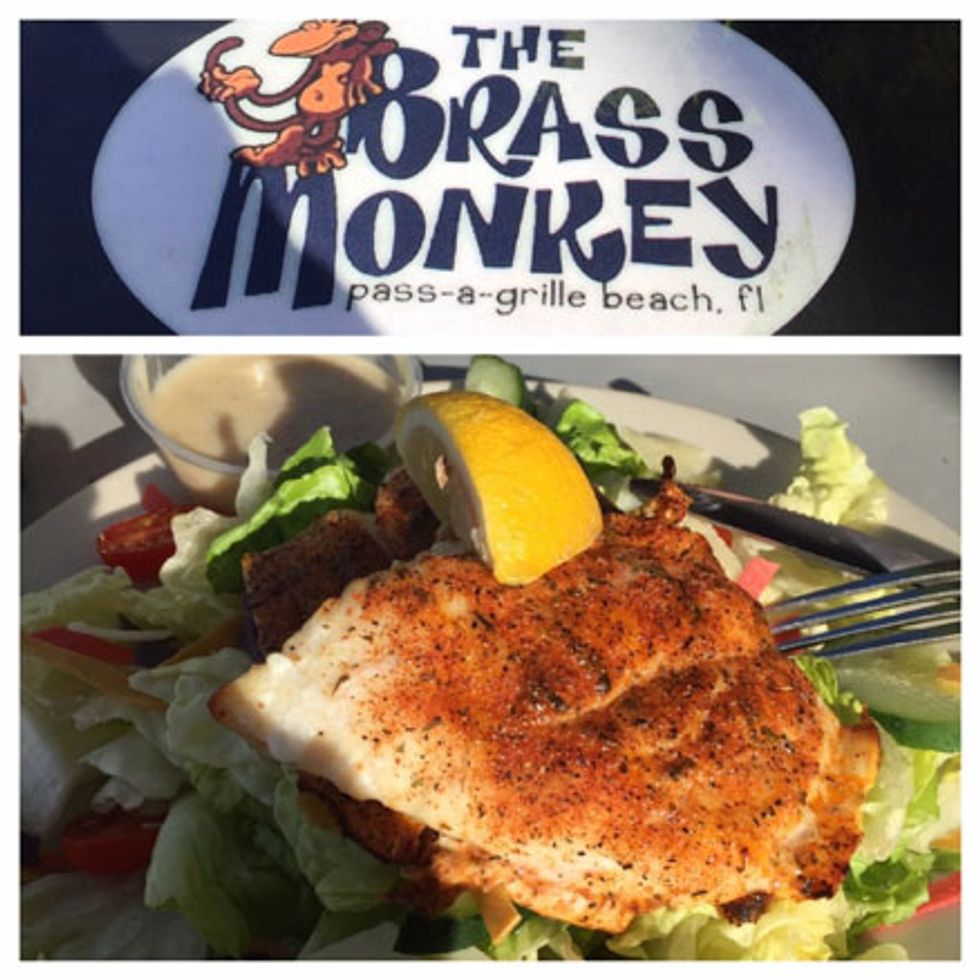 Grouper salad at The Brass Monkey.
We ate lots of grouper, a favorite Florida fish. The Brass Monkey has good salads with blackened grouper. We liked the blackened shrimp and scallops with homemade coleslaw at the Hurricane Seafood Restaurant. The Paradise Grille overlooking the beach and the Seahorse Restaurant on the bay are popular breakfast and lunch spots. We sampled the grille's egg sandwiches a few mornings and grouper sandwiches at noon. We enjoyed salads with Cajun seasoned grilled grouper for lunch at Seahorse. L liked its New England clam chowder, too.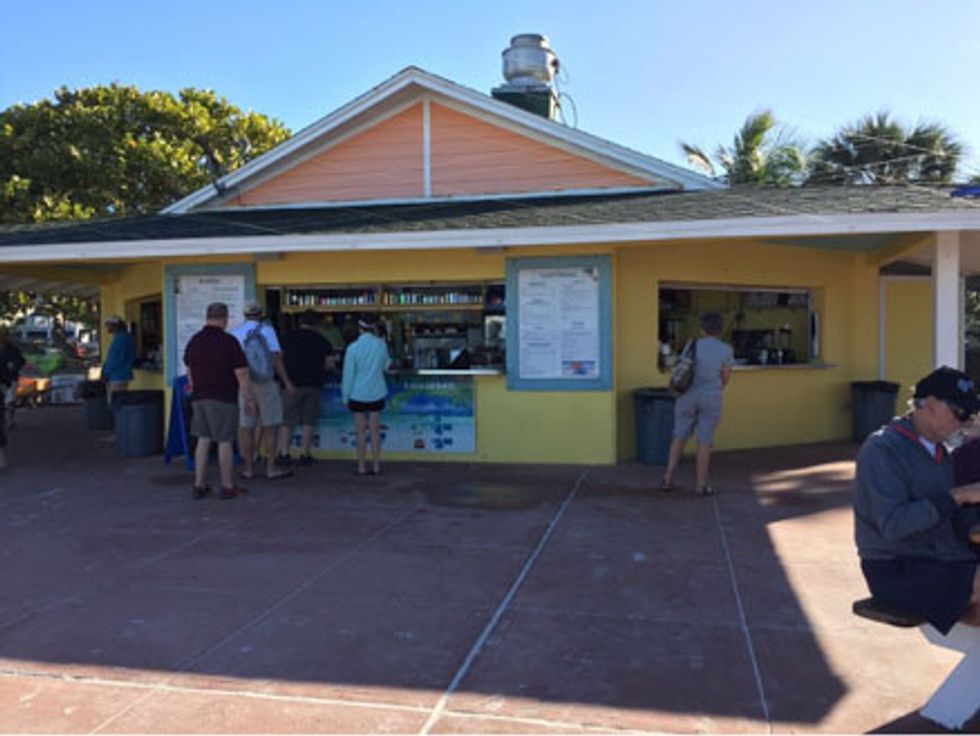 Paradise Grille serves breakfast and lunch overlooking the beach.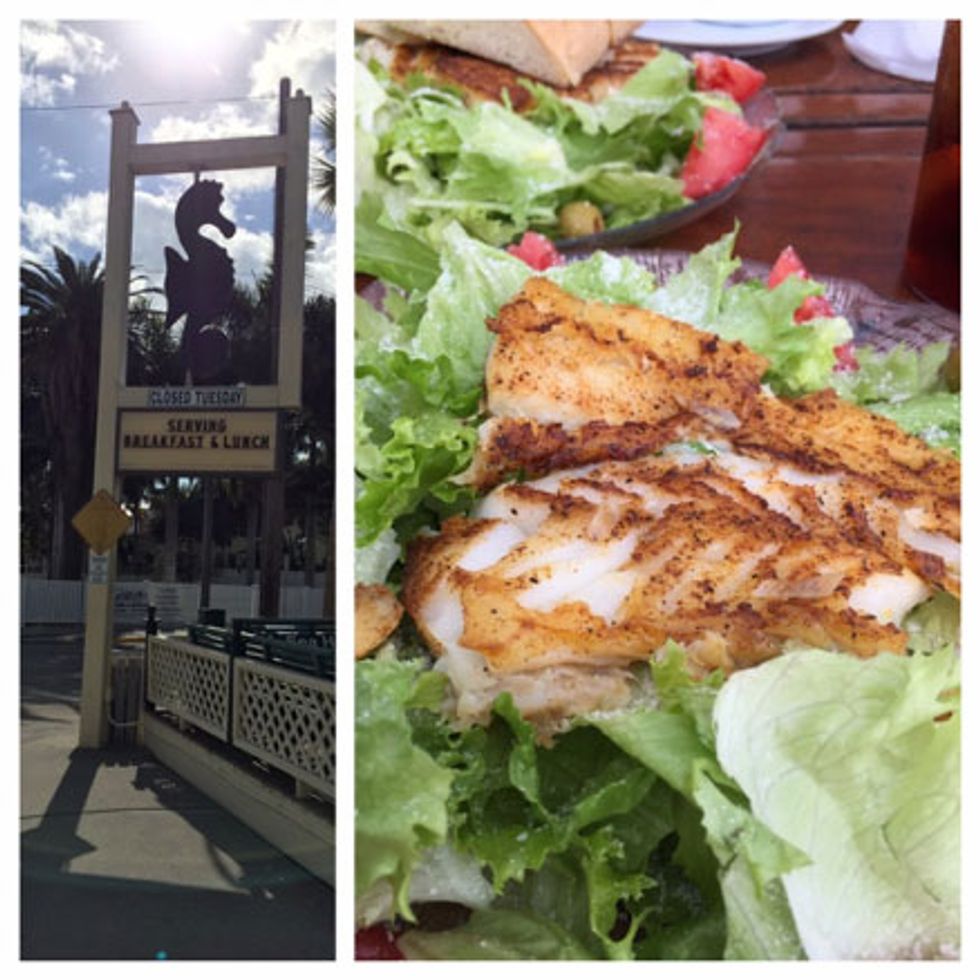 Cajun Grouper at the Seahorse Restaurant.
For dessert, I highly recommend Paradise Sweets. Once the door is opened and the scent of homemade waffle cones and ice cream flows out, your taste buds will be captured. "I have to reward myself for all those steps on my Fitbit," I told L as I ordered a sugar cone with a scoop of cappuccino chocolate chip ice cream. Being a nice girlfriend, I shared my ice cream with him. Yum, yum, yum. The ice cream was so good I had to go back for a second serving the next day!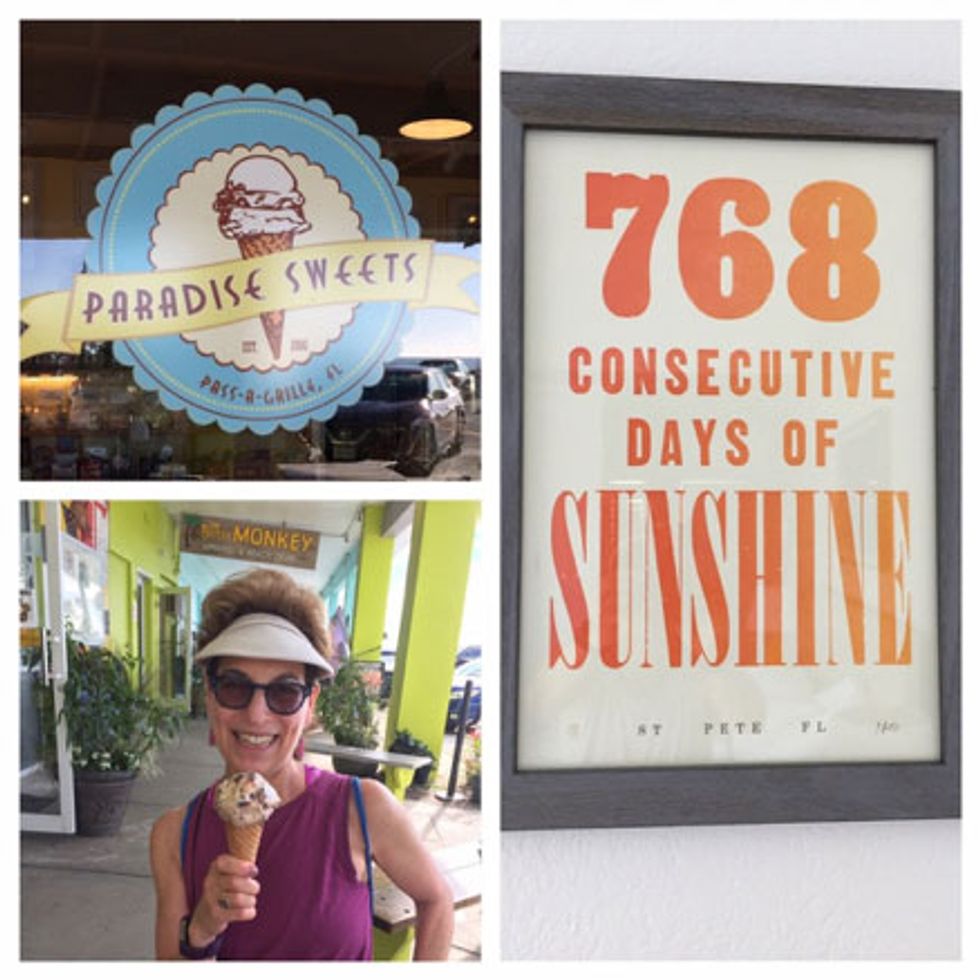 There are many sunny days to eat ice cream at Paradise Sweets.
Spectacular Sunsets and Walks on the Beach
Each day was sunny and warm. We couldn't have asked for better weather. Even when the clouds came, they only stayed an hour or two. Each morning L and I took long walks on the beach, navigating our way around thousands of tiny shells. I collected a bunch to take home. We don't have Sun Coast shells at the Jersey shore.

Beach walks were very calming.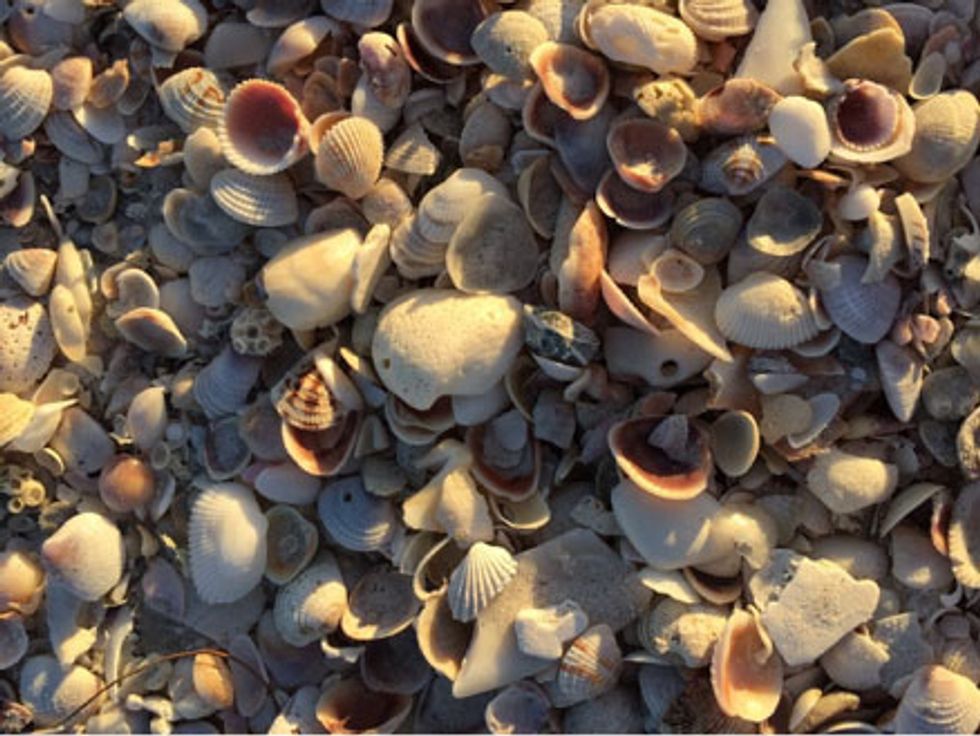 It was fun to hunt for Sun Coast shells.
Early evening, we sat on our balcony and watched the spectacular sunsets over the Gulf. It was beautiful, peaceful and so relaxing.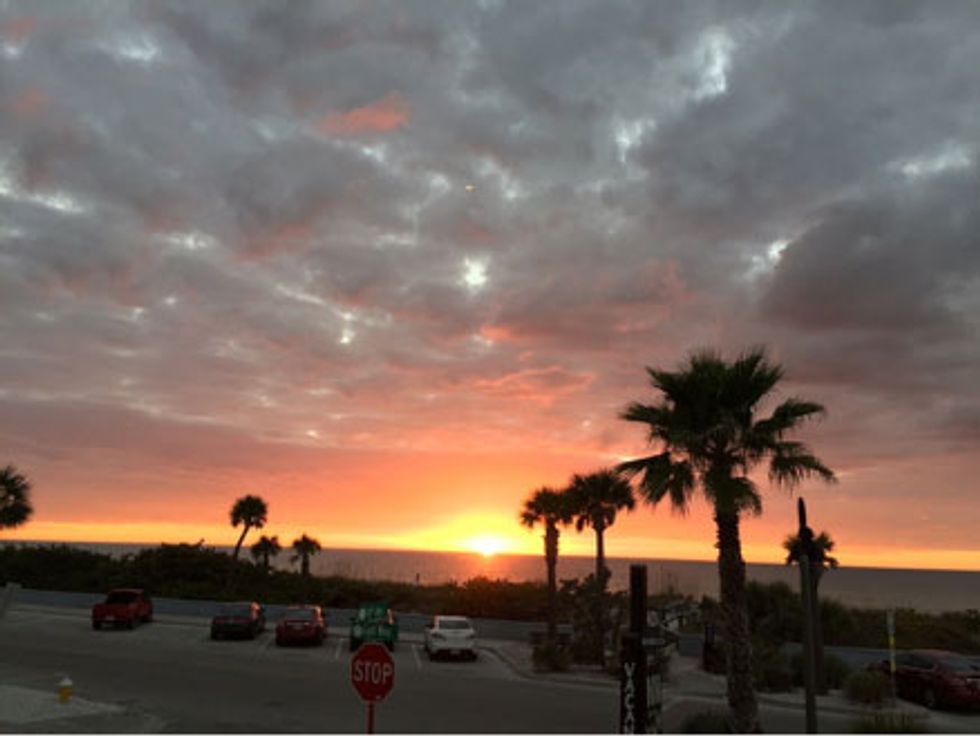 Sunsets on St. Pete Beach were breathtaking.
Sunday Is a Fun Day
On Sunday, there was an arts and crafts fair next to The Paradise Grille. There were vendors selling gems, paintings, housewares and handmade goods. L and I ate our grouper sandwiches and watched the townsfolk sing and dance. It was nice to sit and savor the simple life in Pass-a-Grille. (You can also rent bicycles, kayaks, boats and more on the bay side of town.)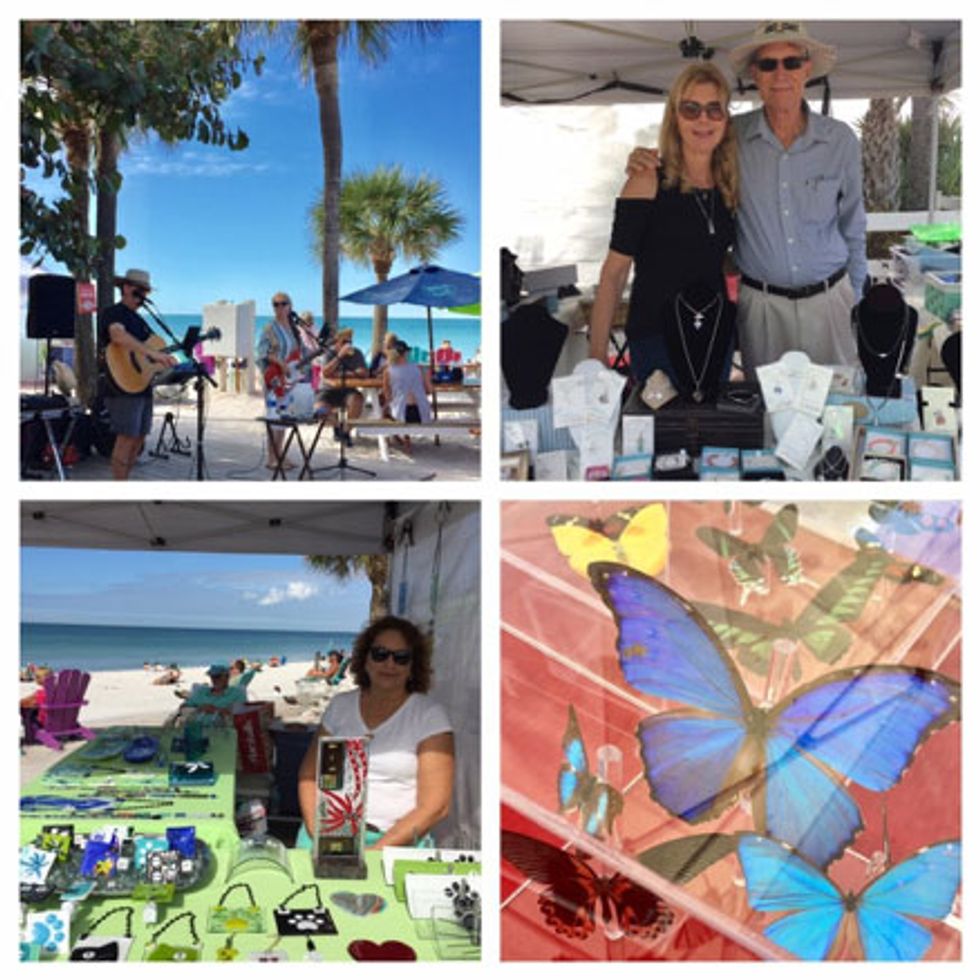 Sunday crafts fair and musical entertainment by the beach.

Can't wait to go back to Pass-a-Grille, St. Pete Beach.
I was sad to leave sunny St. Pete Beach and return to rainy New Jersey. My muscles and joints move better in warmer weather. Maybe someday during my life after 50 I'll get to extend my stay in Florida during the winter months. 
"Shall we book another trip to Pass-a-Grille for 2018?" I asked L. 
He smiled and nodded. 
"I take that as a yes. Right, L?"
*Disclosure of Material Connection: The Inn on the Beach provided me with a two-night complimentary stay. Regardless, I only recommend products or services I use personally and believe will be good for my readers.
This post originally appeared on aboomerslifeafter50.com.