---
Our first stop for our pre-trip on "Rhineland Discovery" (courtesy of Viking River Cruises) was the beautiful medieval city of Bruges, Belgium. My boyfriend L and I spent time exploring on our own and with a Viking guide.*
The night before we left home we watched In Bruge, a comedic thriller with Colin Farrell. (Note: It was the movie that prompted me when I arrived in Bruges to attempt to climb the 346 spiral steps to the top of the Belfort. I never made it to the top—I was too dizzy after the first 173 steps. I still gave myself an A+ for the awesome view halfway up and allowed myself a few extra pieces of chocolate for the calories I burned climbing.)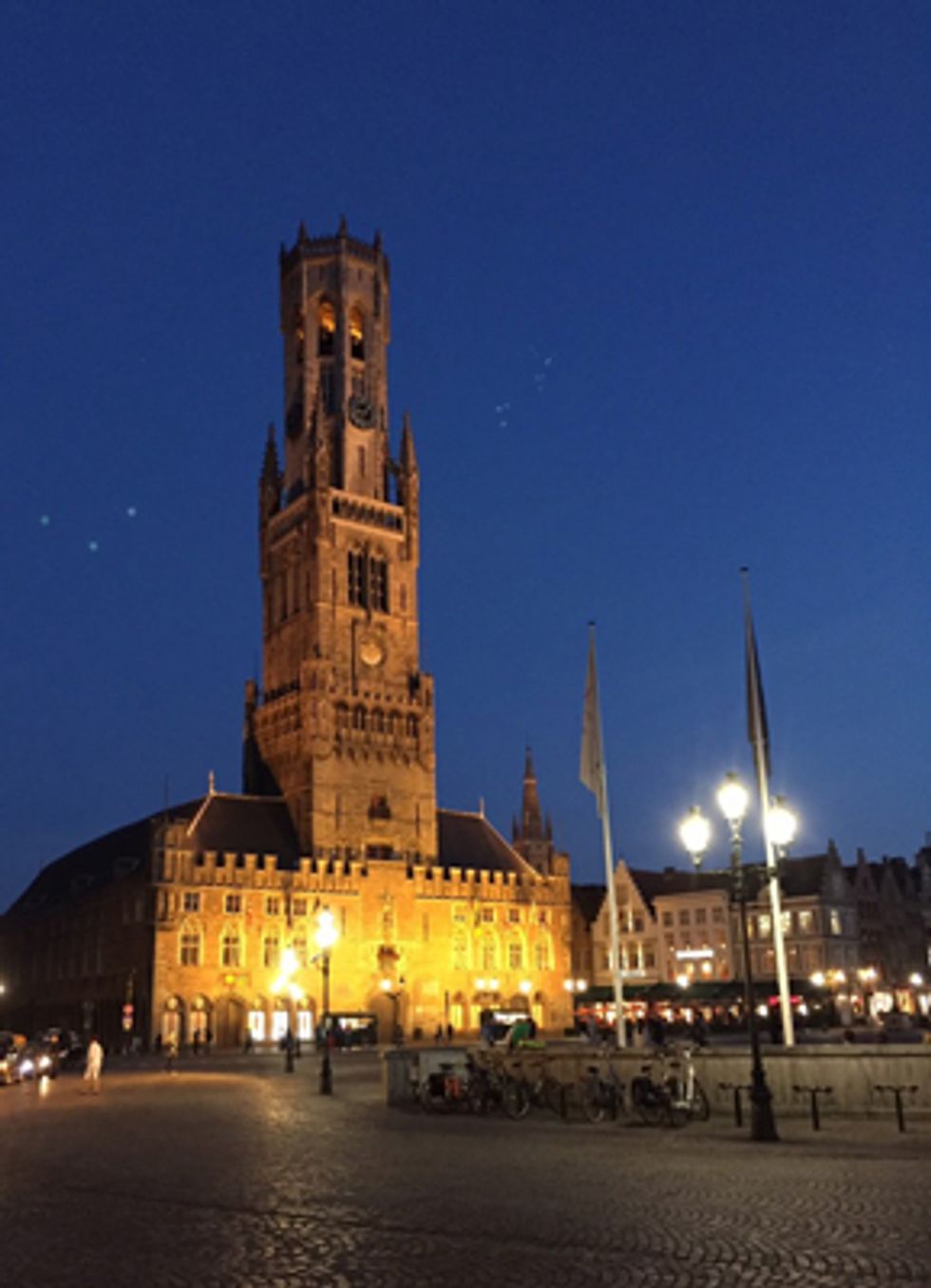 The Belfort at night is breathtaking.

Bruges is about 45 minutes from the Brussels airport. We were shuttled by taxi to our lodging at Hotel Dukes' Palace. Did I say we were treated like kings and queens? We stayed in the former residence of the Burgundian aristocracy, the only five-star hotel in Flanders.
Wow-o-wow, there was a complimentary spa with sauna, steam room and salt wall. I made sure L and I tried each treatment after our long plane ride. Plus our room had a soaking tub and makeup mirror—two important amenities when traveling during my life after 50. (Did I mention that they also served Belgian chocolate for breakfast? They did. They did.)


Hotel Dukes' Palace is the former home of royalty.



When in Bruges eat Belgian chocolate for breakfast!
L and I enjoyed walking around Bruges' cobblestone streets, the market square where the Belfort stands tall and meandering alleyways. The Belgian chocolatiers won us over with their expansive varieties of milk and dark sweets—we never resisted samples when offered.


Belgian chocolates are all over Bruges. Yes, those are chocolate boobies.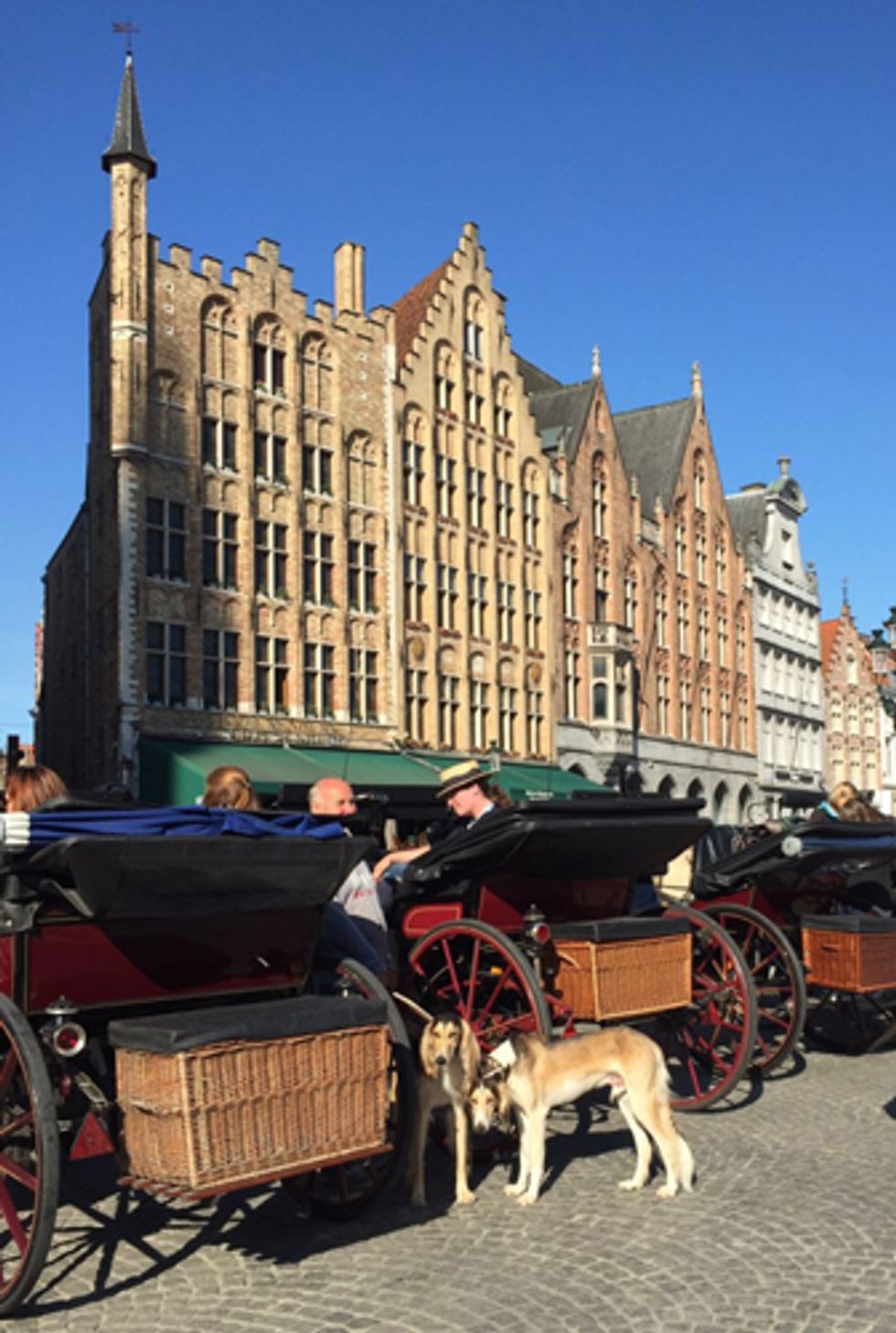 Bruges Market Square was bustling with activities.
In Bruges, we did what every good Belgian does, we dipped our pommes frites (fries) in mayonnaise and ate moules—mussels steamed in big pots. We missed eating Belgian waffles (no worries, I had one in Amsterdam) because we were too full after our first lunch at Le Pain Quotidien (this bistro is also in New York City but originated in Belgium) and our second lunch at Salade Folle, a delicious natural foods restaurant.
We went to Bierbrasserie Cambrinus for dinner one evening, since Belgium is known for its expansive menu of beers. Not being beer drinkers, we sipped wine instead and dined on fresh fish dishes from the region.

Bruges is known for moules (mussels), pomme frites dipped in mayonnaise (fries), and Belgian beers.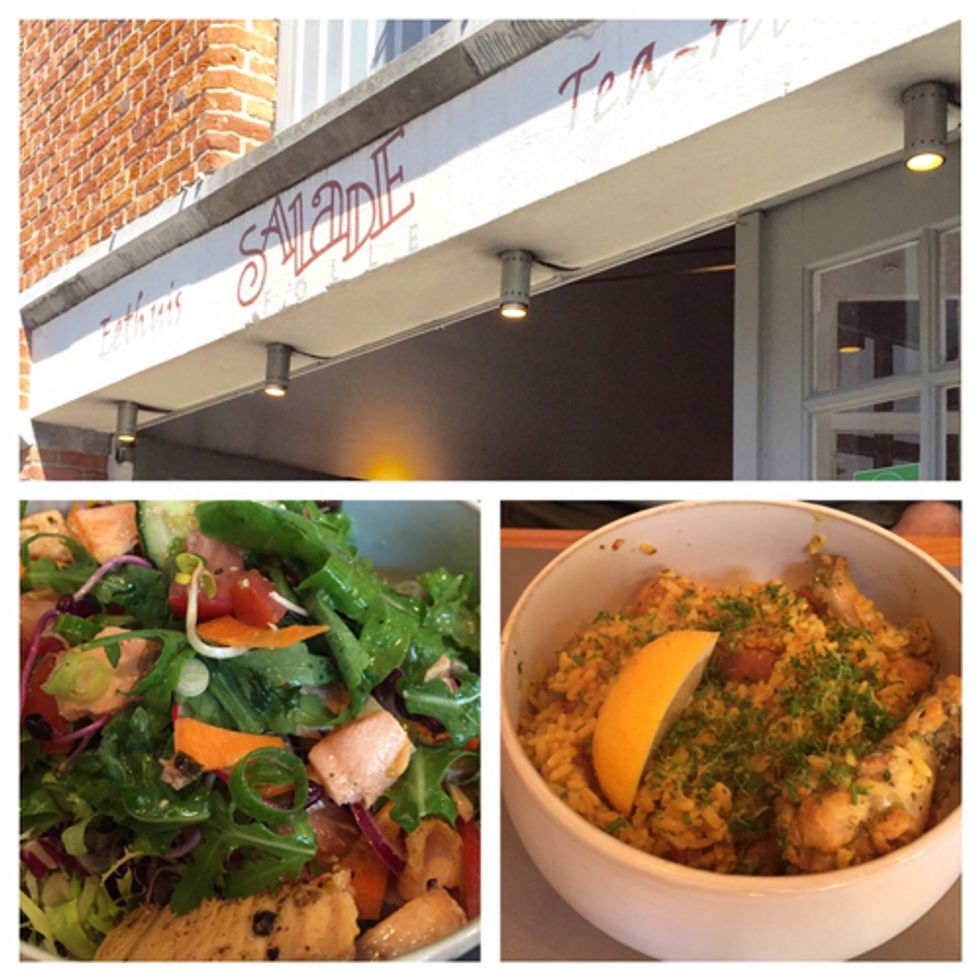 Lunch at Salade Folle—salmon salad and paella.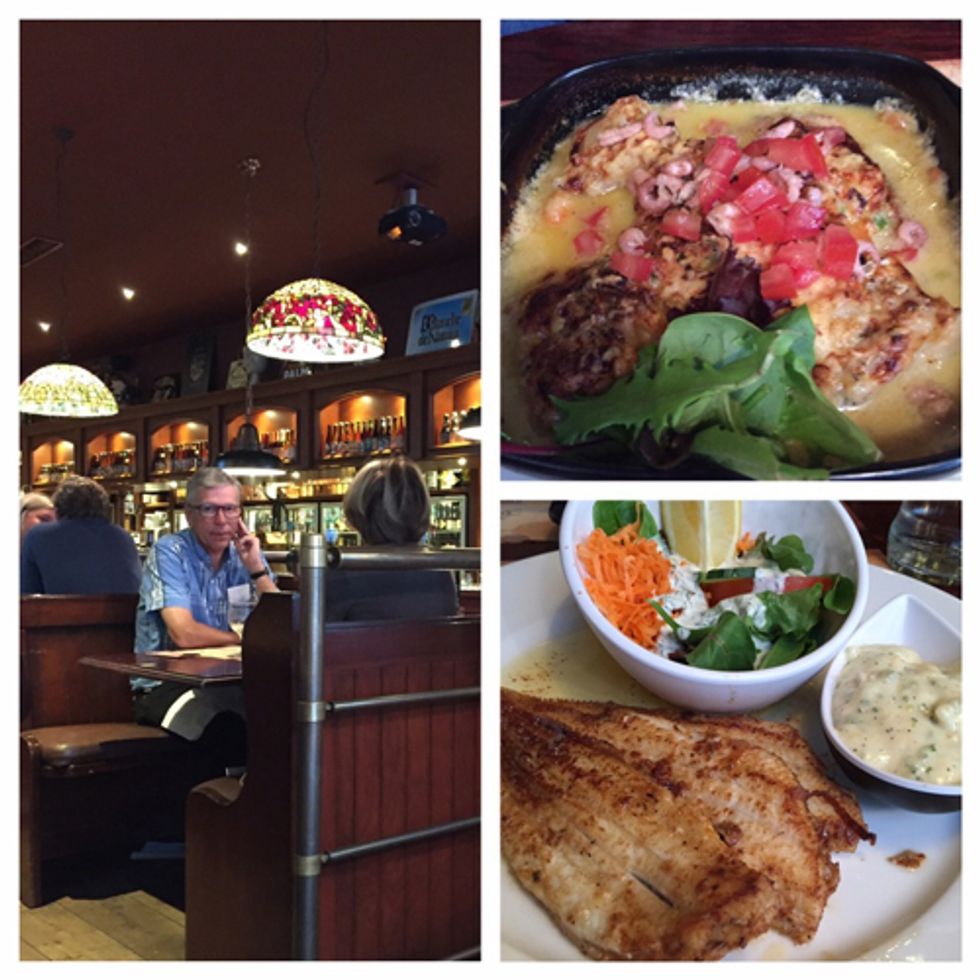 Dinner at the bierbrasserie with local fish dishes.
Each evening we stopped at Gelateria Da Vinci for a cone of homemade gelato— stracciatella on Monday and hazelnut on Tuesday. I was a nice girlfriend and shared my cones with L, even though I could have eaten them all by myself.


I shared my gelato with my boyfriend L.
Venice of the North
On our second day in Bruges, our Viking guide, Annike, gave us a walking tour of the city, which is the fifth largest in Belgium. She told us about Bruges' founding in the ninth century; its good times and bad times through the Golden Ages, Gothic periods, Napoleon era; and how it developed as a port for trading with its waterways and canals. Thankfully, Bruges had very little damage during World War II, because the Germans used it as an administrative city.
"Economically, Bruges was a real busy port," said Annike. "The first stock exchange was here. That's where the term 'bursar' originates. They made parchment books, Flemish paintings, jewelry, cut diamonds."
She encouraged us to take a boat ride on the canal. "Bruges is known as the Venice of the north," said Annike. The canal ride was lovely and only cost about $7 euro per person.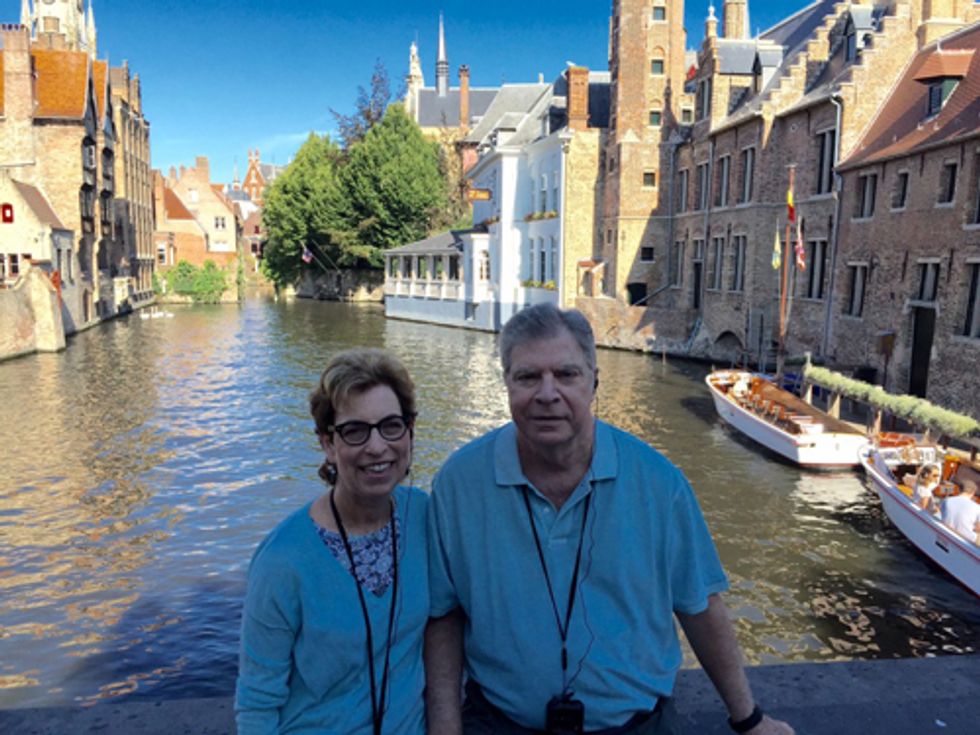 L and I enjoyed our boat ride on the canal.
I walked about 20,000 steps while I was in Bruges, according to my FitBit. It's a great walking city, especially when the sun is shining, which it was for our stay.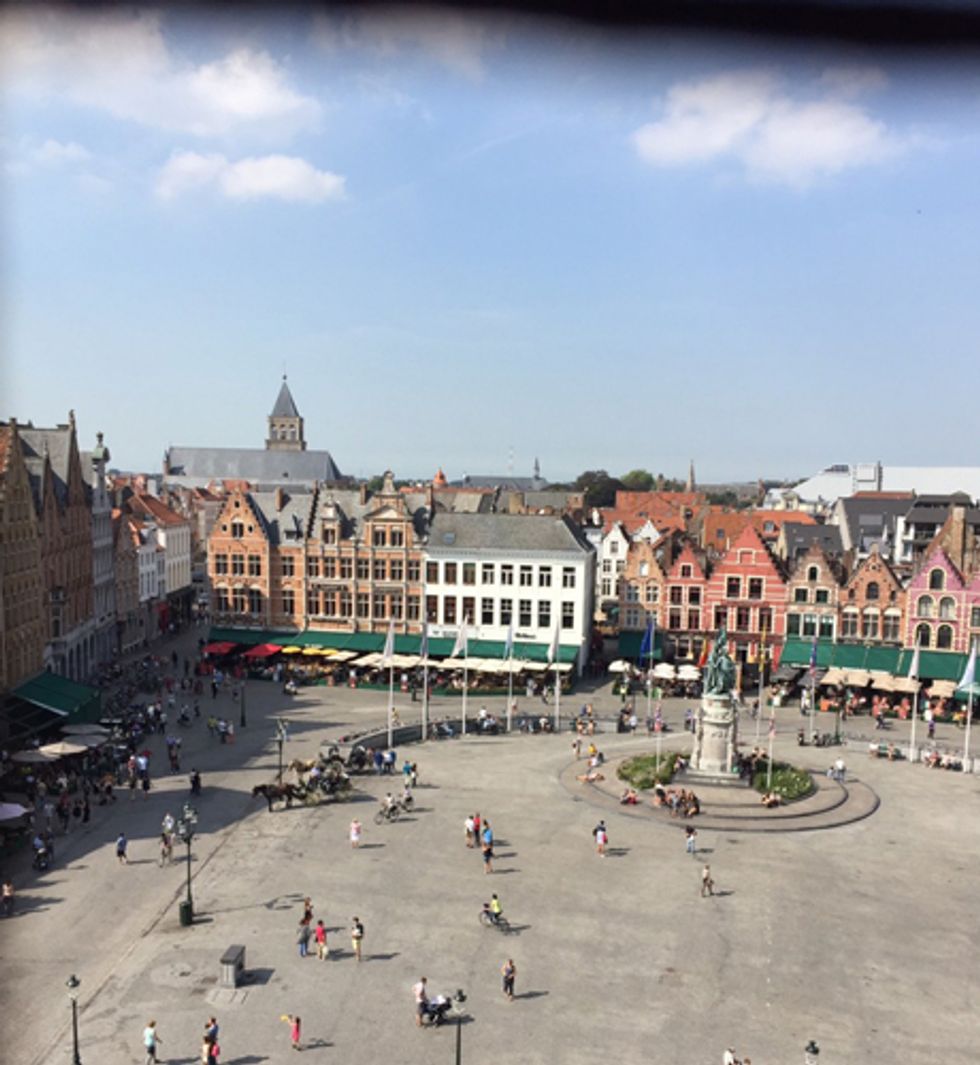 The beautiful city of Bruges as viewed from halfway up the Belfort.
"Catch the vibrations in Europe, it's so old," said our Viking program director, Fred. I definitely was feeling good vibrations in Bruges. There was no doubt that our Viking voyage was off to a fantastic start.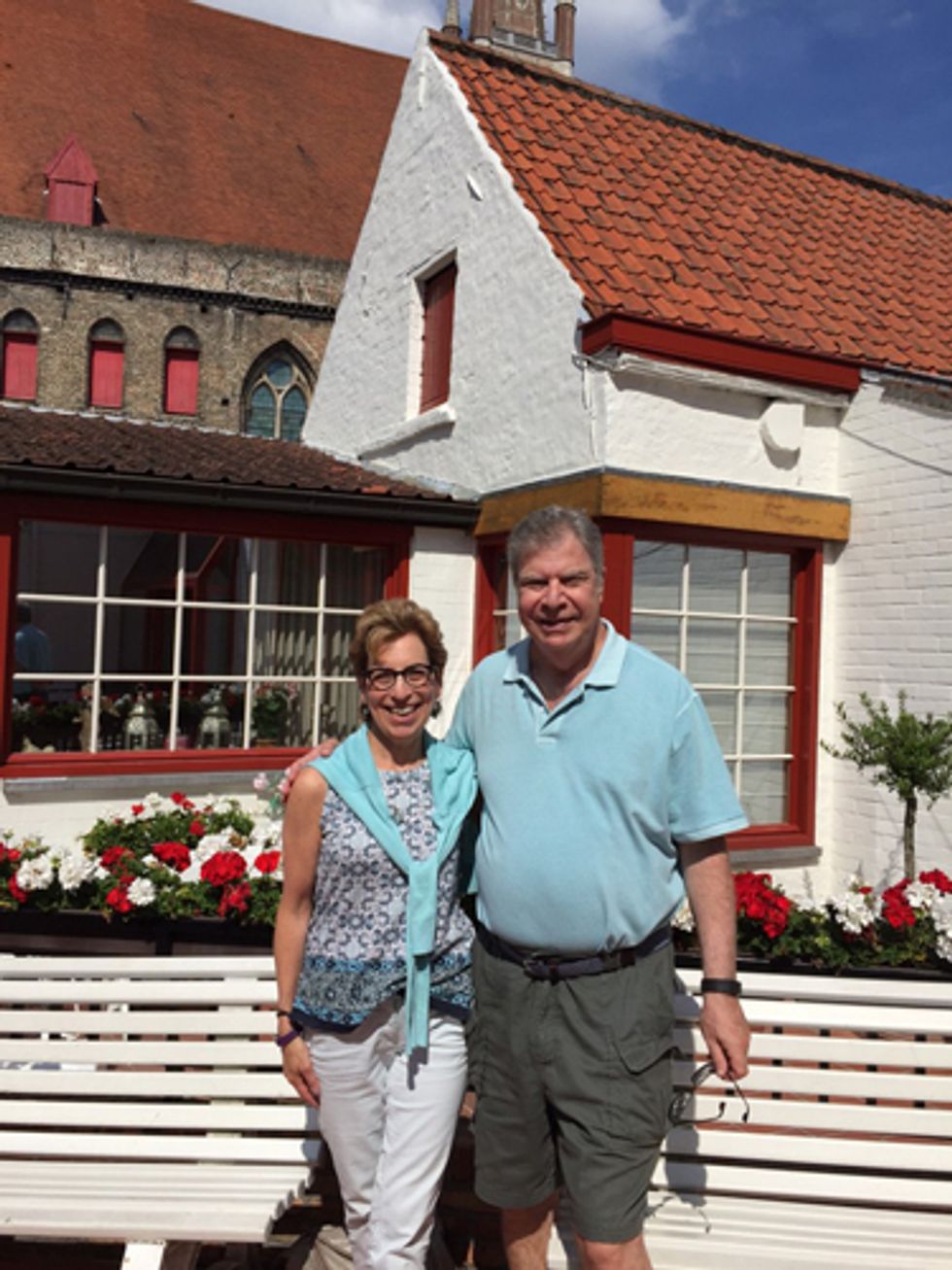 We were all smiles after two days in Bruges. It was a great way to start our Rhineland Discovery.
As they say in Bruges, tot ziens and au revoir for now. Next stop: Amsterdam.
P.S. In case you missed my first recap you can find it at My Travels on "Rhineland Discovery": A Delight for the Senses.
*Disclosure of Material Connection: This is a "sponsored post." Viking River Cruises provided me with a complimentary press trip river cruise on the Rhine. Regardless, I only recommend products or services I use personally and believe will be good for my readers.
This post originally appeared on aboomerslifeafter50.com.