---
It had been a glorious week on the Viking EIR (courtesy of Viking River Cruises).* Our voyage on the Rhineland Discovery river cruise would soon be ending. There was one last day to savor—starting with a morning excursion to the medieval village of Colmar, France, and then an afternoon exploring the beauty of Germany's fabled Black Forest.
A Walking Tour of Colmar, France
Our tour guide, Rhona, provided a history lesson during our brief bus ride to Colmar. She told us that this area of France was occupied by Germany during World War I and World War II.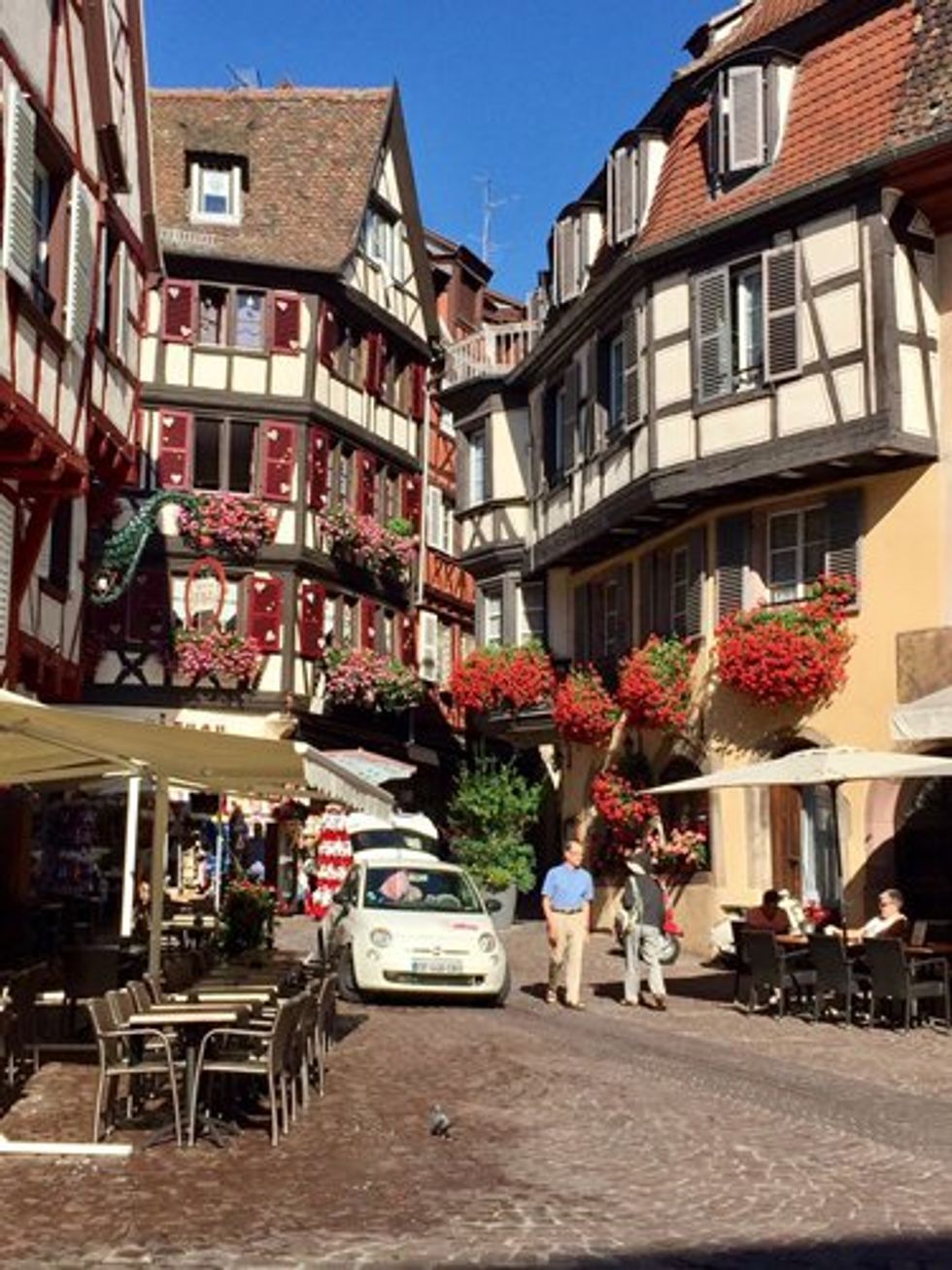 Colmar, France, is a quaint village.
As we neared the roundabout there was a replica of the Statue of Liberty. "We have a tiny bit of New York City here," said Rhona. "In 2004 an honorary statue was placed at the entrance of Colmar to honor its hometown creator, Bartholdi, who designed the original monument as a thank-you to Americans for their help in World War II."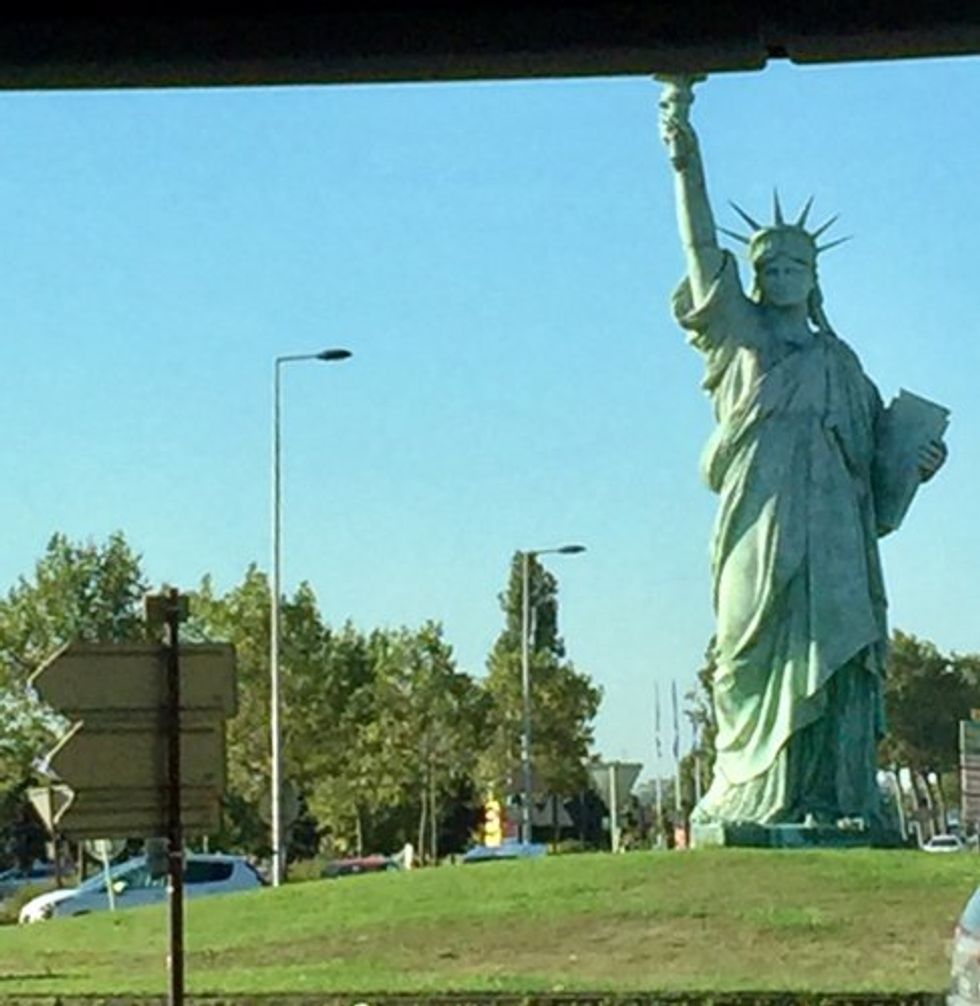 A replica of the Statue of Liberty stands at the entrance to Colmar.
Bartholdi, who was from Colmar, designed the real Statue of Liberty.
The village was charming with cobblestone streets and handmade shop signs produced by another Colmar artist, Hansi. Rhona told us that "Hansi liked to portray happy villages of the Alsace." Maybe that's why all of the Hansi signs were taken down by the Germans during World War II. So glad that they were reclaimed after the war and put back up.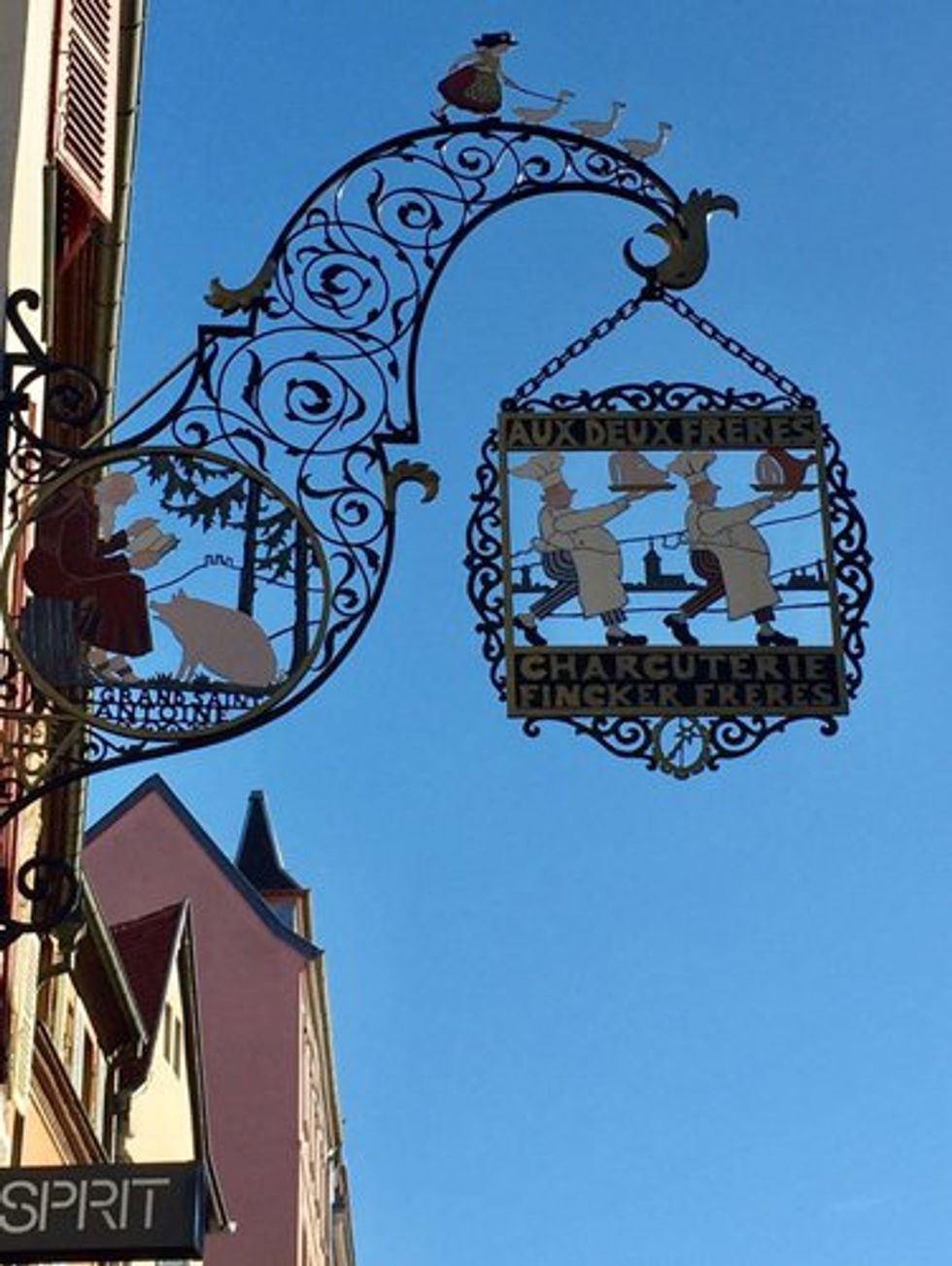 A whimsical Hansi street sign.
I spent my free hour visiting the Hansi Museum. It was filled with an eclectic collection of his artwork and a lovely shop to buy souvenirs.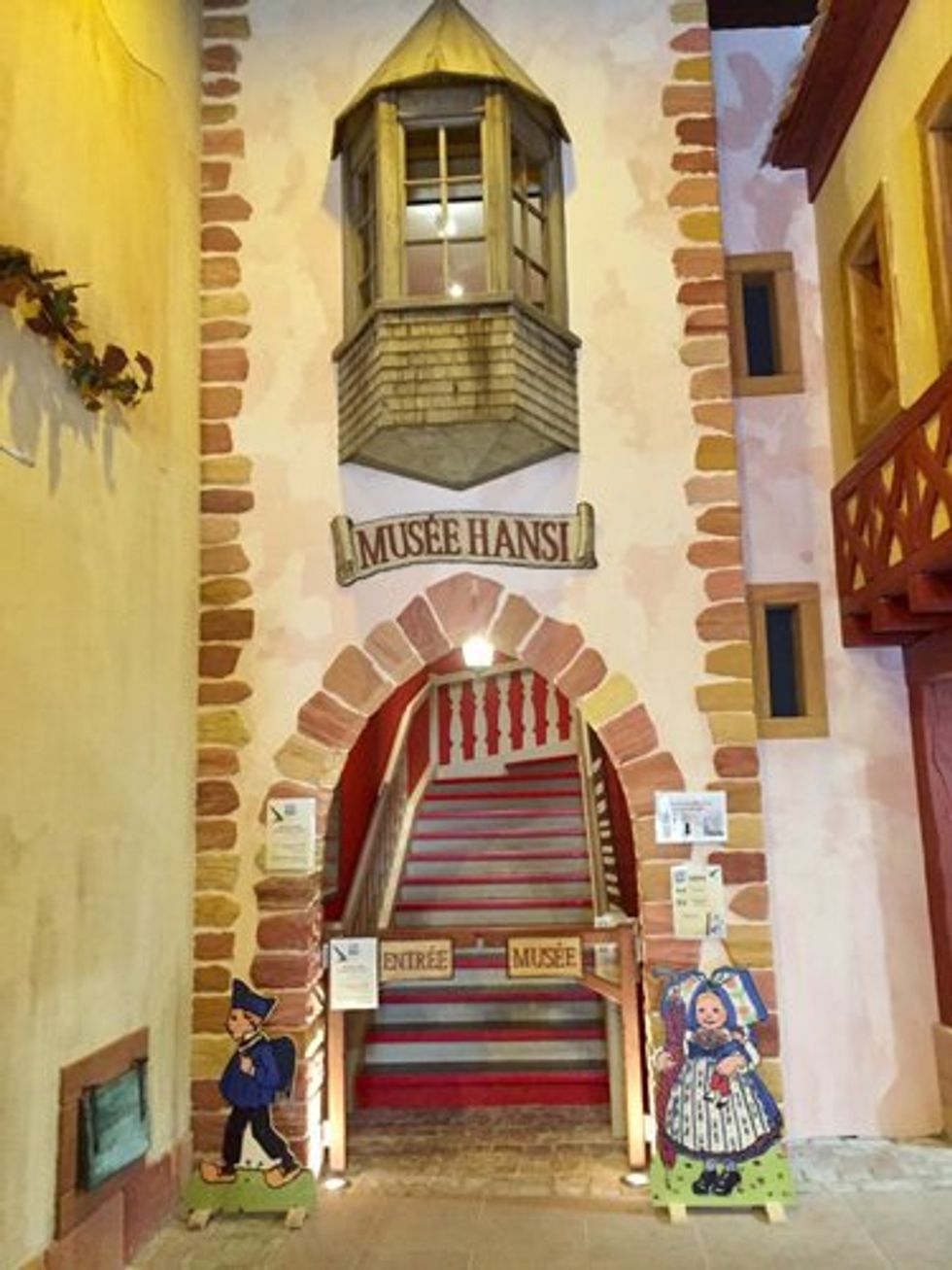 The Hansi Museum is worth a visit.
Hansi drew pictures of whimsical children.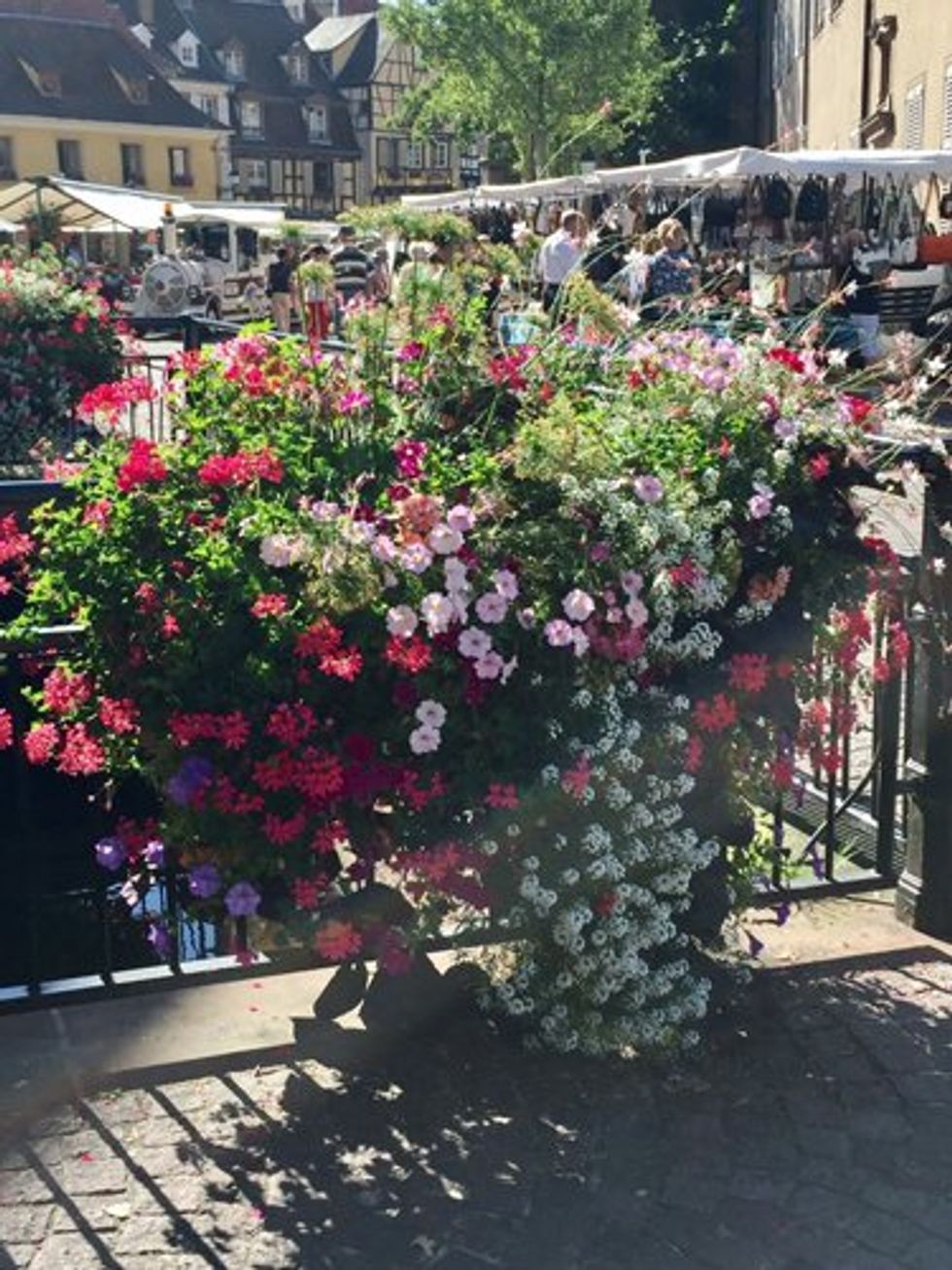 The flowers and canals in Colmar were so pretty.
An Afternoon of Beauty in the Black Forest
My boyfriend L and I were excited for our travels into the Black Forest, situated on a mountain range in Baden-Württemberg, southeast Germany. I told L I wanted to sit by the window so I could take in all the breathtaking views. He didn't argue, knowing that perhaps he might nap along the way. Not me. My eyes were wide open the entire time.
Up, up, up we climbed into the mountains. I felt like I was in a storybook land. We saw the highest peak (at 4,000 feet) where skiers come down the mountains in winter and dense evergreens grow so close together that they appear black instead of green. We passed a thatched-roof farmhouse and pastures covered with cows. Our guide, Dominic, said there are more dairy cows in the Black Forest than people.
The trees grow so close together in the forest that they almost look black.
We traveled around sharp curves to reach Hofgut Sternen, a hotel in Breitnau in the southern Black Forest. There we learned how cuckoo clocks are made (cuckoo birds are famous inhabitants of the forest) and saw how to prepare Black Forest cake.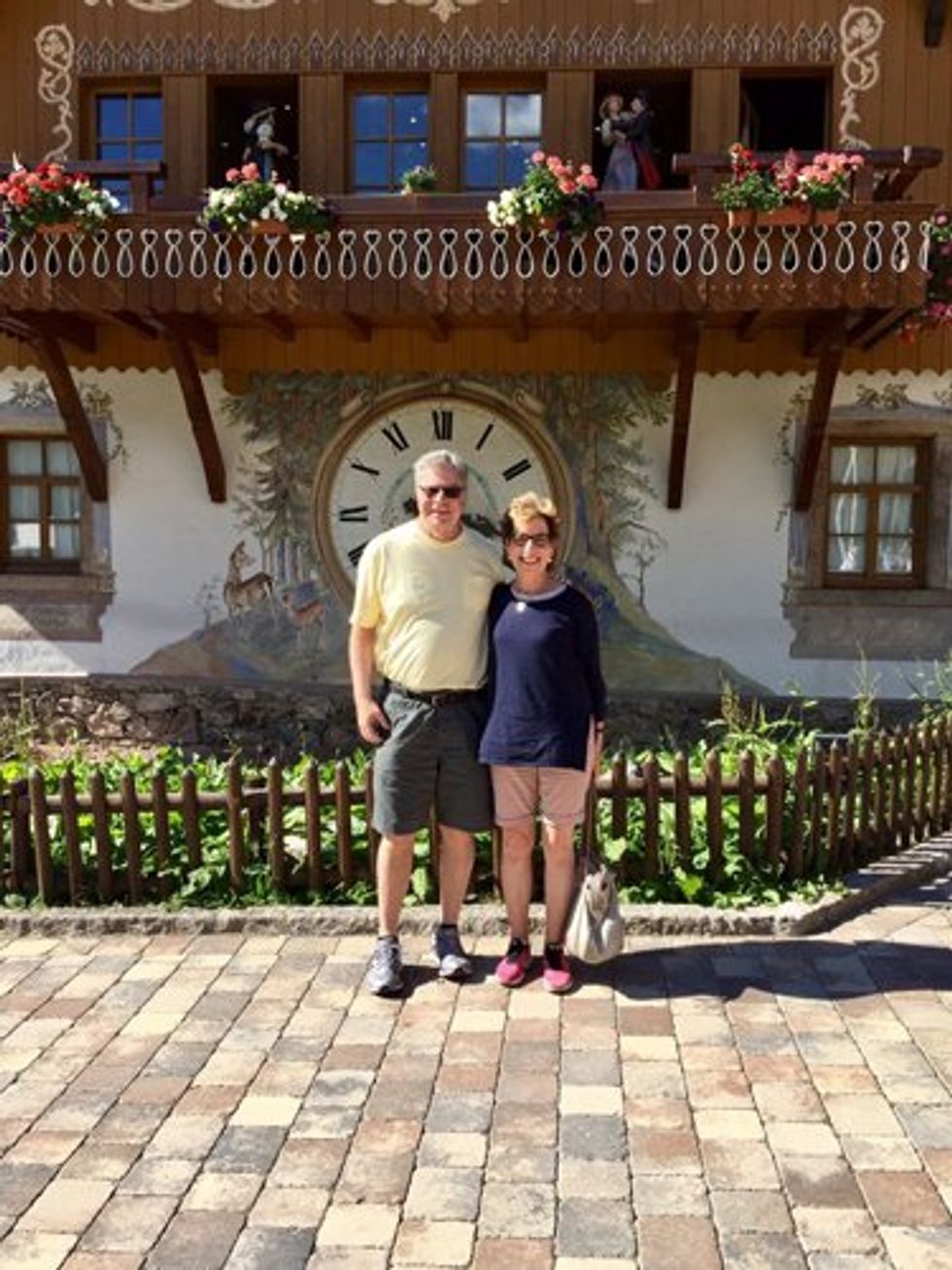 My boyfriend L and I walked around the Hofgut Sternen in the Black Forest.
I passed on buying a cuckoo clock. If you ever want to buy a cuckoo clock you can order one online.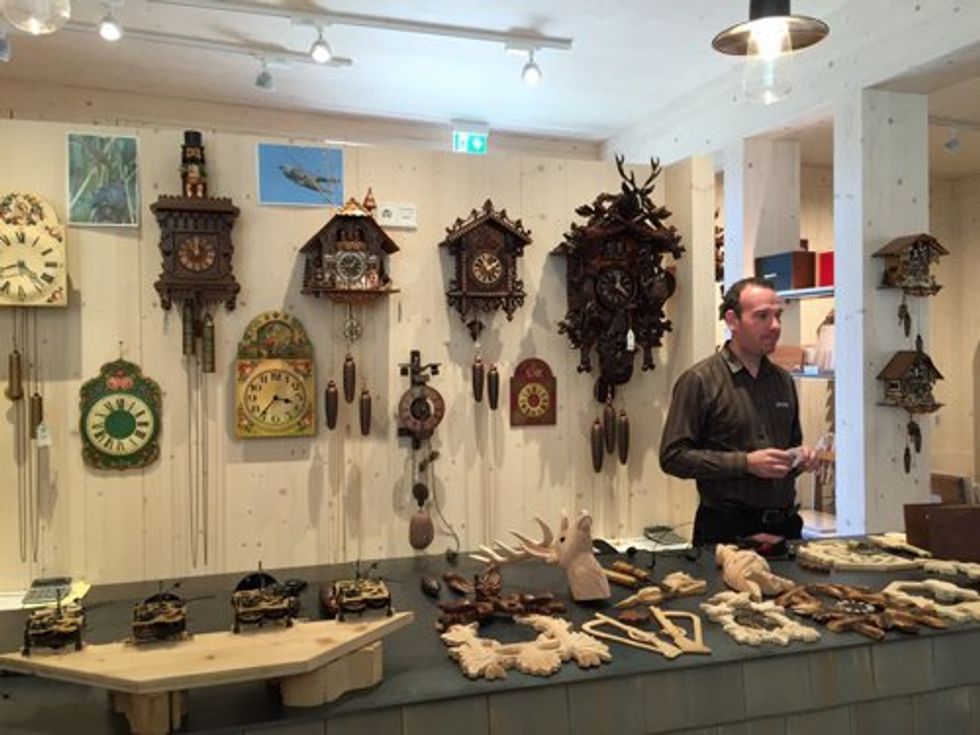 Cuckoo clocks are made in the Black Forest.
I didn't pass on purchasing a large slice of Black Forest cake.
"I don't think I'm hungry for cake," said L.
"When in the Black Forest I must eat Black Forest cake," I replied.
Ooh, ooh, ooh, the whipped cream was so light and airy going down. Ooh, ooh, ooh, the cherries were so tart and sweet at the same time. Ooh, ooh, ooh, the kirsch liquor soaked into the chocolate sponge cake adding just the right flavoring. Being a nice girlfriend, I gave L a fork and together we polished off every last bit of whipped cream. It was the best Black Forest cake ever, ever, ever!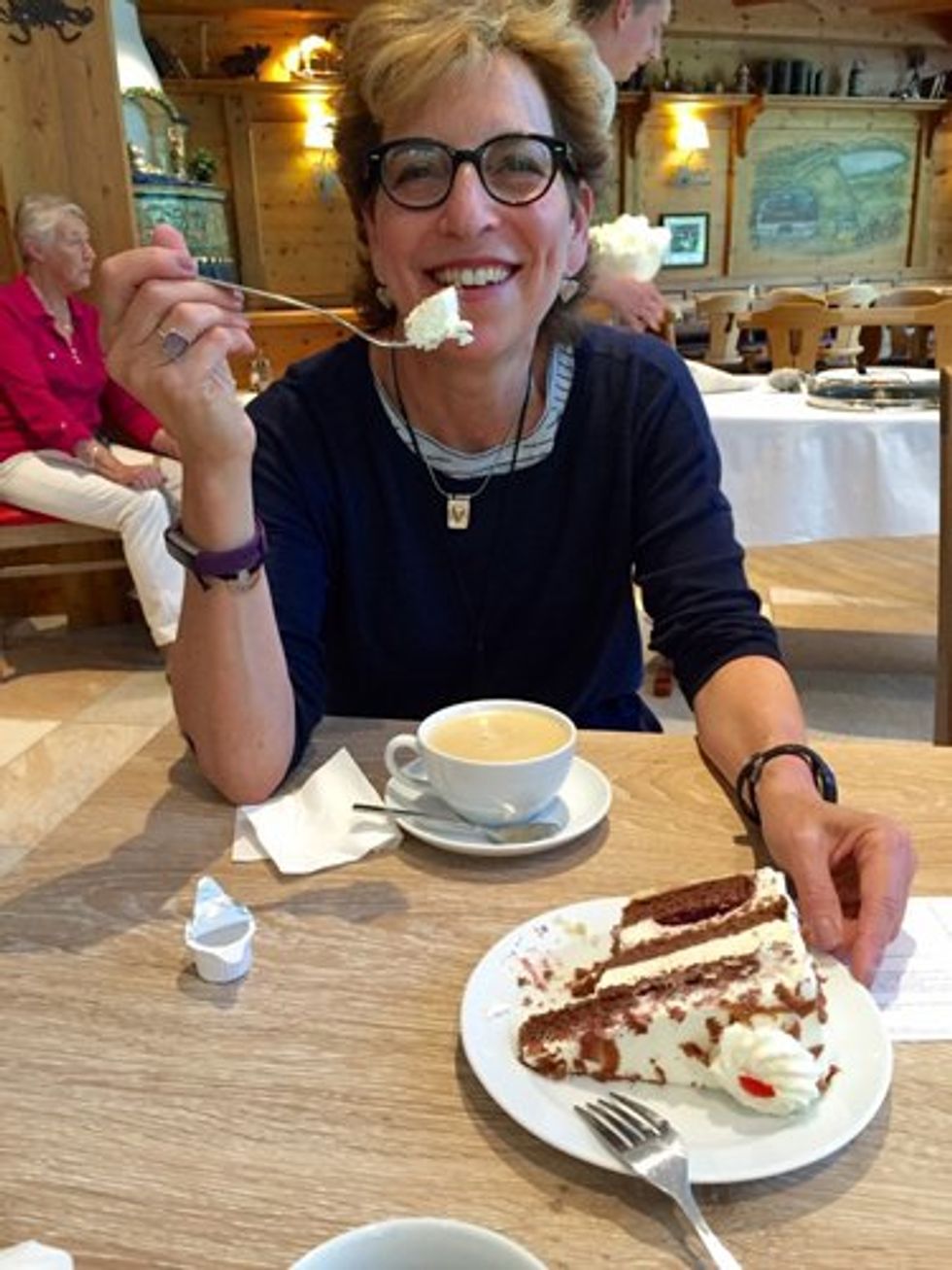 The best-ever Black Forest cake.
We had experienced the forest through our senses—by listening to the sounds of the animals and trees wavering; by tasting the sweetness of the Black Forest cake; and most of all by seeing all the beauty around us.
Saying Our Good-byes
After a wonderful day in the Alsace region and Black Forest, it was time to pack our bags. We would be taking many great memories with us.
"This is our home, and we hope you choose us again," said the hotel manager, Chris. "I learned at a very young age that ships that pass in the night are often forgotten. But nights that pass on the ship are never forgotten."
So, dear friends, did you book your Viking River Cruise yet? The 2017 schedules sand many of the 2018 schedules are available. What are you waiting for? It's time to live in the moment and enjoy your life after 50.
Bon Voyage!
P.S. In case you missed my first recaps you can find them at:
* Disclosure of Material Connection: This is a sponsored post. Viking River Cruises provided me with a complimentary press trip river cruise on the Rhine. Regardless, I only recommend products or services I use personally and believe will be good for my readers.
This post originally appeared on aboomerslifeafter50.com.