---
After two days in Rome, we headed off on a day trip to Florence as part of my family vacation to Italy in June. Our train from Termini Station to Santa Maria Novella Station took about 90 minutes. The train station is in the city center, convenient to most of the tourist attractions.

The Duomo and the David
Our group of six divided up to see the sights. Unfortunately, none of us bought passes in advance, so we missed the opportunity to climb the 463 steps to the top of the Duomo, Florence's famous Gothic cathedral. We admired the beautiful exterior, and the paintings by local artists on display in the piazza. My son D and I each bought watercolor art.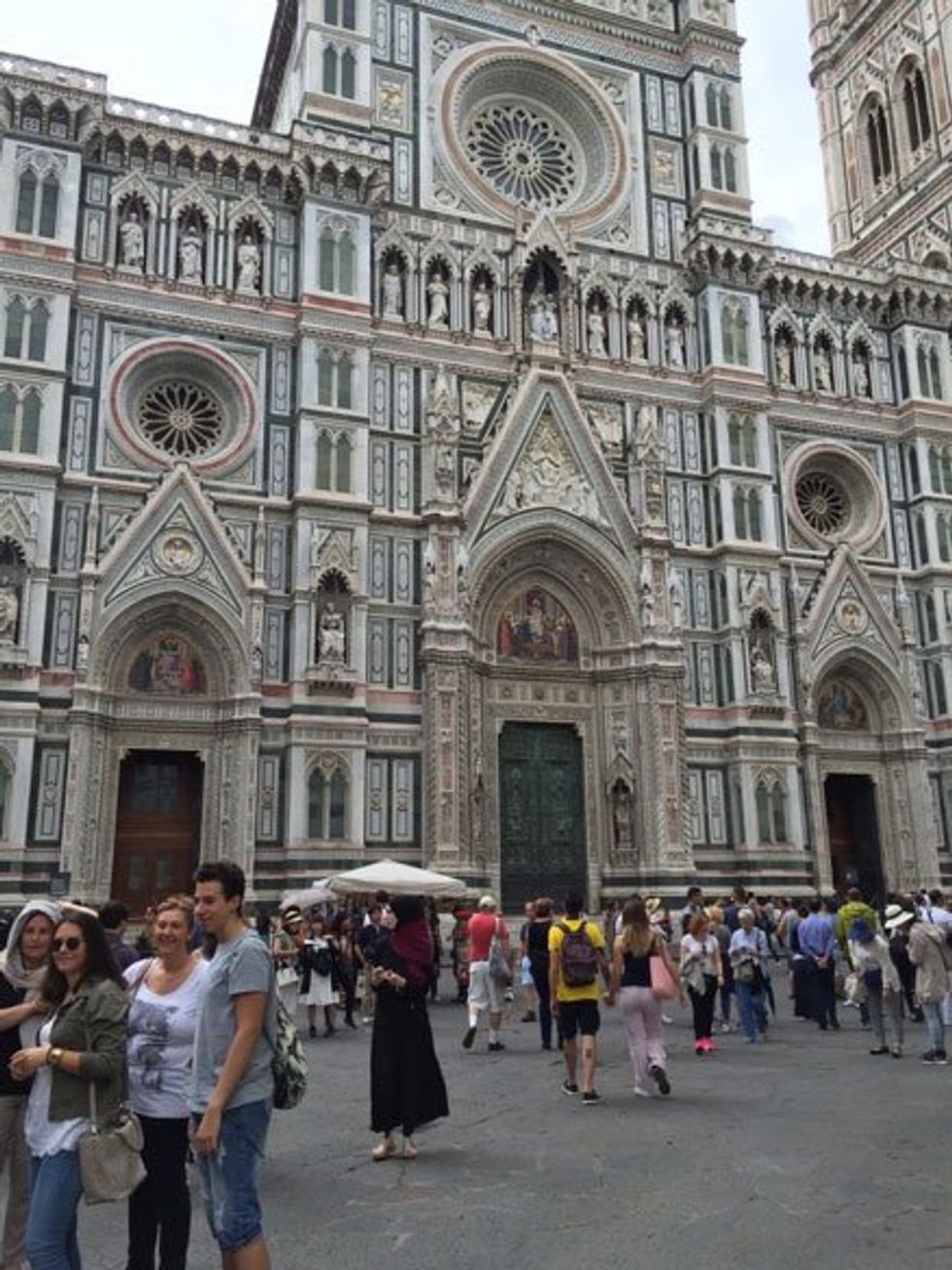 The Duomo is a landmark in the center of Florence.

My son D and his girlfriend, Jo, and my daughter A and her friend J ventured around the city because Jo and J had never been. They were eager to shop for Italian leather goods in the open-air marketplace.

My sister N and I walked to the Galleria Dell'Accademia where Michelangelo's David stands tall. Although we had both visited Florence previously, we had never seen the David. Sadly there were no more online passes available, so we stood in line for more than an hour to buy our entry.

Was it worth the wait? Yes, yes, yes. David is an astounding masterpiece and well worth oohing and aahing over.

More Sights and Shopping In Florence
With little time left to shop after the David, N and I stopped for a quick pizza break near the piazza that's home to a carousel, then met up with our fellow travelers to shop for Italian leather goods. A and J bought leather jackets, Jo bought an orange leather tote, and with little coaxing, convinced me to buy one in eggplant. (Note: The link provided offers a tote similar to the ones we bought.)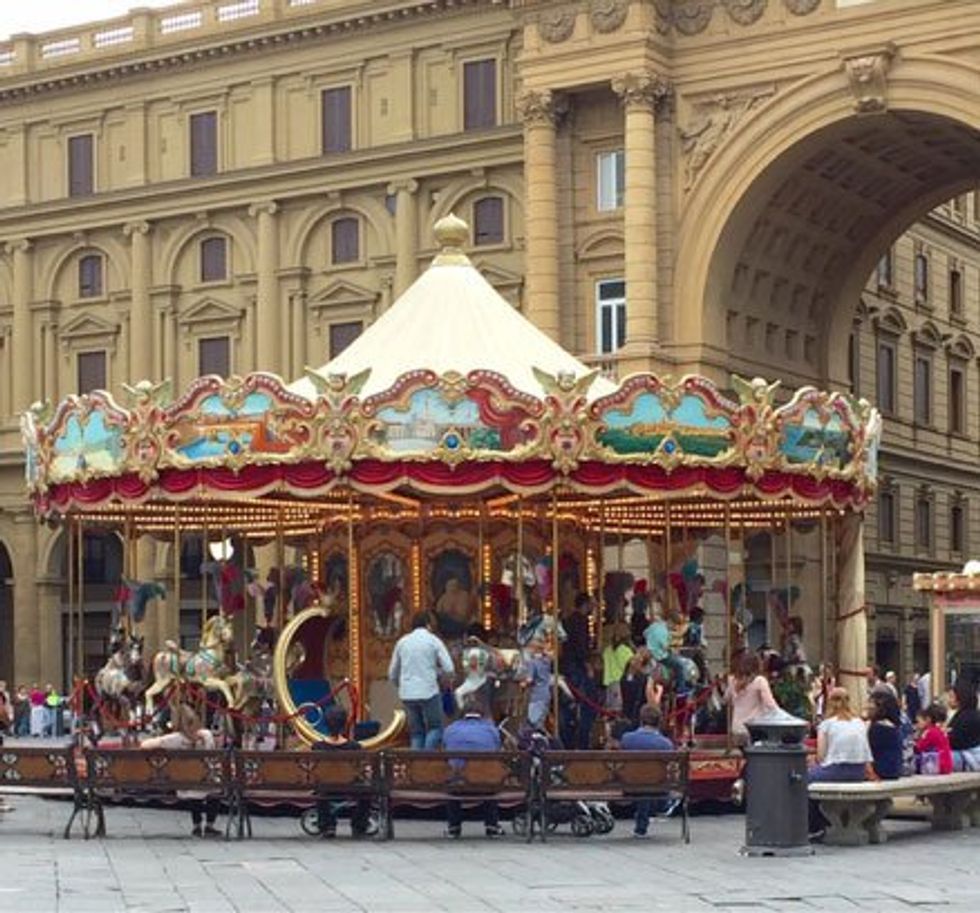 We ate lunch at a piazza near the carousel.

We walked to the San Lorenzo area to la Ménagère, a venue I had read about in The New York Times Travel section. It is a spectacular 16,000-square-foot complex with a coffee bar, flower shop, restaurant, cocktail bar, and retail space with expensive handmade ceramics. I loved, loved, loved the space and told my kids that if either decides to have a destination wedding (even though I don't like destination weddings), I would gladly allow them to get married in Florence and have the reception at la Ménagère.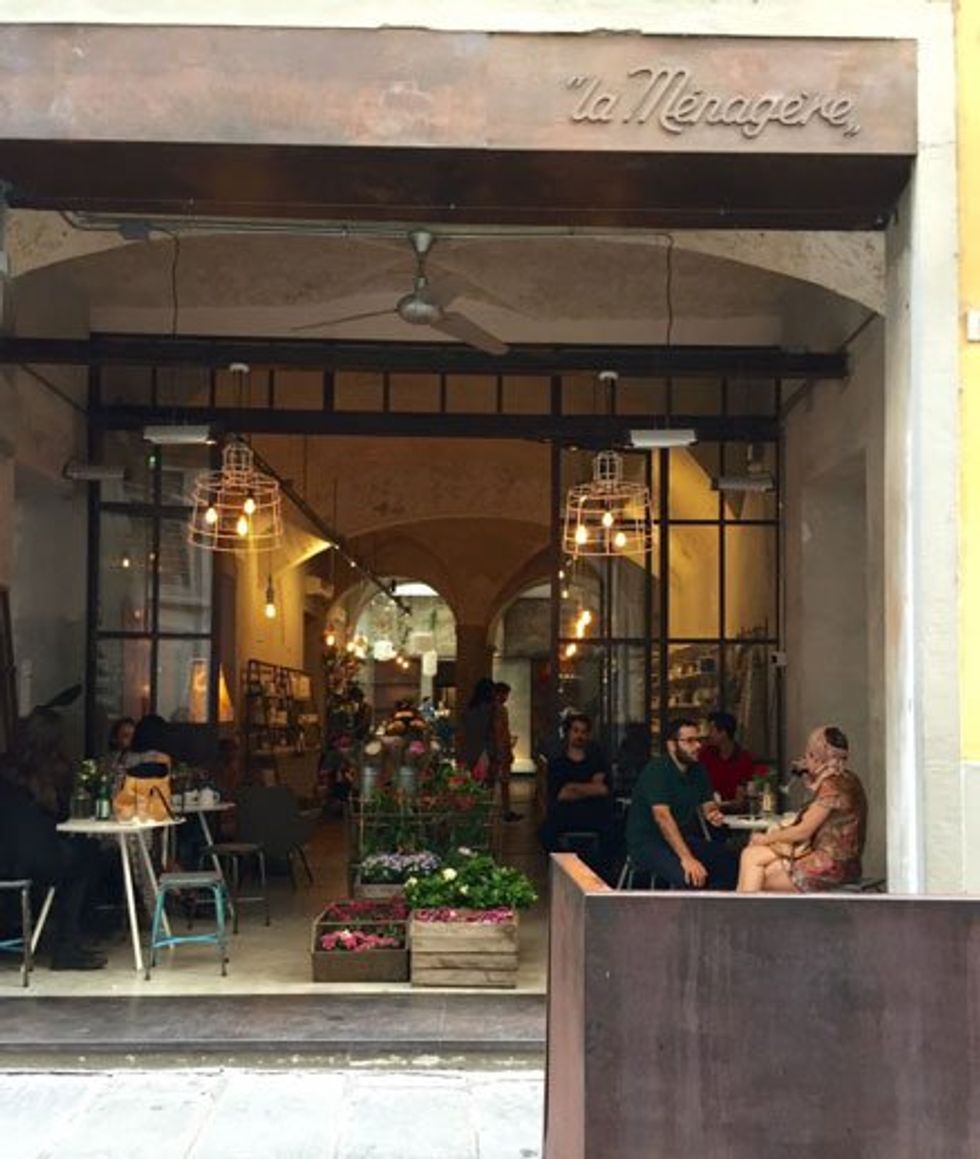 One of my favorite contemporary spots in Florence.



Flowers at la Ménagère caught my attention.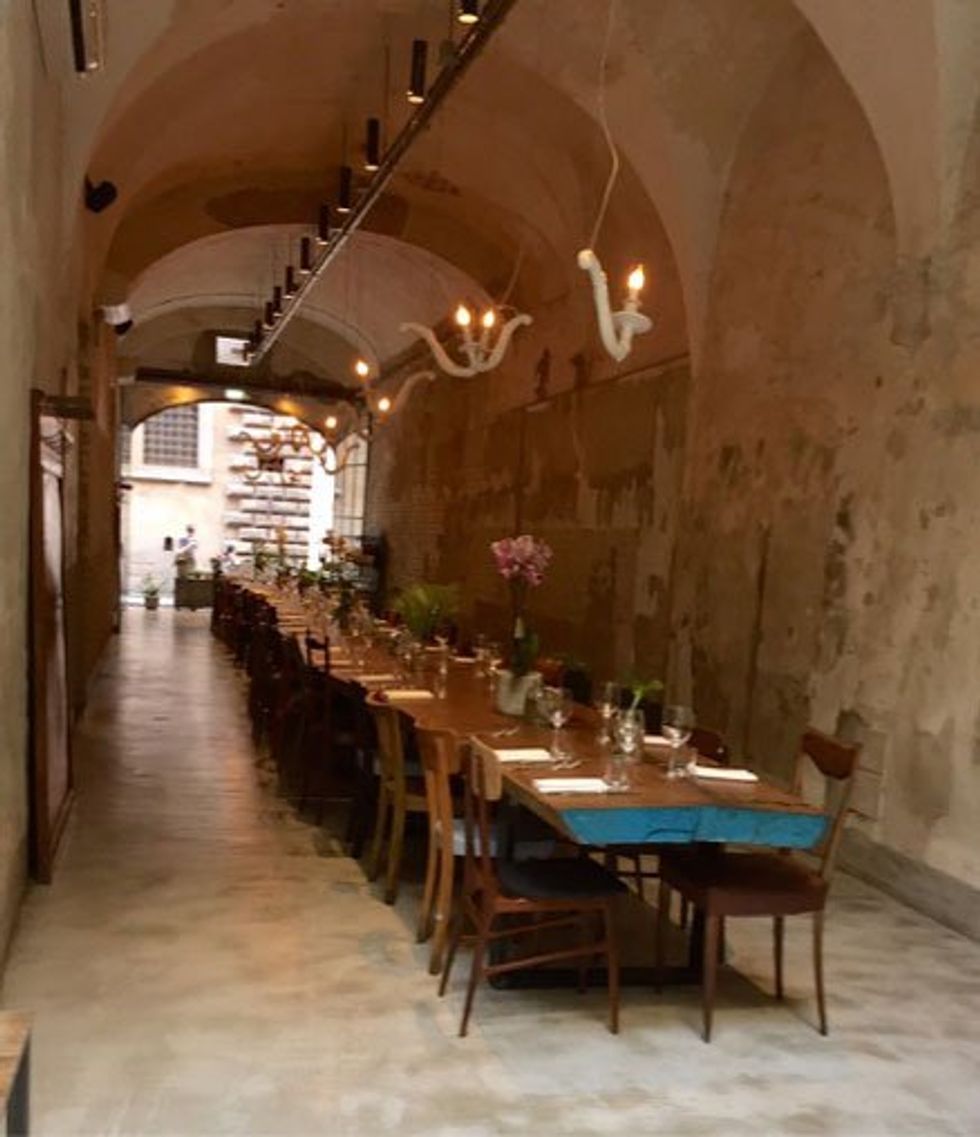 La Ménagère is a perfect place for a destination wedding in Florence.

Always Room For Gelato
Before leaving for our train back to Rome, we stopped for gelato at My Sugar, recommended by girlinflorence.com, which has some awesome food tips from a local woman in Florence. I can see why the Times said, "This tiny artisanal gelateria catapulted to the top of best-gelato lists." The flavors were unique and absolutely delicious. I ordered a scoop of mojito and a scoop of pineapple and ginger. My Sugar took top honors at the Gelato Festival Firenze 2016. We all agreed that it was our favorite gelato experience during our stay in Italy.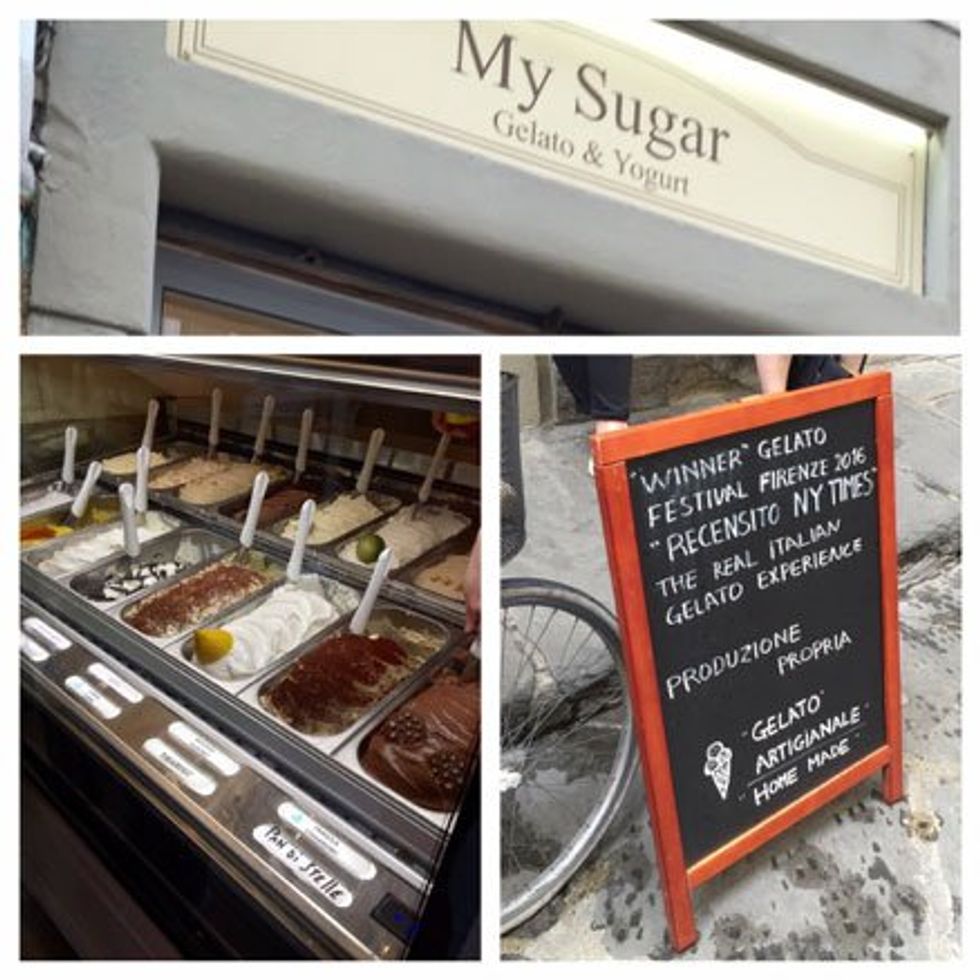 My Sugar was voted best gelato in Florence 2016.

Last Supper in Rome
Weary after walking seven miles around Florence, we spent our last evening in Rome at a neighborhood trattoria, Ai 3 Scalini, near the Colosseum. A few in our group ordered homemade gnocchi with pesto, which tasted delizioso. My daughter A and I shared a whole filleted sea bass with tomatoes and shrimp. The sauce was so good that we asked for more bread to soak up every last drop.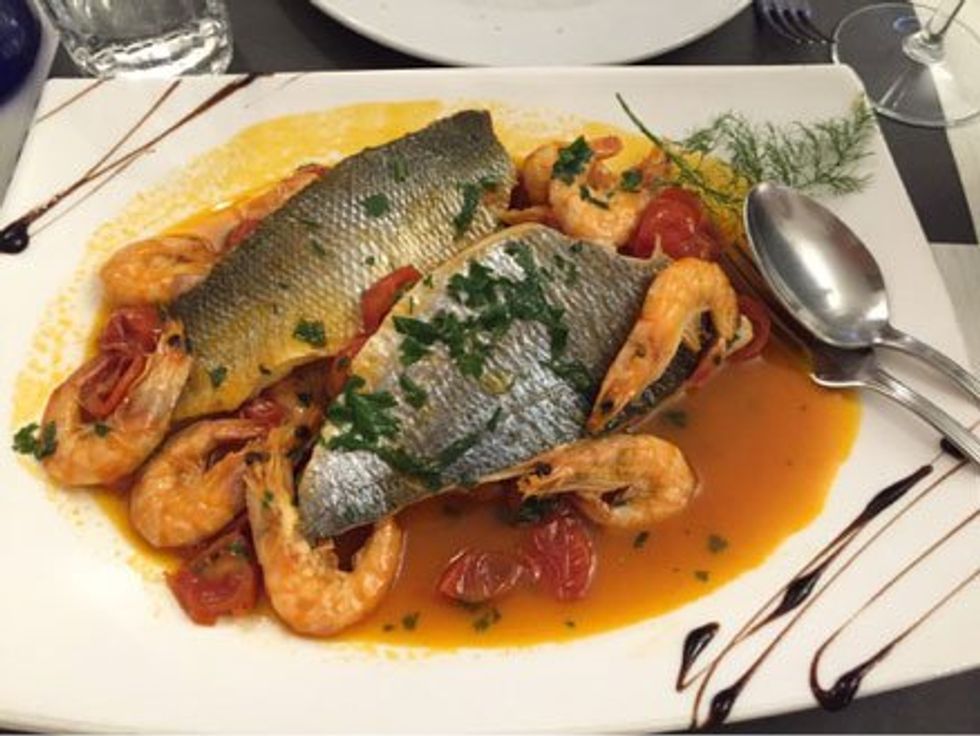 Sea bass with shrimp was delizioso.

The next day we would leave the city for a week on the Amalfi Coast in a magnificent villa we rented in Positano. Stay tuned—the best is yet to come.

If you missed my posts about Rome, you'll want to read First Stop Rome and More to See In Rome.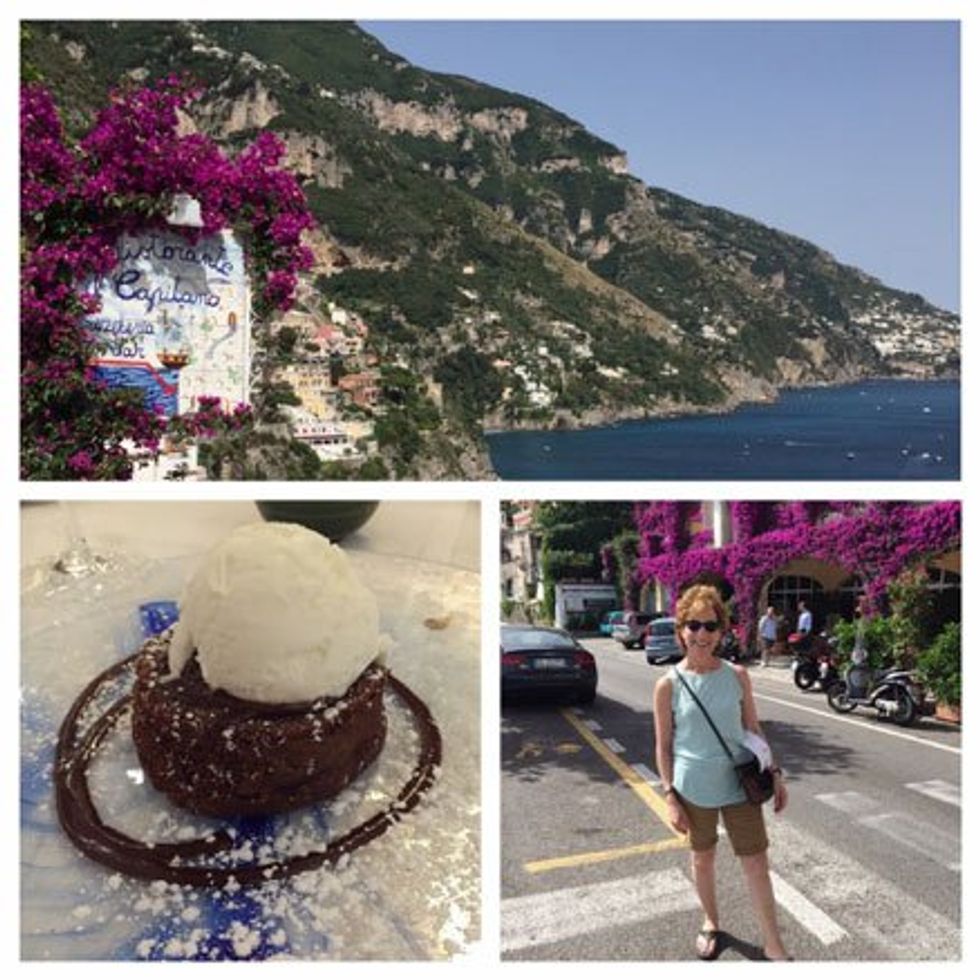 More to come from the Amalfi Coast.

This post originally appeared on aboomerslifeafter50.com.