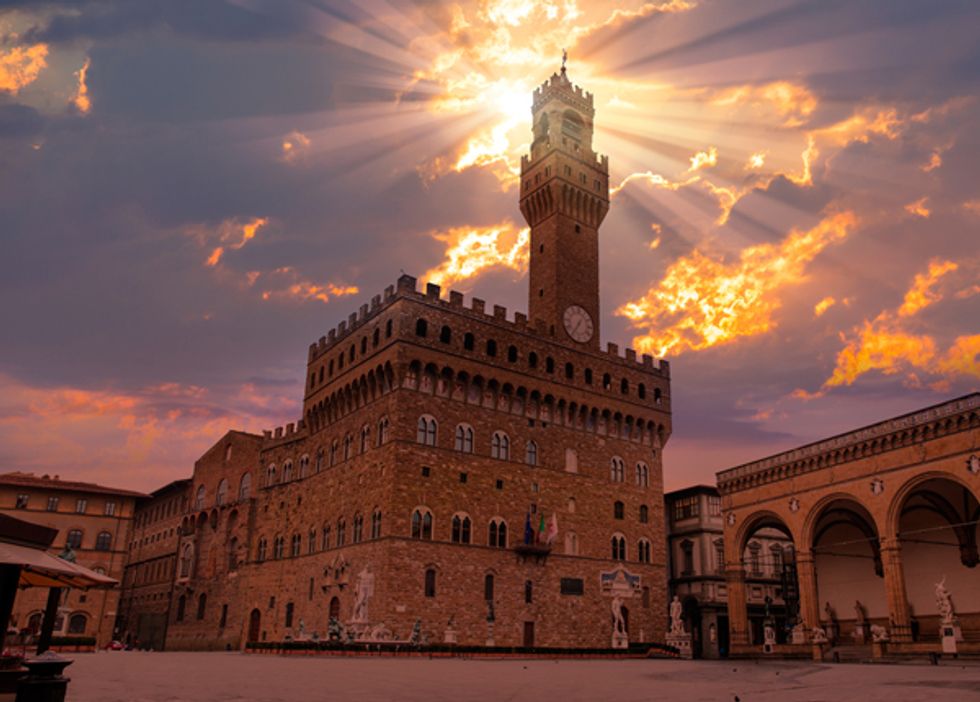 ---
I don't particularly love getting older, but I do love to travel. So, when faced with turning 60, I decided to celebrate with a trip.
My husband and I also will observe our 25th anniversary next month, so it wasn't hard to talk him into a special trip to celebrate both occasions. Early in the year, we chose Italy for our destination, but because neither of us is great at planning, there were moments we weren't sure we'd pull it off.
My husband came through, booking planes, trains, and cars; reserving rooms in four cities; and trying to learn enough Italian to get by. I pitched in with a few suggestions, but mostly relaxed, packed and looked forward to a trip of a lifetime.
In the Heart of Florence
Shortly before we left, a chance meeting with another couple heading to Italy added to our excitement—and provided a place to stay for the first few nights of our trip. This couple let us join them in the Airbnb apartment that they had rented on the Piazza della Signoria, the main plaza in Florence, just a few steps from the famed Uffizi Gallery and a short walk to the Duomo, the city's spectacular 13th-century cathedral, and many other must-see sites.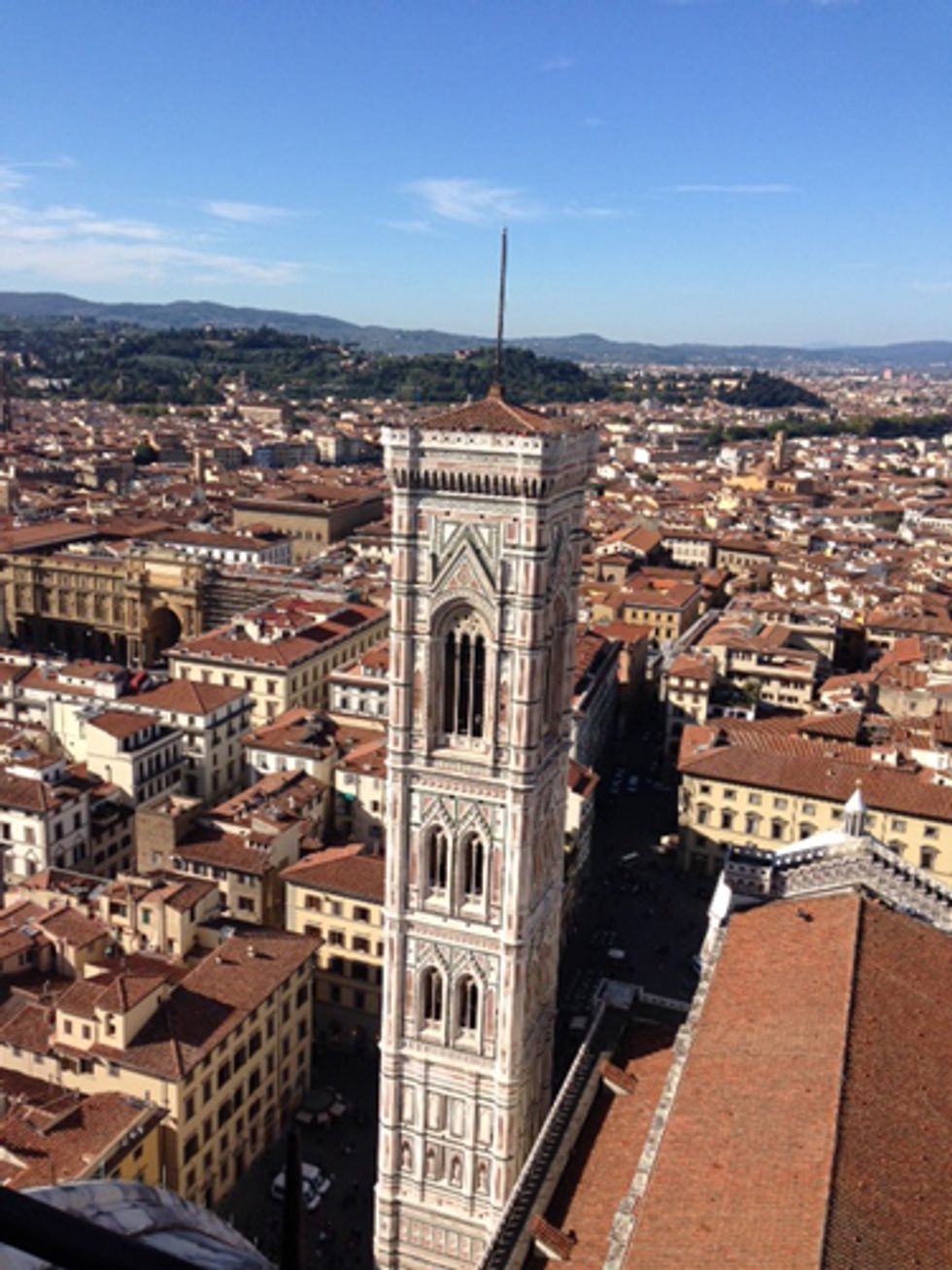 We couldn't have asked for a lovelier place to stay (it was the former home of a renowned Italian fashion designer) or more gracious new friends! They helped us get our bearings, pointed us toward some of their favorite sites and accompanied us to wonderful restaurants. 
It's impossible to describe how overwhelming Florence's art and architecture are. I don't know a lot about either, but when Michelangelo's 17-foot marble statue of David towers above you, you can't help but be in awe.
It wasn't all famous sculptures, well-known paintings, gleaming mosaics and ancient frescoes. The pizzas and pastas, meats and cheeses and, of course, the artisan gelatos are as amazing in Florence as they are throughout Italy.
Bologna: The Fat One
From Florence, we took a train to Bologna, a city so entrenched in the food culture that its nickname, "La Grassa," means "the fat one." Since my husband and I enjoy cooking, eating and writing about food, it seemed like a necessary stop. Bologna lacks some of the ancient charm of Florence and Venice, but there is plenty to eat. We sampled specialties of the region, like fresh tagliatelle with Bolognese sauce, tortellini in broth and green lasagna, and had fun peering into the windows of shop after shop filled with meat, cheeses, fresh produce and baked goods. One shop had what I called a cheese elevator, used to retrieve the giant wheels of cheese that lined the back wall from floor to ceiling.  
Lest you think all we did was eat, we also walked and walked and climbed and climbed. We didn't see all of Bologna's 25 miles of covered arcades, but I'm pretty sure we saw a lot of them. And, in case I hadn't tested my 60-year-old endurance enough by climbing the 463 steps to the top of the Duomo in Florence, we climbed 498 steps up one of the medieval towers in Bologna. These wooden steps were steeper and more rickety than the Duomo's, so I felt very proud when I reached the top—and not too winded.
Venice: City of Bridges
From Bologna, it was on to Venice, a place we both wanted to see before rising tides overtake this gorgeous city, unlike any other in the world. Our B&B here rivaled our Florence apartment, with a lovely balcony overlooking one of the city's 150 canals and 409 bridges (most of which you cross by climbing stairs).
We got to see what happens when tides or rain force the water up through the streets—the city sets up  raised walks to keep feet dry. We also spent a day riding the water taxis up and down the canals, stopped to ooh and aah at the produce and seafood open-air markets, toured the nearly incomprehensibly opulent Doges Palace, took a gondola ride at sunset, and ate cicheti (bar snacks) on a docked boat beneath the full moon. 
With all the water around, Venice is known for its seafood. One of our favorite meals of the trip was at an unpretentious restaurant a few blocks from where we stayed in the old Jewish neighborhood. The fixed menu started with four seafood antipasti, followed by pasta with seafood, then fried calamari and shrimp, and, finally, sweetened mascarpone and cookies for dessert (thankfully, no seafood in the dessert).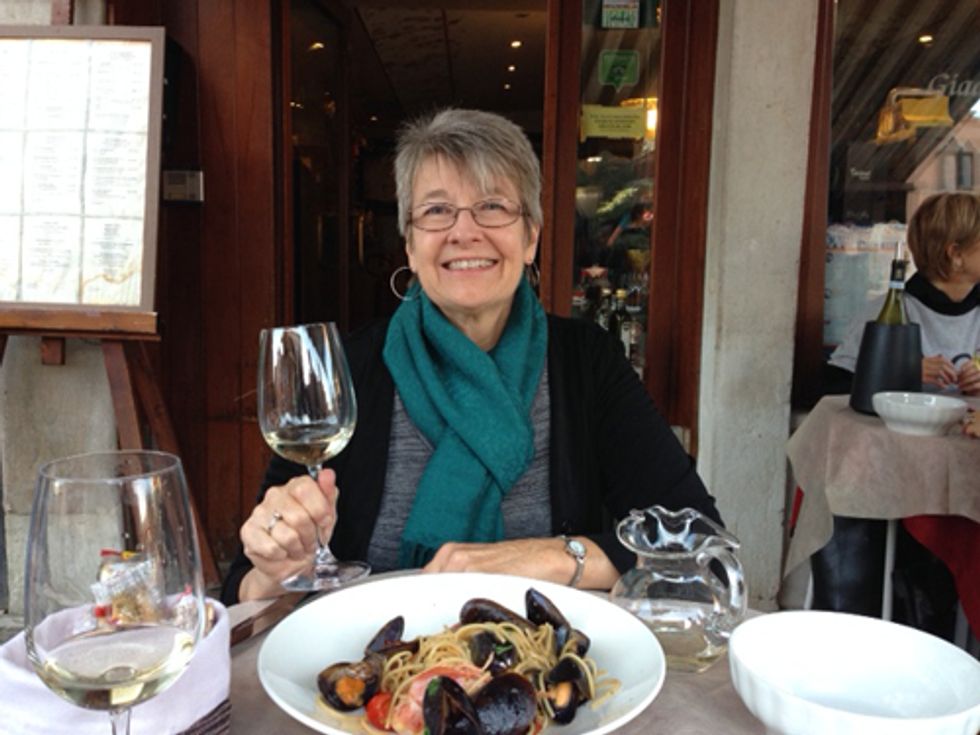 Here, as everywhere, we ducked into churches and art museums as we came across them. As an added treat, we got to see a handful of exhibits that were part of La Biennale, an international art show occurring throughout Venice.
Tuscan Hill Country
On the big day—my 60th—we had one last breakfast of pastries in Venice and then took the train back to Florence.  From there, my husband drove our rental car into the Tuscan hill country, stopping along the way to buy a map and some chocolates. (I think I'll keep him around for another 25 years—he can drive in Italy and ply me with chocolates.)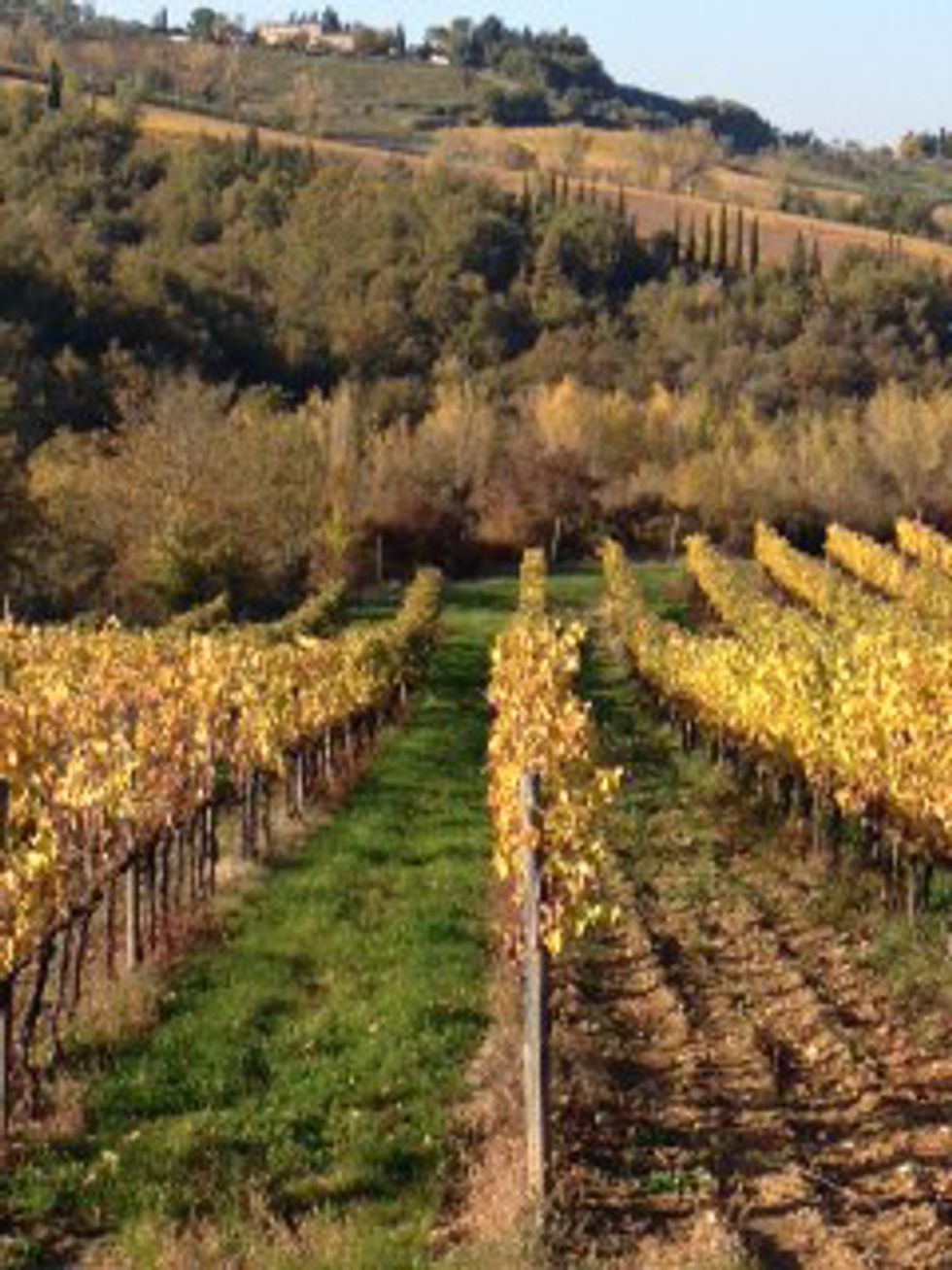 We had decided to finish our trip at a more relaxed pace, spending a few leisurely days in the hilltop town of Montepulciano. As we traversed the steep streets of town, we wandered through impressive old wine cellars below the city streets, ending up in friendly tasting rooms. We learned that wine and food are very local in Italy. Montepulciano is known for its aged pecorino cheese and its Vino de Nobile Montepulciano, a classic Italian blended red wine.
We enjoyed both for my birthday dinner, starting with a bottle of the local wine and a first course of baked pecorino with walnuts and honey. It's a wonder I didn't die on the spot, either of ecstasy or heart attack.
We walked off some of those excess calories the next day, hiking down a long hill to San Biagio church, a renowned example of the Renaissance Greek cross central plan. We liked the church so much we hiked down again the next morning to attend Mass. The warmth of the service matched the beauty of the building, both transcending language.
All the Italians we met along the way were friendly and helpful (and mostly English speaking). The warm memories of the people and the land made turning 60 a wondrous occasion. I highly recommend travel for taking the pain out of aging.