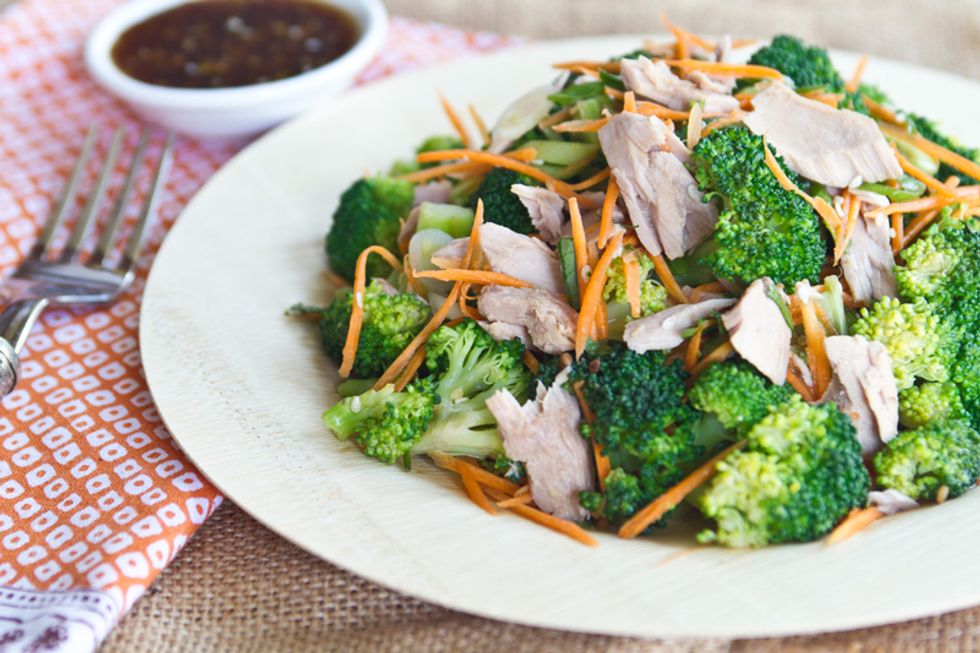 Prep Time: 10-12 min
Cook Time: 5 min
Ready In: 15-17 min
---
Servings: 4

Dressing:
1 tablespoon rice vinegar
1 tablespoon balsamic vinegar
1 orange, zested and juiced
1 teaspoon finely grated fresh ginger
2 teaspoons honey
1 teaspoon soy sauce
1/2 teaspoon sesame oil
6 tablespoons olive oil
Salt and pepper, to taste
1 tablespoon toasted sesame seeds
Salad:
2 bunches broccoli, chopped into 1-inch pieces (stalks and crowns)
2 (5-ounce) cans tuna, packed in water, drained
1 cup cilantro, chopped
1 cup carrot, shredded
2 green onions, chopped
Directions:
1. In a glass bowl, whisk all dressing ingredients together except olive oil, salt, pepper and sesame seeds. Slowly add olive oil while continuing to whisk. Add salt and pepper to taste. Mix in sesame seeds.
2. Bring water to boil in a two-quart saucepan. Add the broccoli pieces and cook 1 minute. Drain immediately and run under cold water to keep color and freshness. Strain thoroughly to remove all the water.
3. Toss broccoli with tuna, dressing, cilantro, carrot and green onions.
Nutritional Information:
Amount Per Serving: Calories: 438 | Total Fat: 24g | Saturated Fat: 3g | Unsaturated Fat: 18g | Trans Fat: 0g | Cholesterol: 21mg | Sodium: 452mg | Potassium: 1413mg | Carbohydrates: 32g | Fiber: 10g | Protein: 29g
Recipe courtesy of Get Real About Seafood.