By Sara Elizabeth Grossman
---
It's been almost exactly four years since I lost one of my closest friends — Drew Leinonen — at the Pulse Nightclub shooting in Orlando, FL. He was dancing with his friends at two a.m. when a gunman opened fire, killing 49 people and wounding 53. It was the deadliest mass shooting in US history at the time. It simultaneously feels like yesterday and a century ago.
The week of June 12, 2016 was a harrowing one. My life changed forever upon finding out Drew was gone. I was flooded with memories of our friendship — staying up late, having those introspective talks that happen in your early 20s, club hopping and dancing like idiots several times a week.
I had never experienced that kind of grief before. The few people in my life who had died did so from sickness or old age. To have a close friend ripped from me like that? At a place I regularly went with him in college? The shock of it all was nearly unfathomable.
I had no idea how to move forward from the grief. I had no idea how anyone who suffered this kind of traumatic loss was supposed to respond.
Thankfully, at that point, I didn't have to. I made arrangements to attend the funeral in Orlando. I went through the motions. Somehow I got to my final destination from Denver and embraced my mom's small stature when she showed up at my hotel. I cried when looking at Drew in his casket, a wax figure representing someone I once loved. Hugged all of our old friends. Scowled at the people from Westboro Baptist Church protesting his funeral.
And once again, I said goodbye to Orlando.
On the way back to the airport, I impulsively purchased the URL thedruproject.org — the name of all of Drew's former online personas. It was his LiveJournal, MySpace, AIM, Instagram, everything. I think he actually owned the URL when we were in college at the University of Central Florida. I bought it just in case. Maybe one day I'd figure out a way to give out a scholarship in his name.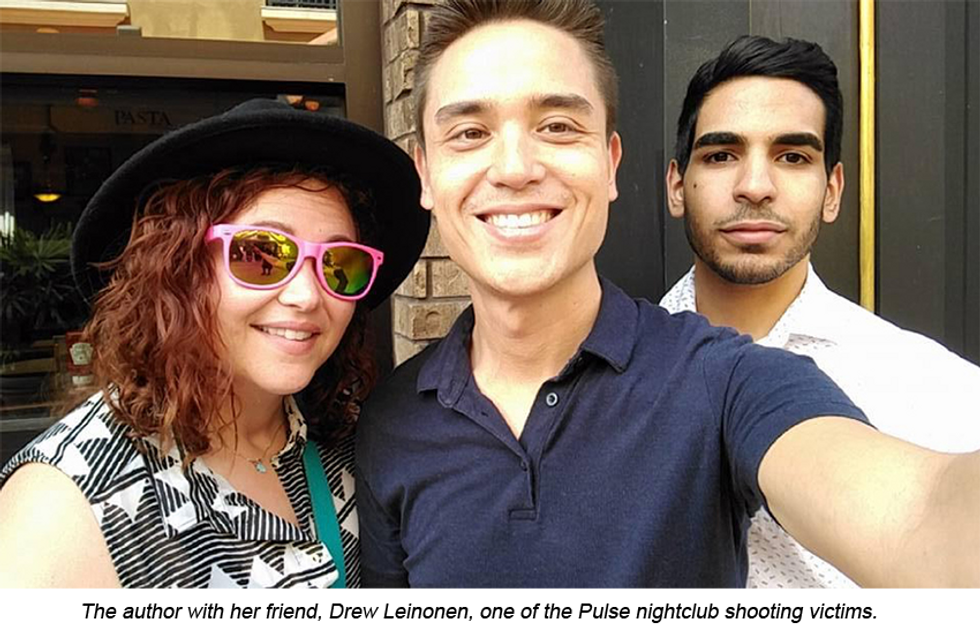 Upon returning to Denver from Drew's funeral, I quit my job and spent a month feeling numb. I passed the time aimlessly, walking around my neighborhood with my dog, reading my college journal, Drew's college journal, and figuring out what to do next.
What came next was nothing short of serendipitous. I got a call from a girl in Florida, saying she'd traced the website back to my purchase and wondered if she and some of Drew's other friends could have it, because they wanted to start a nonprofit to honor him. They already had the 501c3 status. I was floored!
From there, I learned that some of our old friends from college were involved and asked if I could help, too. Since my background was in digital communications, I figured I could lend my skills to the cause.
After a month of feeling aimless, I had to get back to work. I wanted to do advocacy full-time. I was ready to put my hurt into helping others never feel this kind of grief again. So the day I decided to apply for a new job, I went to the Colorado Nonprofit Job Board. Moments before I visited the site, a posting went up for Communications Manager for the Matthew Shepard Foundation.
Call it serendipity or fate. I call it a saving grace. Matthew was the victim of one of the most notorious anti-gay hate crimes in the nation's history. I got the job at the foundation his parents started and spent three years working to erase hate and learning how to honor my friend.
Coincidences kept occurring as I continued my work with both organizations. One of the murals honoring the Pulse victims went up in downtown Orlando in 2017. When it was unveiled, I was shocked to see a young blonde man sitting right behind my friend Drew and his boyfriend Juan, who we also lost in the shooting. It was Matthew Shepard.
The people I've met and the friendships I've made through a shared tragedy — whether hate crime or gun violence (I also volunteer for Everytown for Gun Safety) — have proven to be the strongest.
Fast forward four years, and The Dru Project comprises a tight-knit group of three board members — me, Shawn Chaudhry, and Brandon Wolf (who survived the Pulse shooting himself.) All of us were close with Drew at different times of his life, and I find this a beautiful nod to our friend. Drew was always the center of every friend group he had.
We have traveled all over the country honoring our friend — from West Hollywood to World Pride in NYC. We have worked to spread love in Drew's name. To date, we have given out over $65,000 in scholarships to LGBTQ+ youth, grants to gay-straight alliances (GSAs), grants to out-of-work drag performers, and have published one of the most comprehensive GSA guides in the country. We continue to honor Drew and the other 48 victims with action. Because if we don't, then who will?
Nobody deserves to lose someone to an act of hate or gun violence, but what we do with that pain makes or breaks us. Some turn inward. Some lash out at others. I don't know where I would be without the relationships I've made through my advocacy work or without being able to pour my pain into protecting others. But I do know this: to have moved this anguish into action is one of the biggest saving graces of my life.
Sara Elizabeth Grossman is a writer and advocate living in Denver, CO. She is on the board of The Dru Project, a survivor fellow for Everytown for Gun Safety, and runs a LGBTQ+ social impact marketing firm called CODE mktg. She has her MFA from The New School and her BA from the University of Central FL.