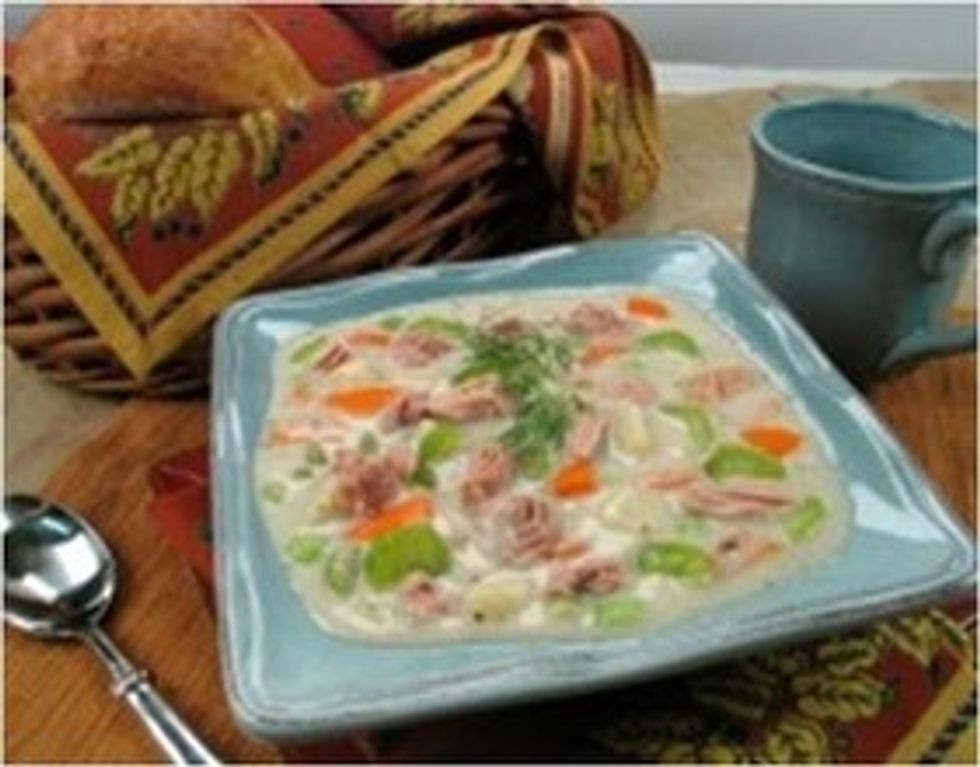 Prep Time: 15 min
Cook Time: 30 min
Ready In: 45 min
---
Servings: 8

Ingredients:
2 tablespoons trans-free margarine
1/2 cup chopped onion
2 cups water
1 (15-ounce) can cannellini beans, drained and rinsed
1 cup peeled carrots cut in 1/2-inch pieces
1/2 cup sliced celery
1/2 cup corn kernels
1 bay leaf
1/2 teaspoon dried thyme
1/2 teaspoon dried basil
2 teaspoons garlic powder
1/2 teaspoon ground black pepper
2 cups nonfat milk, divided
1/4 cup all-purpose flour
2 (6-ounce) cans tuna, drained
1/4 cup fresh parsley, divided
Directions:
1. In a large saucepan, melt margarine and sauté onion until softened. Stir in the next 10 ingredients; bring to a boil. Reduce heat and simmer, covered, for about 10 minutes.
2. Meanwhile, gradually add 1/2 cup milk to flour in a small bowl. Stir until smooth and thick.
3. Add remaining milk to chowder. Gradually whisk in flour mixture; blend well.
4. Fold in tuna and half the parsley, heat through. Garnish with remaining parsley.
Nutritional Information:
Amount Per Serving: Calories: 147 | Total Fat: 3g | Saturated Fat: 3g | Unsaturated Fat: 1g | Trans Fat: 0g | Cholesterol: 17mg | Sodium: 218mg | Carbohydrates: 17g | Fiber: 3g | Protein: 13g | Iron 2mg
Recipe courtesy of the National Fisheries Institute and Don't Break Your Heart Cookbook (Aaron S and Bearden M. Race Point Publishing, 2013).