In December 2019, Amy Grant accompanied her husband, country music star Vince Gill, to a follow-up appointment with his cardiologist, Dr. John Bright Cage. Because Gill's father had passed away from a heart attack at age 65, both Gill and Grant wanted to make sure that Gill's heart was in good shape, as he was approaching 63.
After Cage told Gill that his test results were good, he turned to Grant and said, "Hey, we should check you out," Grant recalled.
At the time, she and Gill were in the midst of a 12-show residency in Nashville, and though beforehand, she had been having heart palpitations and told her husband a couple of times that she couldn't catch her breath, she wasn't concerned enough to get it checked.
In January, Cage ordered a coronary CT scan, which checks for plaque in the arteries. Then he got a gut feeling to do a coronary CT angiogram (CTA), which would also show the structure of her heart.
Grant was lucky he did. While the test showed her arteries were fine, it revealed she had Partial Anomalous Pulmonary Venous Return (PAPVR), a rare heart defect that's present from birth.
Grant needed open-heart surgery, and in preparation, she had other tests such as an echocardiogram and a cardiac MRI. "The right side of my heart was enlarged," she said, which was causing the irregular heartbeats. She also had a hole in her heart that needed to be repaired.
Initially, Grant was shocked. "It took a while for it to sink in. I just thought it was such a miracle that they found this," Grant said, adding that she was scared, but hopeful.
Living in the moment
Grant's condition wasn't dire. Her doctor said that, while she didn't need to rush right into the hospital, he wanted her to get the surgery before she turned 60 on November 25. At the time, Grant had an extensive tour scheduled, which would run from February through May, with her first real break in mid-June. She felt in good health and her doctor gave her the go-ahead for the tour.
Then COVID-19 hit. Grant's tour was cancelled. So were all elective surgeries, including hers.
While Grant waited for surgery, she focused on the present and spent time with Gill and one of their daughters, who was home from college for quarantine. "I just tried to be in the moment that I was in," she said. "I was so grateful for that time here — it was super quiet. It was just so beautiful . . . I've never felt so grounded in the reality of my own life."
When elective surgeries began again, Grant's was scheduled for June 3. She never lost her positive attitude.
"I did the best I could to keep my head in a good place … I never had the conversation with anybody about 'what if,'" Grant said. "The things that I was kind of scared of, those moments came and went."
She described the day of her surgery like this: "I have ridden bikes in west Texas, and if you're biking into the wind, it's like you're going up a 45-degree grade. But if the wind is at your back, you're hardly even peddling, and you're going 20 miles an hour," Grant explained. "From the moment I walked into that hospital, I felt like I had a west Texas wind at my back."
Cage said that in Grant's surgery, "They switched the plumbing, and they closed the hole." He explained that with her pulmonary vein, "They moved the vessel that was going to the right side back to the left side, and they put a patch over the hole [in her heart] to close it. Her pulmonary pressures immediately got better."
During the three-hour surgery, Grant was on a heart/lung machine. Afterwards, she remained on a ventilator for only three hours (the typical time is six hours).
In addition to her surgery being successful, Cage says Grant beat all records by leaving the hospital after only three days. "We've never had someone go home that soon," he said. The usual hospital stay is between five and seven days.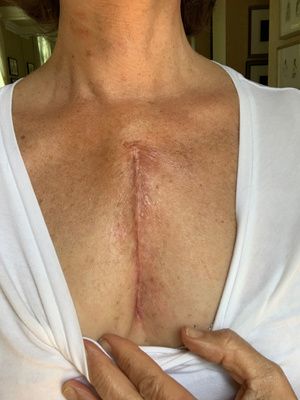 Grant showing off her post-surgery scar
Today, Grant is fully recovered and she'll see her cardiologist for an annual checkup. "I've got a couple other things that are misshapen in there — my unique wiring. My aortic arch is backwards, so my blood flows the opposite direction through my body, and I've got a bulge on my aorta — not an aneurysm, a bulge. So they'll just check it," Grant said.
Because Grant was healthy going into the surgery, she was able to quickly return to her active lifestyle. She loves to cook, especially using veggies from the farmers market. "I'm just back to my old tricks," Grant said, adding that her husband, Gill, who always called her the Energizer Bunny, now says she has even more energy.
Grant's experience has inspired her friends to make cardiologist appointments. She believes that all women need to be good caregivers — especially of themselves.
Grant on her farm in Nashville after the surgery, August 2020
"I think women, most of us, seem like we're hardwired to care for everybody else. In many communities, you see women struggling with all kinds of things [so] they say, 'I cannot take time for myself because the wheels are going to fall off.' But the fact is, if you're not there, the wheels are really going to fall off.
In a million years, I wouldn't have taken myself to the doctor. I just showed up with somebody else, and I'm so glad I did," Grant said.
"Life is precious. Do what you can to take care of yourself."
On October 23, Amy Grant's album "Tennessee Christmas" will be reissued and will include two songs that were previously Target exclusives. On October 30, to celebrate the 35th anniversary of Grant's Grammy-winning album "Unguarded," a limited edition, double disk set will be available through all music streaming services.
Resources
Warning Signs of a Heart Attack
Heart Disease Facts
What is Cardiovascular Disease?