"Let's plan a trip to Greece," said my daughter A the day after we arrived home from our summer 2016 family vacation to Italy. 
---
"I want to go to Greece," followed my sister N. 
They didn't have to twist my arm for me to say "yes," or "ne" as they say in Greek. I love feta cheese, spanakopita and baklava. I knew it would be a great vacation. We had traveled together to Spain a few years ago and got along.
By January 2017 our flights were booked for a June journey. We would spend three days exploring the amazing old world of Athens and a week in Oia on the magnificent island of Santorini.
It was a wonderful trip, and now I can't wait to share the details. For sure, you'll want to book a trip to Greece when you're done reading about our travels.
A Smooth Flight to Athens
We left from John F. Kennedy Airport in New York. Taking the train to the plane from Manhattan was quite easy, even with luggage. I packed light, using my favorite Eagle Creek compression bags (highly recommend these bags for organizing clothes in your suitcase) and a 21-inch Samsonite. Delta was our airline of choice with a nonstop flight – on time, clean plane, lots of movies, good food. Eight hours later, we touched down in Athens.
 "Welcome to Athens," said our driver, Kyriakos Apostolopoulos. We arranged transportation to the downtown area in advance via Welcome Pickups—a wise idea. It was a 30-minute ride to the Electra Palace Hotel, which we booked after reading positive reviews on TripAdvisor. We didn't even realize it had a 5-star rating. (Travel writer Rick Steves says this hotel is the "cream of the crop" in his guide, Greece: Athens & the Peloponnese. How lucky we were!) Our room was a classic triple (a rare find in a European hotel) and included a full buffet breakfast each morning. I'd definitely stay here again and highly recommend it.
Our First Athens Walkabout
Since check-in wasn't until 12:30 p.m., we left our luggage and began exploring the city. We walked to Ermou Street, a busy shopping area filled with coffee shops, bakeries, clothing stores, restaurants and all kinds of Greek souvenirs. There were street vendors with grilled corn on the cob and chestnuts. We stopped for a cup of Greek coffee and bought a fresh koulouri—a traditional Athenian on-the-go breakfast. It looks and tastes a bit like a large sesame bagel.
We passed the Central Market where merchants were selling fresh meats and fish, feta cheese, dried fruits, olives, seeds, herbs and flowers. It was too early to eat souvlaki or gyros so we didn't stop by Souvlaki Row. (Unfortunately, we never made it there during our weekend in Athens—a definite "to do" for another visit.)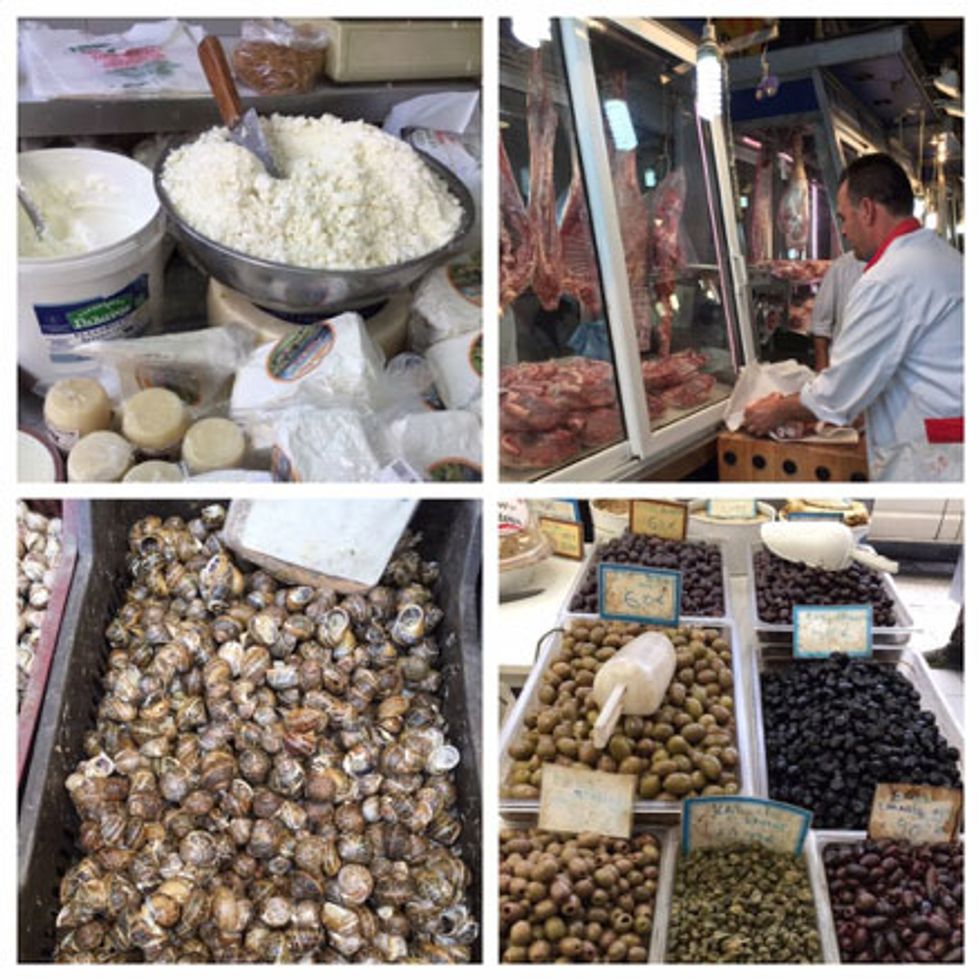 A Luxurious Stay at Electra Palace Hotel
June weather in Athens is hot, hot, hot. We were glad to return to the hotel by noon, change into bathing suits, and head to the rooftop pool for some relaxation. The pool is small, but has a birds-eye view of the Acropolis and nice lounge chairs.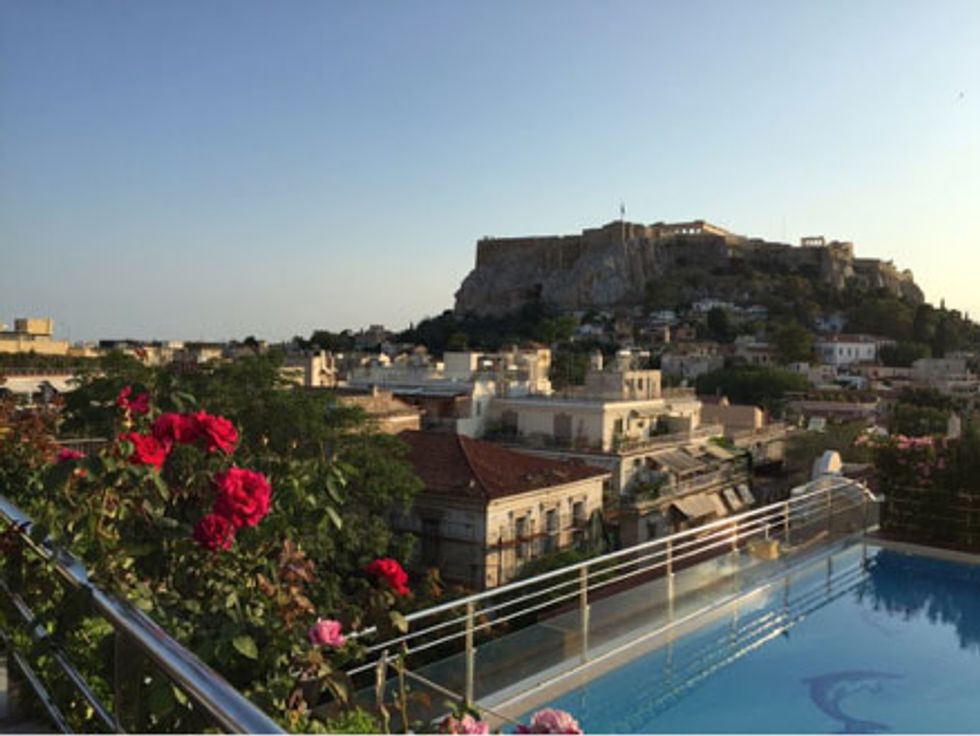 "Would you like to try a massage, reflexology and mini facial?" inquired Bora, a therapist from Aegeo Spas. The spa, on the lower level of the Electra, was running a special that afternoon. 
How could I pass it up at $75 euro for all of the treatments, especially after my eight-hour plane ride? "Yes, yes, yes," I replied. "I'm ready and willing."
Bora did a deep tissue oil massage, reflexology on my feet, and then treated my face to a mild exfoliation, combining the benefits of salts and high-quality oils. My skin was smooth and hydrated and I was back in tip-top shape for dinner.
We ended the day dining at the award-winning Electra's Rooftop Garden Restaurant, known for its Mediterranean cuisine and its dramatic evening views of the Acropolis. We shared lentil carpaccio to start and enjoyed delicious entrees including traditional moussaka for N, lamb chops for A and vegetable risotto for me.  I can see why this rooftop restaurant is a standout on Athen's culinary scene. Reservations are a must.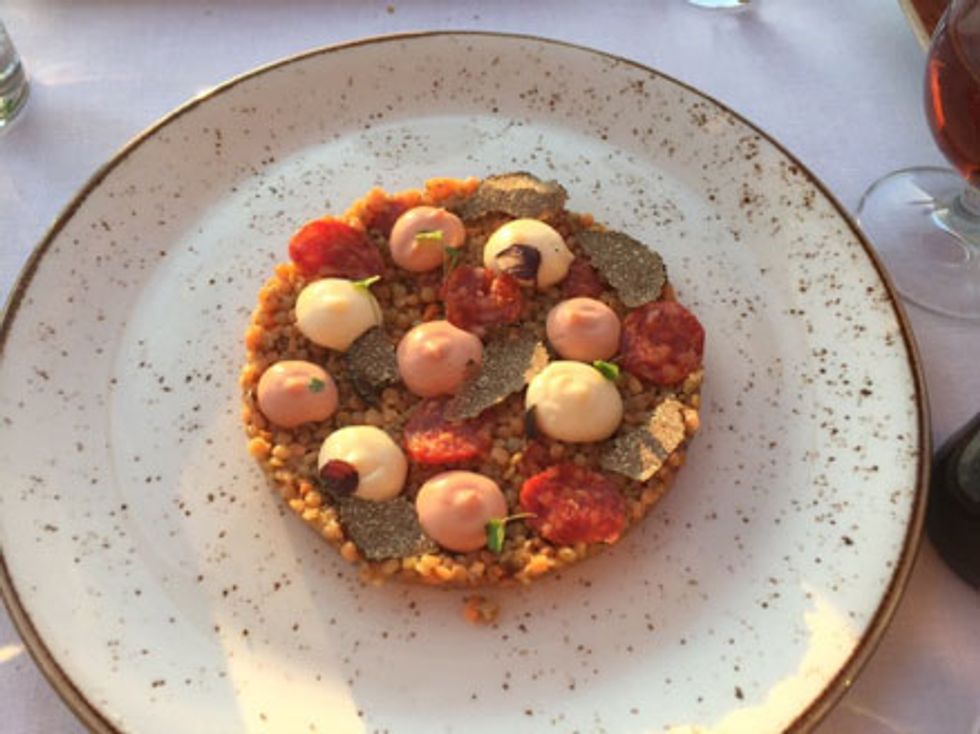 We raised wine glasses and toasted to a best-ever first day in Athens. Soon our heads hit the pillows, and we were ready for sleep. We were excited for the next day's agenda: Tour and climb to the top of Acropolis, then venture into the Plaka neighborhood for more good Greek food and wine.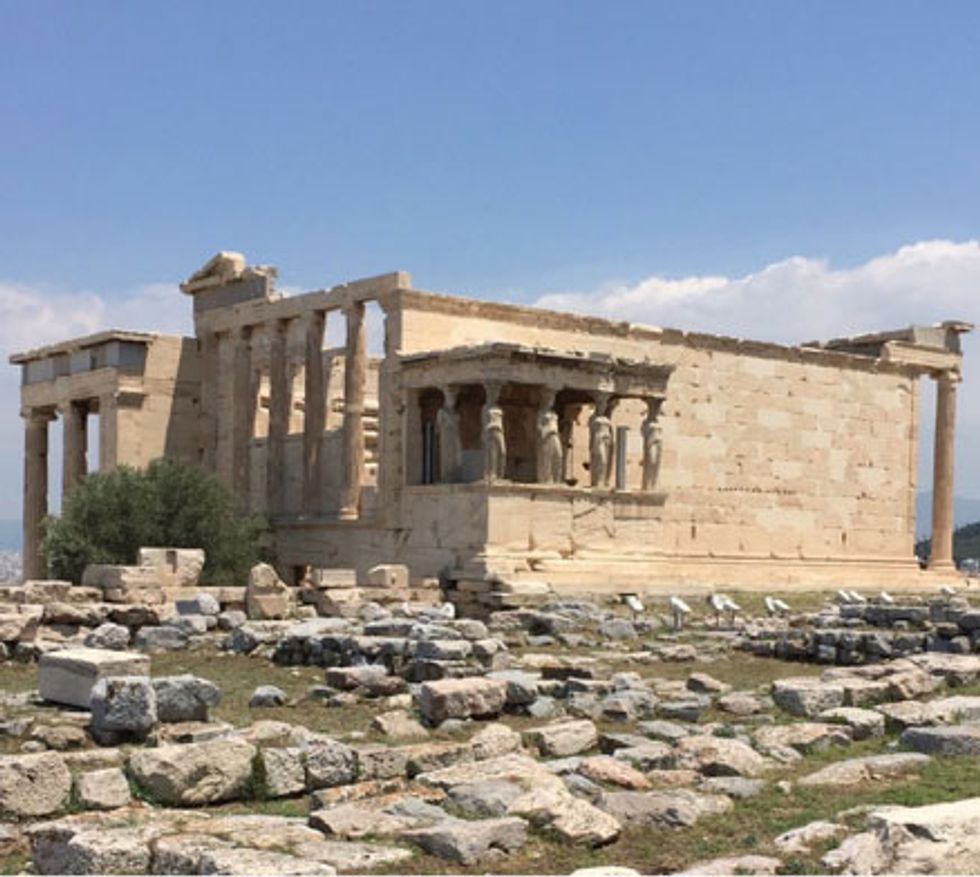 This post originally appeared on aboomerslifeafter50.com.