Are you ready to hear about my culinary explorations and libations in Santorini? It was mid-week in Santorini, and daughter A and I were looking forward to learning more about the food and wine culture of the region with Santorini Wine Trails. 
---
We had registered in advance for the "Foodie Tour," which includes visiting a family-owned farm, walking in an 80-year-old vineyard, and sampling local wines and beer. (Note: Sister N didn't join us for the tour. She wanted to rest after our previous day's strenuous hike from Fira to Oia.)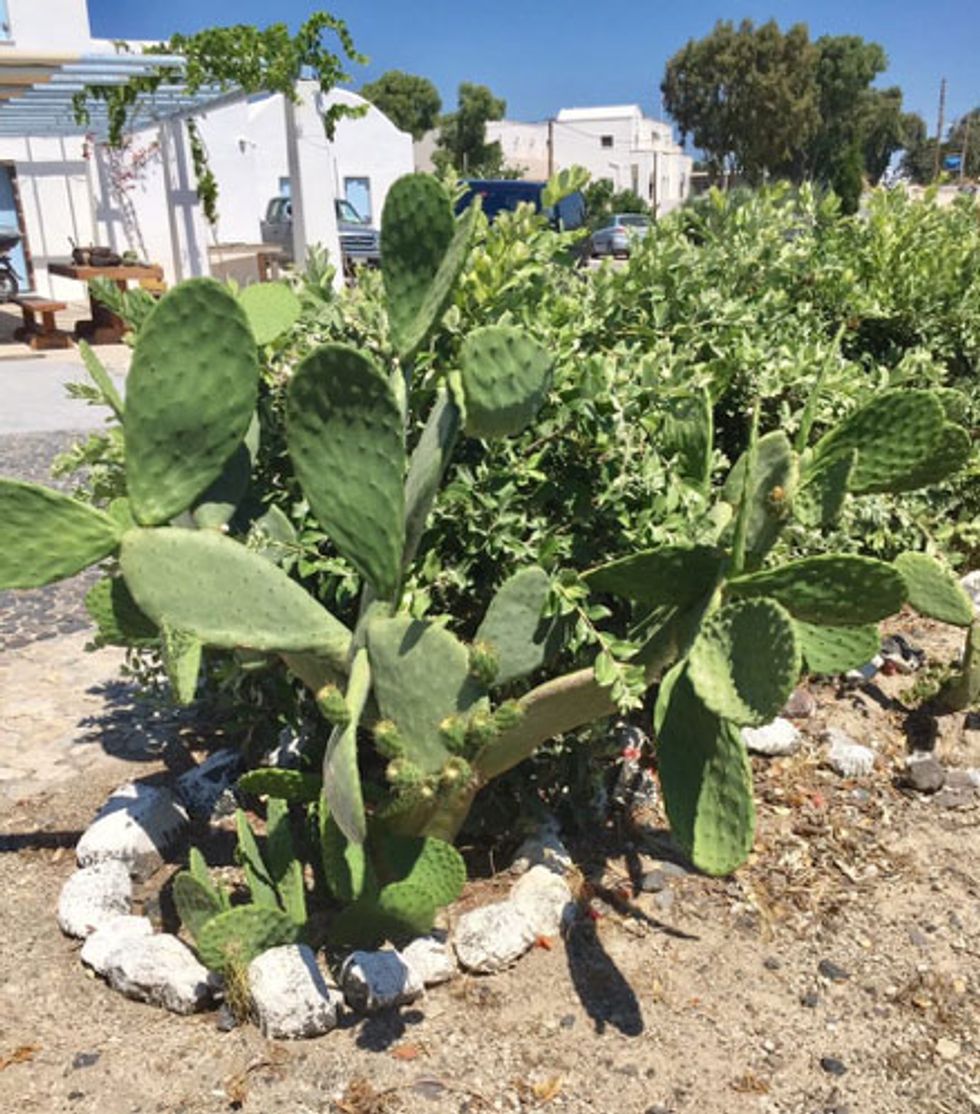 Prickly pear cactus grow on the family-owned farm in Santorini.
Iliana, our guide, picked us up at the Oia post office around mid-morning. Three other women vacationing from Chicago joined our group at the next pickup.
Iliana was filled with history about the island. We told her we were enjoying the beauty of Oia and our lodging at Nicoletta's Loukia Cave House. She shared details about how Santorini and Oia have changed over the years.
"Everything that has happened here—roads, businesses—has happened in the last 20 to 25 years," said Iliana. "After the 1956 earthquake, people were scared and left the island. In the 1980s, more investment happened and people started to return."
The Santorini countryside has changed a lot since roads have been built.
We shared our story about our hike through the mountains from Fira, the capital of Santorini, to Oia. "Oia was always isolated from the rest of the island. The hike was the only way originally to get there. Not until the mid-'90s when they started to build the roads could you get there by car," said Iliana.
She explained that Santorini has the longest tourist season, six to seven months, compared to the other Greek islands. She mentioned that Santorini has about 18,000 people but can go to 100,000 on cruise days. Wow-o-wow—no wonder Oia is so crowded during the day!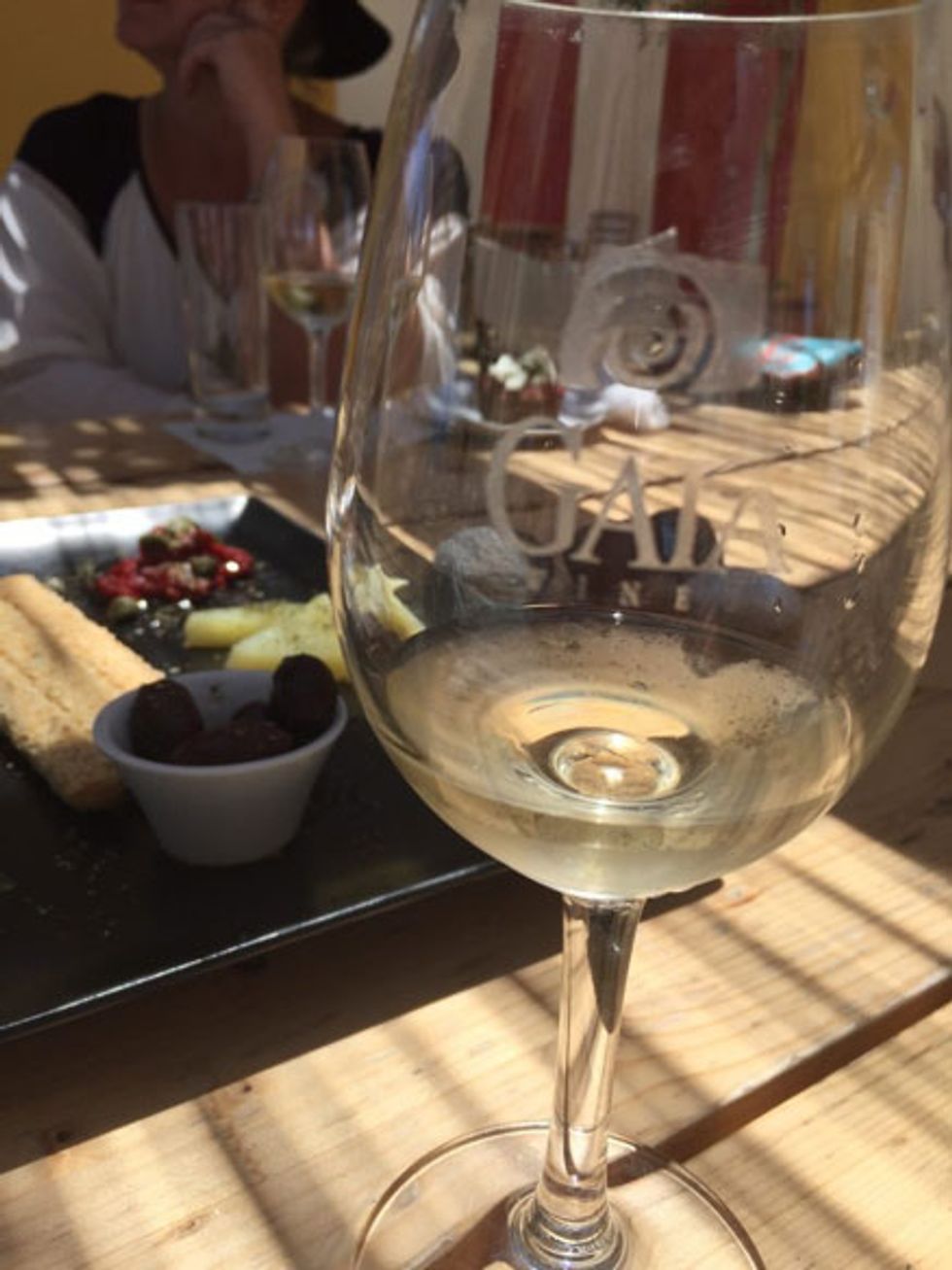 We visited Gaia Winery, one of 13 wineries in Santorini.
Growth Without Water on the Farm
At the family-owned farm we saw how they grow Greek fava beans, cherry tomatoes, white eggplant, prickly pears and capers and how they harvest pistachios from pistachio trees.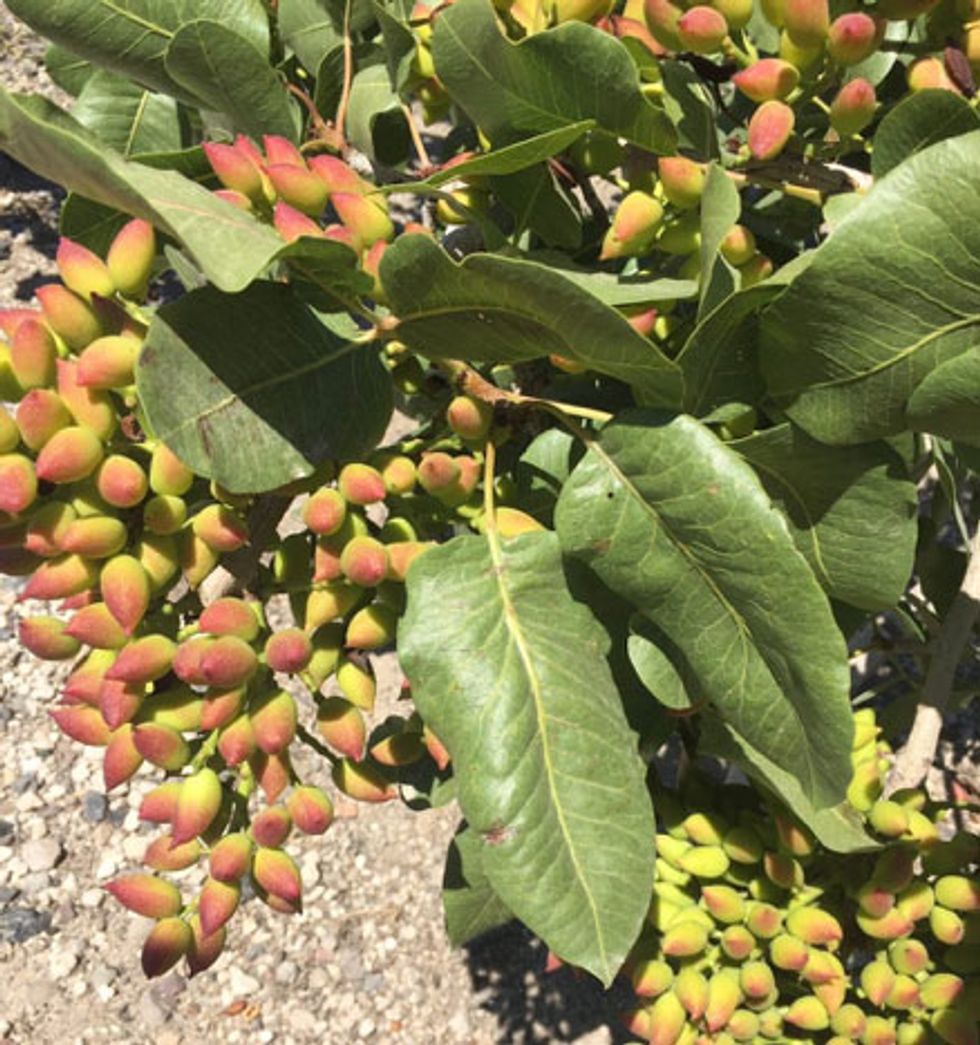 Pistachios grow on trees.
It's challenging to grow vegetables in Santorini because of the lack of rain. "After the volcano erupted, the climate changed completely," said Iliana. She explained how things grow with minimal water. For example, cherry tomatoes grow in sand and get water through pumice volcanic rock.
Crops are small (that's why food is so expensive on the island) but flavors are intense— white eggplant is sweeter, pistachios have a lovely scent and capers are spicier because the wind acts like a spray and the salt water is absorbed into the caper.
Iliana told us that seeds of fava have grown since antiquity, and the beans are a main source of protein for natives. When cooked, fava beans have a creamy consistency, almost like hummus.
Capers are also very popular and very large in Santorini. You can find them at every local restaurant, especially in Greek salads. I love capers.
A and I were excited for our tasting. We sampled sundried tomatoes, fig and tomato jam and freshly cooked fava beans, which were absolutely delicious. I liked the favas so much that I bought a gift box for my BFF L and a smaller pack for myself. (BFF L is a master chef and has already perfected her creamy fava beans, while I am still working on my whisking skills.)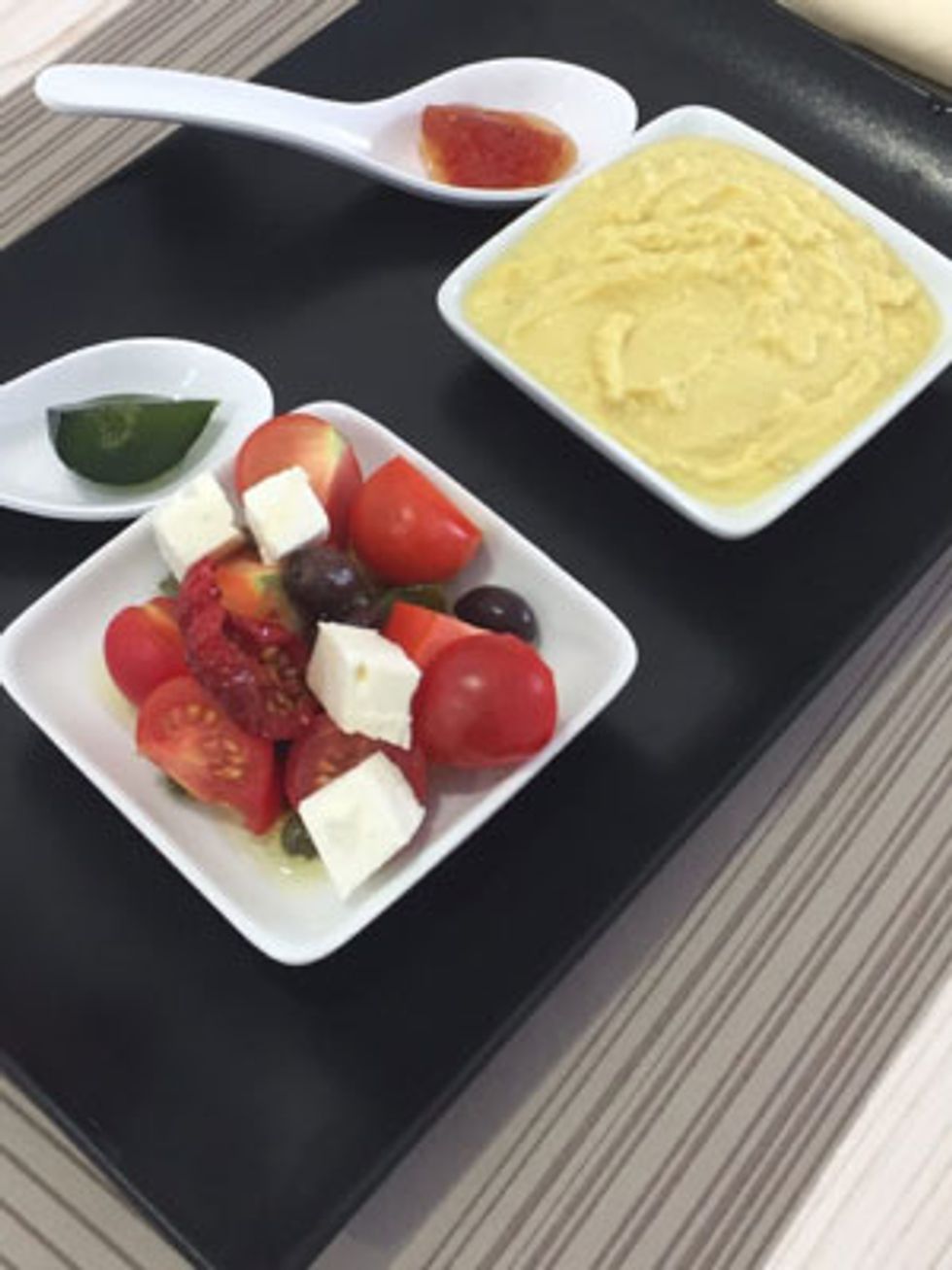 We sampled creamy cooked fava beans and cherry tomatoes.
Tasting and Toasting at Santorini Vineyards and Brewery
Next up was a walk around a very old, historic vineyard. Mostly white wines are made in Santorini, and much of the wine from the wineries we visited is exported. We saw 200-year-old vines that are still producing grapes. 
Iliana explained how the vine's roots grow. "There are some vines on the island that are grown like a basket because of the heat and the wind. Under every basket is a rock to help circulation of air around grapes. Pumice stones bring moisture. It is labor-intensive to make the basket each year, and grapes are handpicked," she said.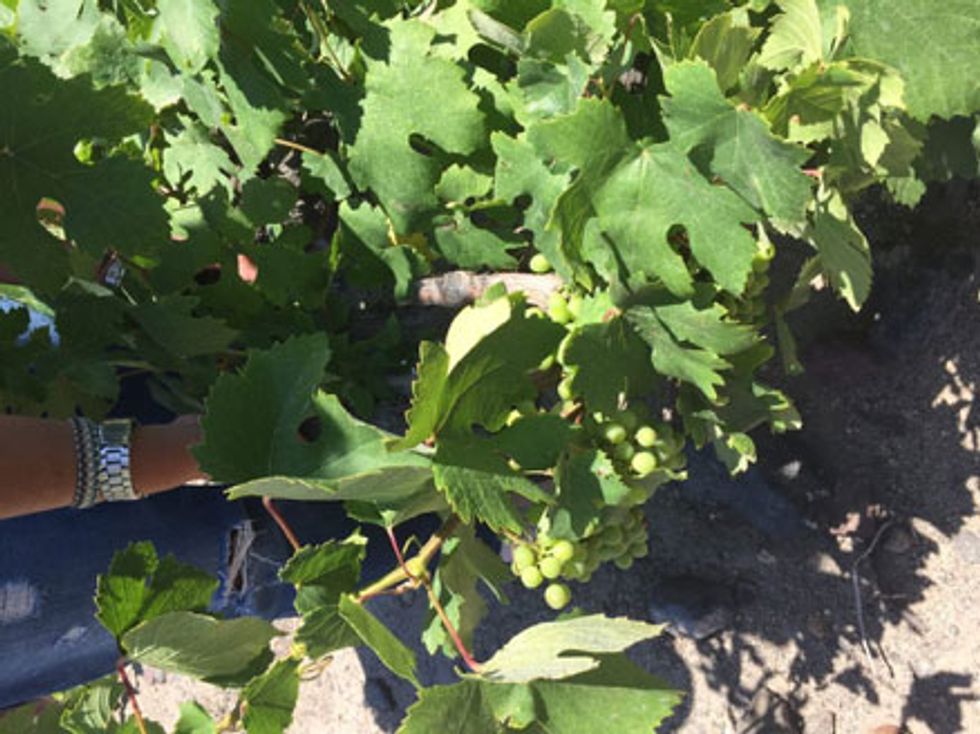 Grape vine baskets grow low to the ground.
At the Estate Argyros, we tasted a variety of white wines made with grapes from the old vines. We sipped dessert wines, which are thicker and sweeter than the dinner ones. Olives, pure tomato paste, cheeses from Crete, and rusk (a popular double-baked Greek bread) were great accompaniments to the wines.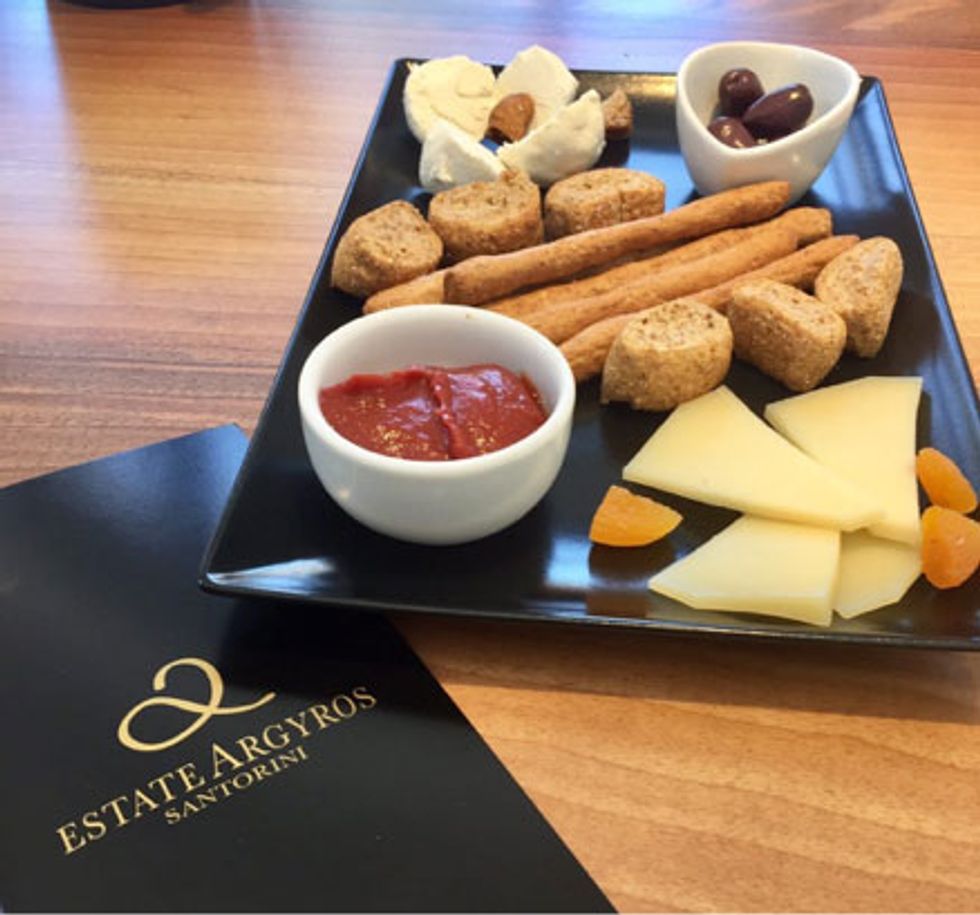 Greek tomato paste, cheeses, olives and twice-baked rusk bread are delicious accompaniments.
Next, we stopped at the Donkey Brewery, where all beers are unfiltered and unpasteurized. My tour mates were quick to drink some brew. I passed because I'm not a beer drinker.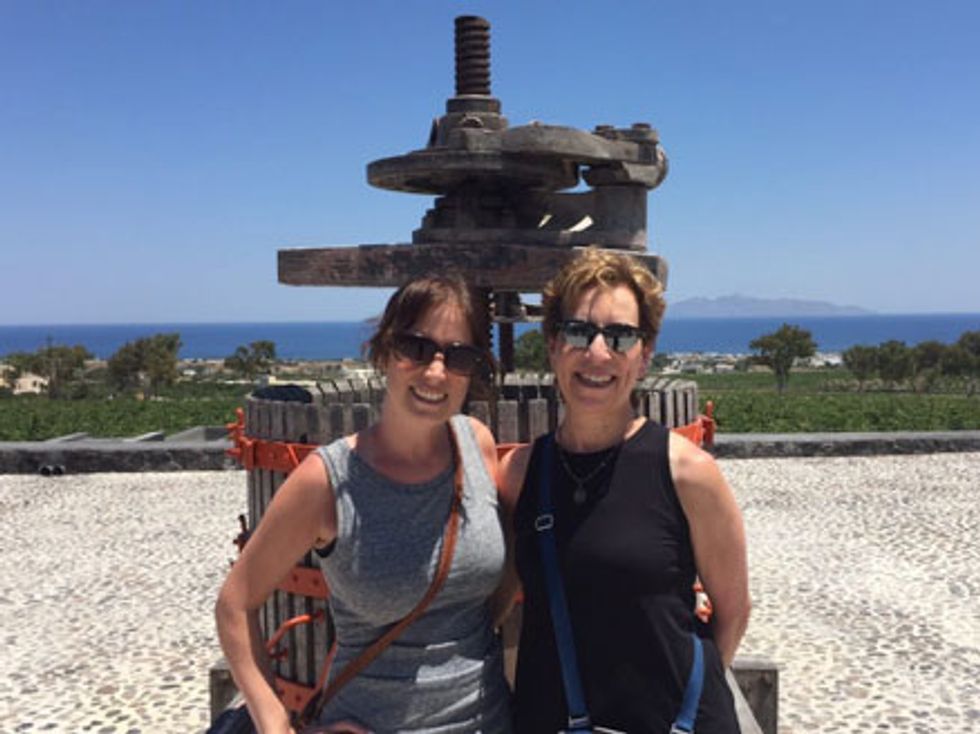 Taking time for a mother-daughter photo outside the Argyros Winery.
Soon we arrived at Gaia Winery on the beach, a lovely spot for our last stop on the tour. This winery used to be a tomato factory and now produces white wine and vinegars. Gaia wines are much stronger and better to consume with food. The owners served more rusk bread, tomato paste and capers to eat. It was all so good, so good, so good.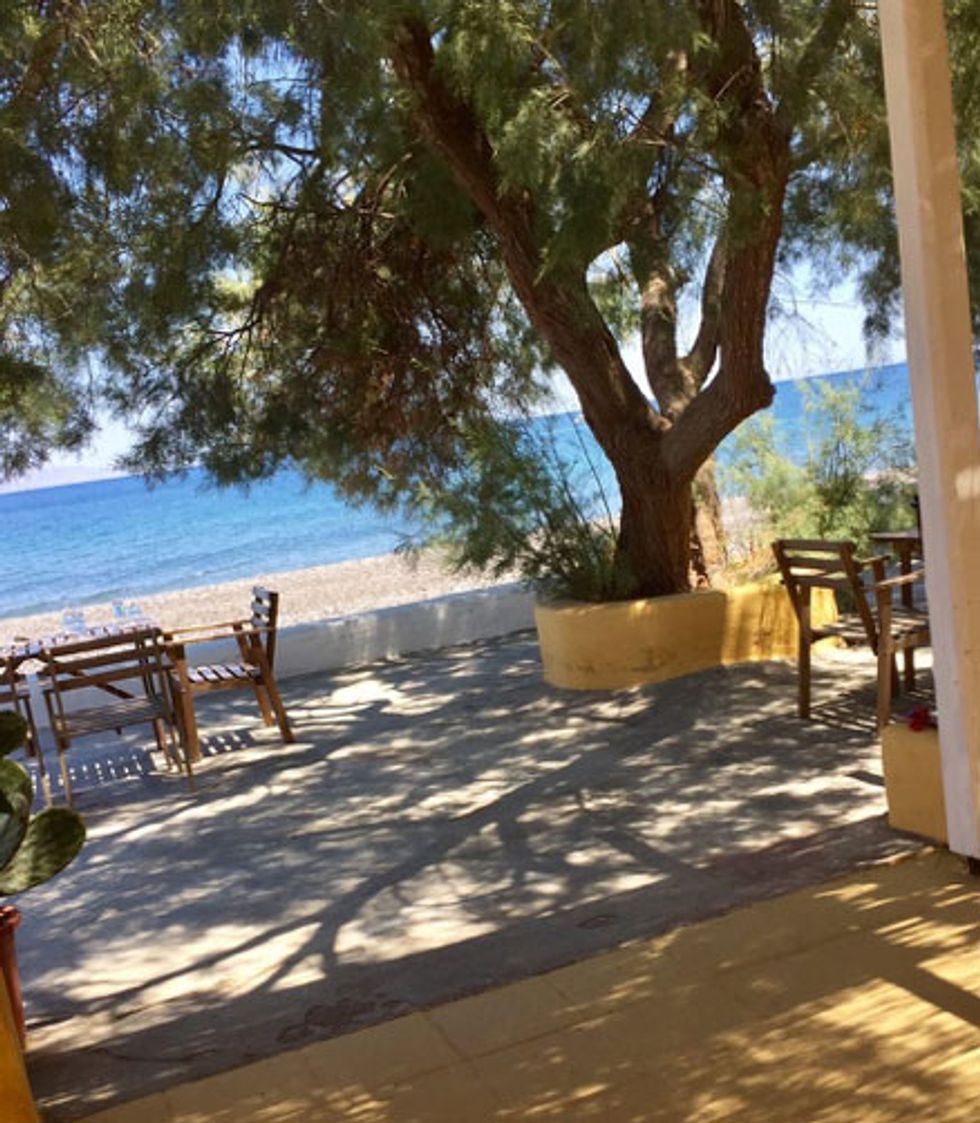 The Gaia Winery is located on the beach.
We thanked Iliana for a fabulous foodie tour. It was an enlightening day, and I highly recommend booking a tour with Santorini Wine Trails when you visit.
Sunset on Santorini
The sun was setting on another terrific day. We met up with N and enjoyed dinner on the rooftop at Oia Gefsis, a lovely spot to watch the breathtaking view of the sunset.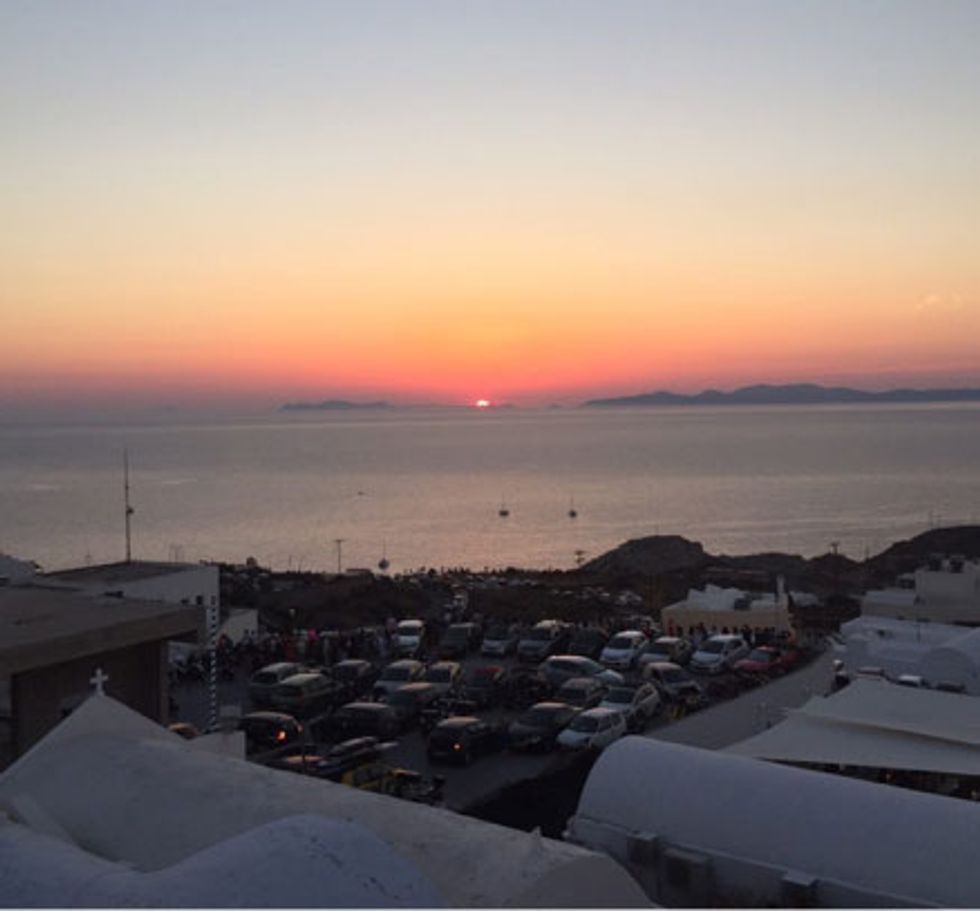 Oia sunsets are not to be missed.
We were tired but glad that we had a few more vacation days left to experience Santorini's beaches and take a catamaran cruise around the island. 
P.S. In case you missed my earlier posts about my stay in Athens, check them out below:
My First Trip to Greece: The Amazing Old World of Athens
My First Trip to Greece: Climbing to the Top of the Acropolis
My First Trip to Greece: Soaking in the Splendors of Santorini
This post originally appeared on aboomerslifeafter50.com.