"We are delighted to welcome you aboard Viking Hemming and look forward to serving you," said our program director, Jorge. My boyfriend L and I were excited for our cruise along Portugal's Douro River, compliments of Viking.*

A Stop in Ciombra
It was a fun day of travel to the ship, leaving our pre-trip destination, Lisbon, in the early morning and heading north to Coimbra, the original capital of Portugal and home to one of its oldest universities, the University of Coimbra, founded in 1290.

Students gave us a tour and shared stories about their "black capes," which are a campus tradition. The capes were originally worn so students would not be judged by their clothes if they were rich or poor. "During graduation festivities, we cut the cape," said Maria, a student of engineering. "A middle cut is for your boyfriend, but must be sewn up if you break up." Moi tried on one of these heavy woolen capes and almost fell over.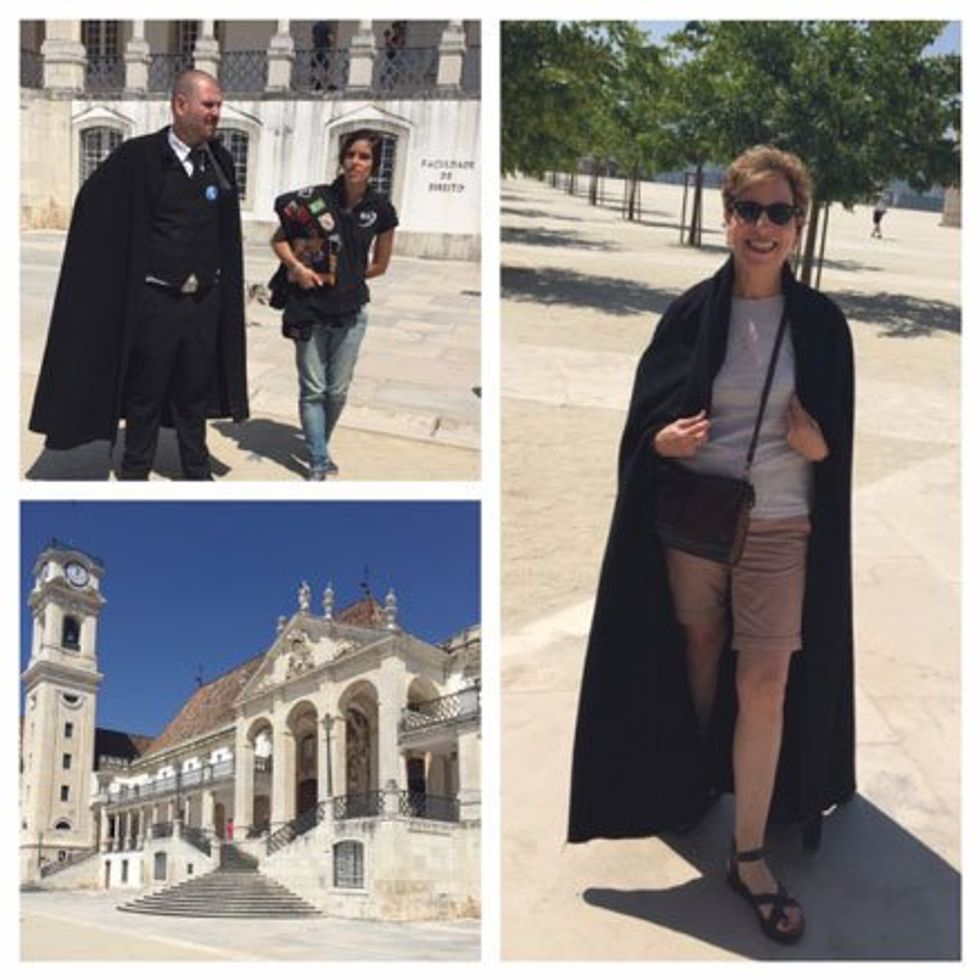 The University of Combria is one of the oldest. Black capes are a tradition for students.

Welcome Aboard!
We arrived in Porto, Portugal's second largest city, by early evening and boarded the Viking Hemming. The small ship holds about 105 people. Our third-floor room was lovely, with a veranda, a king-sized bed, contemporary bathroom (that even had a night light), and plenty of closet space.

"I could definitely live on this ship," I said to L. "It's great waking up to a magnificent views of the Douro River and Portugal's mountainous terrain of vineyards. My only wish is that they had yoga classes on the deck instead of shuffle board and pitch and putt."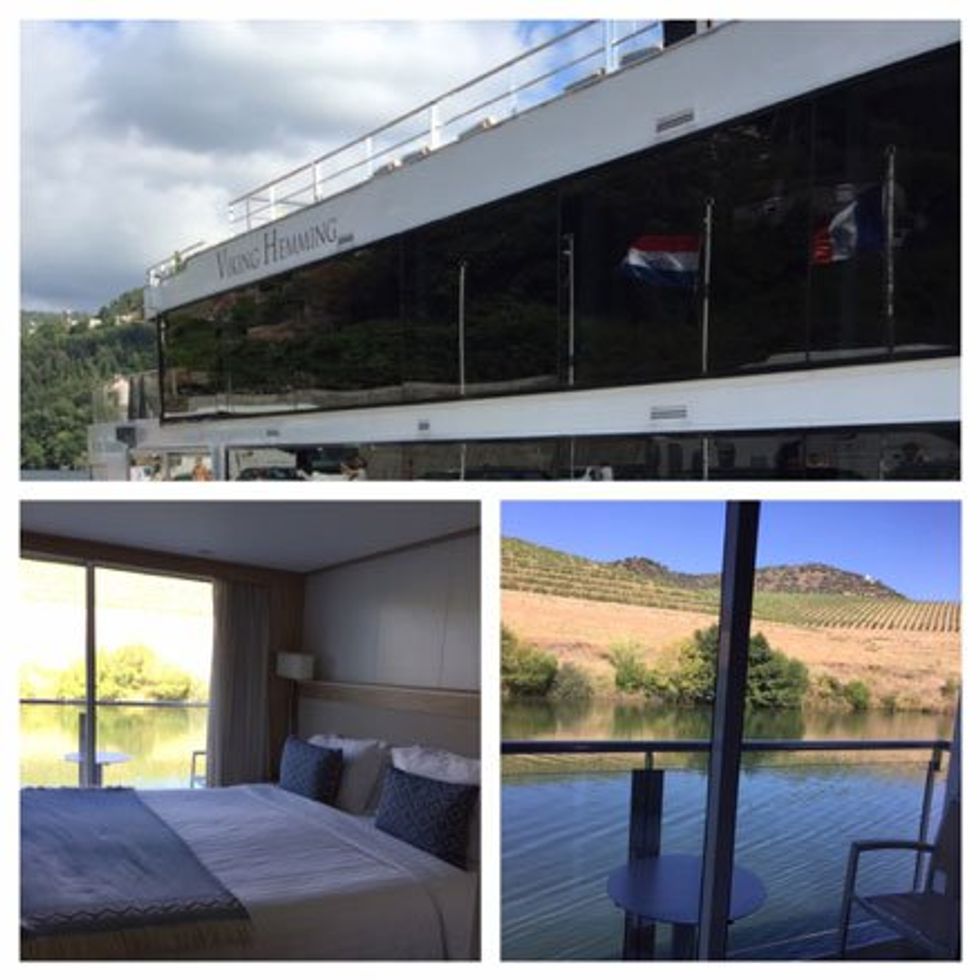 Our room on the Viking Hemming had a veranda with a beautiful view of the Douro Valley.

There was a top deck with a teeny pool and lots of seating (we spent most of our time on deck when cruising); a third-floor lounge with comfy seating, a bar and small dance floor (we relaxed here during the evenings, and L finally agreed to dance with me on the night of the captain's dinner); and a dining room on the second floor where we ate most meals.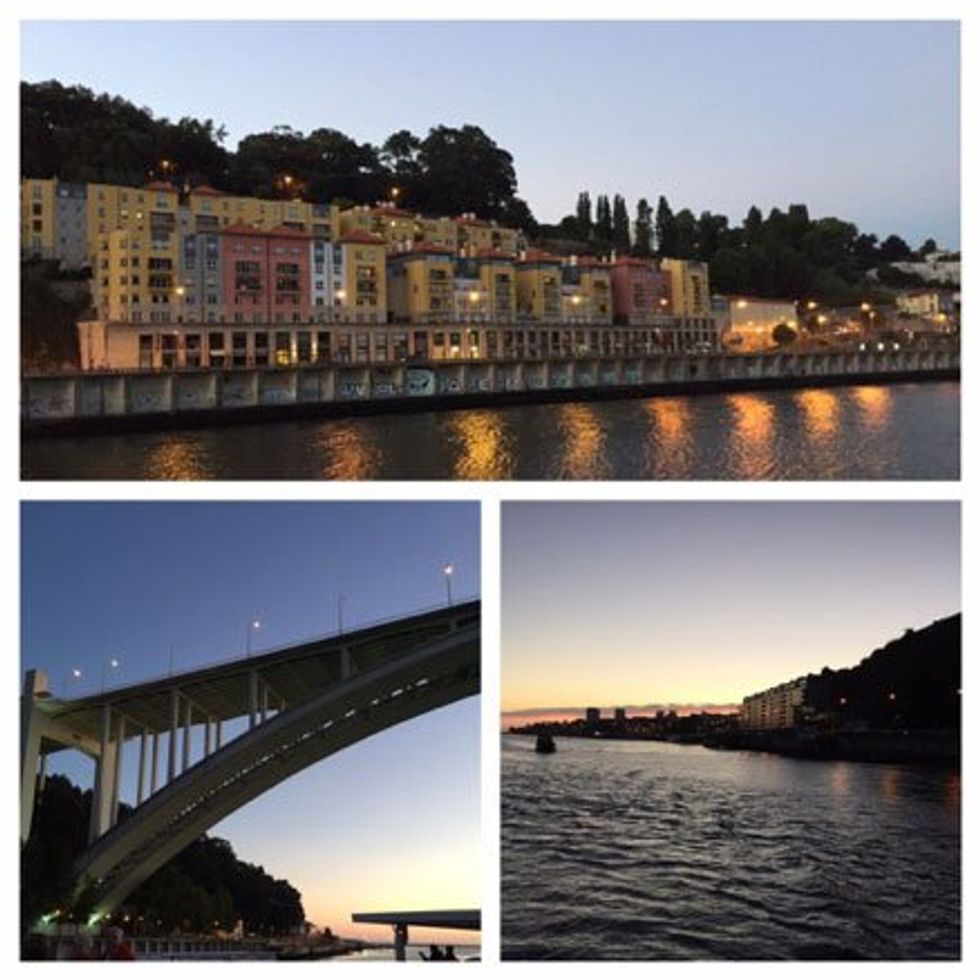 The Porto landscape while cruising the Douro was especially beautiful at night.

Breakfast and lunch were buffet-style with an omelet station in the morning and a pasta station in the afternoon. There was no assigned seating, which was good since we liked to mingle and meet new people each day.

Breakfast was my favorite meal. L enjoyed his daily double espressos, and I devoured the freshly baked croissants and Portuguese bread with homemade jams. So much for my gluten-free diet—I was more of a gluten-glutton by the end of the week.

Dinners were casual with a menu of choices. Wanting to try as many local foods as available, I often chose the fresh fish entree and seafood appetizer.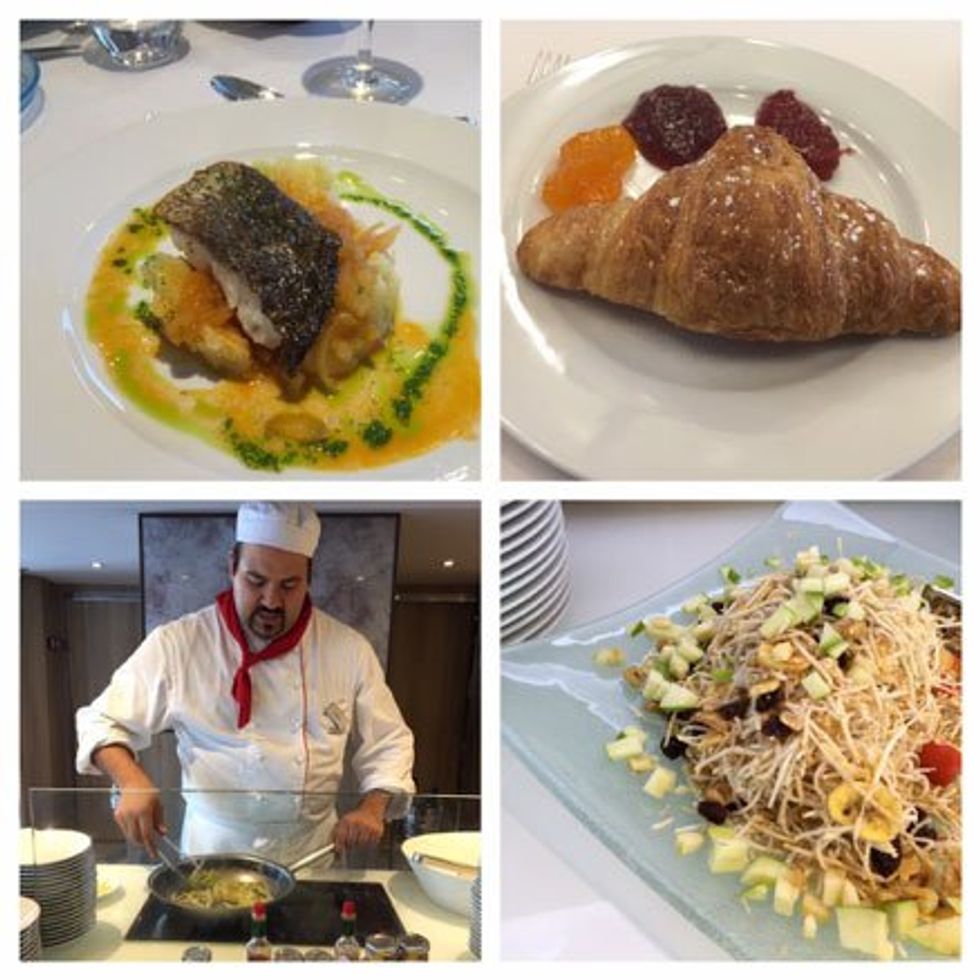 Meals on board: fresh fish, homemade croissants and jams, pasta to order and tasty salads.

A City Tour of Porto
Each day we had an option to join the shore excursion or stay on the boat while it cruised along the Douro to the next port. Trips were either in the morning or afternoon, with bus rides to our destinations and then walking tours of each city or village.

During our city tour of Porto:
We walked the limestone streets stopping high on the hilltop at the Porto Cathedral.
We visited the Porto train station with its panels of tiles depicting the history of Portugal. It's named one of the most beautiful in the world by Conde Nast Traveler.
We went to the famous Lello bookstore, where author J.K. Rowling supposedly wrote chapters from her Harry Potter novels while living in Porto.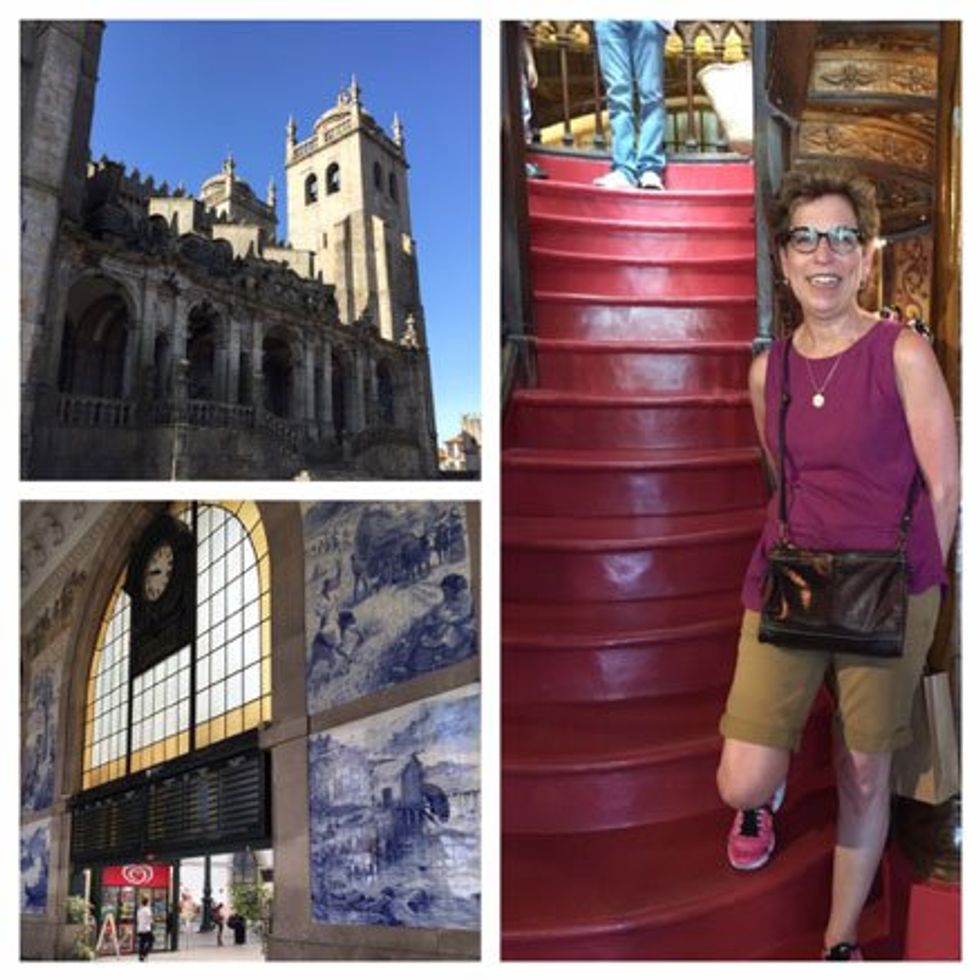 Porto places (l to r): Cathedral, Lello bookstore, train station.

My First Sip of Port
We also visited a local winery outside the city to taste our first glass of port, Portugal's most famous and popular export. There would be many different kinds of port throughout the trip, and I realized that I really, really like this sweet wine, which I learned has a really, really high alcohol content. It is in the Douro Valley that the only grapes that produce the authentic port are grown.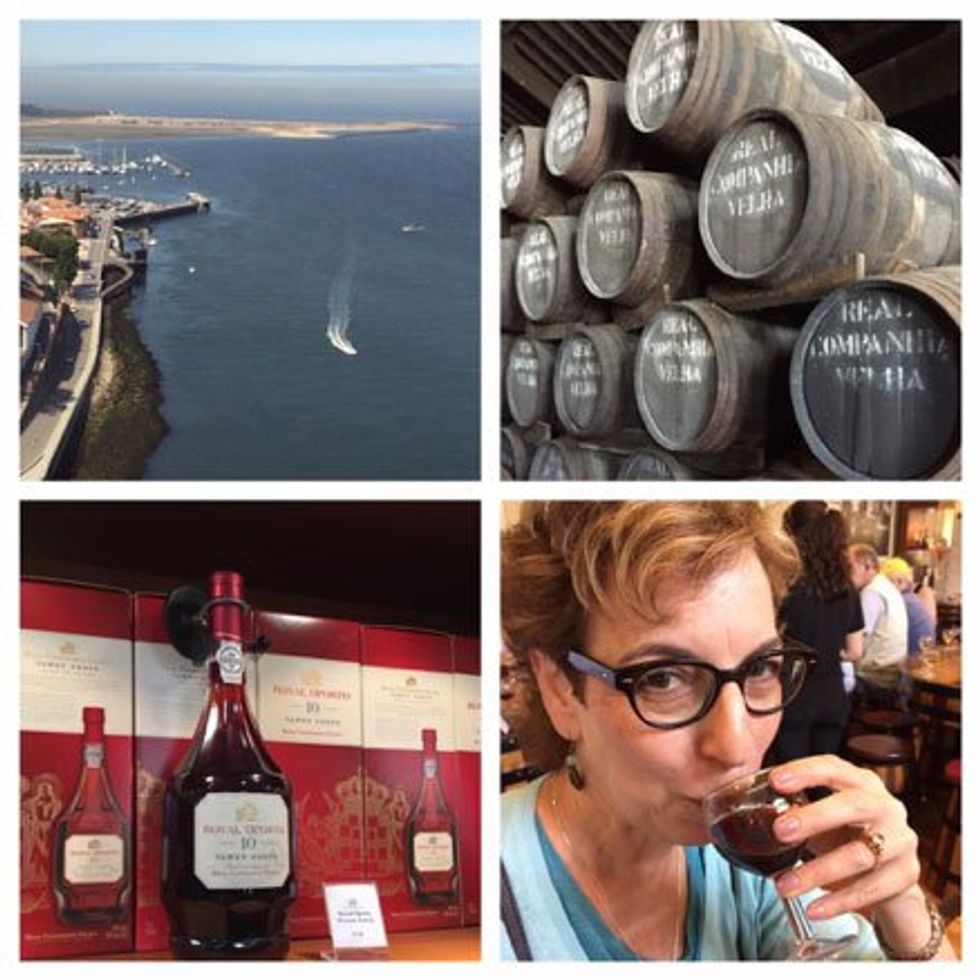 A first taste of Portugal's popular export: port from Porto.

Finding Time to Shop
During our free afternoon, I headed back to Porto with new friends J and P, while L stayed on board for the cruise to Biteto. We did a good job of navigating the city and went shopping along Flores Street, where I bought a pretty cork bracelet (Portugal is the largest producer of cork and cork products) and some prints of Porto's colorful city landscapes and bridges (Porto is known as the "City of Bridges"). Our last evening of the cruise was also spent in Porto along the river where we found many more street vendors for good shopping and artwork.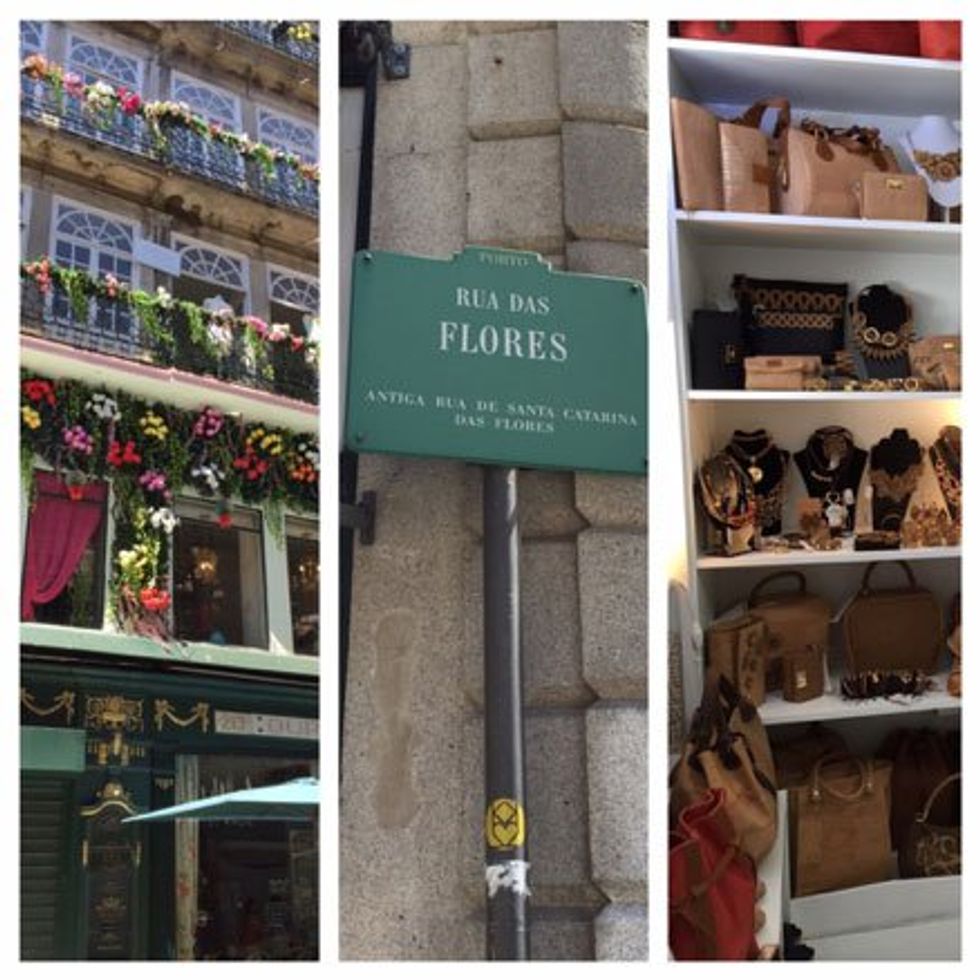 Flores Street is a favorite place to shop in Porto.

Evening at Alpendurada Monastery
Each evening, we gathered in the lounge for our daily briefing by Jorge. He shared the next day's agenda and sometimes shared facts and figures about the Douro and Portugal.
"Tonight we will depart the ship and have dinner at the Alpendurada Monastery," said Jorge. Dinner wasn't the best, but it was a picturesque spot, and the monastery had its own charm with ceilings made of chestnut wood.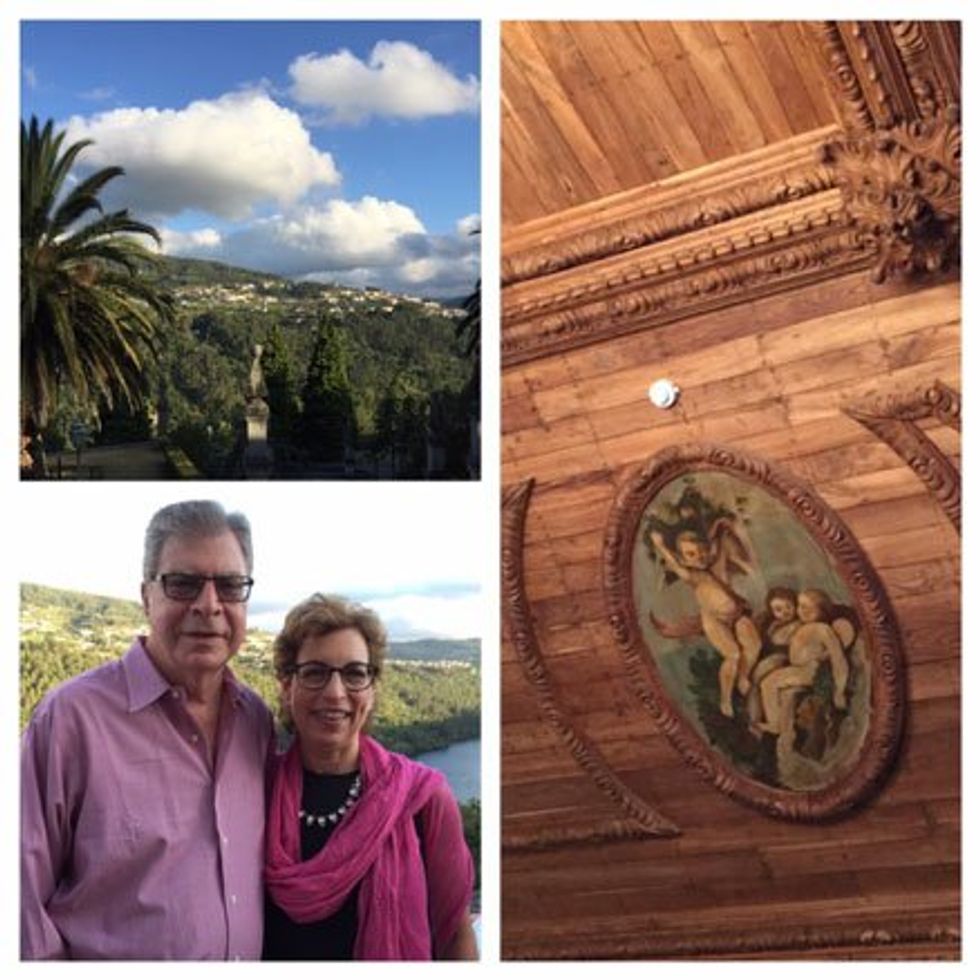 Alpendurada Monastery has picturesque views and chestnut wood ceilings.

Having sipped my share of Portugal vinho, my head was ready to hit the pillow. Tomorrow would bring another glorious day of sunshine to explore the Douro Valley.

P.S. For more posts about my trip to Portugal, visit my Travel and Leisure page.

*Disclosure of Material Connection: This is a sponsored post. Viking River Cruises provided me with a complimentary press trip river cruise on the Douro. Regardless, I only recommend products or services I use personally and believe will be good for my readers.

This post originally appeared on aboomerslifeafter50.com.