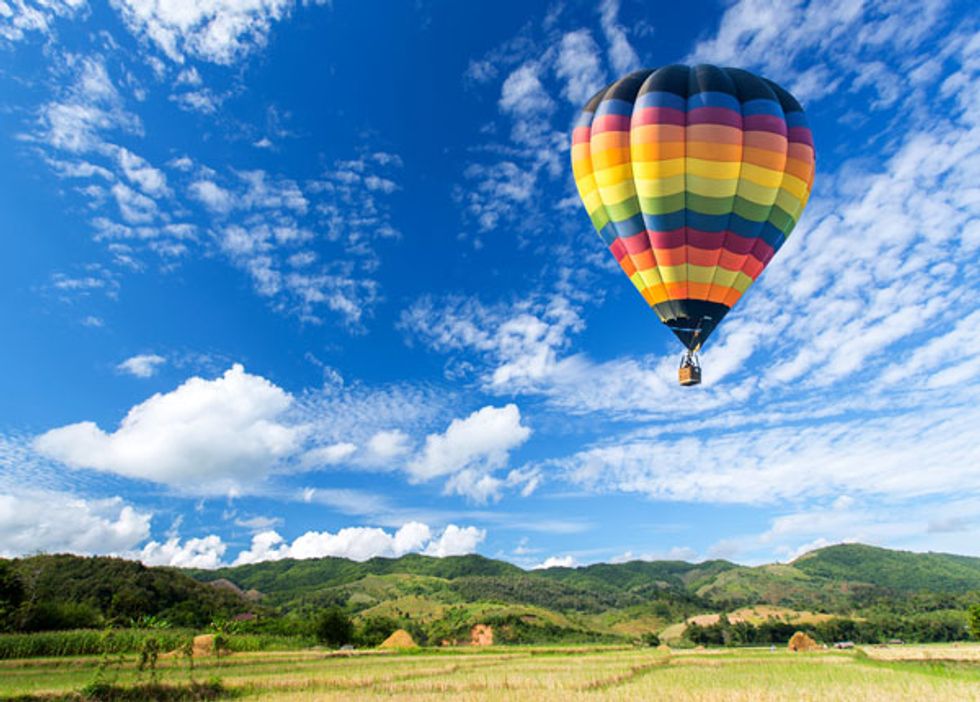 ---
It's hard to describe the beauty and awe of floating above the Shenandoah Valley in a hot air balloon: sun rising, roosters crowing as we lift up from a dew-covered hillside; a patchwork of green hills and forests punctuated by late-summer brown fields; the quiet of drifting through the sky with the occasional blast from the burner to raise or lower the balloon; turkey buzzards circling unseen prey; cows mooing and dogs barking as they watch us glide overhead; deer pausing, possibly sensing danger, as they run through the corn stalks below; and the gobble-gobble of turkeys drifting up to our balloon.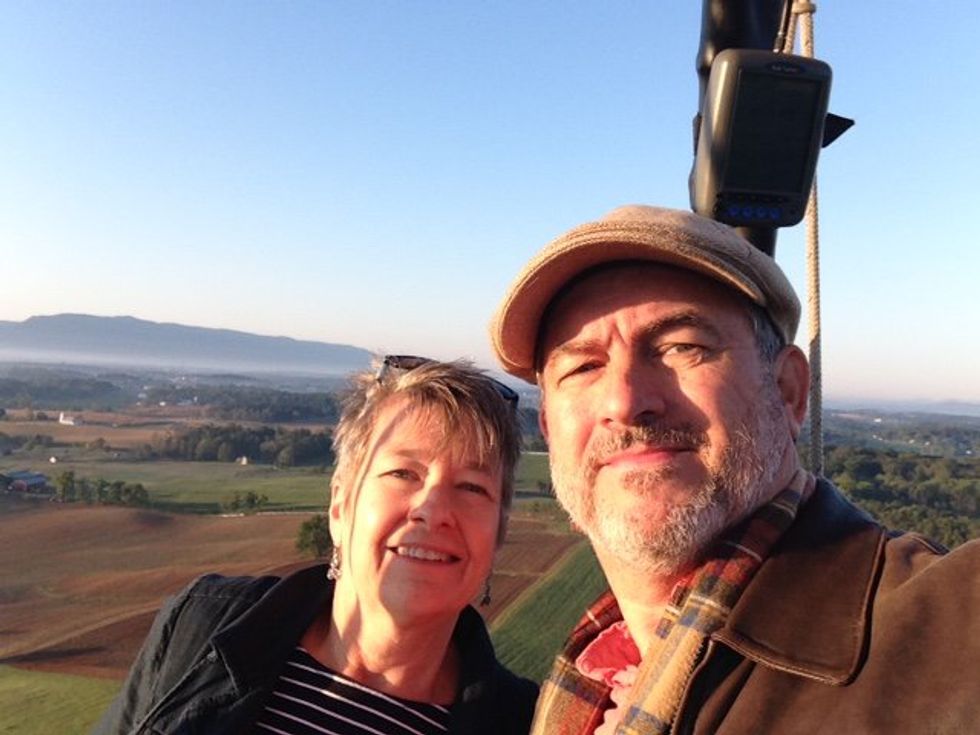 As exhilarating as this was for me, nearly half the people I told about it said they could never do it. For most, it's a fear of heights; for some, a fear of no control.

I understand that because I experience both to some degree. Yet, I made up my mind before the balloon ride that I wasn't going to be afraid (unlike the time I went parasailing).
As it turns out, it didn't require much effort. I felt calm and secure in the big woven basket. The only twinge of fear came as we started to land on an unbelievably small patch of land in a vineyard, surrounded by grapevines and trees. But our very experienced pilot landed so smoothly and quickly that I hardly had time to worry.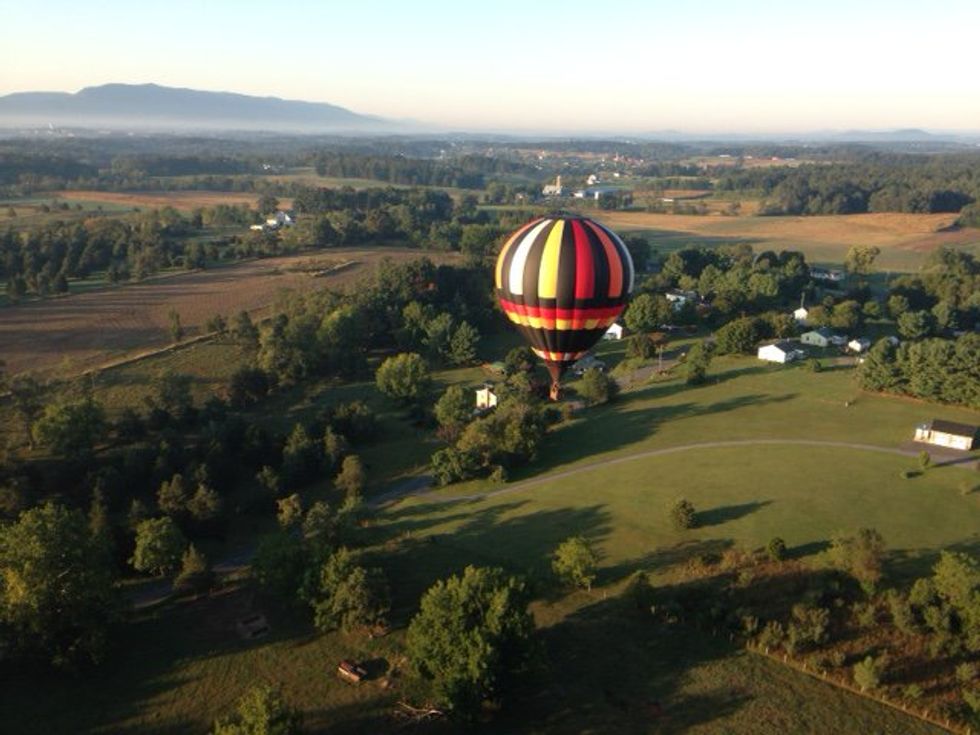 This adventure caused me to reflect on a blog I wrote last spring about getting ready for a "big, bold, passionate summer." I shared tips from Nancy D. O'Reilly, a clinical psychologist and women empowerment expert, on how to keep from getting in a rut and spending a boring summer. O'Reilly, along with 19 other successful women, cowrote the book Leading Women, and she asserts that courage and a sense of adventure are keys to success—not to mention happiness.

It inspired me to look for ways I could make my summer more exciting.

Now that summer is officially over, let's see how I did with my plans for a more interesting summer. Here's a recap of O'Reilly's seven tips for an exciting summer, along with my commentary on what I hoped to do—and what I actually did:
Don't waste the weekend. O'Reilly encouraged us to set a goal for every weekend to do something new. My list included:
Picking berries at a farm (check)
Inviting new friends to dinner (check)
Playing tennis (check)
Riding bikes (Oops … maybe this fall.)
Going hot air ballooning (Yes, that was a biggie!)
Landscaping our backyard (Pulling a few weeds probably doesn't count.)
Walking on the beach and watching the sun set with my husband (Well, sort of. I walked on the beach and watched a few sunsets, but hubby didn't make it. It's not too late for a fall walk.)

Get out of your vacation rut. O'Reilly encouraged vacationing in a new place. We didn't travel far this summer, but we did attend an out-of-state wedding and spent a few days at our old favorite vacation spot—the Outer Banks. There's a good reason we didn't go far: We are planning a trip to Italy this fall to celebrate my big 6-0 and our 25th anniversary. That is really getting out of our rut!
Find creative day-trip destinations. O'Reilly suggests imagining a 100-mile radius around your home and exploring it. This should've been easy, but I didn't do so well. I visited nearby beaches and spent several lovely weekends at a friend's river house. My husband and I also went to some outdoor concerts throughout the region, sampled several new restaurants and attended a downtown street party.

Learn a fun new skill. Summer is a great time to learn something new, whether through a class, a club, an organization, online or from a friend. I am using an app to learn a little Italian before our trip. I had hoped to learn paddle boarding from a friend, but her summer schedule didn't permit. Maybe next year.

Do at least one thing to give back to your community. Giving back enhances gratitude and contentment and can even reduce stress levels, O'Reilly says. I fell short on my plan to donate blood over the summer, but I spent an afternoon weeding at our church.

Make a point to meet new people. This gets difficult as we grow older. I had hoped to connect with some new health-minded friends through paddle boarding or biking, but that hasn't happened yet. We did have a serendipitous meeting at a farm-to-table community dinner. These new friends are also going to Italy and invited us to share their apartment for a few days.

Maintain a spirit of joy and gratitude. O'Reilly says it's important to approach new adventures with a positive, open attitude. I was fortunate to have both of my adult daughters home for part of the summer, and I made a point of being grateful for their time and enjoying activities with them whenever possible. When my older daughter suggested early morning trips to pick blueberries or go to the beach, I made every effort to rearrange my schedule and go. When my younger daughter invited me to try some new exercise classes with her, I went—and, despite the sore muscles—I was grateful and (mostly) joyful. 

Tell us below what you did with your big, bold passionate summer.