"Take me back to Portugal. I miss the picturesque villages, pristine waters and magnificent vineyard-covered mountains," I said to my boyfriend L. I wished to return to the Viking Hemming, but instead spent time cherishing all the memories from our first-ever river cruise on the Douro.*

It had been a fun adventure and there's plenty more to share.

Lots to Do On Board
There were many activities on board, and, unlike L, who enjoyed relaxing and reading on deck, I was eager to participate in all.

"Como està," I said to L when I returned from my Portuguese language lesson. L smiled and went on reading. Elia taught us how to say popular words and phrases, like bom dia (good morning), boa tarde (good afternoon), boa noite (good evening and good night), adeus (good bye) and olà (hello).

"There are two ways to say thank you," said Elia. "If you are a woman you say obrigada, but if you are a man you say obrigado."

"I helped Chef Carlos make pastel de nata pastries," I told L.

"Where is my sample?" L asked.

"I ate it," I replied.

L smiled and went on reading.

The puff pastry dough is rolled and pressed into tart pans, then filled with creamy vanilla custard, baked until lightly browned and sprinkled with cinnamon and sugar. "We make more than 700 pastries a week," said Chef Carlos. "It's like a perfect marriage—an espresso and a pastel de nata."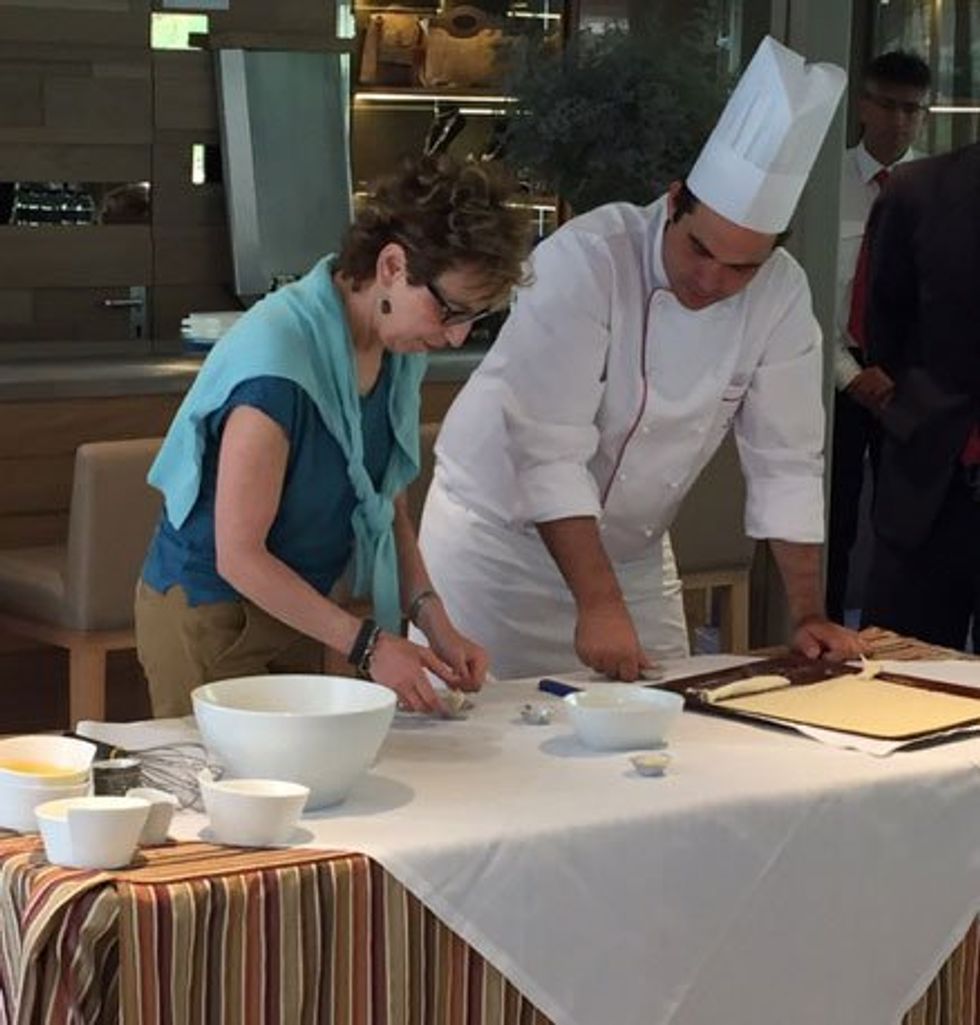 I helped Chef Carlos make pastel de nata pastries.

I toured the galley. "This is where the magic happens," said Elia, as she led us down the steps into the galley, where four chefs work. The space was very small considering all the food that was prepared daily for 100-plus people.

Chef Carlos told us that 80 percent of the menus use Portuguese foods. "We buy from local suppliers at each stop and refresh our menus seasonally," he said.

The team starts cooking at 5:30 a.m. for breakfast and stays until 2:30 p.m. after lunch. The chefs returns and work from 5:30 to 10:30 p.m. for evening service. They work seven days a week from March through November. (Wow-o-wow, what a crew!)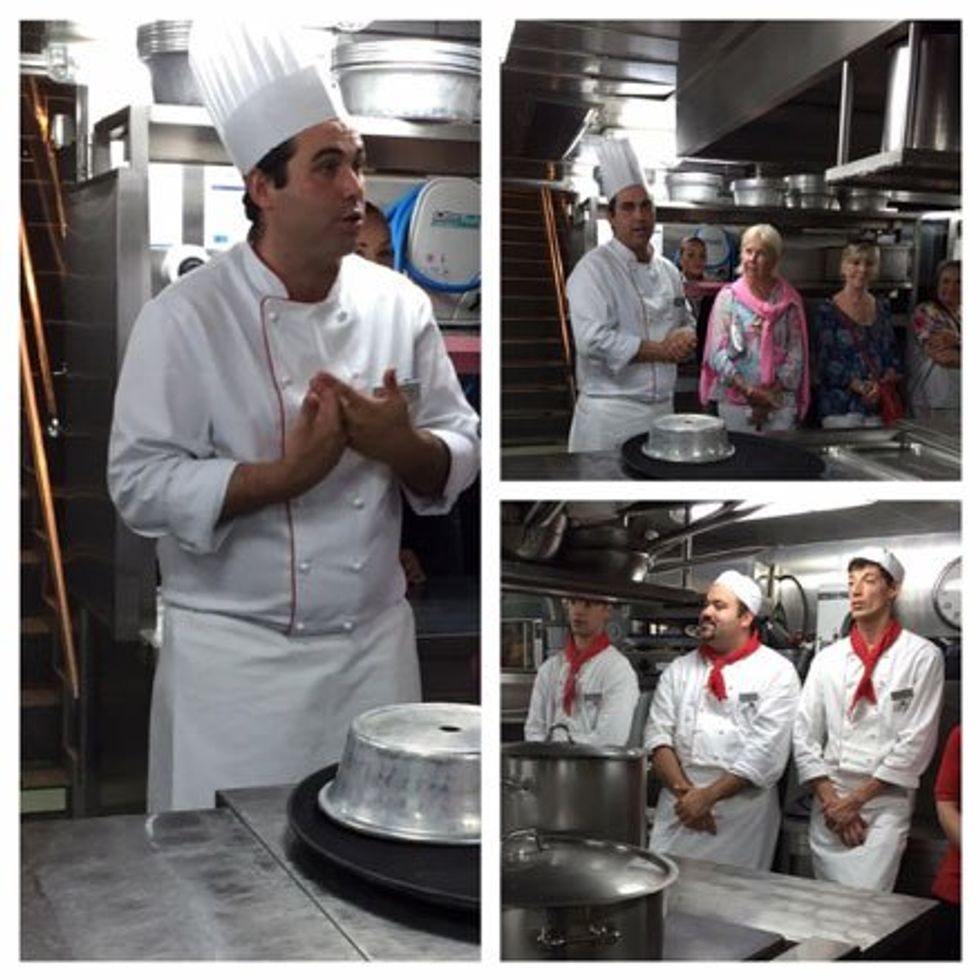 We toured the galley where all the food is prepared.

Breathtaking Views of the Douro Valley
Cruising along the Douro between the cities of Regua, Pinhào, and Barca d'Alva offered the most breathtaking views of vineyards, olive and almond trees, mammoth bridges, the sparkling river below and the glorious blue sky above. The Viking Hemming deck was my favorite place to "stop, breathe and be" and soak in all the beauty.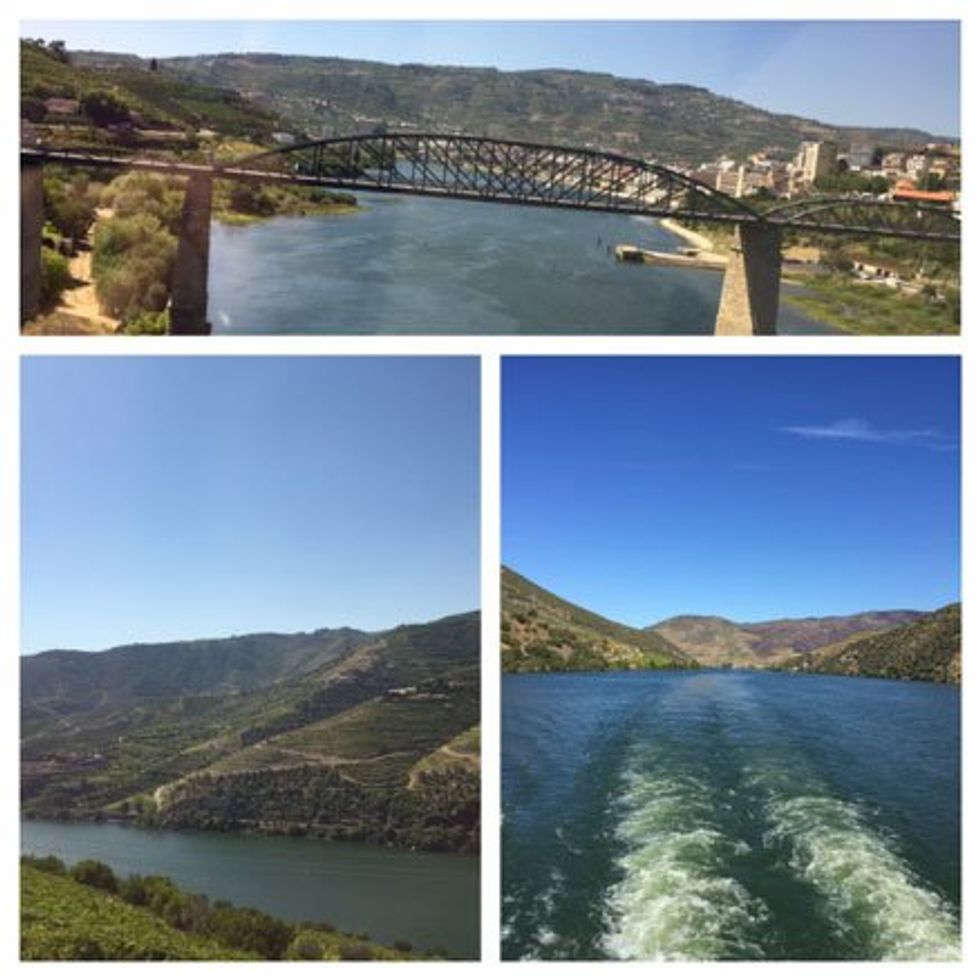 Breathtaking views of the Douro Valley.

"Here we have 100-year-old vines," said our guide at the Quinta do Seixo estate, home to the Sandeman brand of port. We sampled red and white port and saw how the wine is produced. Before dinner that evening, we would witness the formal opening of a vintage bottle, which requires ice and fire so the cork doesn't crack.

"This wine gets better every year," said our program director, Jorge, as he carefully pulled out the cork and removed the sediment. (Just like moi! No wonder I grew to adore this sweet wine during the trip.)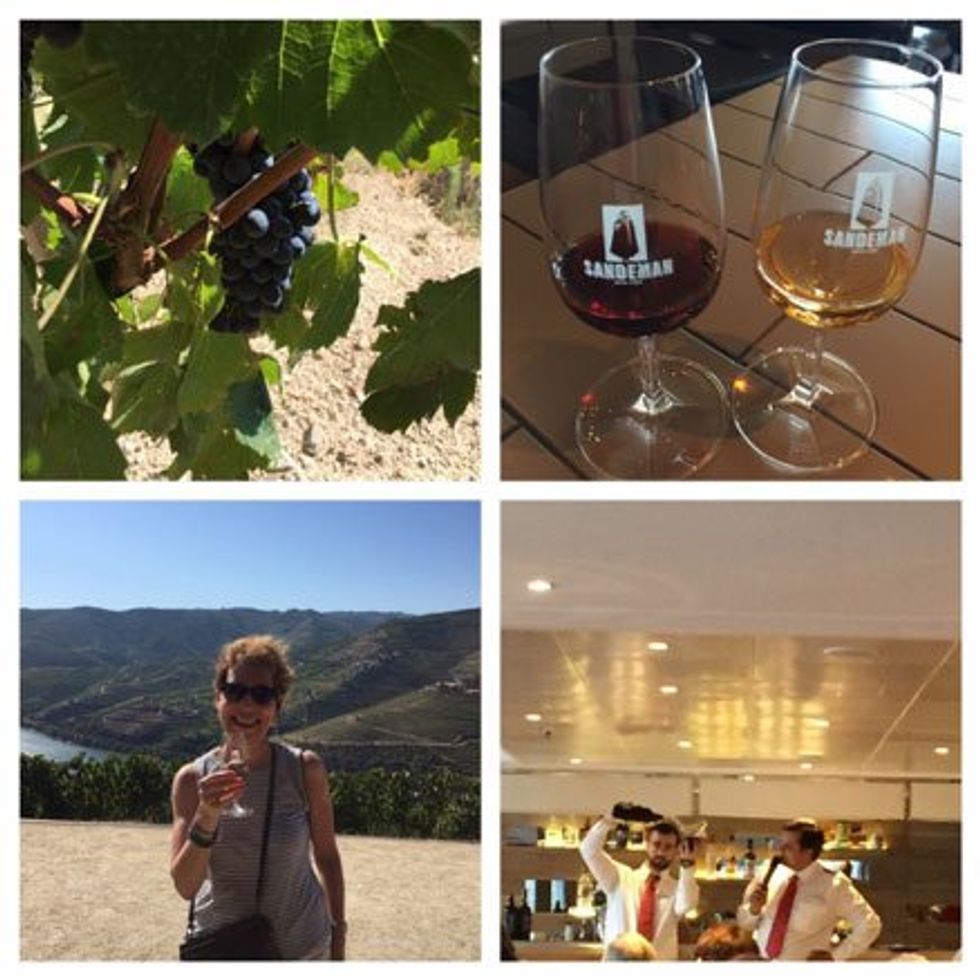 We toured the House of Sandeman winery.

Another highlight was the Mateus Palace, one of Portugal's most recognized icons with a long history of winemaking. The palace was built in the 18th century and has ornate stairways, exquisite pinnacles on the roof and beautiful gardens surrounding the countryside estate. The family still lives there during the summer.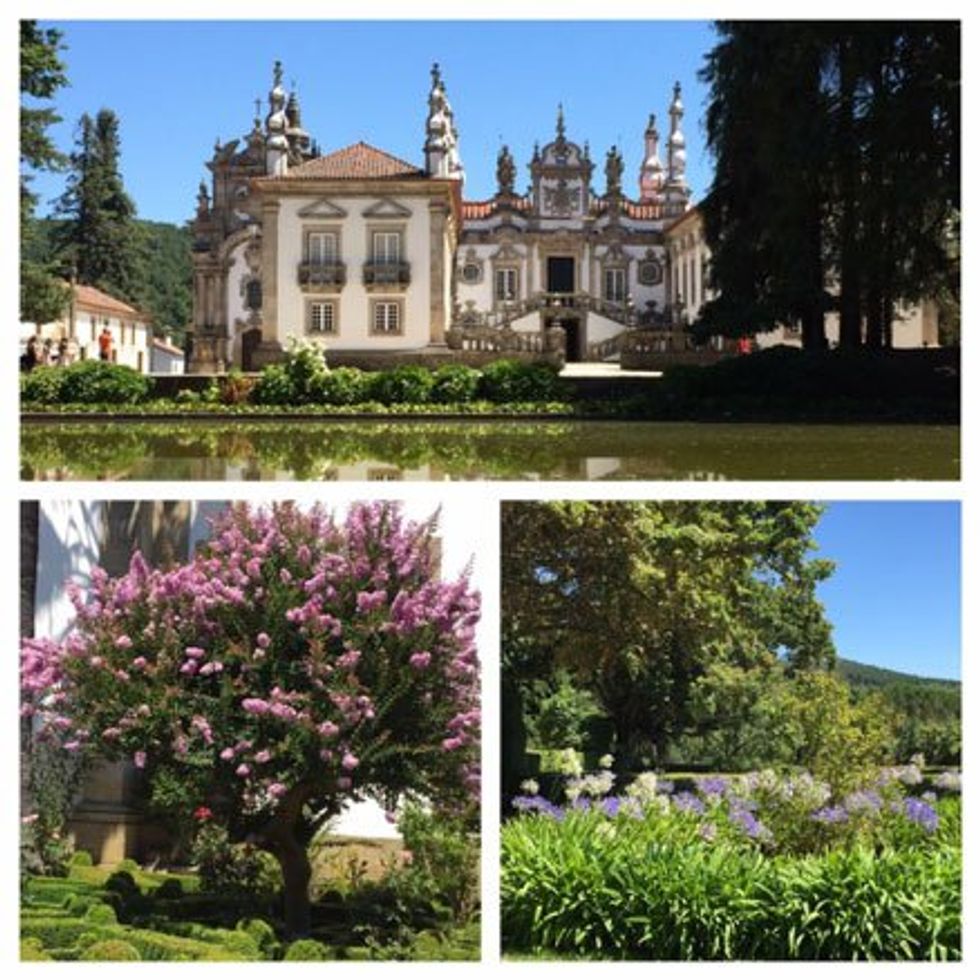 The magnificent Mateus Palace and estate.

The Last Portuguese Village Along the Douro
By midweek, we had reached Barca d'Alva, the last Portuguese village along the Douro, situated just over a mile from the Spanish border. During our bus ride to the historic village of Castelo Rodrigo, Elia educated us on the rich agriculture of the area.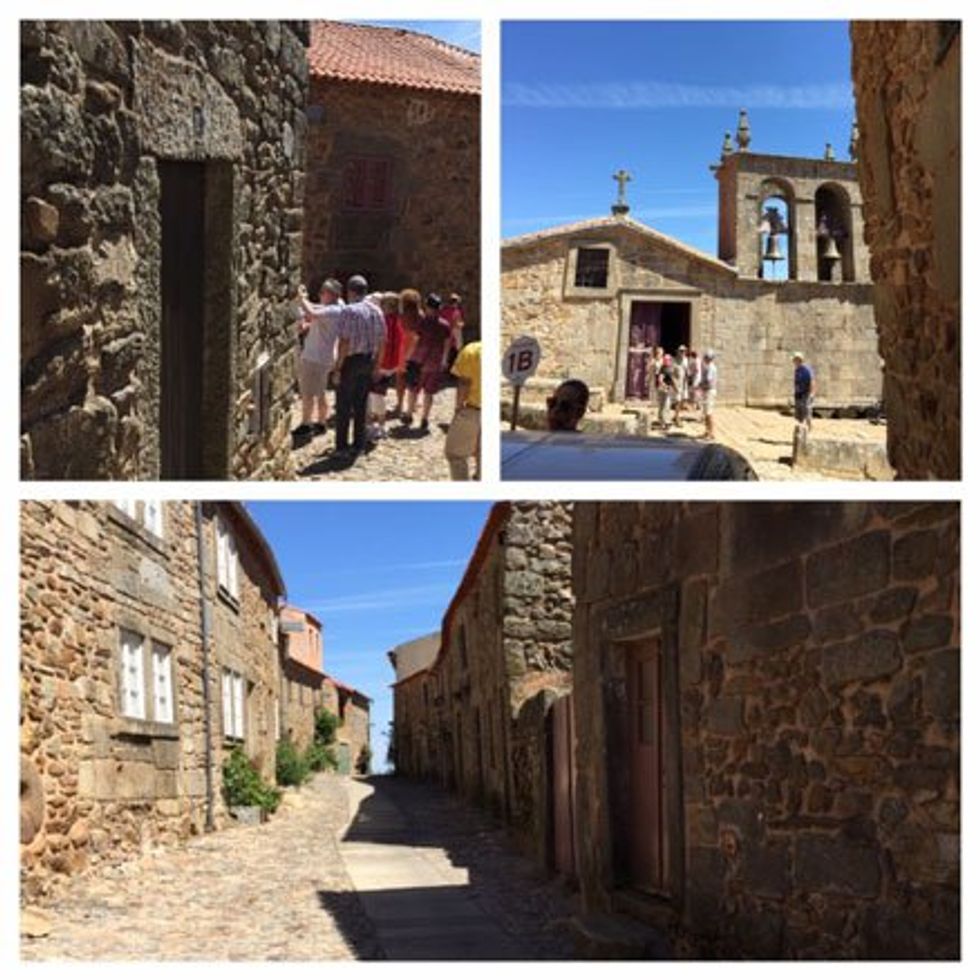 Castelo Rodrigo was a charming village.

"Olive oil was one of the first exports of Portugal," said Elia. "One-third of the world's olive oil is exported from Portugal. We don't export many almonds; they are mostly for local use."

Being an almond lover, I did as the locals do and ate my share of these delicious nuts at the specialty shop in Castelo Rodrigo. I tasted every variety—cinnamon covered almonds, salted almonds, blanched almonds, seasoned almonds. All were yummy.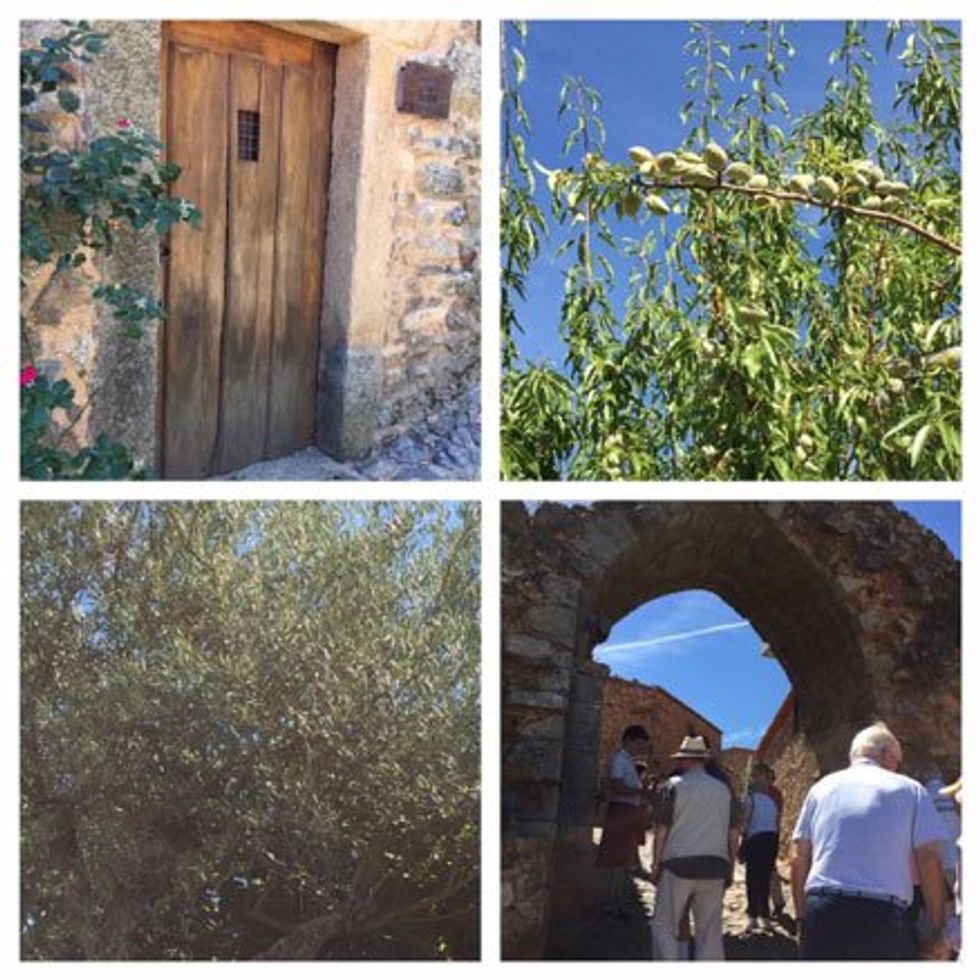 Can you find the almonds in the tree?

Castelo Rodrigo is one of 12 historic villages in Portugal. Christians, Muslims and Jews had a peaceful coexistence here centuries ago. There were different entrances for each religious group, yet they all lived in the same village.

Good Food and Good Friends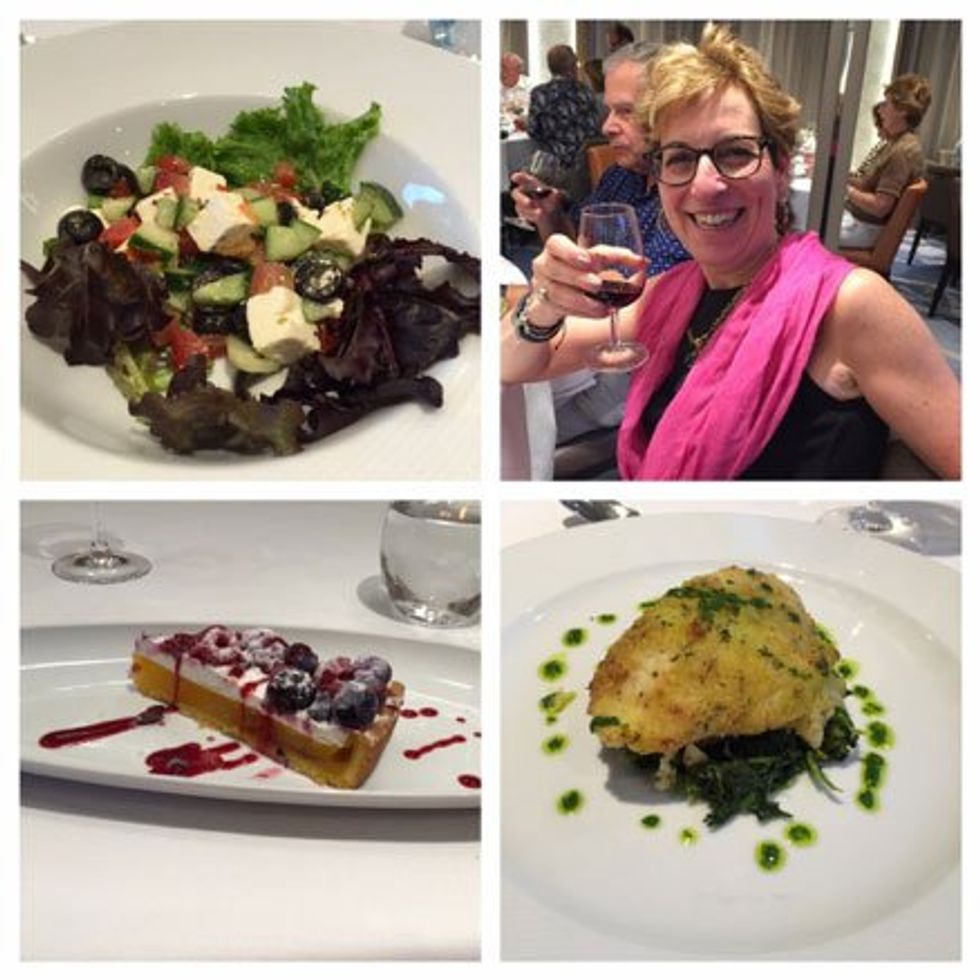 Good food, good friends and good wine!

We enjoyed our daily excursions but also liked our time on the ship. It was pleasurable to dine with different couples each evening. We met people from all over the world—England, Scotland, Australia, and all parts of the United States. Plus, after visiting the galley, I had a great appreciation for the wait staff who carried our meals up and down the steps to our tables.

Good food and good friends—who could ask for a better vacation?

P.S. For more posts about my trip to Portugal, visit my Travel and Leisure page.

*Disclosure of Material Connection: This is a "sponsored post." Viking River Cruises provided me with a complimentary press trip river cruise on the Douro. Regardless, I only recommend products or services I use personally and believe will be good for my readers.

This post originally appeared on aboomerslifeafter50.com.