My FitBit was pumping as I entered the Jacob Javits Center in New York City for my foodie adventure at the 2018 Fancy Food Show last month. Would I hit 10,000 steps by the end of the day? I had 365,000 square feet to capture with 2,400+ exhibiting companies. Better yet, would I burn off the calories I was about to consume on all the chocolates, cheeses, beverages, snacks, desserts and other delicacies from around the world?
---
What Are the Food Trends?
As a long-time foodie, I enjoy going to the Fancy Food Show each summer. It's fun to see the trends and flavors unfold and sample what's new.
According to the Specialty Food Association's (SFA's) annual research, trends this year include:

Hemp products and supplements are trendy—even for your dog.
Are Baby Boomers Big Foodies?
This year's SFA research showed that baby boomers are not foodies as much as their millennial kids. They aren't as inclined to order food online and have a below average purchase of specialty foods. However, boomers do cook from scratch and like to use seasonal foods. They are interested in all-natural, organic and plant-based foods. And boomers read nutritional labels and desire quality ingredients.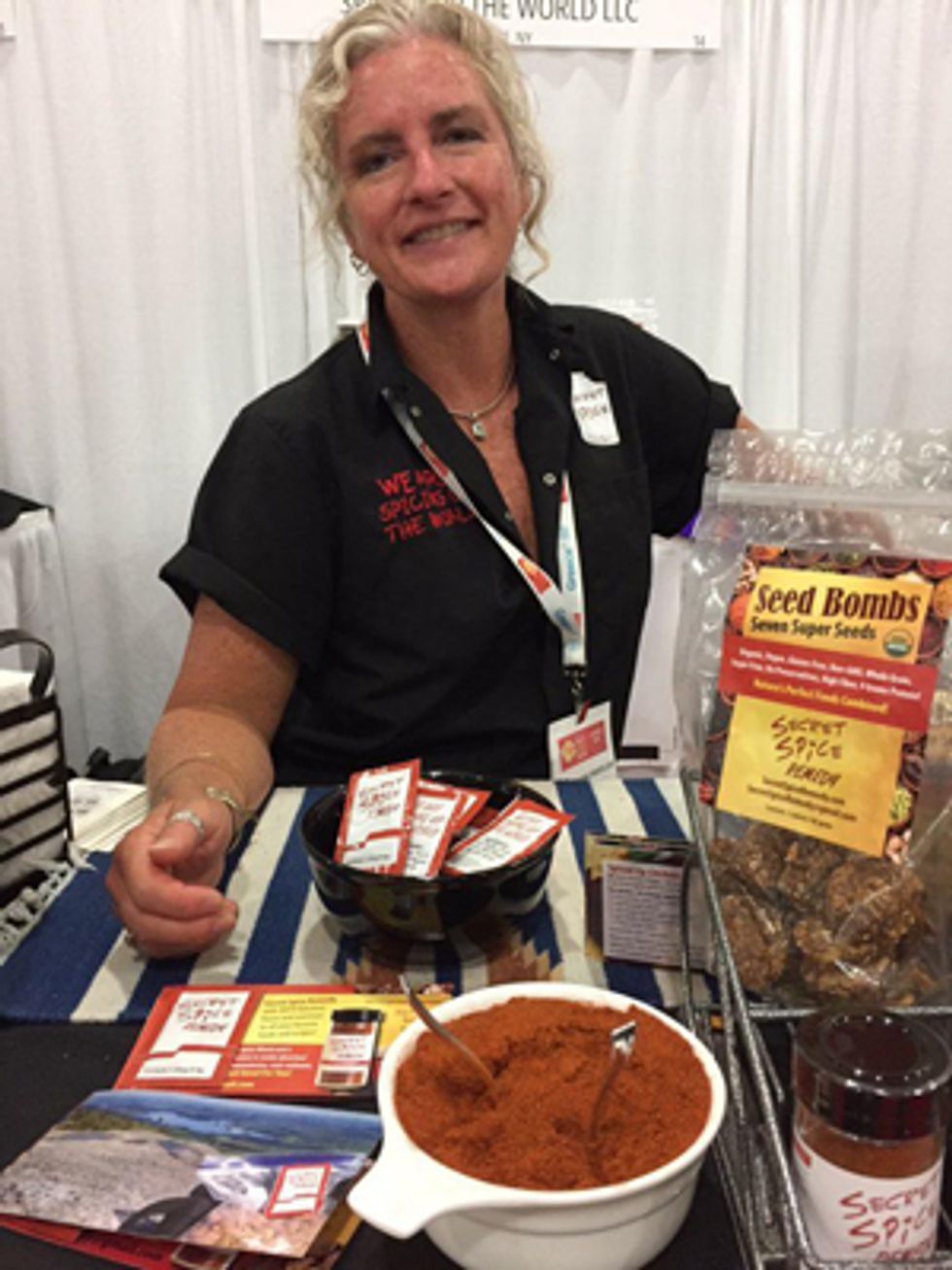 Janice Anne Wheeler from Secret Spice Remedy is a post-50 woman who created her own superfood spice blend.
Let's Sample the Products
I think the best way to introduce you to some of the trends is to share the food products I tasted. I didn't sample from every booth—it's way too much food to consume. I did make my way around the entire show and did an extensive amount of good eating.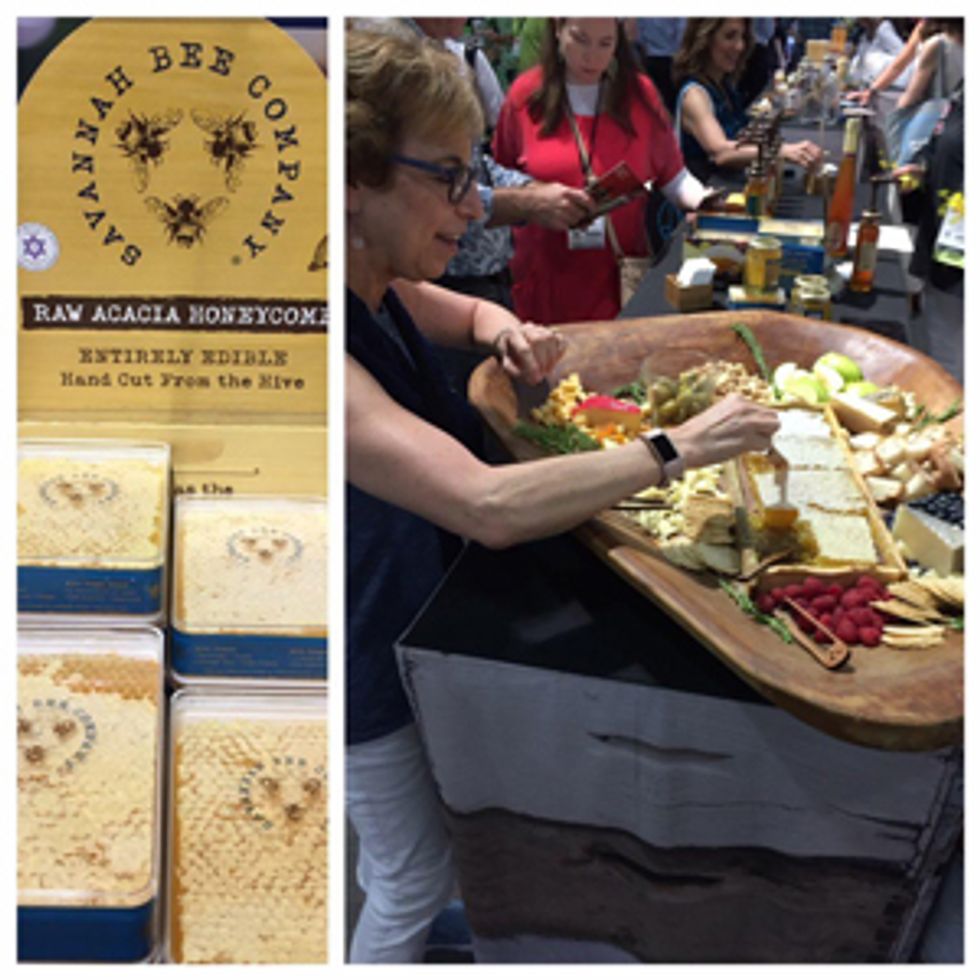 Savannah Bee Company sells honey in honeycomb hand cut from the hive. It makes a nice presentation on a buffet.
I was overwhelmed by the number of food products related to health and wellness. Equally so were all the decadent foods for those times one wants to indulge. As I nibbled and noshed my way around the show, I kept reminding myself that it's all about balance, variety and moderation, the nutritional guidelines I learned when I was younger.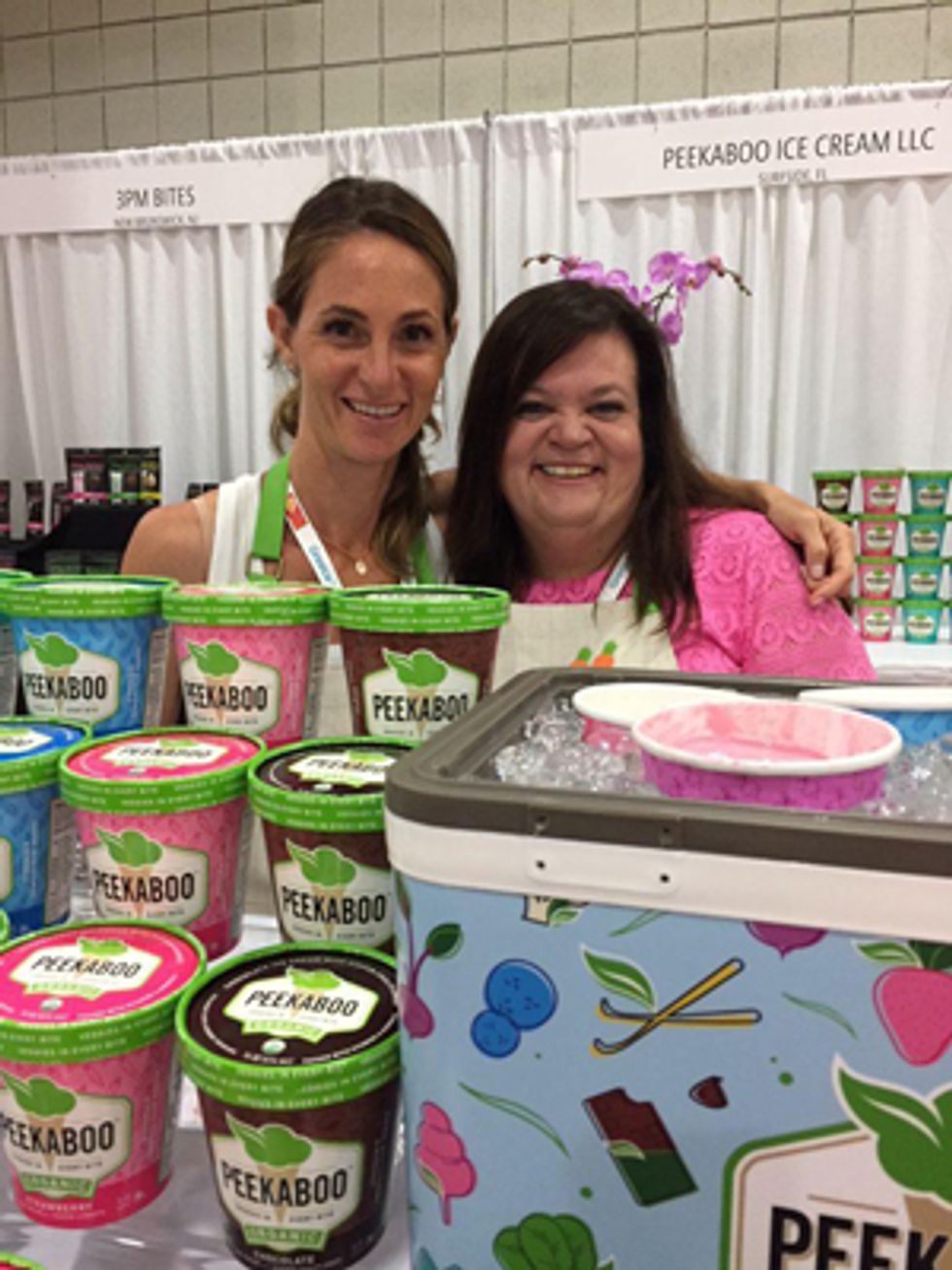 Peekaboo Ice Cream contains veggies! It was one of the busiest booths at the show.
If you want to purchase any of these products, ask at your local supermarket. If they don't have the specific product, check with Whole Foods or go on Amazon and see if they sell it. Often when I asked providers where I could find their products, they said "Amazon" or their company's website.

These Something Good to Eat vegetable soups with glass packaging attracted my eye.
Drink Up and Have a Cocktail, Too
According to SFA research, beverages are growing faster than food categories. SFA says that functional beverage sales are up as people are also drinking for health and beauty.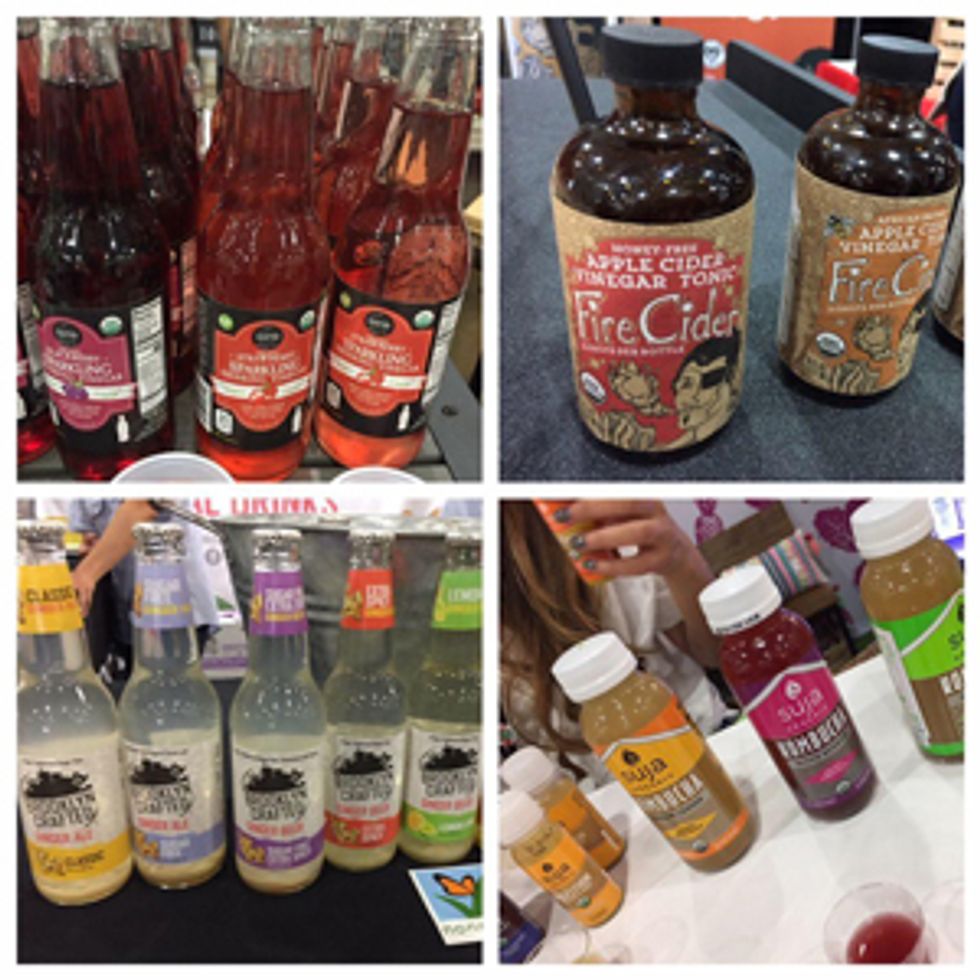 Sparkling beverages, apple cider vinegar drinks and kombucha were popular.
Here are some highlights: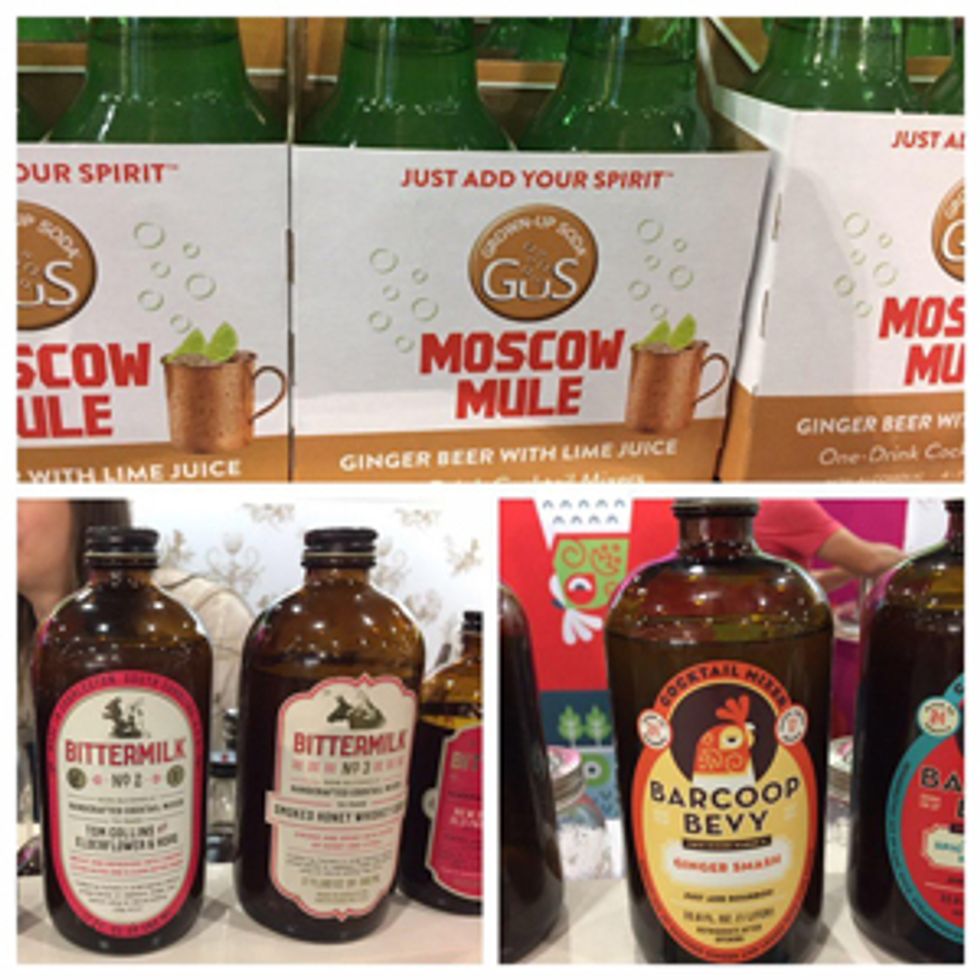 For those who like to throw cocktail parties, these mixers only require some spirits.

Annie Bassin makes Ginger Elixir in Brooklyn.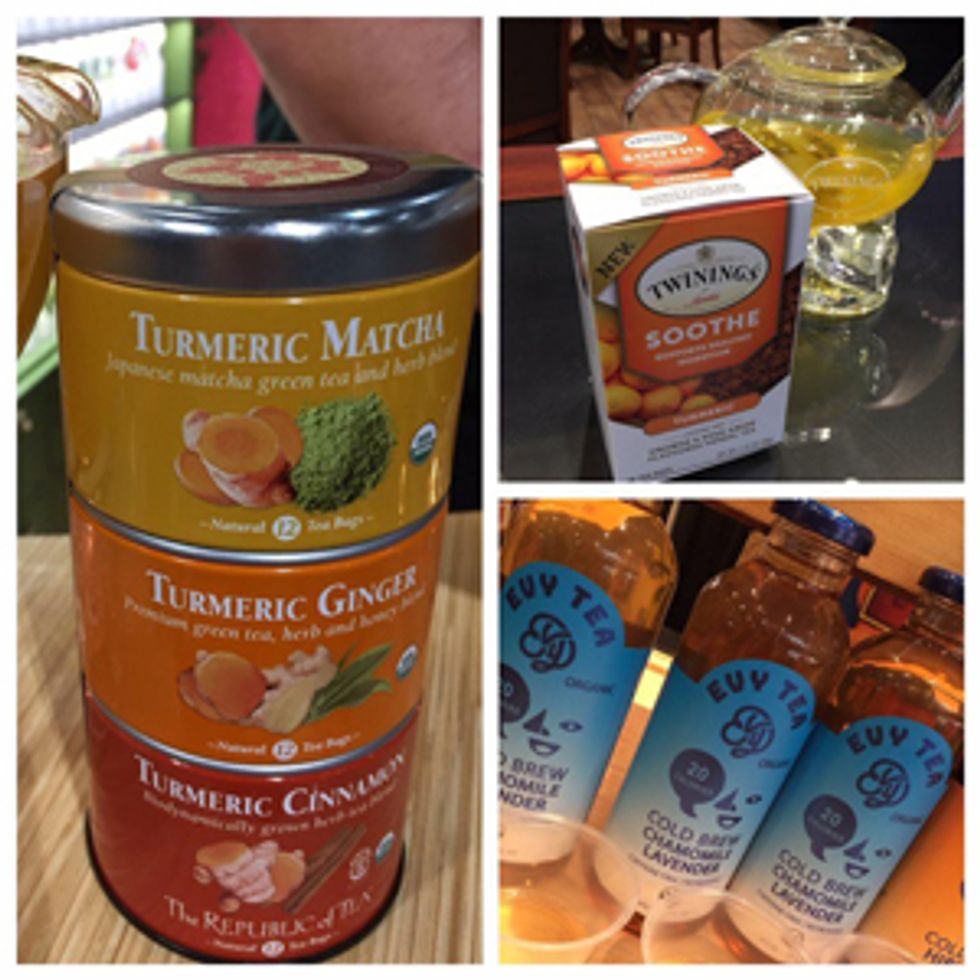 Cold brew and hot herbal teas made with ingredients like turmeric, ginger, cinnamon, and lavender provide medicinal benefits.
It's All Free—Gluten-Free, Allergy-Free, Lactose-Free
I've noticed more gluten free products in my supermarket each week. The gluten-free category is booming. More than just gluten-free, now there are other allergy-free products and foods to support different diets. I sampled: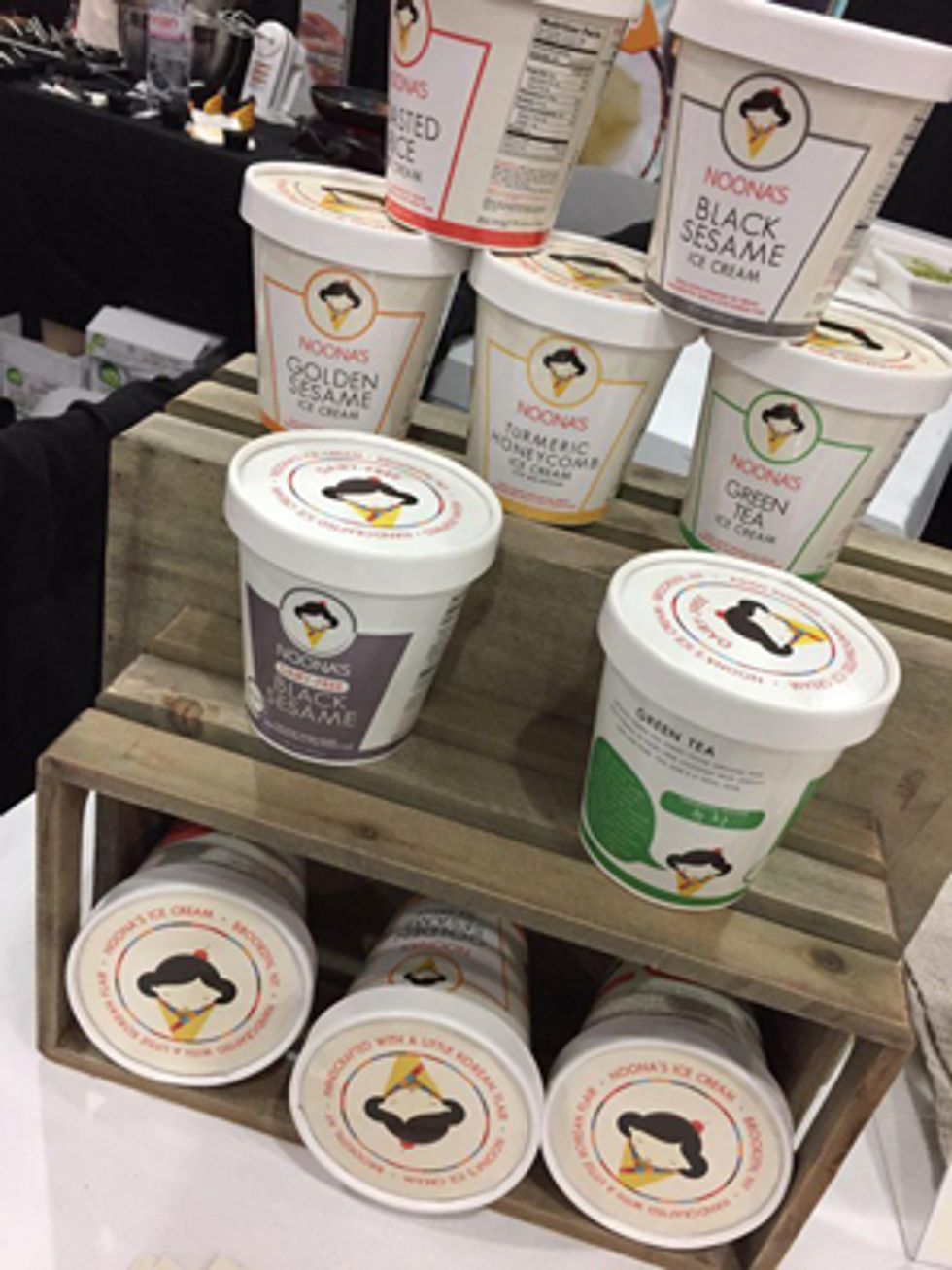 Noona's new line of ice cream is dairy-free.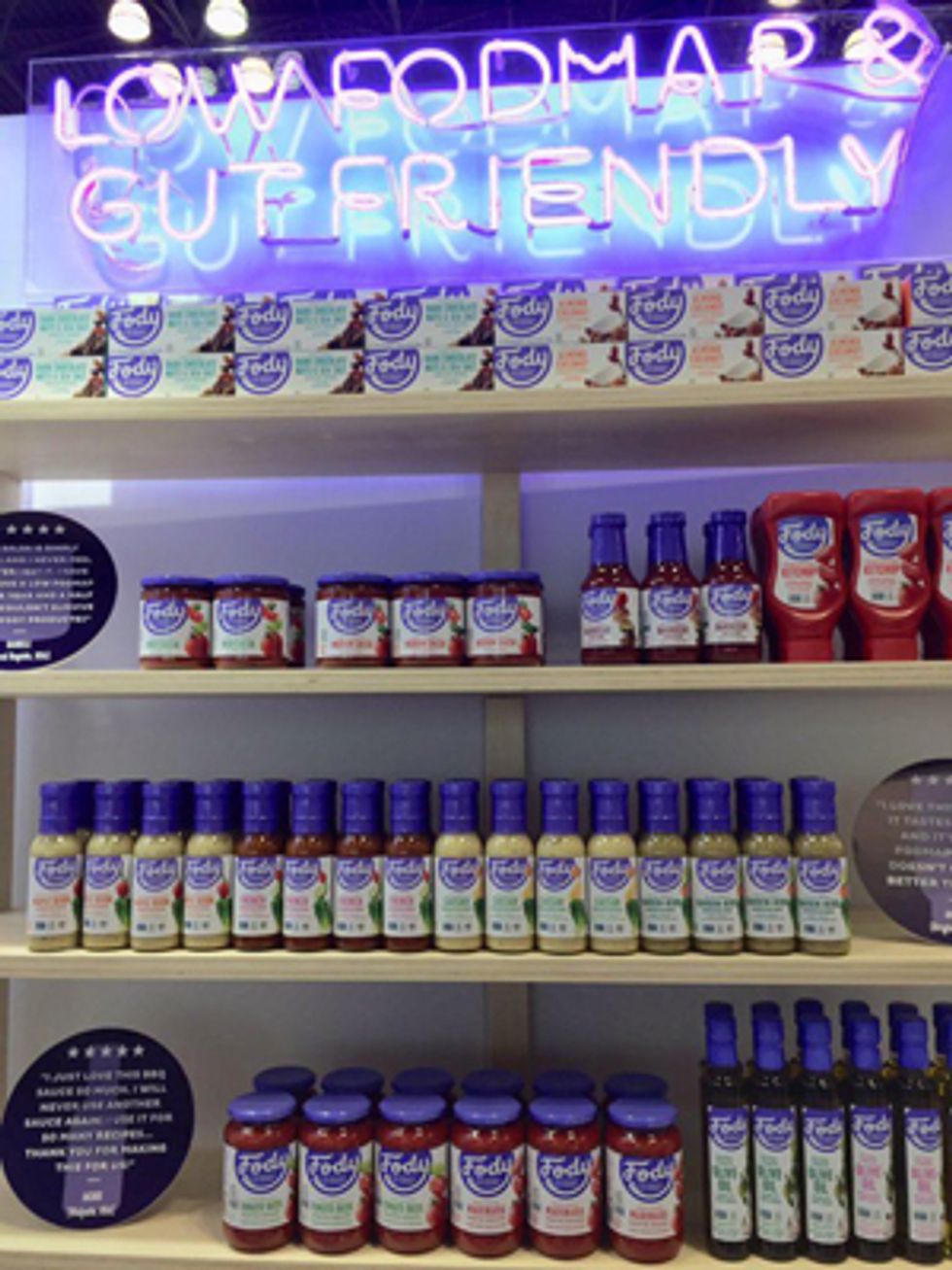 Fody makes gut-friendly foods.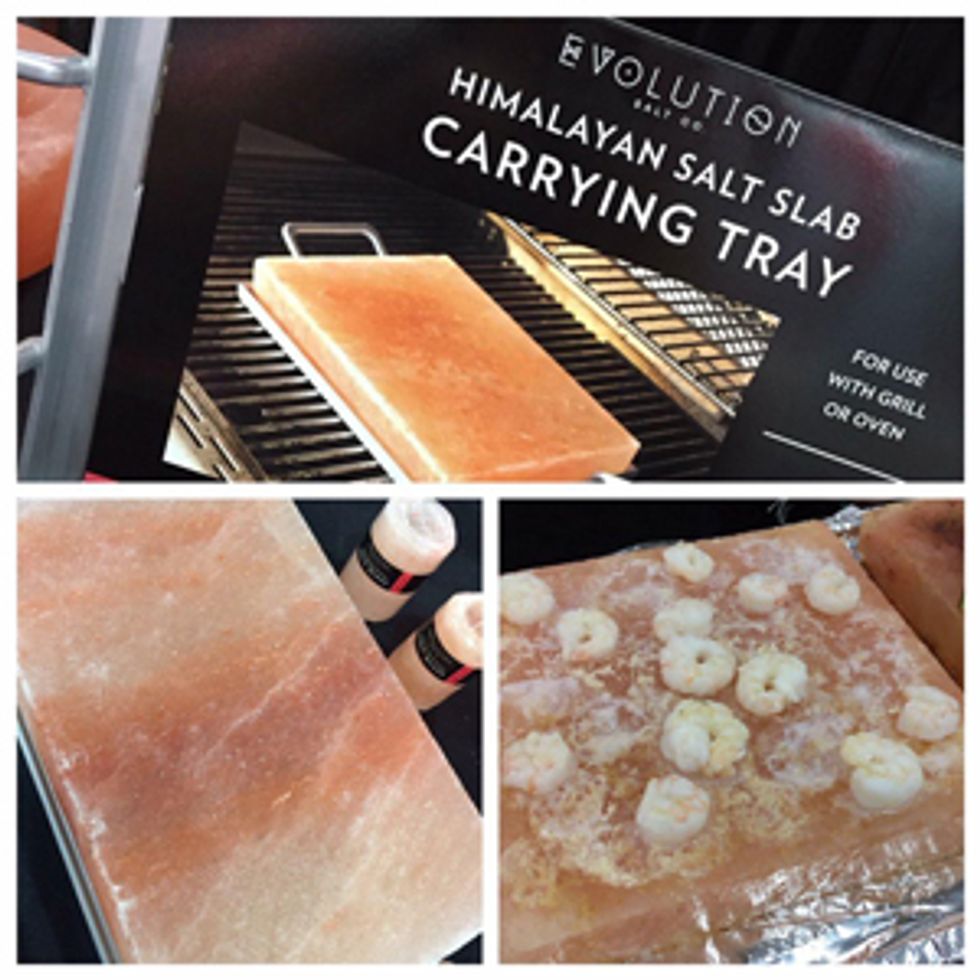 I found the Himalayan salt slabs for grilling quite creative.
Are You Eating Enough Protein, Plant-Based Foods and Superfoods?
A plethora of protein bars and protein powders are on the market from small creators to major players. Now some have added prebiotics and probiotics and ingredients that are plant-based and superfoods. Here are some I noticed: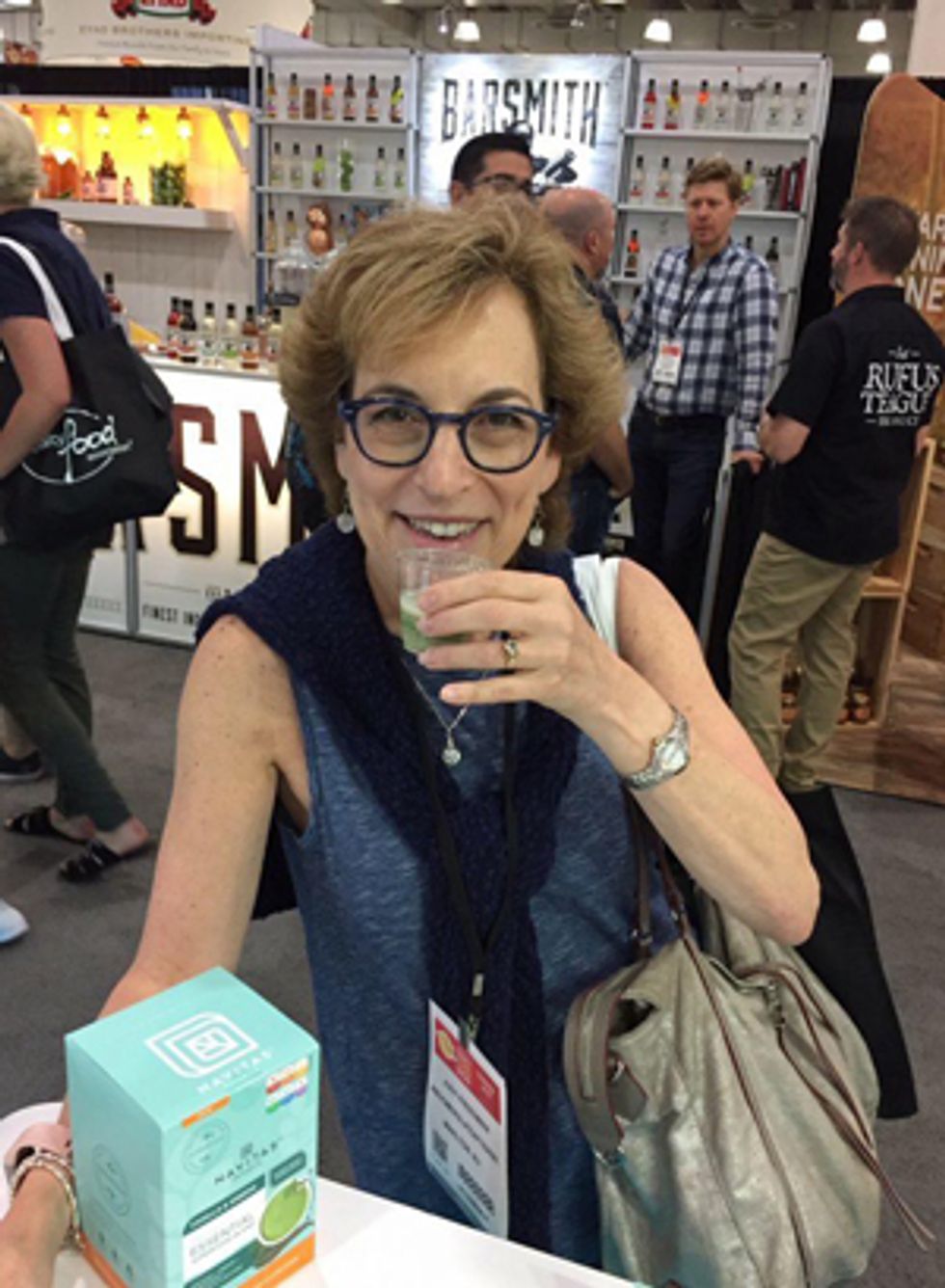 Sipping my superfoods.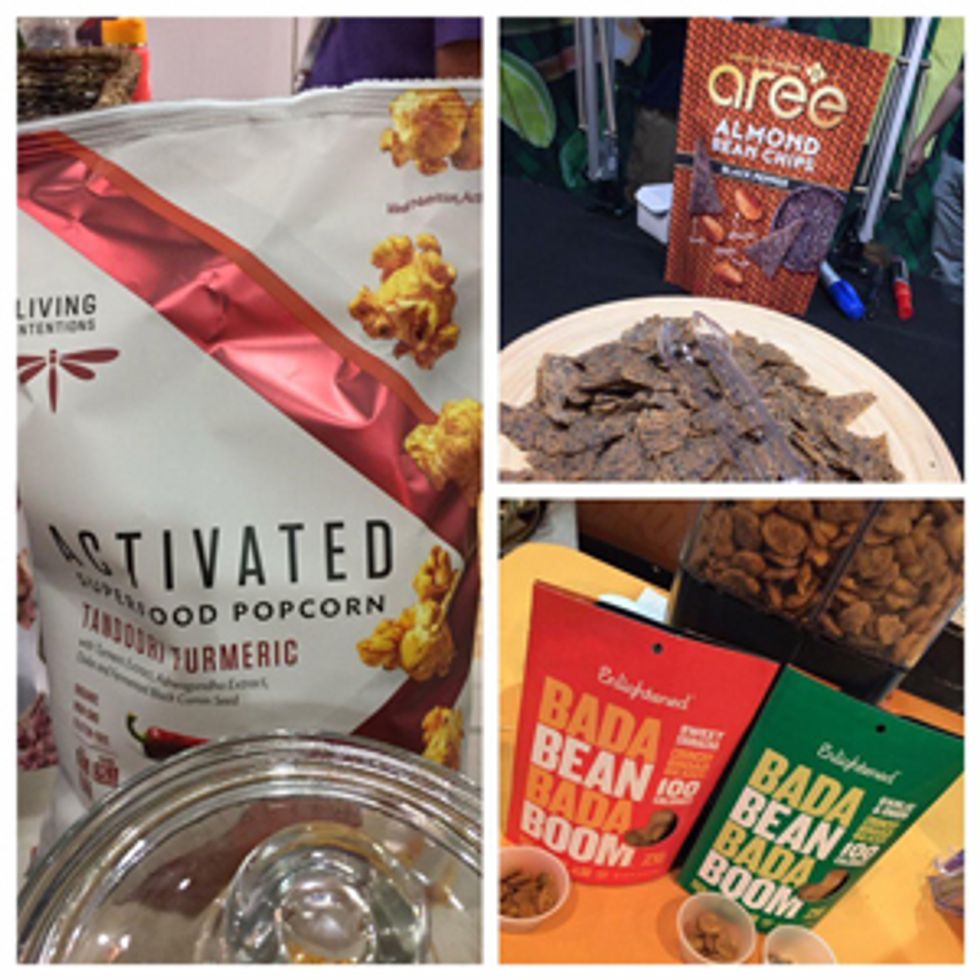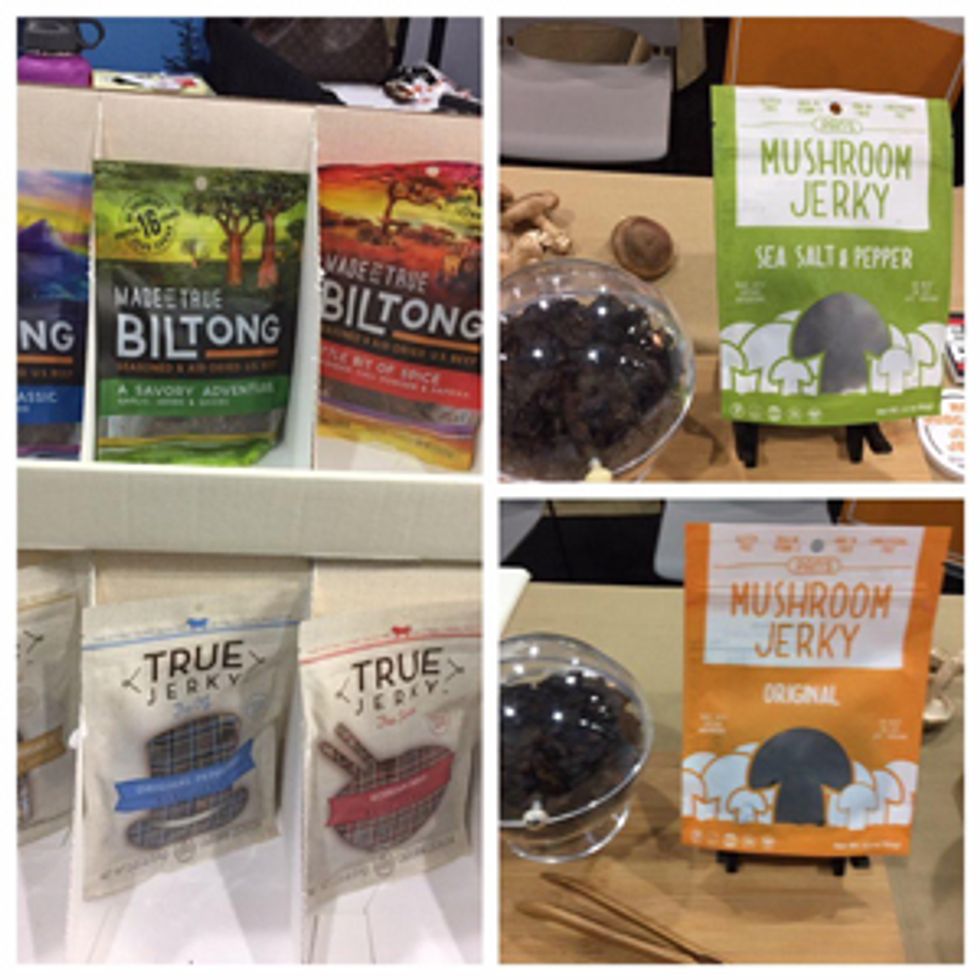 The Power of Cauliflower
Cauliflower is the "it" veggie right now. Little Green Sprout's Organics by Green Giant sells frozen riced cauliflower. CauliPower has Paleo Cauliflower Pizza Crust as well as a cauliflower-based baking mix. You can also find Ground Up Cauliflower crackers.
Always Room for Chocolate
Last, but not least, I give you chocolate. Yes, yes, yes, I ate a ton of chocolate. I just could not resist chocolate in all its glory: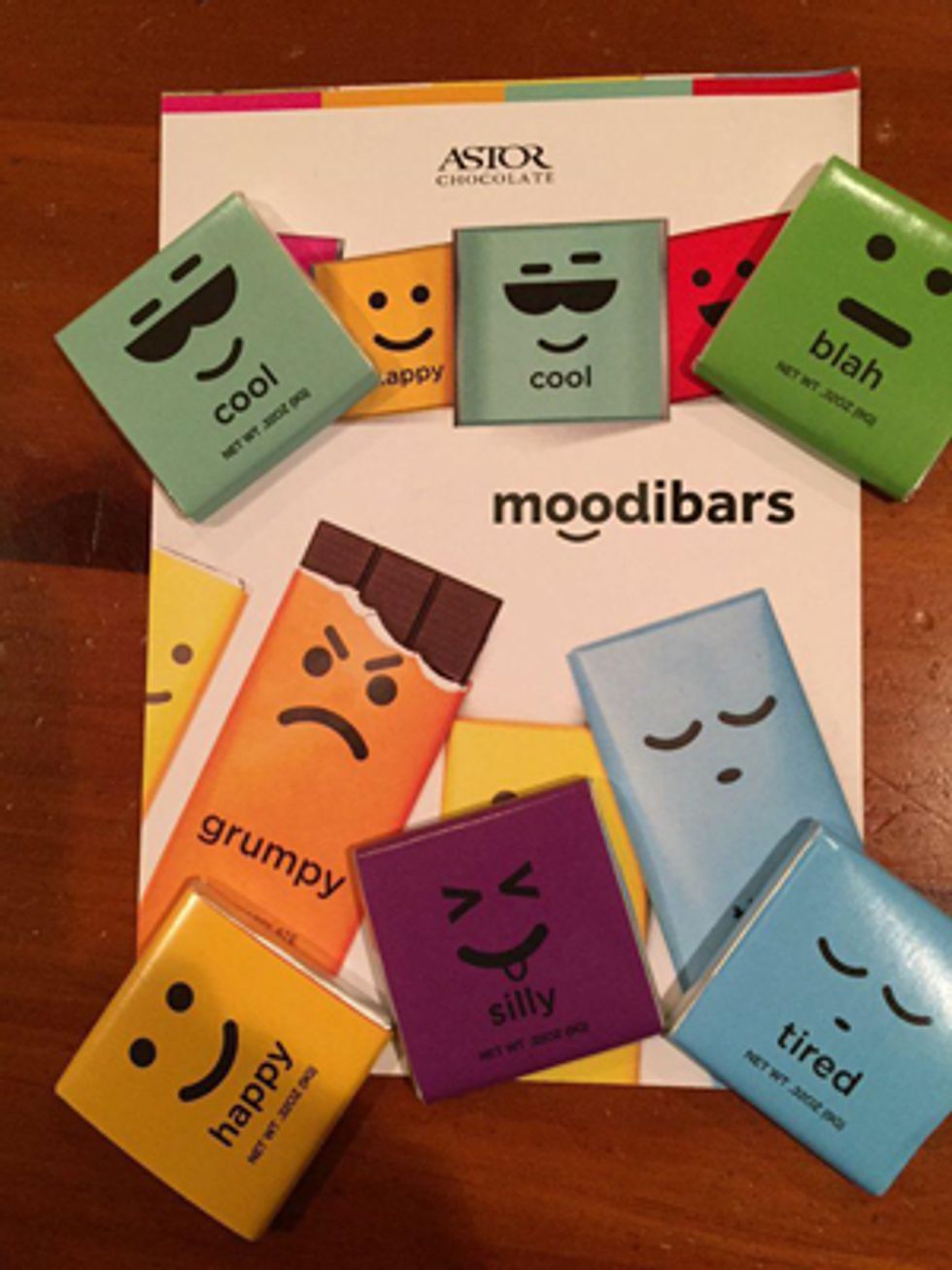 Set your mood with chocolate.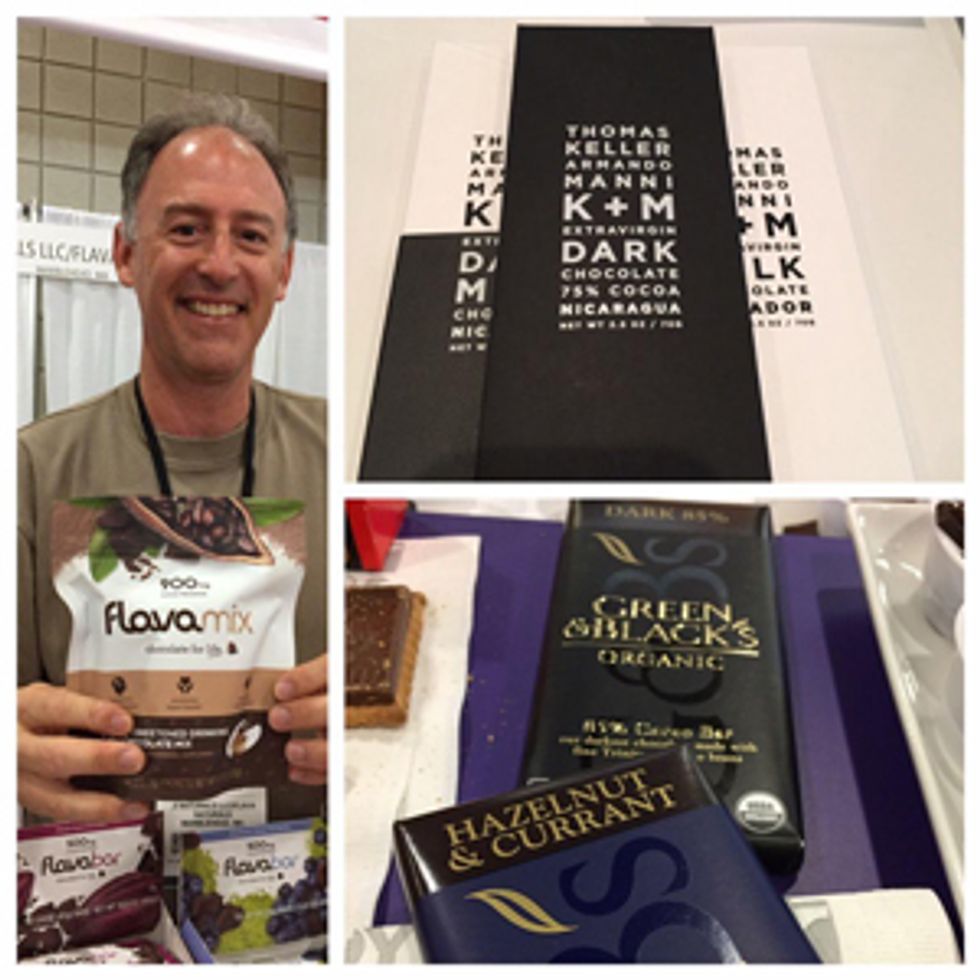 I savored Mojo Premium Belgian 70% Dark Chocolate Mousse (just a little spoonful was so satisfying); Skinny Dipped Dark Chocolate Raspberry Almonds; Dark Chocolate and Blueberries Undercover Quinoa; Bonchou Mini Chocolate Eclairs  (simply the best!); Peekaboo Organic Chocolate Ice Cream (OMG, there's hidden cauliflower in this ice cream).
Wow, that was a whirlwind of a foodie adventure. I'm so full. I can't believe I ate all that food! Any I mentioned you want to try or have tried? LMK what you like best.
This post originally appeared on aboomerslifeafter50.com.