Are you hungry?
---
Are you thirsty?
If not, you likely will be after you read about my fabulous foodie day at the 2017 Fancy Food Show. Last week, I spent four hours walking 362,000 square feet of the Javits Center in New York while sampling goodies offered by 2,600+ exhibiting companies. As a long-term foodie (in my previous career I worked for two major food companies for 30+ years), attending the show and scoping out new products is always fun.
The Fancy Food Show has helped launch such brands as Popchips, Ben & Jerry's, Walker's Shortbread (my late husband M loved these biscuits), ZICO Coconut Water and Vermont Creamery.
Move Over Millennials, Boomers Are Big Foodies
According to Today's Specialty Food Consumer 2016 Report, "baby boomers are an experiential and experimental group. They use specialty foods the most of all groups, more than millennials, for cooking at home. They do a lot of scratch cooking and enjoy trying new things." In addition to getting excited about their food, health and social consciousness play a role in purchases. They are also the most likely consumer group to purchase products that claim to be fair trade, ethical or sustainable.
My Foodie Favorite
So now that you know that boomers are big foodies, I'm going to share the foods that pleased my post-50 palate during my gourmet walkabout. Some of these products can be purchased in local supermarkets, while others can be found in Whole Foods or smaller gourmet shops. If you cannot locate a particular product in stores I suggest checking Amazon or going on the company's website
Drum roll please! My absolute FAVORITE #1 product of the show was Kourellas Organic Greek Yogurt. It brought me back to my vacation in Greece and the delicious creamy yogurt we ate during our stay in Athens and Santorini. Greek yogurt and honey is a breakfast classic in Greece. Kourellas yogurt was smooth and lighter than most Greek yogurts. Unfortunately, this yogurt is not available yet on the East Coast. I hope Kourellas gets a distributor soon.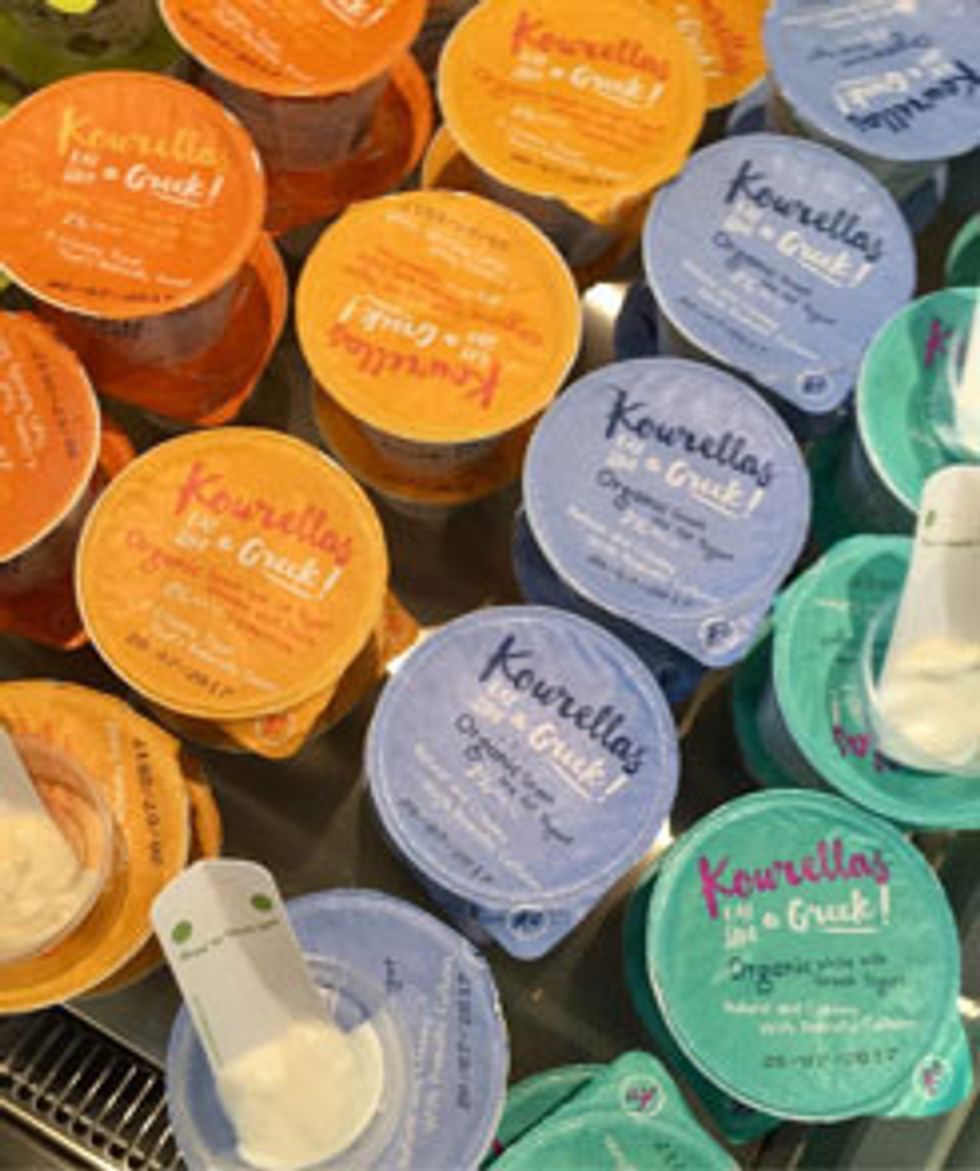 Second drum roll! Third and fourth drum roll! My absolute FAVORITE #2 and #3 and #4 products of the show were Bonchou Eclairerie mini eclairs, Petitpot Pot De Creme (French for delicious pudding), and SweetBite Baklava one bite wonders to satisfy the sweet tooth. All were phenomenal desserts with portion control. Yum, yum, yum! 
Here's to Your Health!
"Eat Like Your Life Depends on It," says Primal Kitchen founder, bestselling author, health expert and Paleo pioneer Mark Sisson. His products capitalize on growth of Paleo, avocado and collagen in the diet with dressings, vinaigrettes and marinades made with avocado oil, protein bars made with grass-fed collagen and an egg-free mayonnaise.

Do you like chickpeas? If not, "Give Peas a Chance," says Hippeas, the makers of Organic Chickpea Puffs. These gluten-free snacks provide a pop of protein, are high in fiber and contain 5 grams of fat per 1-ounce package. I liked the vegan white cheddar. Biena Chickpea Snacks claim to have as much protein as almonds and as much fiber as a cup of oats. They are available in single-serve pouches in flavors such as Sea Salt, Rockin' Ranch and Honey Roasted, and my top choice, Dark Chocolate Roasted. Chickpeatos crispy roasted chickpeas have 50 percent fewer net carbs than pretzels, 33 percent less sodium than potato chips and as much protein as nuts. There are even gluten-free organic Chickpeatos crumbs—just like bread crumbs.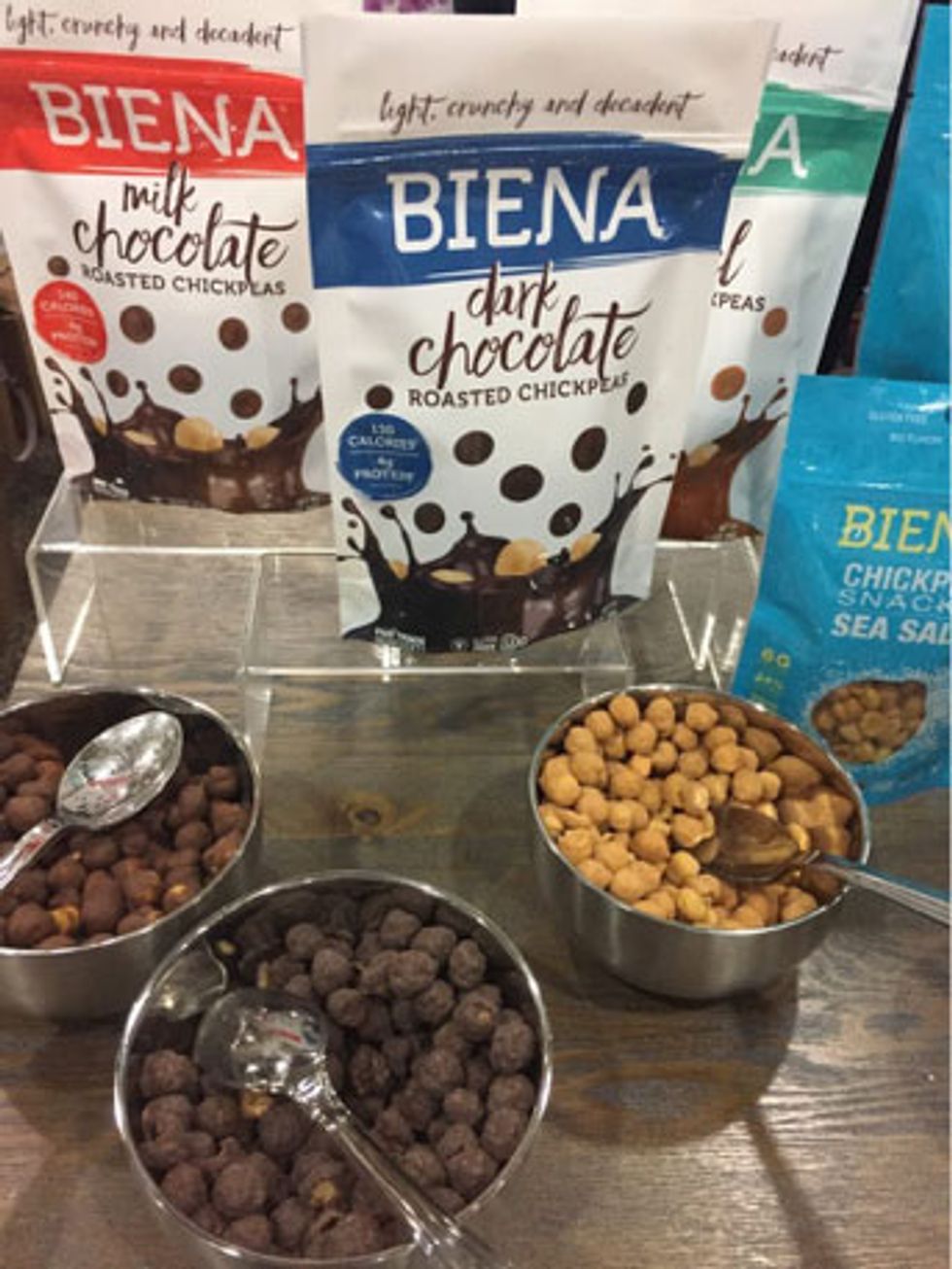 For those who want more pea protein, I suggest trying new Protes, filled with 15 grams of protein per serving. These chips are available in sweet and savory flavors.
Healthful ingredients were in abundance. I sampled Chocolate Hemp Heart Bites, Grain-Free Coconola Coconut Granola, Siete Grain Free Tortilla Chips (they also make almond flour, cassava and coconut, and cassava and chia tortillas—all gluten-free), Vivify Quinoa-Flax Seed Energy Sticks, and lots of sesame and tahini products.
Clean packaging caught my eye. I met the team from RXBAR. My daughter A likes these 12-gram protein bars. Their labels let the ingredients do the talking. "Egg whites for protein. Dates to bind. Nuts for texture. No B.S." I'm looking forward to trying their two new flavors: mixed berry and chocolate chip. Wella Bar Chilled Organic Protein Bars had pretty packaging with bold type and fresh fruit and nuts. These bars are crafted in small batches with varieties made from house-made almond and cashew butters and fragrant wildflower honey.
Probiotics are popular. I take a daily probiotic capsule which helps my IBS digestive health. Now it seems I can drink my probiotics in a wide assortment of beverages: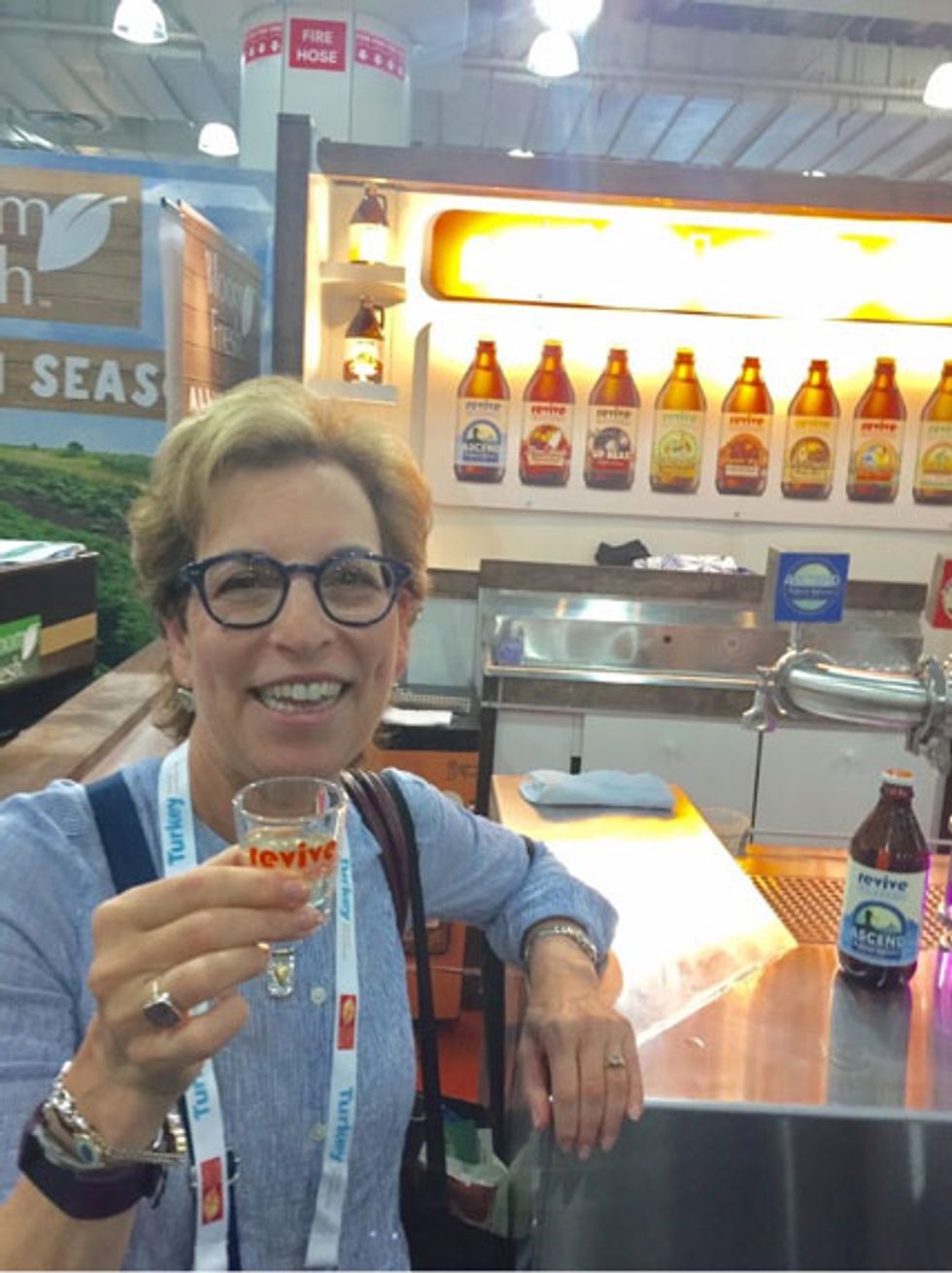 Beverages With Benefits
There were so many new beverages on the market touting a host of benefits:
And finally, I think I've found the "Fountain of Youth." Yes, yes, yes! And it is 10 million years old. It's Tanzamaiji Prehistoric Drinking Water. Yep, I'm not joking. Here's the deal: "Tucked away deep in the Rift Valley of East Africa, physics and geography have collaborated to create a vault protecting the isolated and pristine waters of Tanzamaiji for more than 10 million years. For the first time ever, a tiny portion of this untouched water is being harvested and bottled for the discriminating palate." OMG are you ready for this water? Maybe it really is the "Fountain of Youth." I'm going to have to try some. How about you?
The Grand Finale: Chocolates 
This post is getting way too long and I was saving the best for last. What? You're still hungry? There's always room for dark chocolate and it's also good for you—in moderation.
Are you hungry yet? Go eat something. 
Or if you're trying to lose weight you can "chew your cravings away" with Snack Less Nature's Hunger Buster Chewing Gums or Dates & Nuts Bars.
Bon Appetit 
This post originally appeared on aboomerslifeafter50.com.