Tweet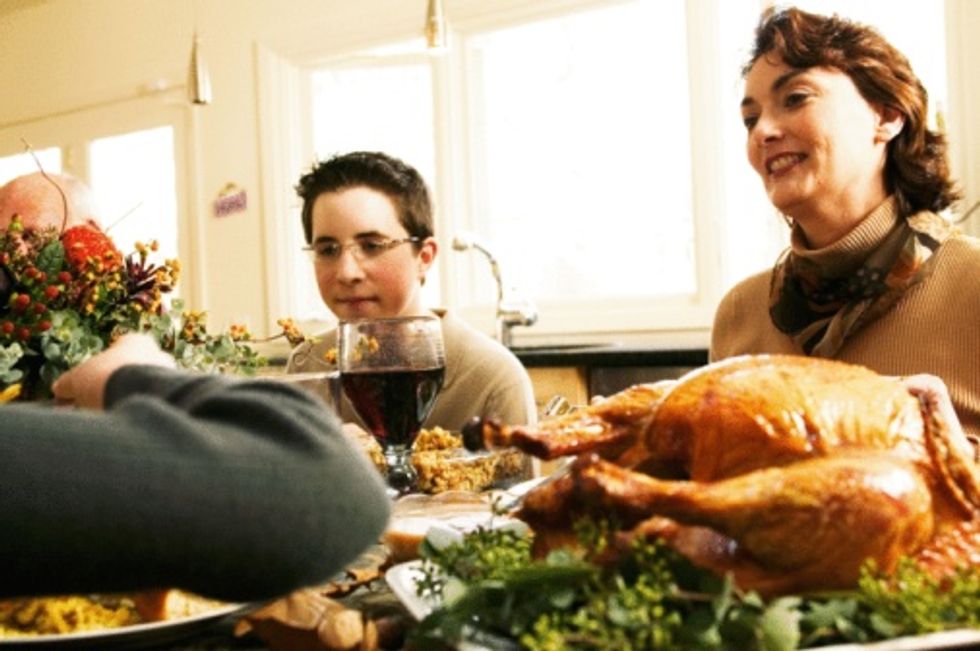 By guest blogger Amy Kranick

Well, there's no denying it: The holiday season is here—and with it, the temptation to overeat.

As I was getting my 8-year-old daughter ready for bed last night, I said to her, "Are you ready for turkey day?"
---
She quickly turned her head and said, "Mom, you are always calling it turkey day! This holiday is not about the turkey. It is about being thankful for what we have."
I thought about this for a moment and realized that if we could stay with this mindset during the feast of all feasts, quite possibly we would think less about the eating. However, nostalgia takes hold: Grandma's pumpkin pie, turkey with all the fixings, mashed potatoes and more. The food makes up a great portion of the memories that we cherish. Let's face it—we love to eat! We cannot deny that Thanksgiving is a time of overdoing it at the table.
 
With that being said, what are we going to do this year? Are we going to overindulge or be in control? This is always the difficult question, and even more important if you have diabetes.

I am here today to provide you with some tips to help you stay in control of your diabetes with portion control, carbohydrate limitations and overall fat and calorie monitoring, while still enjoying your holiday.
Before the gathering, have something light to eat. Do not starve yourself all day and then arrive at the Thanksgiving meal extremely hungry. This will set you up to overeat and is not good for balancing your blood sugar, which is crucial to managing your diabetes.
Keep the appetizer carbohydrates to a minimum. Choose things like celery and carrots from the vegetable tray, and go lightly on the dips and high-fat cheeses. Try to limit alcoholic beverages to no more than two drinks for the evening or avoid alcohol altogether.
White meat, please. Turkey is relatively lean and low-fat, and the white meat has less fat and fewer calories than the darker portions, so choose for a slice of white meat, if possible.
Go easy on the gravy and dressing (or stuffing) because they are loaded with calories and, very likely, fat. Limit yourself to no more than ½ cup of dressing.
If there is a salad, go heavy on the lettuce and light on the dressing. If possible, opt to have your dressing served on the side.
Choose mostly steamed vegetables, rather than the green bean casserole and other richly sauce vegetables that may be high in fat. Take small portions if you want to sample some of the higher-fat dishes.
Take a walk before or after the meal.
Drink lots of water before, during and after dinner. It helps you feel full.
Always stay mindful of why you are gathered—to enjoy the season and be thankful for the friends and family who surround you.
Choose a portion-controlled dessert and try not to go back for seconds. Take your time and enjoy!
Remember, if you are in control, make good choices, remember the reasons why you are celebrating and stay true to your goals, you will feel better about yourself and your accomplishment.
A healthy lifestyle will get easier and easier with each small change.
Stay with it, and Happy Thanksgiving!
 
Amy Kranick is a Registered Dietitian and Certified Diabetes Educator providing information and advice at DiabetesCareClub.com. Her focus over the past seven years has been on Diabetes and helping clients to gain a better understanding of and better control over their condition by clearing up common misconceptions and offering guidance and lifestyle tips.