It's Women's History Month, and, according to Women@Forbes, economists and academics agree women entrepreneurs are an under-tapped force that can rekindle economic expansion. In fact, based on the 2012 U.S. Census, women own 36 percent of all businesses—a jump of 30 percent over 2007.

This week, I'm delighted to feature an interview with a post-60 female entrepreneur from San Diego (who, I might add, was originally from New Jersey). Her name is Jacqueline Hook, and she is the creator of Tenáz Athletics.

A 62-year-old fitness fanatic and mother to three grown children and grandmother to five, Jacqui has emerged from years of chronic back pain to enjoy all manner of physical activity, from surfing to yoga to flying trapeze. She has run two full marathons and 13 half-marathons, all in her 50s and 60s, and recently set state and national records for powerlifting.
---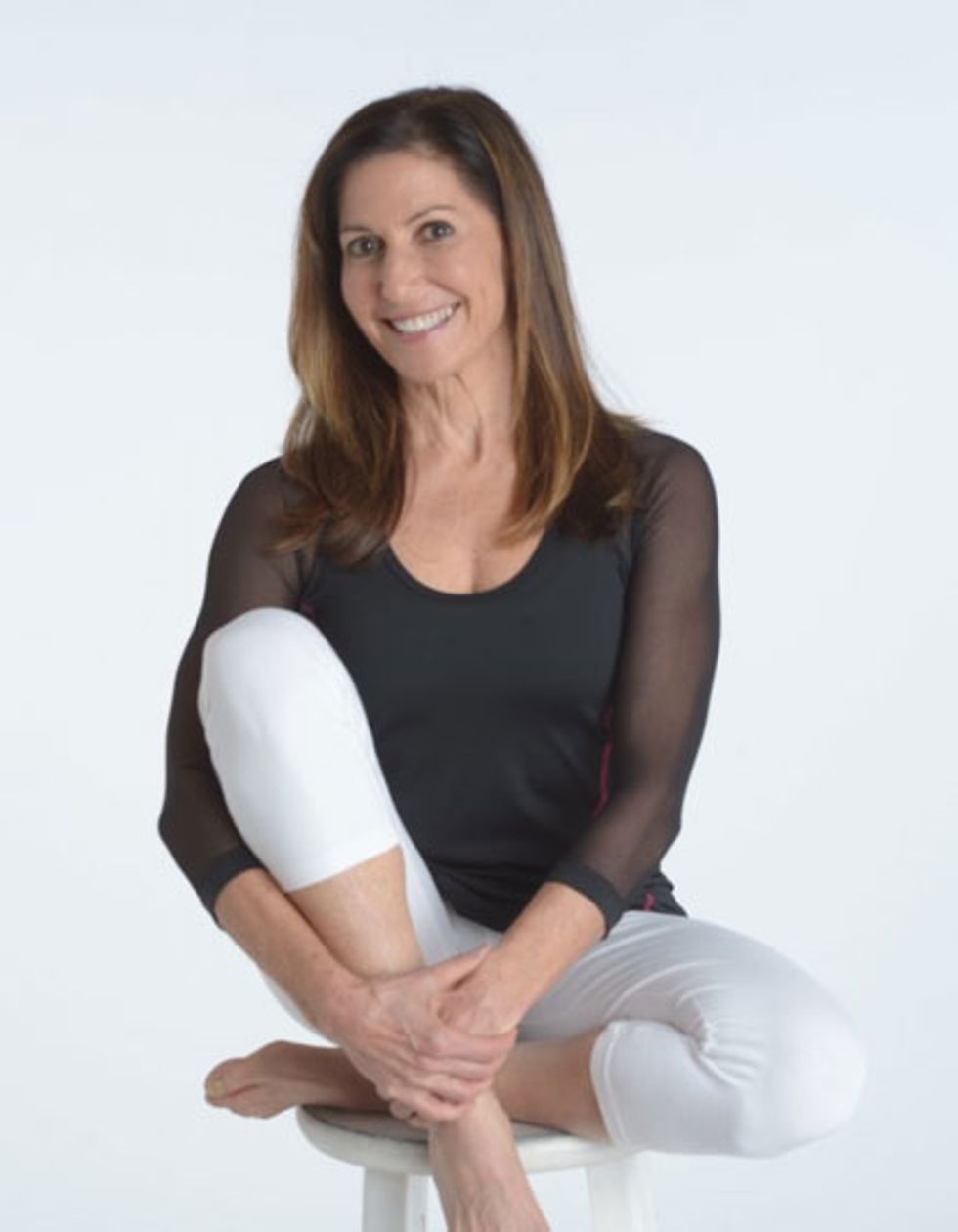 No wonder she started an activewear company!

Jacqueline Hook started an activewear company during her life after 60.

Enjoy our conversation—and I hope you will be inspired by Jacqui's story.

Q: What prompted you to start a new business during your life post 60?
Jacqui: I was prompted by a feeling that had been gnawing at me for months. Last year I had reached 25 years at my corporate job—wonderful company, awesome people, great leadership—but the work wasn't getting my creative juices flowing anymore. I remember this particular day when I was working from home, gazing out the window and sighing, when it occurred to me that I was craving the energized feeling I get when I'm in a creative flow. It was like needing air to breathe. Then it hit me, this idea of starting a business. In that moment I made the decision, like flipping a switch, and I perked up with excitement.

Q: Why did you choose an activewear business?
Jacqui: When I decided to start a business, I had no idea what business. So, I started brainstorming ideas—everything from a wall-mounted eyeglass receptacle to a frozen dessert business. I'm constantly buying domains for my crazy ideas. One night my friend Rubin came over and I told her that I decided to start a business.

We chatted about our latest fitness activities and started doing exercises on my living room floor. Rubin mentioned that she had recently resorted to wearing long sleeves to the gym to cover up her arms. We commiserated about how gravity was taking its toll, and I showed her how the skin on my shoulders crumples up when I'm in a plank. But, wearing long sleeves? That would be way too hot. Bam! That's when I had my business idea. I would design a top that covers up without retaining heat, and Tenáz Athletics was born.

Q: What have been some of the challenges? 
Jacqui: The biggest challenge has been learning a new industry. I was fortunate to team up with a terrific creative services group called ENthehouse. They've been on this journey with me every step, from fashion design, to fabric sourcing, to pattern making, to manufacturing. That learning curve was huge. Now that the product is stocked, the big challenge is getting it out there—learning about social media marketing, SEO—and the ever-present struggle of not knowing what I don't know.

Q: What about the joys?
Jacqui: Oh, gosh. I feel so energized! I call it "ecstatic electricity!" It's always a joy to see orders coming through my Shopify site. I'm like, "This is really happening!"

The greatest joy is seeing my mission come to life. Tenáz is the Spanish word for tenacious. My mission with Tenáz Athletics is to inspire in women a tenacity for staying fit and healthy, regardless of age, fitness level, body type, or other perceived obstacles. I use social media to share tips and inspiration, and it's gratifying when my followers tell me that they are inspired to start walking or to lift more weight or to eat more nutritiously. I'm super passionate about building community around my mission and connecting it with my brand.



Jacqui created Tenáz Athletics, a line of activewear designed for post-50 women.

Q: Where can women find your activewear?
Jacqui: They can go to tenazathletics.com. I encourage women to "like" my Facebook page, where I post coupon codes for discounts. Also, my products will soon be available on Amazon Prime. I plan to expand to include leggings and hoodies, all featuring flattering and comfortable styling geared for the 50-and-over crowd.

(Check out her Instagram Tenaz pics, too, to see her workouts. Jacqui is in amazing shape!)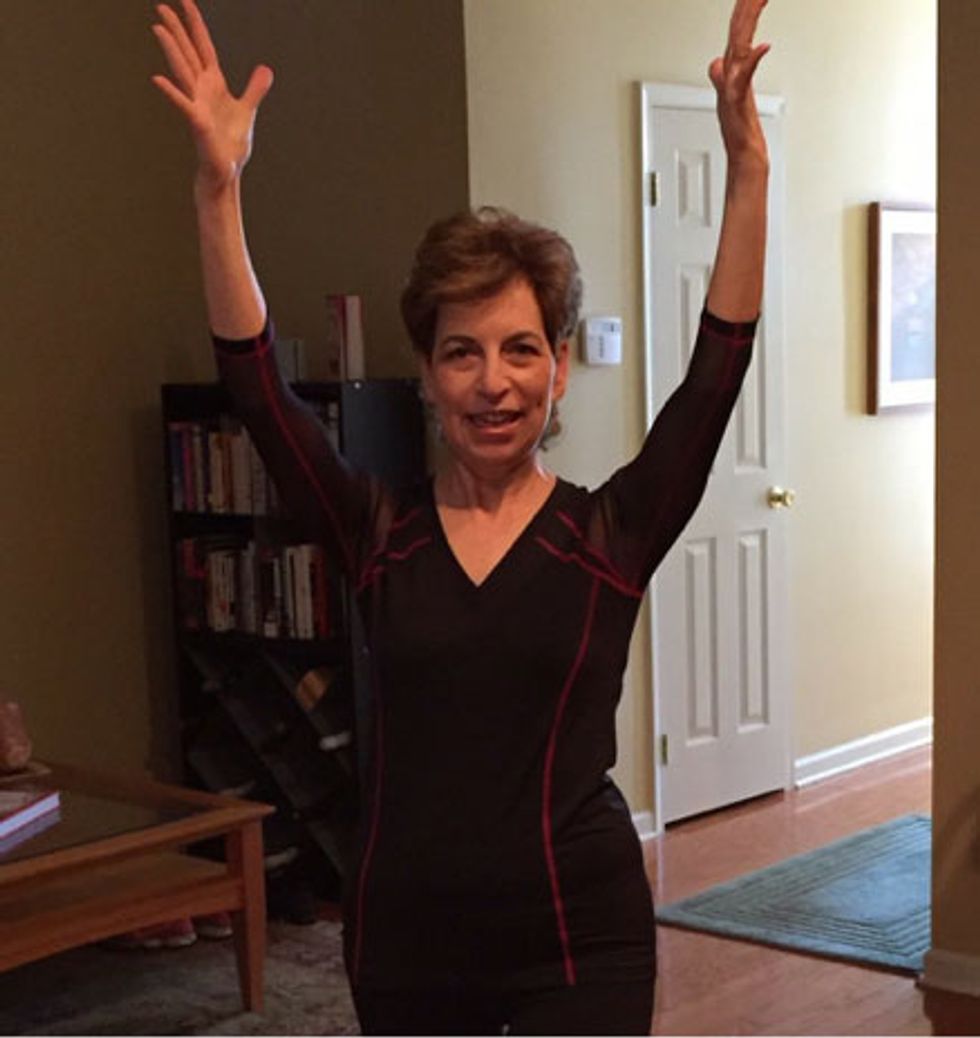 I like to wear my Tenáz Athletics top when practicing yoga.

Q: Any suggestions for boomer women who want to change careers and start something new?
Jacqui: Go for it! If you're looking for a feeling of renewal or a sense of purpose, and you have a clear goal or passion, definitely go for it. It will get your "happy juices" flowing. At our age, we bring so much life experience and professional expertise to the table and have developed many relationships over the decades. All of that helps us to connect the dots and move things forward.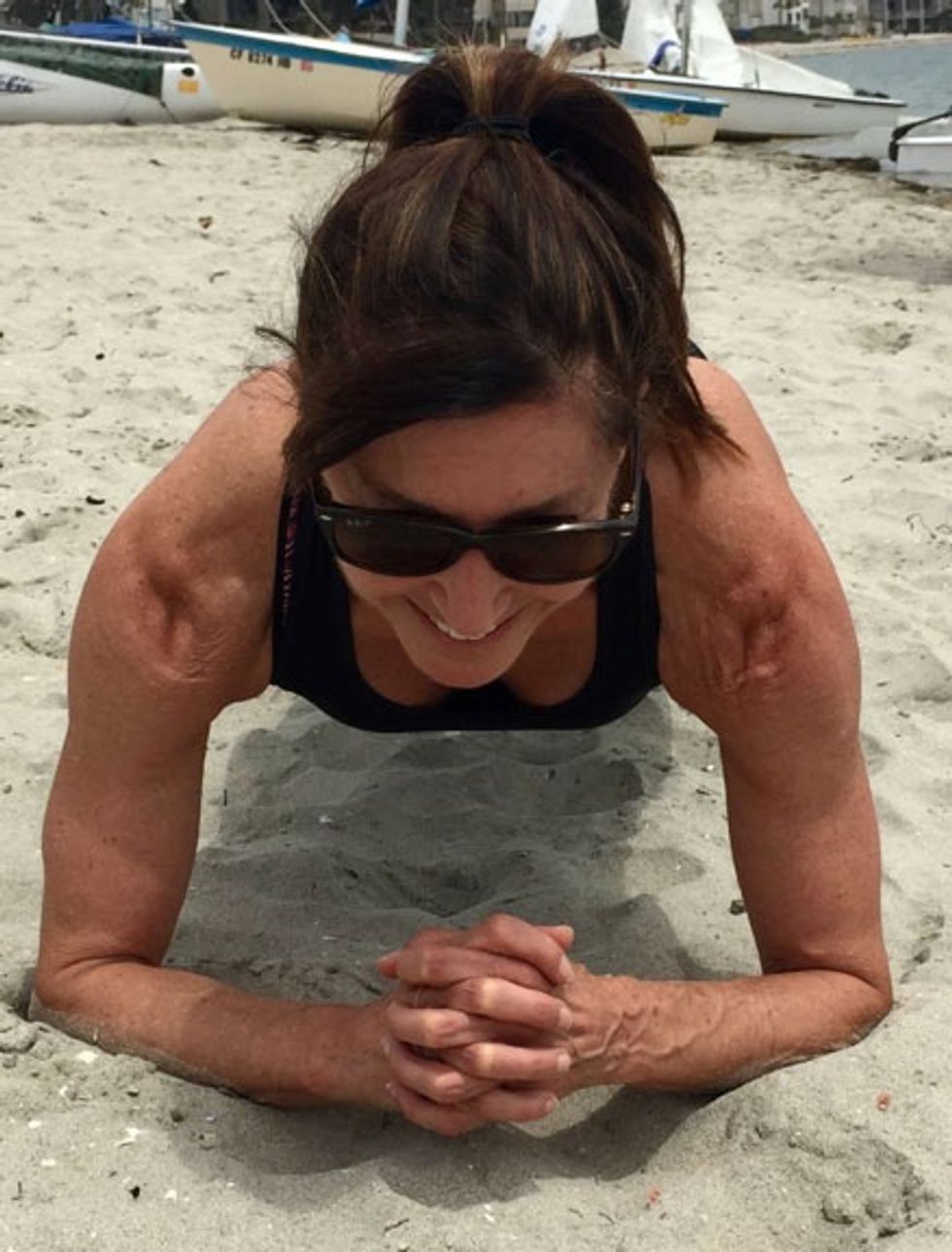 Jacqui is an amazing athlete. Look at her holding a plank!

With social media, online tools, and apps, embarking on a new venture can take place in the comfort of your home while you're in your pajamas, with all the resources you can imagine at your fingertips. Just don't get stuck sitting in the chair 16 hours a day. That's something I have to work on all the time. Or, you can volunteer for a worthy cause and do something that actually gets you out of the house. No matter what you decide, remember, if you end up not loving it, you can always stop. But the fear of not loving it or of not being successful shouldn't stop you from starting.

Kudos to Jacqui for taking the leap. If you could start a business during your second act what would it be?

(BTW, I received a sample Tenáz Athletics Flattering Mesh Sleeve V-Neck Athletic Top and wore it to my yoga class. The tops fit really well, have a longer torso that doesn't slide up when you exercise or do yoga poses, and, of course, your arms look great under the mesh sleeves. The fabric was comfortable on my body, too.)

This post originally appeared on aboomerslifeafter50.com.