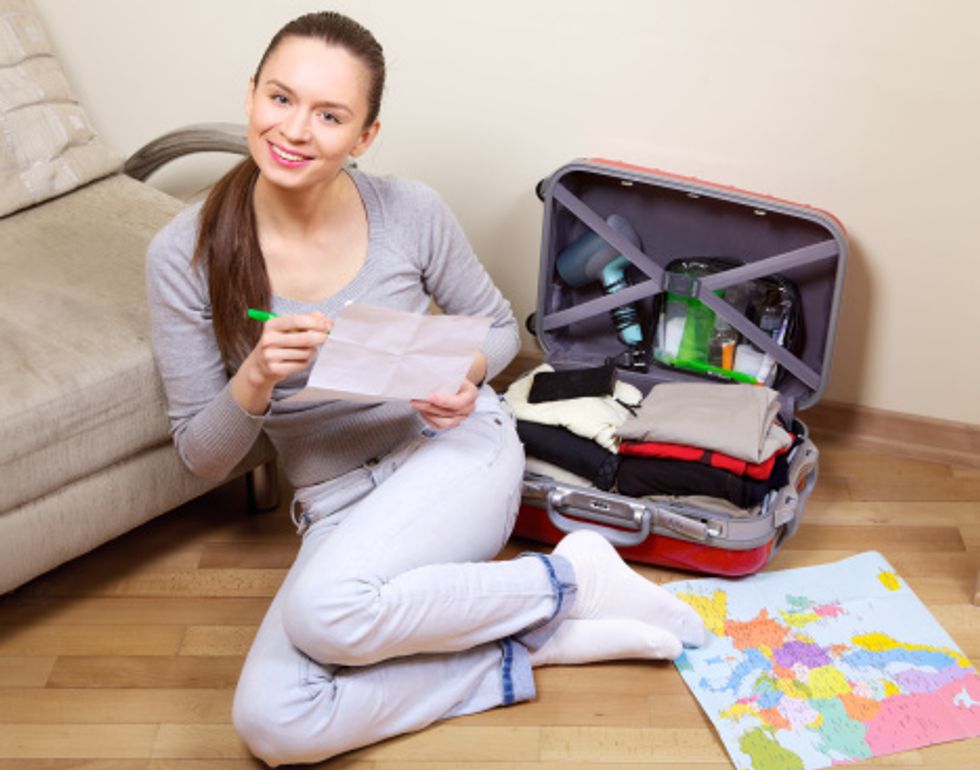 by Bethany Porter
---
I am a weekend warrior of sorts. My boyfriend and I spend several weekends on the road every year. We love to travel, and my family lives in three different states so we're never short of destinations.
In the last four years I have checked a bag at the airport once (for a 13-day trip across multiple climates), and it's actually a source of shame for me that I had to break down and do it.
Becoming an expert packer is an art form, and since we talked about staying beautiful while you travel last week, I thought I'd give you my five tips for packing light. You won't miss that feeling of dread, wondering if your bag is lost!
1. Invest in the right equipment. You need a rolling carry-on bag and a nice over-sized tote. Get something sleek and recognizable that will last. Leather totes are great because they are flexible and will fit under seats. They're also durable. Canvas is another great option—especially in summer. Make sure your tote has a zipper so nothing falls out!
2. Pack neutrals or pick a color scheme. Your workhorse pieces (coat, blazer, cocktail dress, etc.) should be neutral in color. Think black, gray, white or nude. If you stick with a theme of coordinating colors, you'll be able to mix and match throughout your entire trip. If you pack pieces that don't go together, you'll end up bringing twice as much to try to make outfits. Bring a well-fitting blazer that can go over anything and a dress that can double as a skirt if you put a sweater over the top. Make your clothes multitask! Choose only pieces that you feel your best in. Travel isn't the best time to try styles you haven't road-tested.
3. Show your personality with accessories, not extra clothing. Jewelry and scarves are compact and easy to pack. Use these pieces to show your fashion personality and leave those five extra outfits at home. It's tempting (especially if you're seeing old friends/boyfriends/girlfriends) to pack all your most fashion-forward pieces, but you'll run out of room fast. Accessories almost always make the outfit. Make sure you bring a big scarf to wear on the plane. It can double as a blanket if the plane is chilly.
4. You are only allowed to pack, at most, three pairs of shoes. Yes, I'm serious. Shoes are bulky and heavy, and they usually are the main culprit behind over-packing. Always bring black or nude heels—they go with everything. The second pair should be chic walking shoes, be it boots or flats. The third option is for a special pair, such as flip-flops for the hotel pool, sneakers for working out or dress shoes for a wedding. The three-pair rule is essential to packing light.
5. Pack your purse. You only get two luggage items on the plane, so make them count! Don't bother with a fussy purse in place of a functional tote. Your tote should be filled with reading material, your laptop, and little extras that you'll want on-hand during the flight. Once you land, you can leave it at the hotel and carry a small, cross-body bag throughout your trip. Simply pack your little handbag flat on top of your clothing before you zip up your suitcase. To make switching essentials between the two bags easier, put makeup and loose items in a small cosmetics bag inside your carry-on tote. Then just pop it in your purse when you arrive.
The key to successful packing is sticking to essentials. Lay out your outfits or make a list before you pack. Odds are when you lay it all out, you will be able to edit out some unnecessary items.
You may also want to read:
Travel Beauty: Arrive Looking and Feeling Your Best
5 Spring Trends Anyone Can Wear

Bethany Porter is a blogger and beauty junkie. She believes in healthy living and that women have powerful potential for beauty both inside and out. You can find more from Bethany at her blog: http://lucky-fifth.blogspot.com/