As told to Shannon Shelton Miller
My husband, Ricardo Ramos, was 45 when he passed away from Covid-19. We would have celebrated our 15th anniversary in November 2020.
Ricardo was the definition of a family man. He took care of both his parents before they died of cancer and helped me take care of my father when he suffered a stroke and my mother before she died of congestive heart failure. He was an involved and caring father to our now 13-year-old son and 11-year-old daughter.
We live in Brownsville, Texas, just minutes from the Mexican border. For our entire marriage, Ricardo worked for a private security company that provided transportation for U.S. border patrol operations.
Covid-19 didn't start hitting south Texas hard until the beginning of June. We think he contracted the coronavirus from work, but there's no way to know for sure. He felt a little sick and tired one day and said he needed to rest. Then, when he woke up on June 21, Father's Day, he said he felt really sick. It wasn't normal.
The hospital emergency room was the only place we could get a Covid-19 test in our city. He was tested and released with some medication and a nebulizer. It was nothing like what they give now because it was so early in the pandemic, and they really didn't know how to treat it. We got his Covid-positive test result five days later.
By then, Ricardo hadn't gotten any better. It was as if he hadn't gotten medicine at all. This was a 250-pound man who could lift 100 pounds easily, and in less than seven days, he didn't even have the energy to hold himself up for a shower.
We went back to the hospital on Friday morning. His oxygen was extremely low, so they admitted him. They had him on an oxygen tube and put him on a BiPAP breathing machine that night because his oxygen level wouldn't come up. They also diagnosed him with pneumonia and were giving him antibiotics.
Brownsville's two major hospitals were full and turning many people away. There was such a shortage of nurses that when my husband fell walking to the bathroom, no one came to get him for hours. It took me hours to reach someone when I called.
By July 3, I thought we were turning the corner. The nurse said his oxygen levels had reached 92%. They were looking to wean Ricardo off in three to four days. I was also getting better after being sick with symptoms associated with Covid-19, although I couldn't take a test because of a shortage of tests in the city. I was thinking we'd be among the lucky ones.
But the next day, July 4, I got a text from my husband around 6:30 a.m. He said he felt like he was gagging and had called the nurse. I started calling the nurses station and the main line, but no one would answer. I finally got a call back at 10:45 a.m. The nurse was quiet. She said Ricardo's oxygen levels had started dropping and they had planned to intubate him. As soon as they laid him down to begin the process, his heart stopped and they couldn't revive him.
Less than two weeks had passed since we walked into the emergency room for his Covid test.
I lost it. I told her I was on my way, but she said I wasn't allowed in. I drove there anyway, but I couldn't even go in to see his body. I always thought if Ricardo started feeling really bad, they'd call me so I could at least say goodbye. All that was denied. It makes it more complex because you never get that last hug, that last viewing, that last anything.
At that time in our county, people who passed from Covid couldn't be embalmed. The only options were burial the next day, with my children and me watching the service from the car, or cremation with a service of 20 people. I chose cremation because I knew if I felt I needed closure, my children certainly needed it too.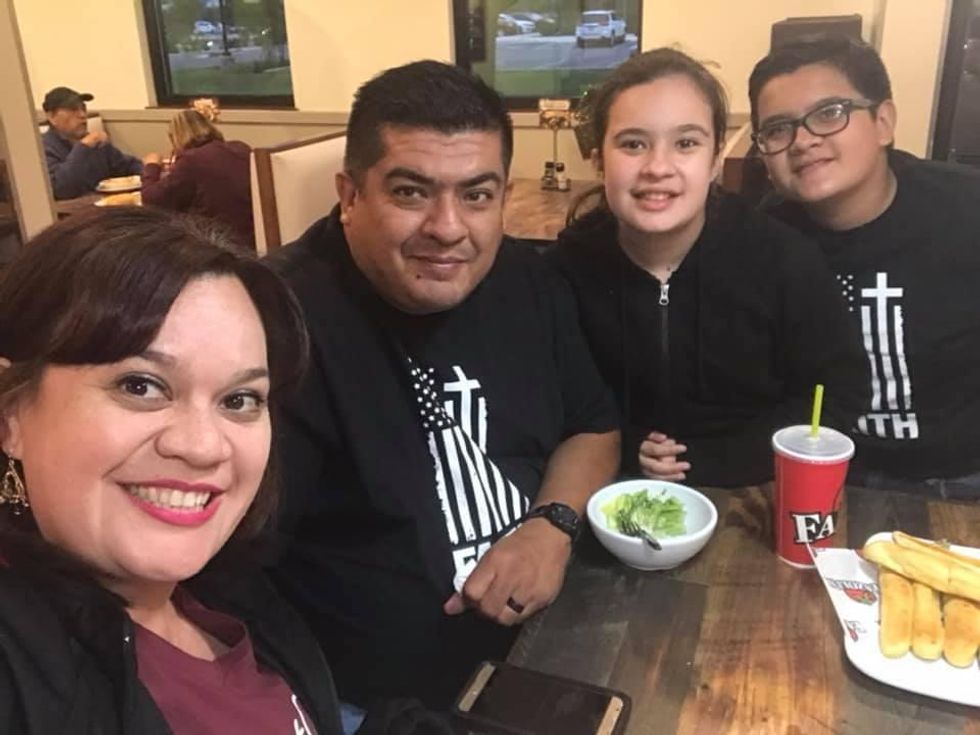 The Ramos family in 2019
After Ricardo died, my children battled shock and fear that they could lose me or contract Covid themselves. My daughter couldn't make it through school for a few months without crying for her father. My son went through a deep anger phase because it was so unexpected and so unfair. As a family, we are learning to cope with it, but it doesn't get easier. I still wake up a lot of days full of grief, angry and down in the dumps.
I find support through a private Facebook group for Covid widows. Most of us are younger and we can all relate to the horrors of the disease. It's the one group where you can be yourself. You can cry one minute and laugh the next because you know that no matter what someone in that group is going through, you understand. You're able to vent about people not taking this virus seriously and people that belittle our losses. We text each other, message each other, have Zoom meetings. It's a little club nobody wants to willingly join, but you're so grateful to have it.
We all make the choice every day that we don't want to live paralyzed in fear. I choose to honor my husband by continuing to live, continuing to help others, and continuing as a mother to work on the dreams we had for our children. I've gotten both doses of the Covid-19 vaccine and both times I posted pictures in honor of my husband because I wish something like that would have existed before he got sick.
I continue to encourage everyone to wear their masks to protect themselves and others. You could save someone's life. It's literally that simple.