In fall 2008, I had just started back as a middle school math teacher at a new school. I was experiencing sharp pains in my side, but I tried to ignore them and push through the school days. One Monday morning, my principal called me over and said, "Something isn't right. This isn't like you to be so quiet. You need to go to the doctor or go home."
I went straight to the urgent care clinic and told them my symptoms — bloating, fatigue, no appetite and lower back and side pain. I looked like I was pregnant and almost wondered if I was (my husband and I had been trying to conceive for two years). The doctor sent me to get a CT scan, which showed a large mass between my spleen and my ovary. The next day, we met with an oncologist and scheduled a vaginal ultrasound for a few days later. And then we were sent home.
I spent the next few days crying, stressed about what might be wrong with me. Two nights later, in the middle of the night, I experienced excruciating pain on my right side. My husband rushed me to the hospital where they performed emergency surgery. When I woke up, I saw an incision from the middle of my breasts to my pelvic area. The surgeons had performed a full hysterectomy and removed my spleen, appendix and omentum.
I was told I had stage 3C ovarian cancer. All I wanted to know was what my chances for survival were. "You are not a number," the doctor said. "Don't look at the statistics." But he didn't know that I'm a math teacher. I teach algebra — to me, numbers are everything!
I started chemo in late September and completed it in February 2009. And then I was cancer free! I felt relatively good, other than going straight into surgical menopause. Hot flashes hit me hard. My husband bought a handheld fan that I turned on throughout the night. The hardest issue to deal with was intimacy. We went through counseling to help us with that. And every three months, I went for a physical, pelvic exam, breast exam and bloodwork.
And then, just one year later, in 2010, my CA125 numbers were elevated, so a CT scan was done. A tumor was found in my lungs and another in my pelvic area. I went through a clinical trial for treatment and started chemo. When I was finished, it appeared as if the tumors had been surgically removed. I was clear … until 2015.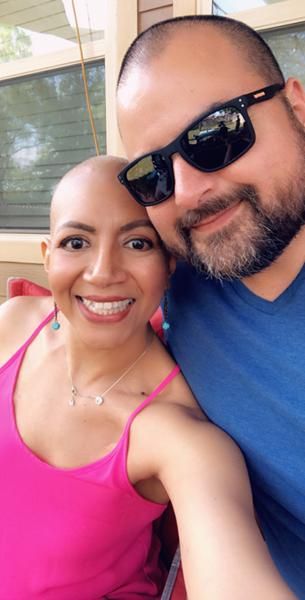 Gonzales and her husband
In 2015, small tumors were found in my pelvic area. I again had them removed and had chemo. I also was tested and identified as having the BRCA gene. This was interesting, because we had a lot of cancer in my family. My mom had been told she had stomach cancer in 1996, and she went straight from diagnosis to hospice. Since we lived in the border town of El Paso, Texas, she went across the border to Juarez, which was much less expensive; however, she didn't get the proper treatment and, unfortunately, didn't live long.
In 2017, the cancer again came back in my pelvic area. I had no symptoms and felt good. But I was so in tune with my body that I could just sense it was there. I asked my doctor to do my CA125 and a CT scan. When we learned about the new tumors, I opted to wait until school was finished to have surgery. Work helps me find a purpose, and I knew I could wait a month until summer.
Along with surgery, my doctor and I agreed on treating me with a PARP inhibitor (a type of targeted cancer drug) to treat the cancer cells left behind from the surgery. About 9 months into my treatment, we found even more tumors, but this time in my abdomen. We decided to find a clinical trial in immunotherapy. Because it was a trial, it was required that I have frequent scans and bloodwork. The scans showed that one of the tumors was growing and had attached to my small intestine, causing internal bleeding. Not only did I need to stop the trial, but I had my worst surgery ever. The surgeons removed quite a bit of my intestine because I had a lot of adhesions, which resulted in significant gastrointestinal issues. And after a terrible surgery, I now had to start chemo. It was my only option.
Through all the treatments, I had lost and gained weight. I had seen my scars opened and closed back up like a zipper to remove more tumors. But nothing prepared me for losing my hair. I had clumps coming out from my head. I lost my eyebrows. I lost my nose hair, which resulted in me always having a runny nose. I lost the hair on my arms and legs (which I actually didn't mind so much). And it just made me cry and cry.
I was so worried about my nieces and nephews seeing me as sick. My husband told me that whenever I was ready, we could shave it off. And when we did, we actually ended up having some fun — he first gave me a mullet and then a mohawk. My nieces and nephews told me they honestly prefer me with hair, but they're not scared of me. They now think I look like my brother, who is bald.
In April 2019, I finished my chemo and am now on maintenance. I am also on an estrogen blocker and medicine for my osteopenia. I get blood work every four weeks.
Through all this time, I kept working. I moved from teaching to serving as a school counselor, which was a blessing. I wanted to do my job regardless of everything I was going through. My employer was extremely understanding and supportive. I was very transparent with everything I was going through, and they worked around my schedule. The school also started Teal Fridays in September for Ovarian Cancer Awareness Month. All the kids now know about ovarian cancer. They "teal out" one basketball home game. And there are awareness posters throughout school. It's incredibly supportive.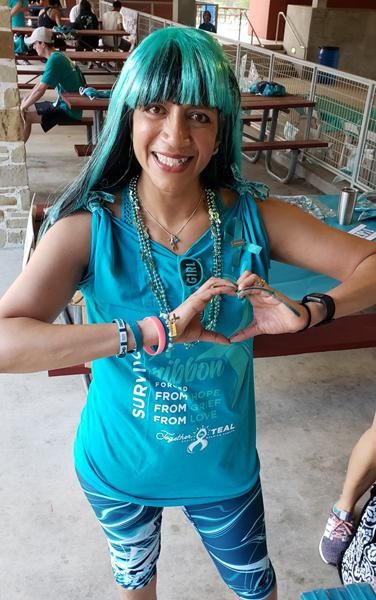 Gonzales on "Teal Friday"
I've had five recurrences and none of them has been easy. People ask how you do this, but you just do it. It's OK to not be OK. And It's OK to ask for help when you need it. We officially started remote learning this year, and I miss my students terribly. But I try to stay hopeful and positive through everything. And I just focus on the now.
This resource was created with support from Merck.