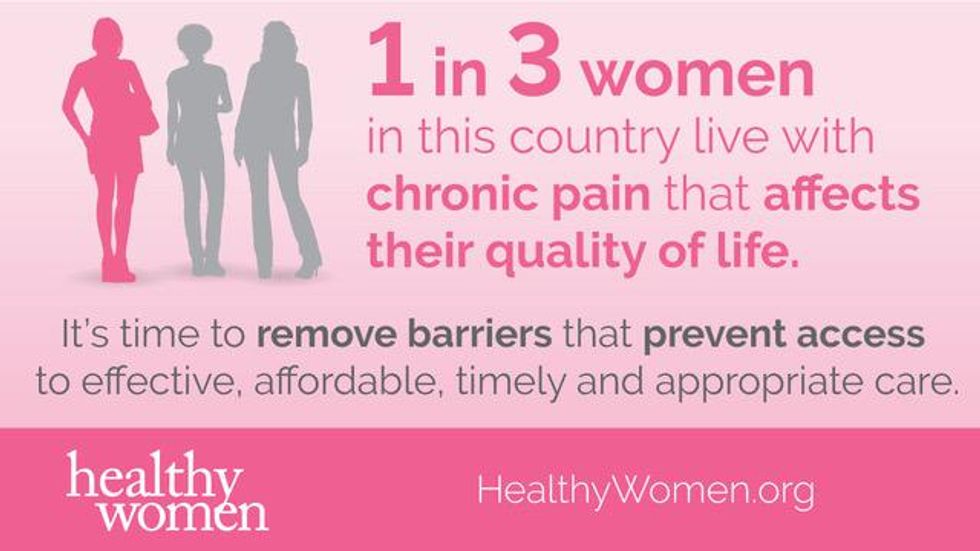 ---
Chronic pain affects an estimated 100 million Americans, more than the total number who have been diagnosed with diabetes, cancer and heart disease combined. The cost is astronomical: $630 billion, nearly as high as the U.S. Department of Defense budget.
Most people living with chronic pain are women, with an estimated 50 million or more women than men affected. Women are particularly vulnerable given the number of pain-related conditions that only occur in women, such as endometriosis and vulvodynia, among others. But they are also significantly more likely than men to experience other pain-related conditions, including chronic fatigue syndrome, fibromyalgia, temporomandibular disorders, osteoarthritis, rheumatoid arthritis and migraine. Women are also more likely than men to have more than one pain condition at a time. Yet, women's pain is too often misdiagnosed, minimized and undertreated or inappropriately treated.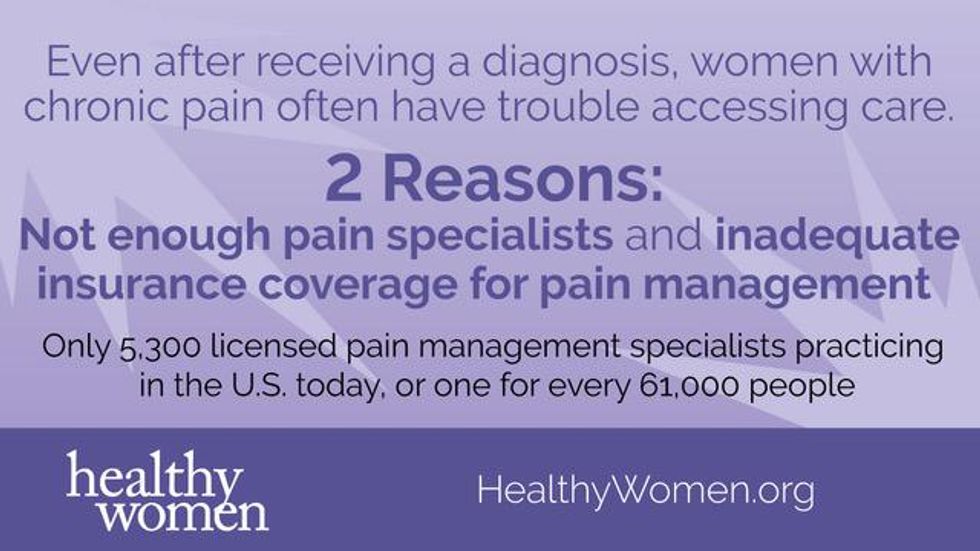 Women also respond differently to pain and pain medications than men. For instance, studies find that women get greater pain relief from opioids than men but experience more side effects. Women also appear to process pain in the central nervous system differently than men.
Despite overwhelming evidence of these sex-related differences when it comes to chronic pain experience and treatment, this knowledge has yet to be integrated into clinical practice or fully acknowledged in clinical trials or even by basic research.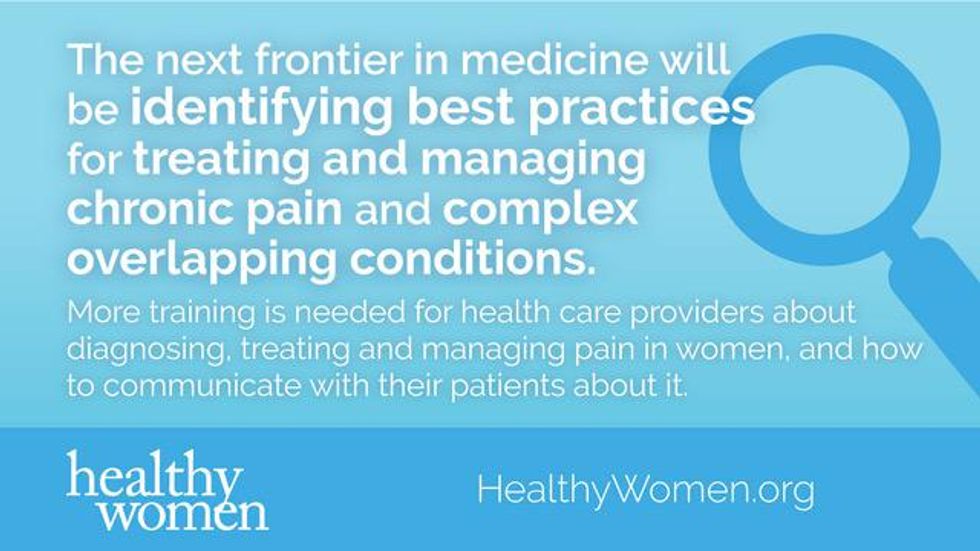 Read expert perspectives on barriers faced by women with chronic pain and recommendations for overcoming obstacles to care.
Expert Perspectives on Common Barriers — and Solutions — to Chronic Pain Management for Women
Bias, Chronic Pain and Access to Care — Health Care Provider's Perspective
Carmen Green, MD, professor of anesthesiology, obstetrics and gynecology, and health management and policy, at the University of Michigan answers HealthyWomen's questions about the impact of bias on access to care for women with chronic pain conditions.
Resilience and Other Tools for Overcoming Barriers to Care for Women With Chronic Pain — Patient's Perspective
Kate Nicholson, a civil rights and disability rights attorney based in Boulder, Colorado, has lived with chronic pain for more than 20 years. Here, she offers insight for overcoming common barriers that prevent women with chronic pain from getting care or moving forward with their lives or both.
A Call to Action for Women in Chronic Pain
HealthyWomen's Dr. Monica Mallampalli shares some unsettling data about chronic pain—across sex, gender and race—and offers measures for moving women's health care forward. In the year 2020, these barriers must come down.
HealthyWomen's Science, Innovation and Technology Summit: Chronic Pain in Women—Focus on Treatment, Management and Barriers amplified numerous disparities that create barriers for women with chronic pain.
Read full Chronic Pain In Women Summit Report here.
This resource was created with support from Pfizer.