Glorious sunshine by day and picturesque sunsets at dusk, miles of pearly white sugar sand beaches, clear blue gulf waters, an abundance of restaurants with fresh fish and seafood and luxurious resorts with Gulf Coast views—there are so many reasons to fall in love with Clearwater Beach.
---
It's easy to see why this Florida spot has won multiple accolades in recent years, including #1 Best Beach in the United States and #20 Best Beach in the world by TripAdvisor, plus "Best Beach" recognition from USA Today, Travel Channel, Condé Nast Traveler and Fodor's Travel Publications.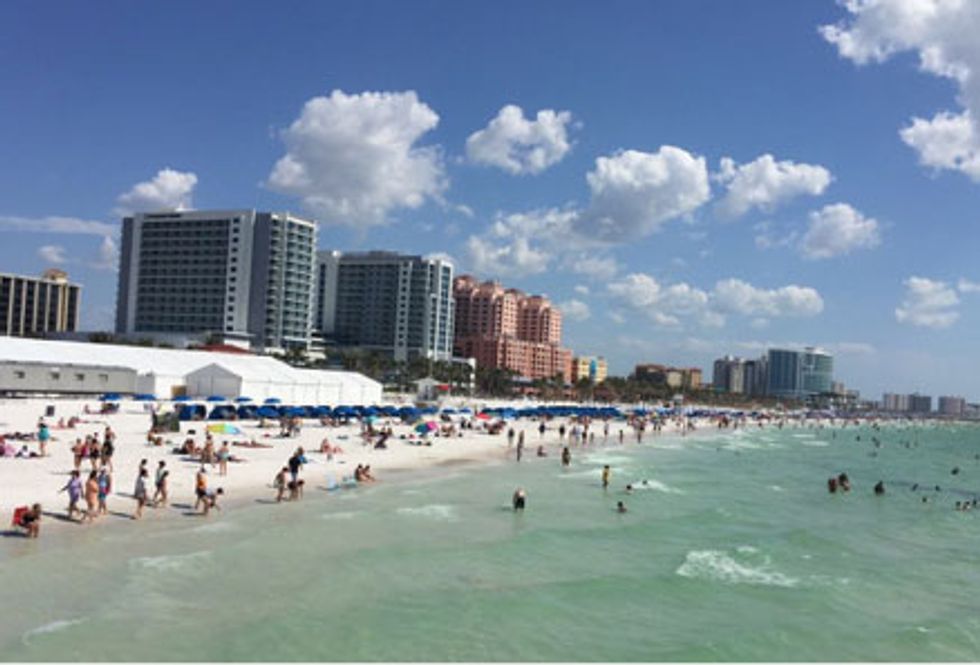 I had a chance to soak it all in courtesy of the City of Clearwater, and I'm back to share the details.* My lucky boyfriend L joined me for five fantastic days at the new Wyndham Grand Resort Clearwater Beach, the second biggest hotel on the beach with waterfront vistas and waterside bar and restaurant.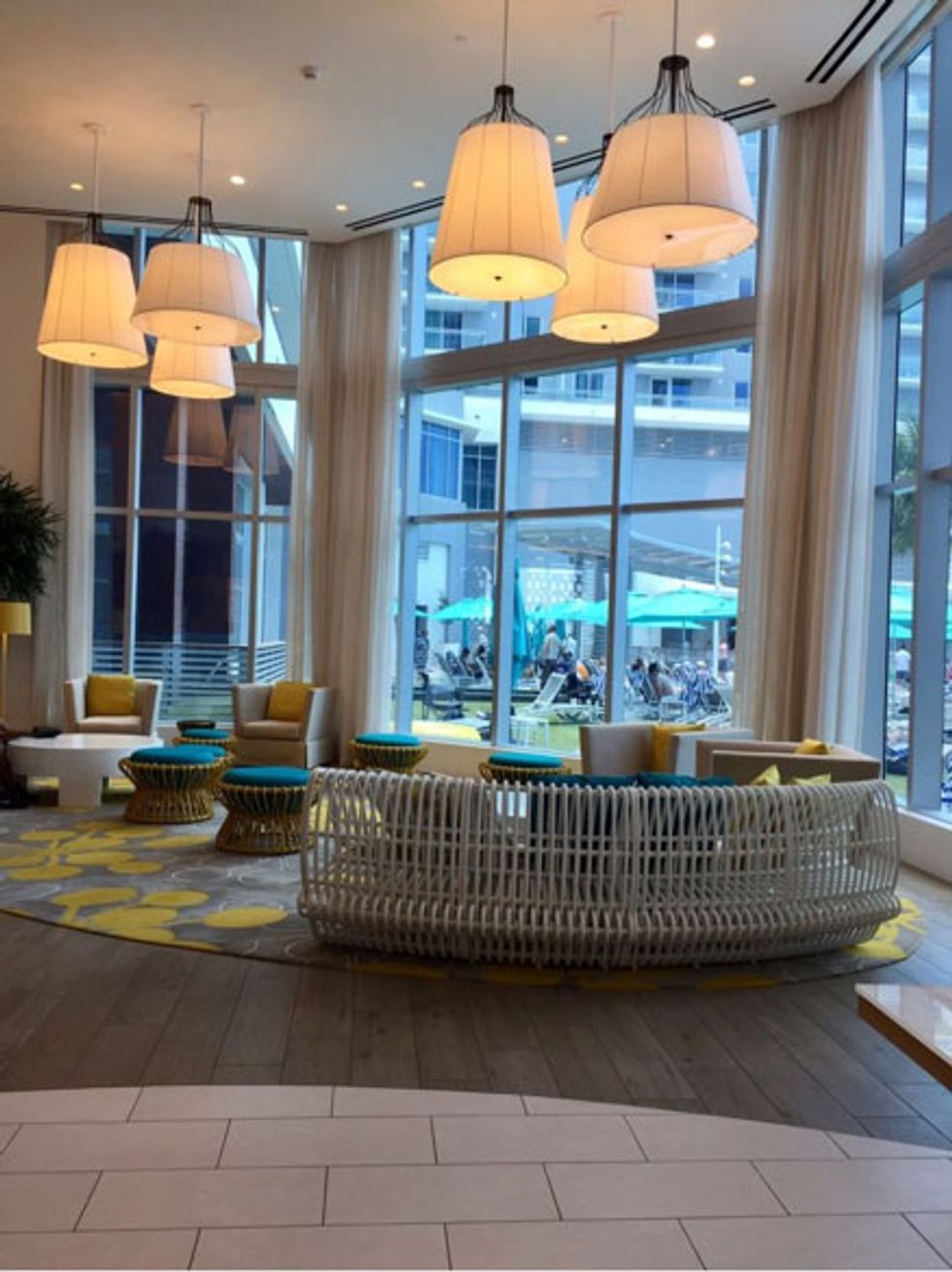 It was nice to meet other writers on the FAM trip including Lisa Nivers from WeSaidGoTravel.com and Jason Frye from TeaKettle Junction Productions, Inc. (A FAM trip is a "familiarization trip," where media and travel agents are invited by a tourism board, visitor bureau or other marketing organization to visit a city or other tourist attraction.)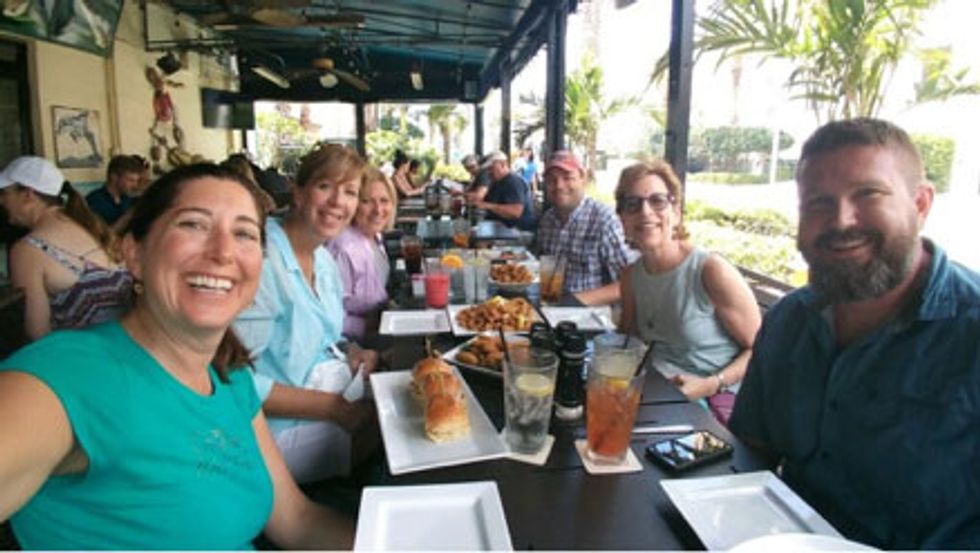 My new FAM friends and travel mates.
Easy to Get There
We flew into Tampa International Airport, which is about a 30- to 40-minute ride to Clearwater Beach. (There is also a St. Pete-Clearwater airport that serves many cities.) There's free local transportation with FloridaFreeRides.com, so we didn't need to rent a car. You just call for a ride and tip the driver afterward. It was very convenient. 
There is also Jolley Trolley that runs up and down the beach and coastal route seven days a week. Plus, Uber and Lyft are available if you need a ride.
The Best Beaches
I had heard that there was something special about Clearwater Beach. The minute we stepped on the sand with our bare feet we smiled. "Ooh, aah, ooh, aah! This is amazing sand," I said to L. It felt so good to stroll along the soft sand. My Fitbit quickly hit 10,000 steps. 
We walked along the water's edge. The water was warm. It was relaxing, shedding our worries and enjoying our time together.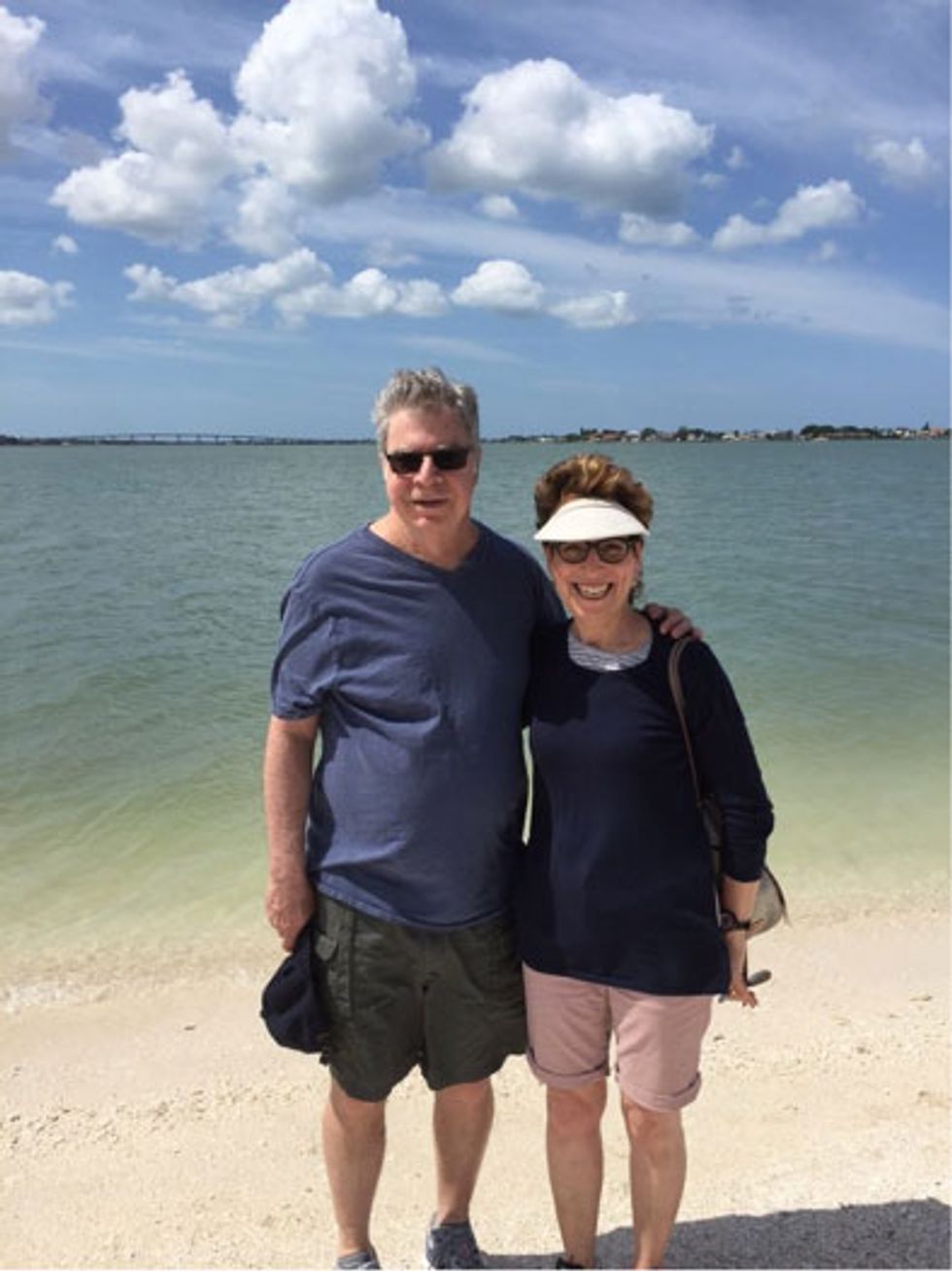 We noticed the beach was very clean and wondered how it is kept so pristine. Darlene Kole, president and CEO of Clearwater Beach Chamber of Commerce, told us, "They rake the beach every night. If any sand touches the dirty oils in the street it is taken away, cleaned and brought back to the beach just like new." (Wish this sand cleaning was practiced at our New Jersey beaches!)
Pier 60 Sugar Sand Festival
The sand is so special that each April there is a Sugar Sand Festival where artists create huge sand sculptures. It's a multi-week extravaganza with concerts, fireworks, sand sculpting classes and more. We were thrilled to participate in the 2017 festivities and especially excited to attend the Sugar Sand & Sunsets Dining Experience, where we sat on chairs and dined at tables made of sand.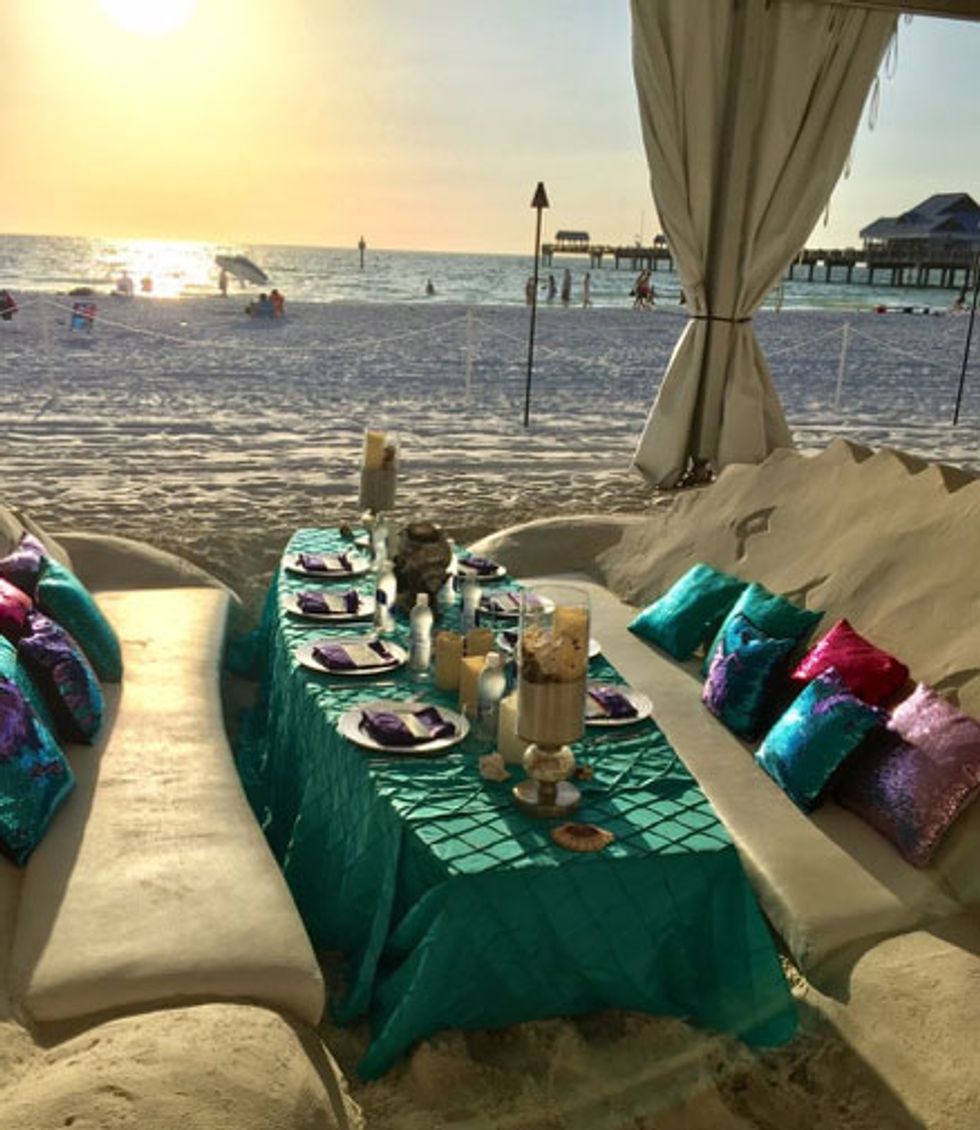 This year's theme was FantaSEA: A Magical Adventure Above & Below the Sea. Eleven master sculptors took 11 days to build the exhibition. They used 1,000 tons of sand. Once the festival is over, the sand is cleaned and returned to the beach.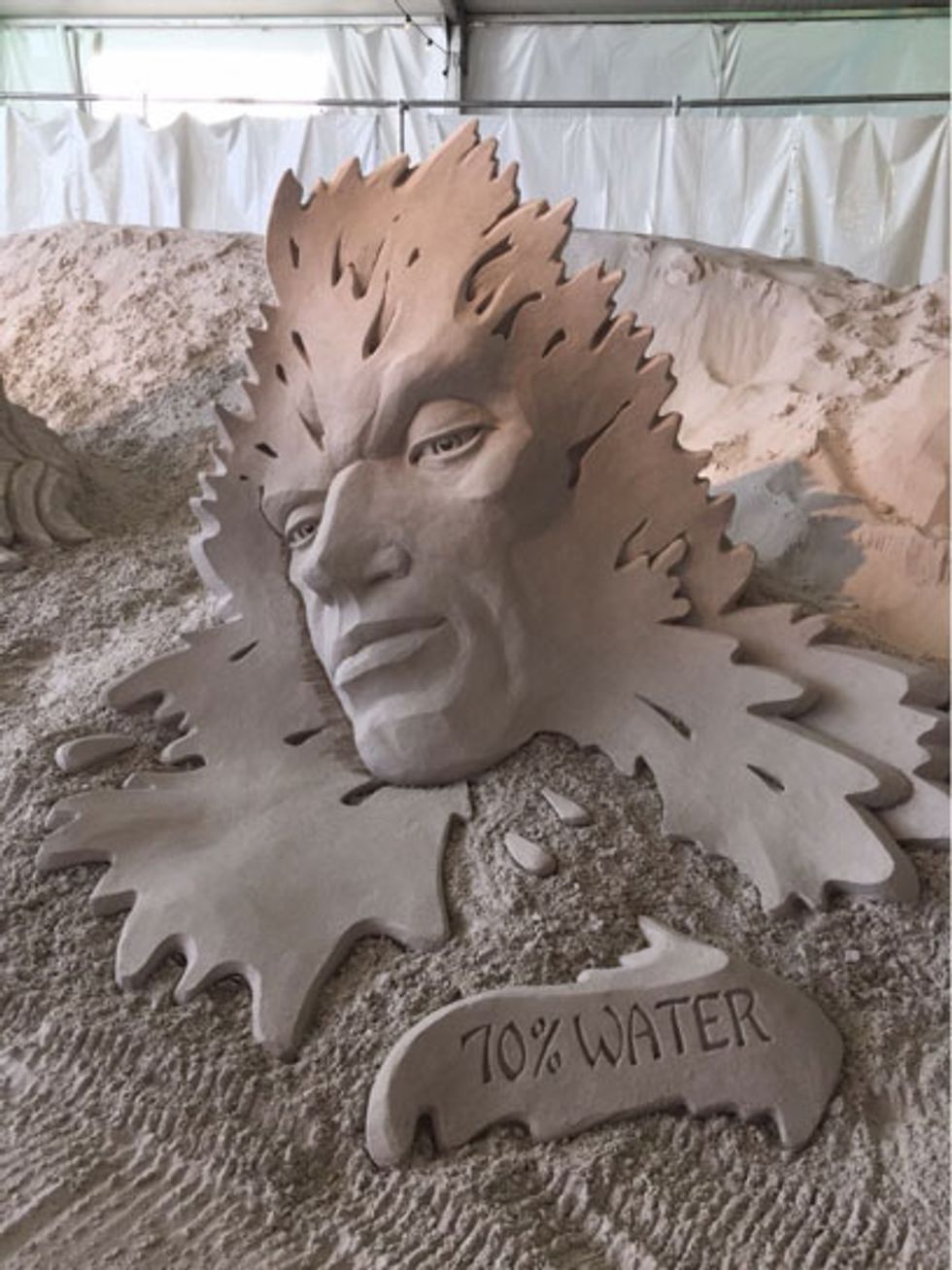 BTW, if you want to visit Clearwater during the 2018 festival, it's not too early to book your vacation. The dates are April 13 to 22, 2018.
Picture-Perfect Sunsets
The Wyndham Grand was within walking distance of Pier 60, where visitors go each evening to take pictures of the sunset. The pier stretches way out into the Gulf.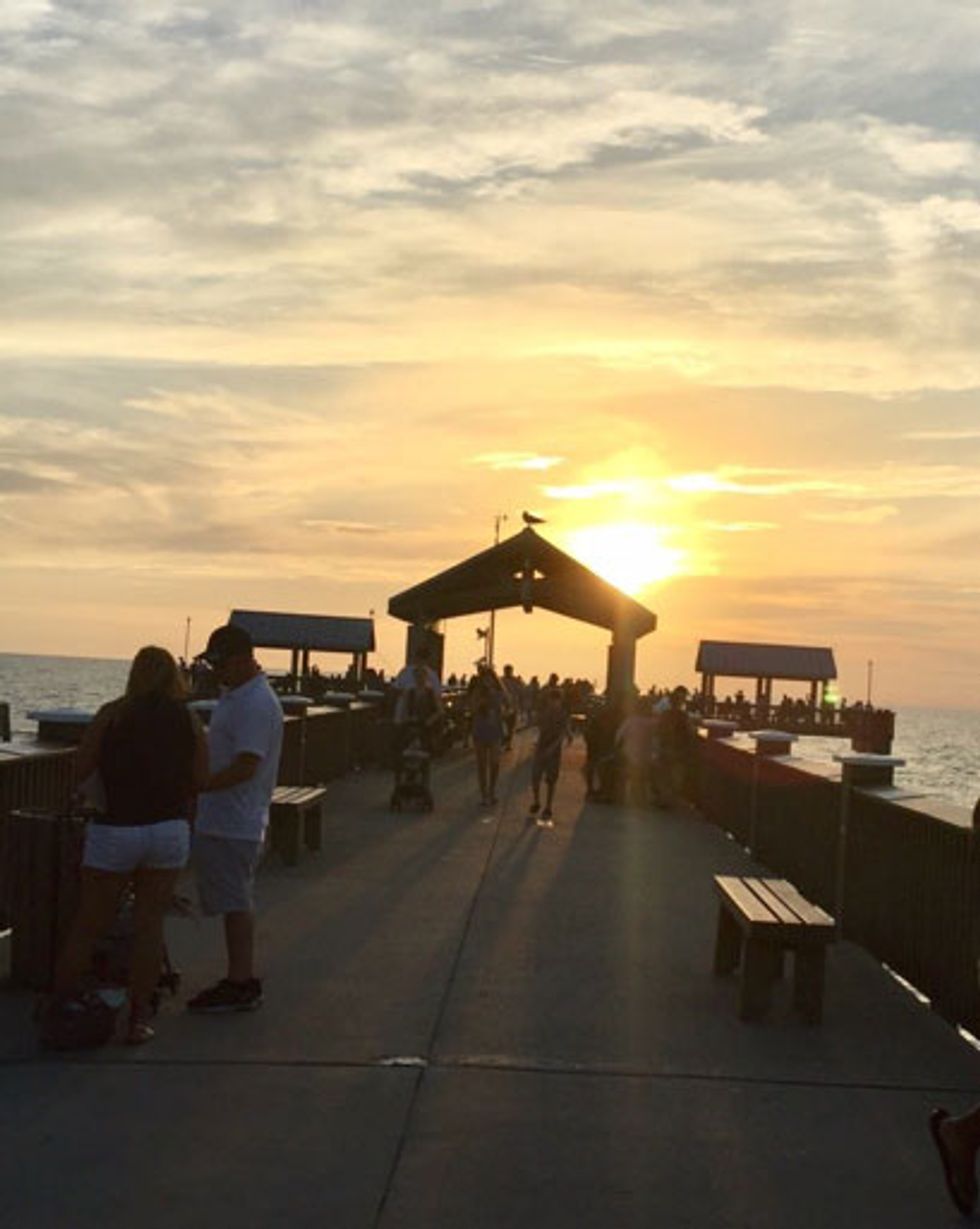 "How many sunset pictures are you going to take?" L asked. I think I was up to 40 photos one evening. 
"It's so beautiful," I said. I wanted to capture each moment as the sun went down over the water. "I wish I had sunsets like this out my windows at home. Let's vacation in Clearwater more often when you retire. I like this place."
"I like it, too," L replied.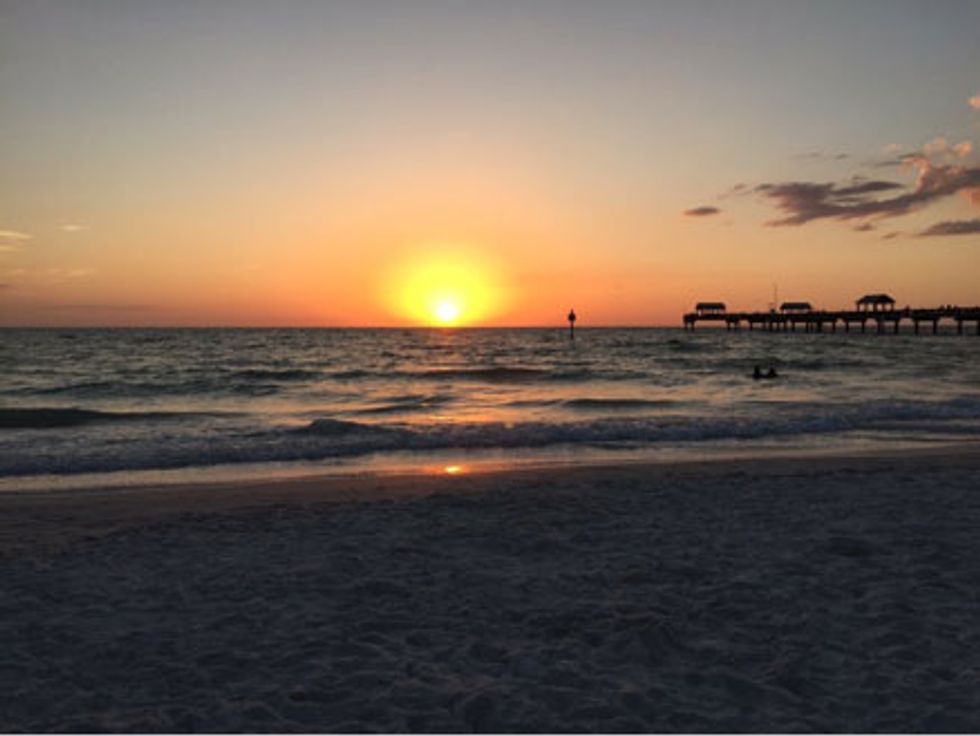 A Foodie's Delight
In just a few days, L and I consumed a wide array of Clearwater Beach's fantastic food at both fine restaurants and beachside bistros. I ate my share of freshly caught grouper blackened and fried, in salads and sandwiches, as an appetizer or entree. Here's a rundown for when you visit: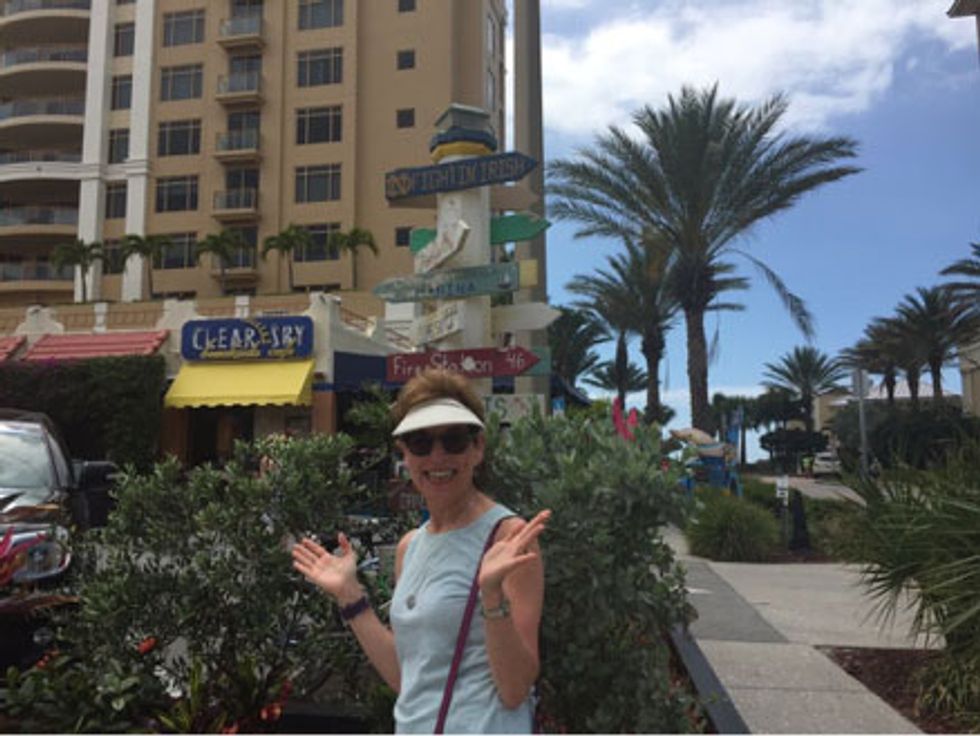 Ocean Hai at the Wyndham Grand features Asian-fusion food. The mahi-mahi wrap with pineapple slaw and homemade potato chips is so good, so good. They also have a wonderful breakfast buffet every morning.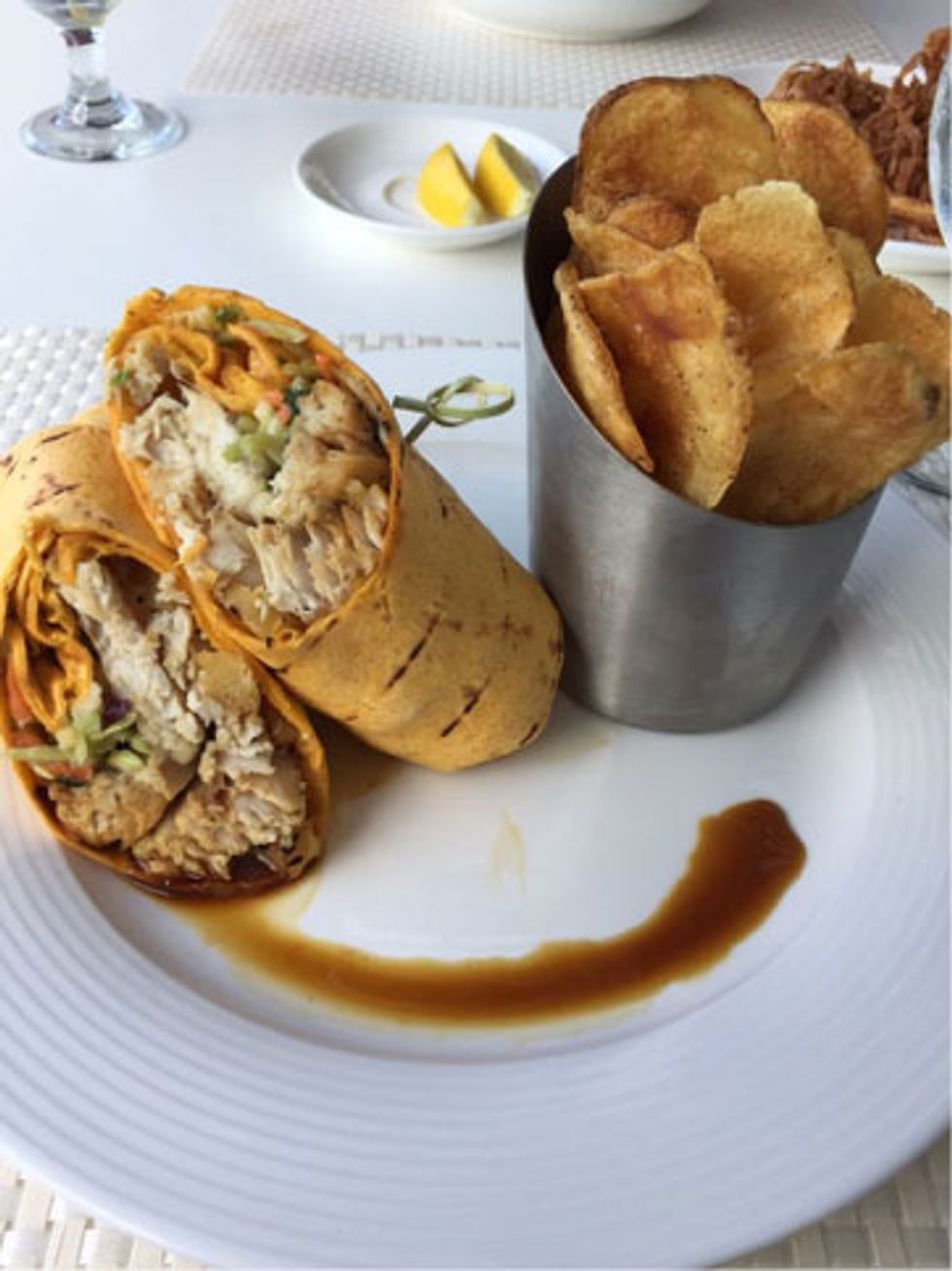 Salty's Island Bar & Grille along the Clearwater Beach promenade is a casual place for lunch or dinner. We ordered Avocado Egg Rolls, Coconut Shrimp and Ahi Tuna Poke as appetizers. I enjoyed Shrimp Tacos for my main course. All so good, so good.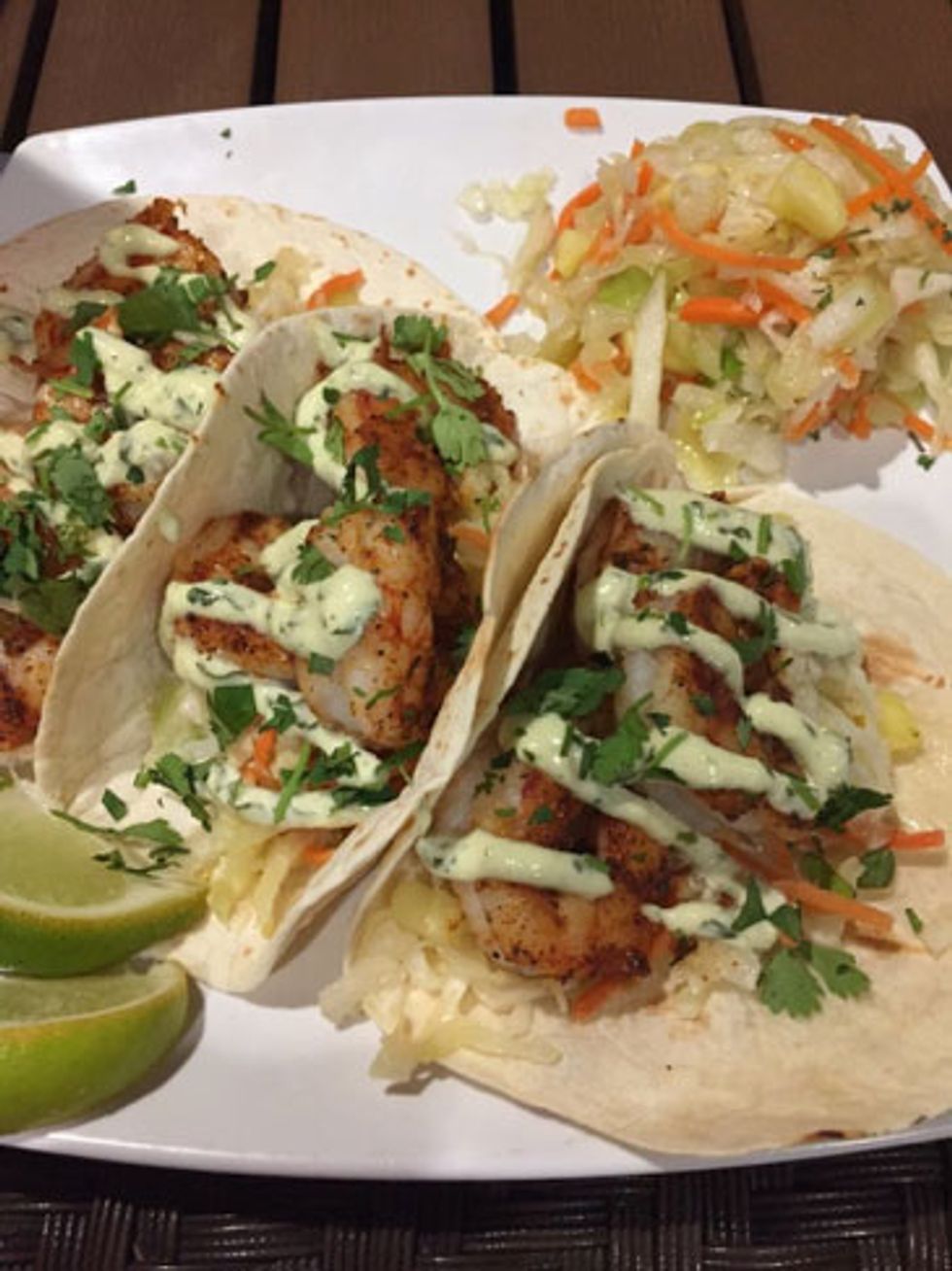 Crabby's Bar & Grill at the marina is newly reopened after a renovation. There are three floors of dining, with the top floor having excellent sunset views. Fresh grouper is on the menu, as is Crabby's Steamer Bucket of bairdi crab, known by some as the best crab available. I enjoyed a grouper sandwich.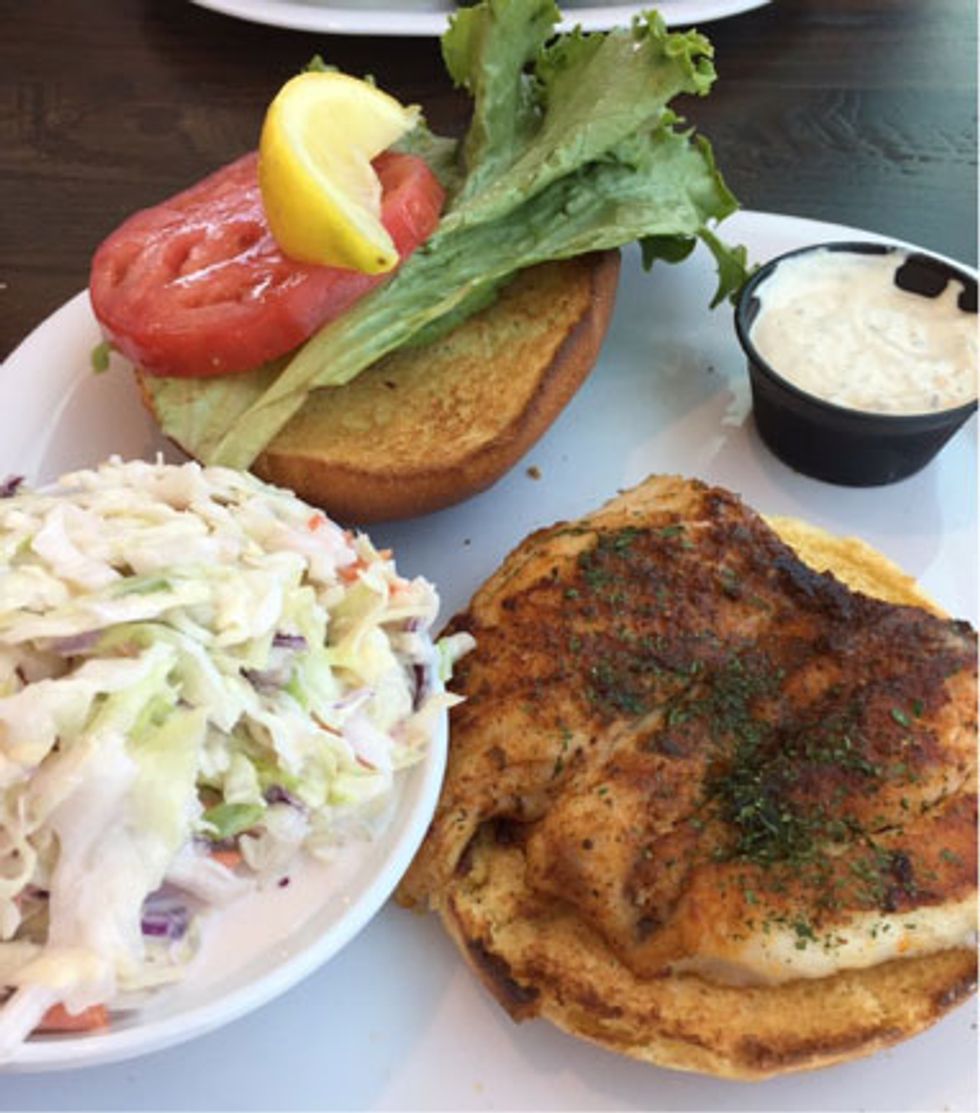 Beach Shanty Cafe is a cute place for breakfast or brunch. It's opposite the Hilton Hotel and a short walk from Pier 60. Our driver suggested it for morning meals. They serve huge mugs of coffee.
Palm Pavilion Beachside Grill & Bar is laid back and casual. It's right on the beach and is known for nightly music and sunsets with dinner. The owner, Ken, recommended Palm Nachos and Wasabi Scallop appetizers and the signature dishes, The Palm Grouper Sandwich, The Famous Palm Burger, and El Cubano "Tampa Style." He said Hurricane Shrimp and BBQ Smoked Ribs are family favorites as well. Guess what I ordered? Blackened Grouper Salad—so good, so good.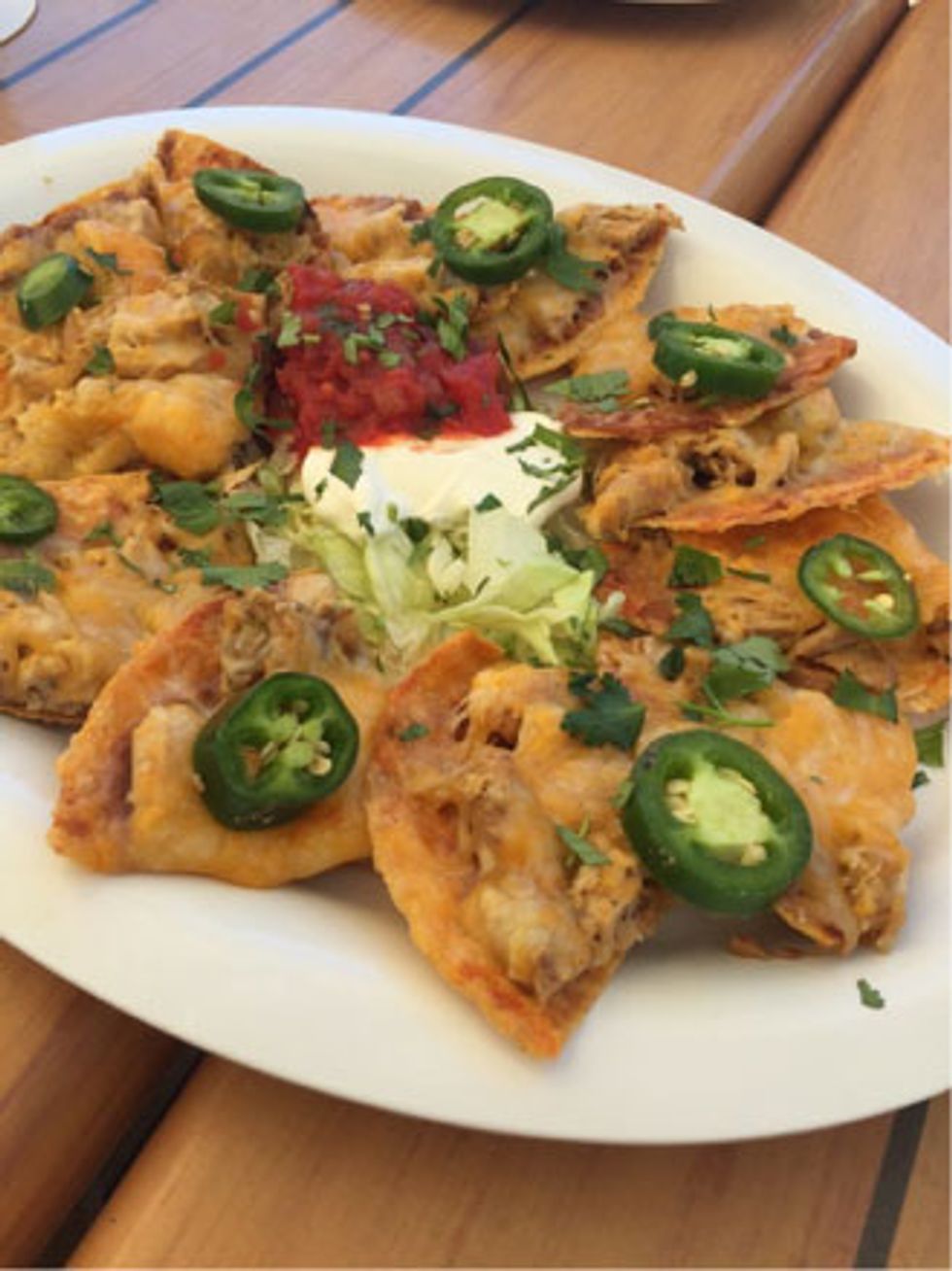 Barefoot Beach House has yummy ice cream. I went there several times. One afternoon L and I shared a double scoop of Raspberry Truffle and Salted Caramel Pralines—so good, so good. Barefoot is open for breakfast and makes a fine latte and breakfast sandwich, too. In addition, they sell nice beach-inspired gift items.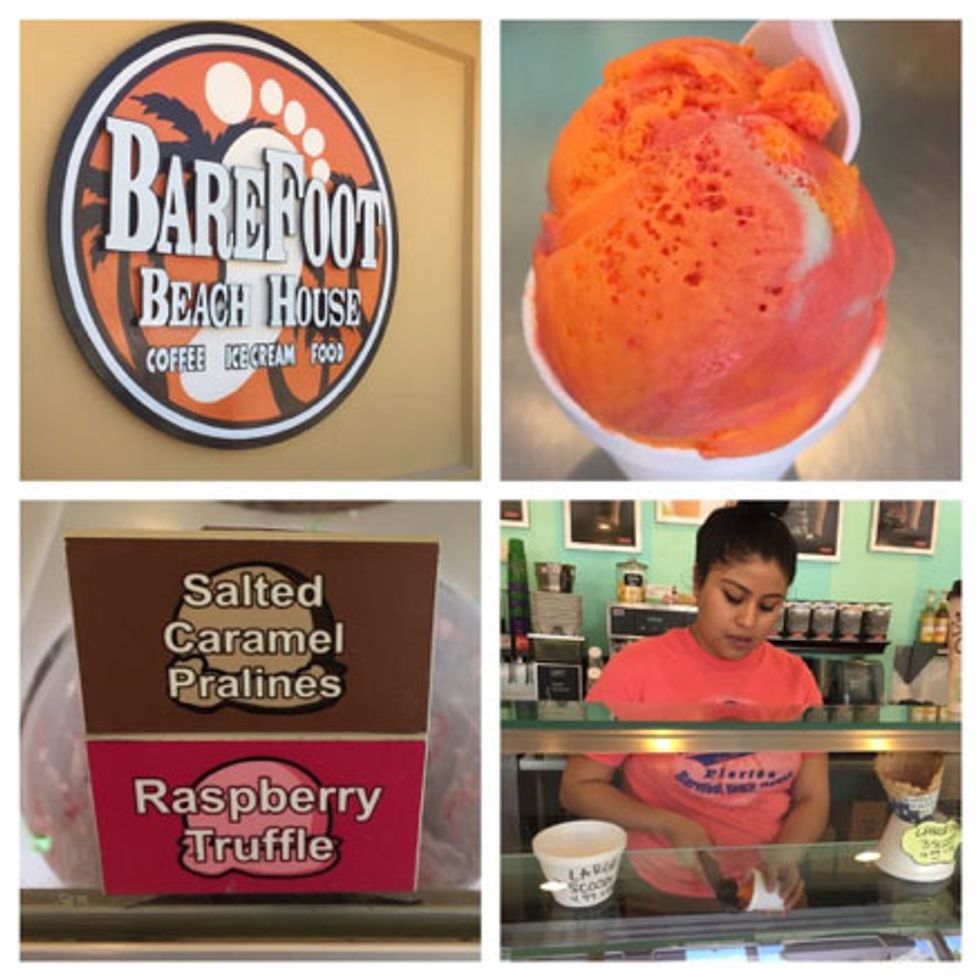 Sea-Guini at the Opal Sands Hotel is a gorgeous place to dine. We made reservations for dinner and loved our meal. L ordered diver scallops with risotto and I had my first-ever hogfish—so good, so good. (This hotel is worth a visit and has a nice gift shop.)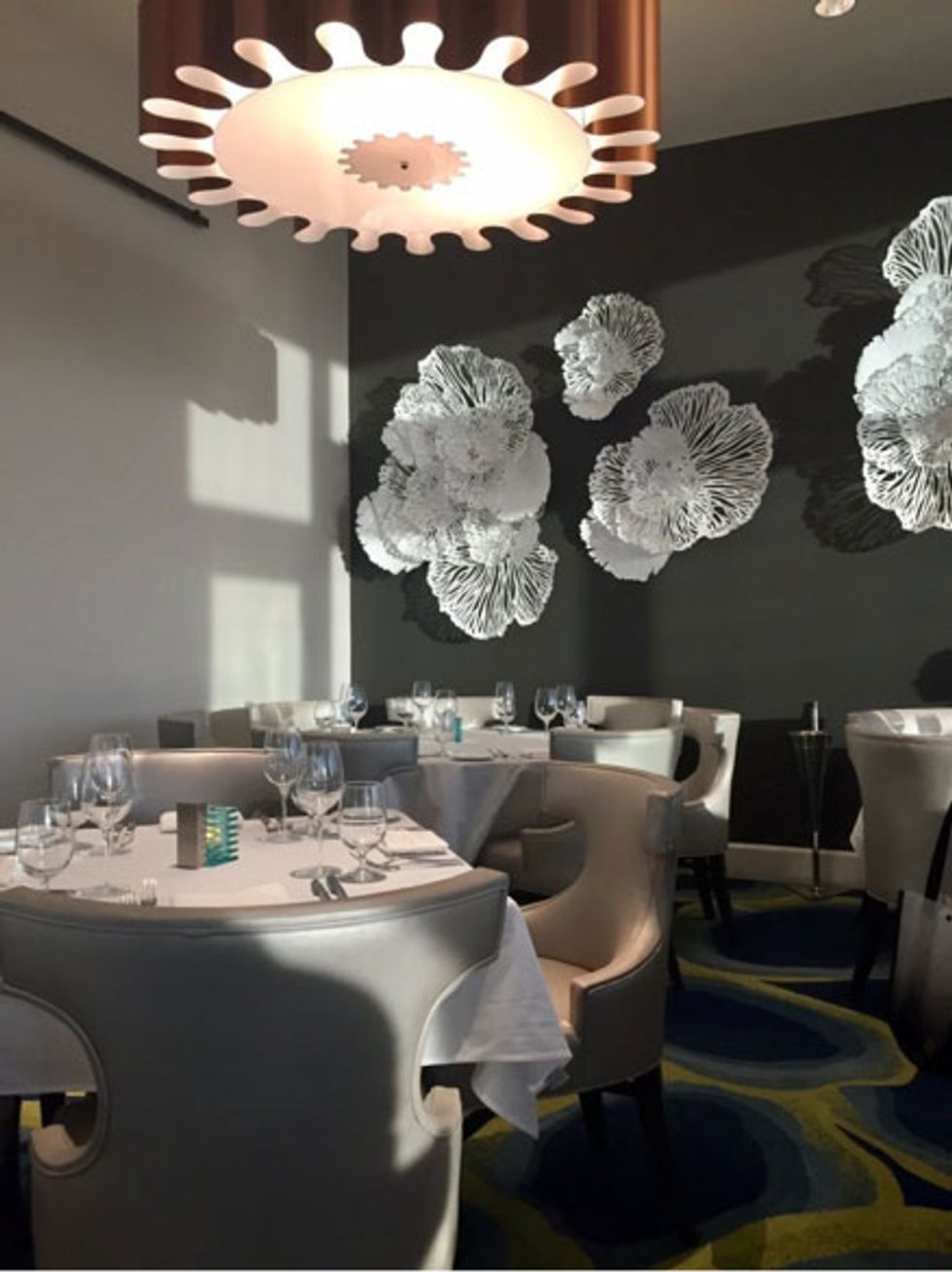 Clear Sky Beachside Cafe is so good, so good that I not only went there for lunch with our FAM group but came back for dinner with L on Saturday night. Lunch featured avocado fries, fried shrimp and calamari appetizers. What did I have for my entree? You got it—Nicoise salad with blackened grouper, pickled ginger and seaweed salad. So good, so good.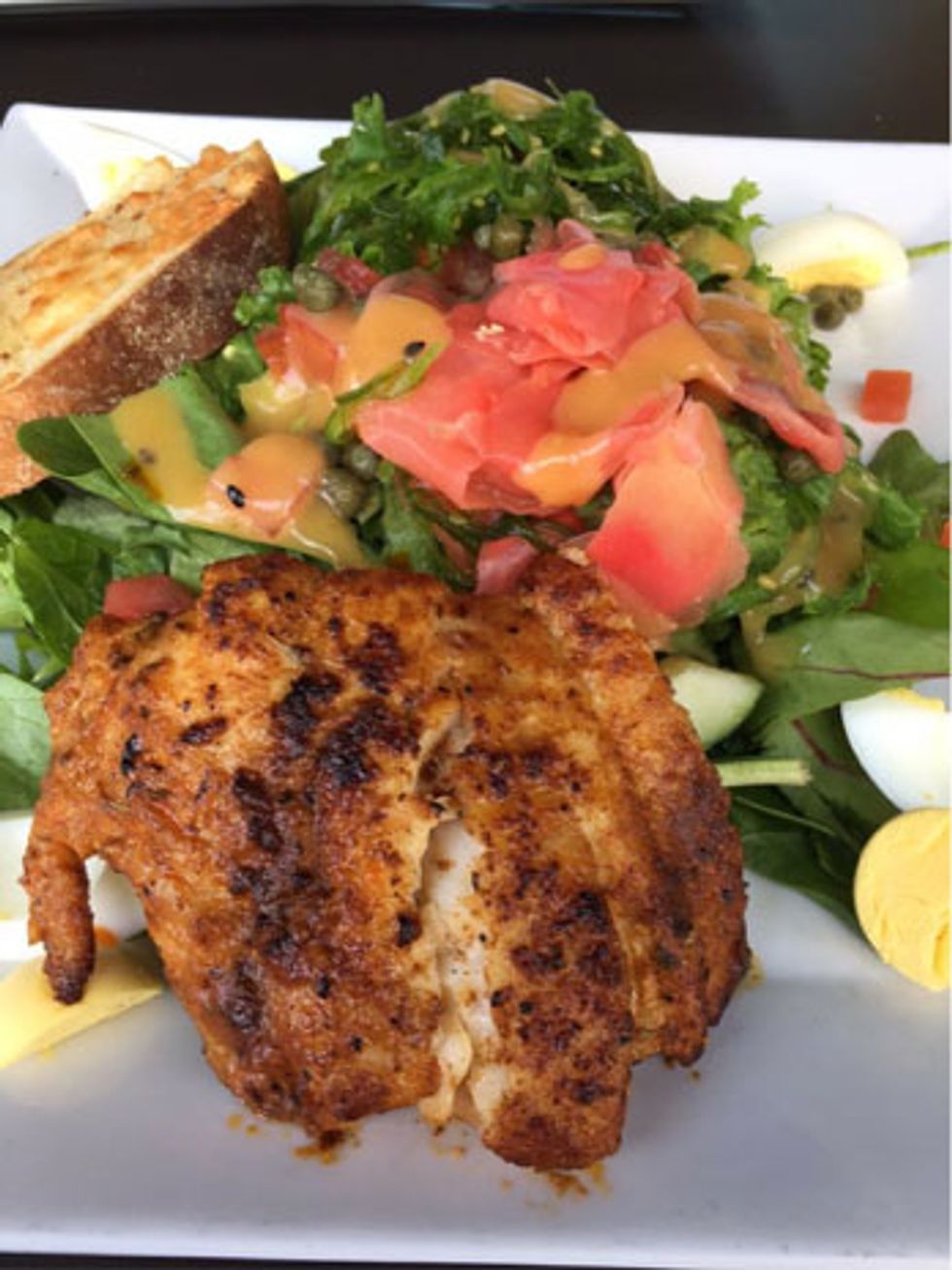 The only grouper I regret not tasting is grouper cheeks, which I am told is a delicacy in Clearwater Beach. There's always next time.
Homeward Bound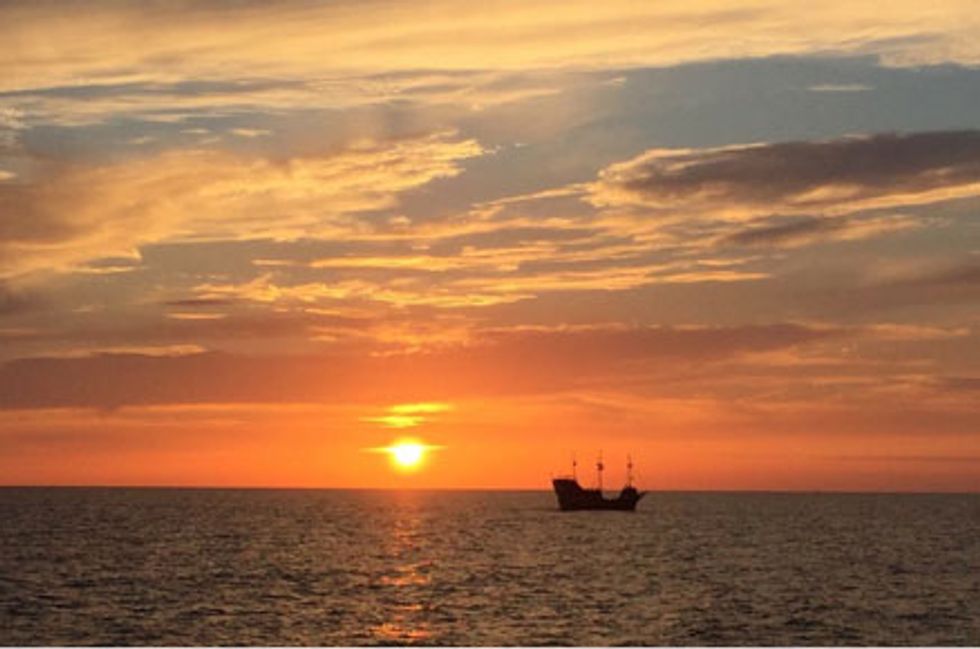 As we boarded the plane homeward bound, I told L, "Maybe we should celebrate my 60th birthday in Clearwater Beach next January." 
"You've already mentioned a few other places for your 60th," L said. 
"I know, but this is truly a special place," I replied. 
As the Clearwater guidebook says, "It's guaranteed that by the time you leave, you'll already be planning your return visit."
* Disclosure of Material Connection: The City of Clearwater sponsored my trip to Clearwater Beach. Regardless, I only recommend products or services I use personally and believe will be good for my readers.
This post originally appeared on aboomerslifeafter50.com.