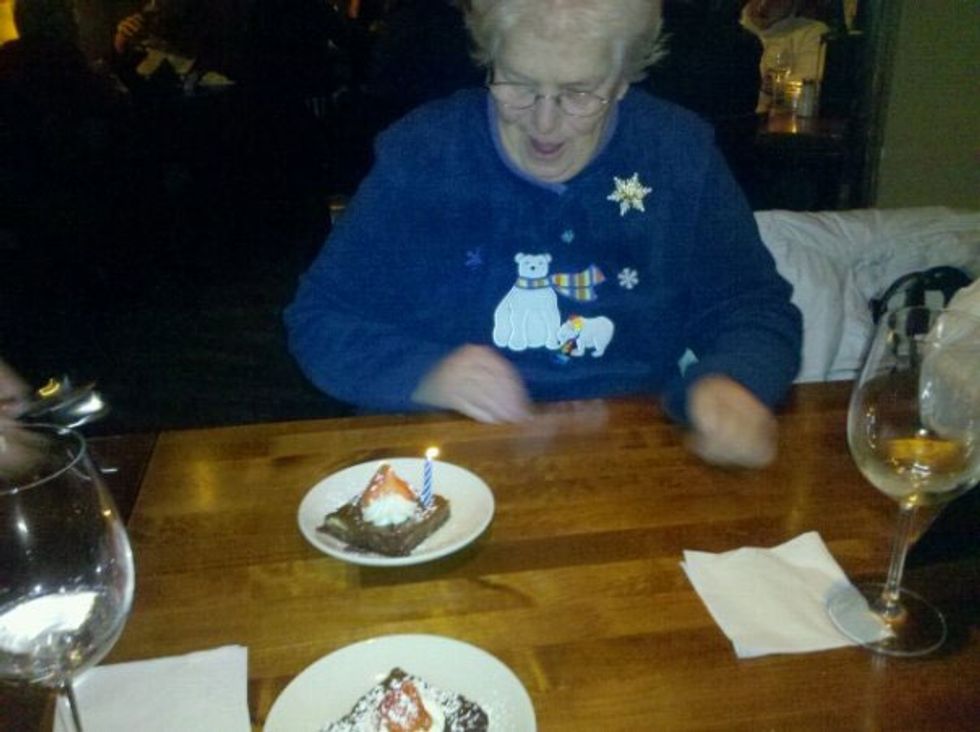 Elyse Jankowski, HealthyWomen program assistant
---
Decorating the house, shopping for gifts, traveling to visit family members, and not enough time to do it all! While it's easy to feel overwhelmed during the holidays, there is beauty all around us. You may find it in the grace of falling snow, the splendor of colorful lights, or in my case, the joyous smile of a loved one.
Yesterday was my grandmother's 68th birthday. My mother and I decided to take her out for a nice dinner to celebrate. I've always been fascinated by how thrilled my grandma gets over the simplest things. Granted, we don't dine at elegant restaurants very often, but that wasn't what excited her the most - she was happy just spending time with Mom and me.
The stressors of the season faded away as we laughed and reminisced at the table. I grew up in a three-generation household, and one of my favorite things as a child was helping Grandma prepare for Christmas, including breaking out her festive fashions. Last night, she wore a polar bear pullover and snowflake pin. Now, it's no secret that Grandma is a Christmas fanatic (she still addresses some of my gifts "From Santa"), but Mom and I wondered how much holiday clothing she really has. The answer? A giant tote-full.
Grandma explained that when she worked at AT&T years ago, her colleagues playfully teased her about how she dressed in December. No, she didn't wear antlers to work, but she did wear Christmas sweaters – a different one every day from December 1st to 25th! When Mom and I looked at her like she was crazy, Grandma sat up straight, lifted her head and smiled.
Forget fancy gadgets, a new car, and hefty chunks of change. The standard holiday wish list isn't even on Grandma's radar. For years, she simply asked for a new sweater, and that was enough. It warmed my heart when Grandma helped me realize that life truly is about the little things. Television specials and Hallmark cards tell us that every year, but sometimes, we need to experience another's joy to really understand it for ourselves.
I feel like Christmas came early this year. I already have everything I could want – the love of a wonderful family and the knowledge that true happiness comes in small packages (you were always short, Grandma!).
Happy Holidays from all of us at HealthyWomen