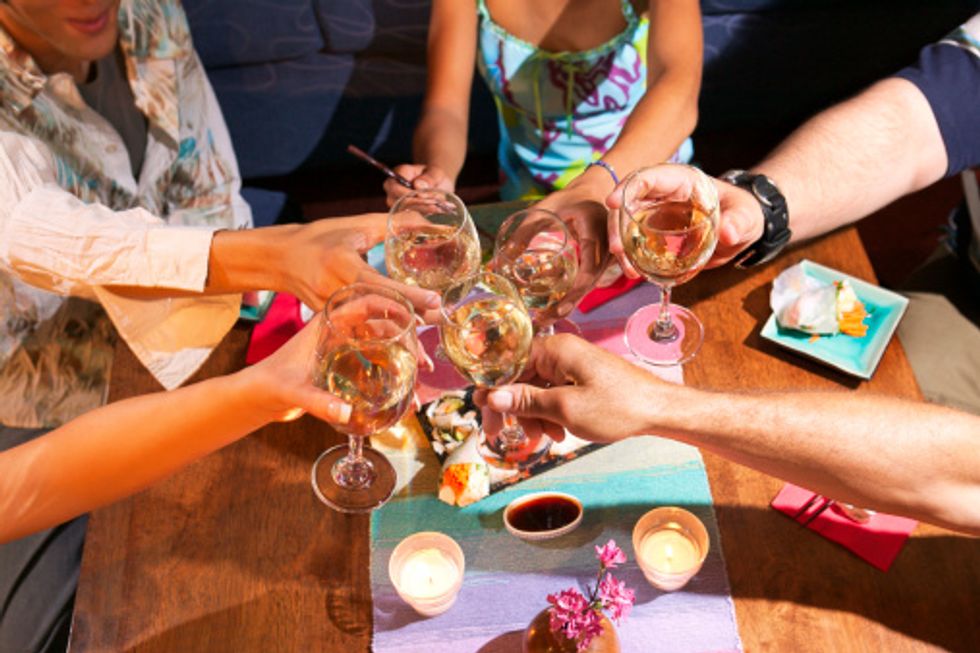 by Darria Gillespie, MD
---
It's holiday season—which means it's also holiday cocktail party season!
Along with festivities come the risks of spoiled food (food poisoning = bad party experience), derailed nutrition goals and over-imbibing cocktails.
I'd love to celebrate the holidays with you, but you probably don't want to visit me in the emergency room when you'd rather be at a cocktail party. So, check out my "Party Primer" below to avoid the common holiday party food pitfalls.
For food safety, remember two crucial factors: temperature and time. The temperature at which food is kept determines how long it can sit out. Unfortunately, foods can go bad without telltale signs of changed taste, smell or appearance. So, stick to these rules:

Eat hot foods when they're hot—ideally, this means above 140 F. Because my clutch barely holds a lipstick, let alone a thermometer, make sure that the food at least feels hot to the touch.
Eat cold foods cold: shrimp cocktail, raw shellfish and dip MUST be eaten cold. Avoid them if they're at room temperature.
Rule of thumb: Avoid all refrigerated or heated food that have been sitting out for over two hours. Still hungry? Switch to nuts, crackers and other foods that don't spoil (finally a legitimate health reason to have some M&Ms!).
If in doubt, be especially careful around foods with mayo, eggs, seafood, dairy, shellfish, meat and poultry.

Eat, drink, and fit into your jeans. Sticking to a diet? Or just trying to make sure you don't need a new wardrobe come January?

Don't overeat beforehand. Never go to a party starving, but too much food before the party will just add to your total calorie intake. Before you go, snack on a good source of protein, like almonds, or have a bowl of broth-based soup. Also, drink 8 to 16 ounces of water before you go.
Keep your distance. Try to move your socializing away from the bowl of peanuts or platter of cheese pinwheels. Out of sight, out of mind.
Don't buy the "have one bite of everything" mantra. Our bodies are programmed to seek variety—so the more variety we're offered, the more we eat. Stick to a (satisfying) couple of pieces of the foods you REALLY want. (Besides, when is one piece ever enough?)
Eat too much? Don't throw the diet out the window for today—you can always stop where you are, without falling into the "I'll resume my diet tomorrow" trap.

Imbibe wisely. Drinking a lot not only increases your total calorie intake and makes you more likely to eat more, it also puts you at greater risk of accidents and injuries (not to mention huge impacts on your driving from even very small amounts of alcohol).

Mix it up. Between every alcoholic drink, have a glass of water—even if it's while standing at the bar waiting for your next cocktail.
Know your calories. Lowest calorie drinks? Wine and light beers. Each runs about 100 to 125 calories per glass, making them better bets than higher-calorie cocktail choices.
Pace yourself. Three drinks in one hour will put you well over the legal limit. Research (and my own ER experience) also shows that even levels well under the legal limit can significantly impair your driving reflexes and safety.
Beware of bubbles. Carbonated drinks added to alcohol increase the rate of absorption of alcohol, meaning you may feel more effect, more quickly.
Do you know your Real Age? Do you know how to keep the holidays merry and still live your healthiest life? Go to Sharecare.com to take the Real Age Test.
Darria Long Gillespie, MD, MBA, is an ER doctor and executive vice president, clinical strategy, and "Chief Doctor" at Sharecare. She answers users' health and wellness questions on her blog, Ask Dr. Darria. In addition to her role at Sharecare, Dr. Darria is an assistant professor at the Emory University School of Medicine and works as an emergency room doctor in the Emory University Hospital Emergency Department. Follow Dr. Darria at Sharecare.com or at www.drdarria.com or at twitter @drdarria.