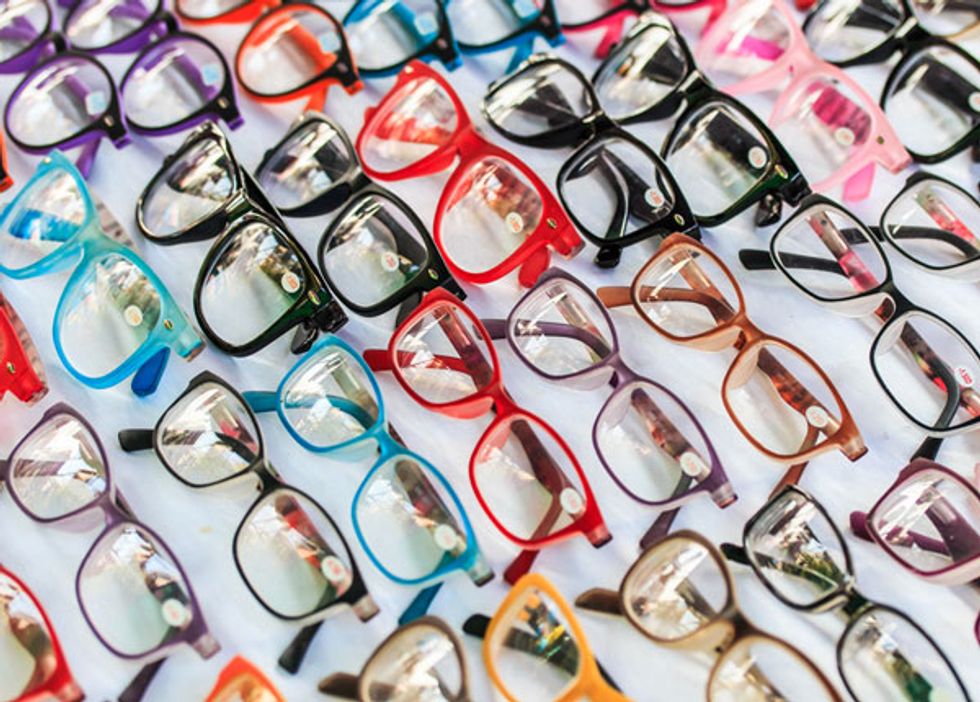 ---
Lupita Nyong'o put on bold black specs at the Golden Globe Awards (@LupitaGlasses), Carrie Fisher wore 3-D red frames and Oscar nominee Patricia Arquette donned purple readers to see the teleprompter at the SAG Awards. These days eyewear is a trending fashion topic.
Eyewear is one of my most important accessories. I have to wear my eyeglasses every day. I've been known to shop the streets of Paris for my frames, swoon and spend a lot on Italian shades at my local South Jersey boutique and shell out extra dollars for stylish computer specs which greatly improve my work life.
Felix + Iris = Smart Style + Sharp Vision
As a boomer blogger, I'm often approached to try out online eyewear shops. I was always a little leery of purchasing progressives from a website. It wasn't until I went to a press event for Felix + Iris that I warmed to the idea. "See the beauty that is around you," said the invitation. I brought my son D along. We were both treated to a new pair of specs. D chose a black frame. I copied his look with a black pair too. The glasses came with a magnetic sunglass attachment. The only negative is the tiny magnetic dot on the edge of the glass.
The most important part of ordering online is to make sure that you have your correct prescription and measurements. The online shops provide tools to help you take your measurements. However, I highly recommend that you ask your optician to provide your proper sizing. (I had the Felix + Iris optician measure my face and wrote down the measurements for future orders.)
Another online eyewear shop that contacted me is GlassesShop.com. I perused their site and liked some of their frames. Each frame includes the specific sizing for height, length and width—very useful to ensure that any frames you select fit your face. According to its site: "GlassesShop is an American owned and operated online retailer. Since the website launch in 2004, they have delivered over a million pairs of eyeglasses while maintaining their standard of providing the highest quality at affordable prices. We are a group of eye doctors that understands your struggle with the high cost of eyeglasses." I'll let you know if and when I sample or purchase eyewear from this online shop—the frames are so inexpensive that I may splurge on an extra pair.
Midlife Eyes Need Readers
While I don't need readers because I wear prescription progressive glasses, many of my midlife and older friends require readers to see small print. Many don't like to admit aging, so they stall as long as possible before getting their first pair of readers. Eventually, my midlife friends keep multiple pairs of readers in multiple colors in their handbags, in their cars and in every room in their home.
Sometimes I'm envious of all the fun and colorful frames. Plus, there are many online shops to purchase readers as long as you know your correct lens power. Here's a sampling:
Renee's Readers has been a lifelong passion of boomer girl Renee Bachner, a licensed optician for more than 25 years who began her career in New York's garment center. "As the owner of a small optical shop, I conceived Renee's Readers inspired by the diverse life experiences and product preferences of my customers," says Renee. "Renee's Readers highlight today's aging population and its determination to live life to its fullest, enriched by past experiences and progressive in their attitude."
Corinne McCormack Eyewear was created by a former fashion and jewelry executive, Corinne McCormack. "It's all about choice," says boomer girl Corinne. "I've given women who wear glasses a hip trendy style they've never had before." Check out my blog post  featuring Corinne's tips for selecting the correct eyewear for the shape of your face.
ThinOpticsare innovative portable readers with cases that attach to your mobile phone, stick to your tablet or slide into pockets, purses and more. Developed by a Silicon Valley inventor, these glasses are the result of two years of innovation. They are the weight of a nickel and available in black and clear colors.
There you have it. Finding spectacular glasses at online eyewear shops has never been easier. Enjoy and make sure you continue to "see the beauty that is around you."
This post originally appeared on aboomerslifeafter50.com.