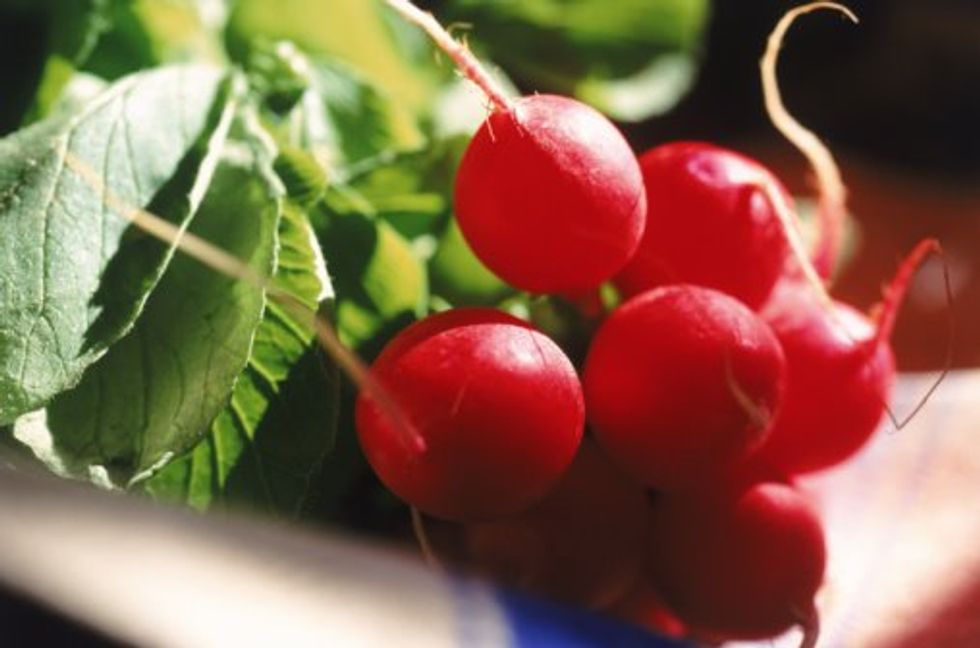 Yesterday was my first CSA pick-up, and my batch of farm fresh veggies included divine-smelling thyme, radishes, turnips, broccoli rabe and a variety of salad greens (including an interesting spicy mix ). For those of you that don't know, CSA or Community Supported Agriculture helps to support family farms while providing people (especially in cities) with access to organic, locally-grown, affordable produce. Each week you pick up your share of fruits and vegetables at a local community center or other farm drop-off location. It's a great opportunity to get to know people in your neighborhood and a simple way to eat what's local and in season. Last night I used my new greens to make this great broccoli rabe recipe (a twist on a recipe in my favorite veggie cook book, "Greens Glorious Greens").

I cooked garlic in olive oil for a minute or so, then added the broccoli rabe (chopped up with all but the bottom inch of the stems) and cooked them over medium heat stirring constantly for about two minutes. Then I added four tablespoons of vegetable broth (chicken broth would work too) and a quarter can of white beans, covered and continued to cook about 8 minutes. Finally, I sprinkled a dash of salt and threw the mixture over some penne for a simple meal. It was delicious!

I'm more confused about what to do with the radishes and turnips and their respective greens. I found this one recipe for a green salad roll with radishes, but I would love to hear your ideas.

Have any good recipes for radishes and turnips? Please share them below.