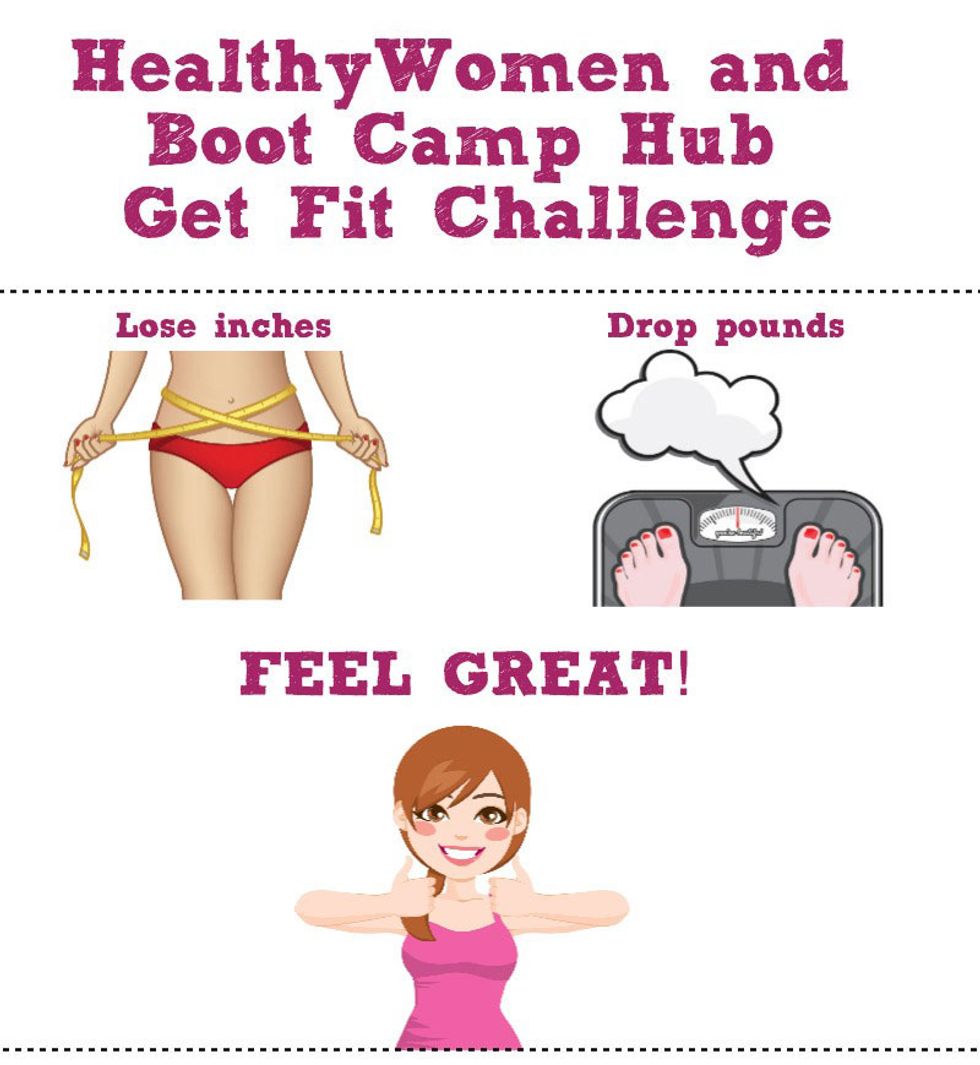 ARE YOU READY to start an incredible journey toward a better you? Welcome to the HealthyWomen and Boot Camp Hub Get Fit Challenge, a free 8-week program that will have you looking and feeling great by Labor Day.
---
No signup is required to join the Get Fit Challenge—just click the links at the bottom of this page for your workouts and other tools and come back to this page each day for more! BUT don't forget to enter your email here if you want the chance to win the free trip to Mexico (more details on that below)!
WHAT YOU'LL GET
Daily workouts. If you want results, you have to work for them. Aim to do three cardio workouts and two strength training workouts every week. We'll be posting NEW workouts every week so you won't get bored.
Daily missions. Each day you become a step closer to your goal. To keep you focused, we'll be giving you daily missions that will help you stay on track.  
Weekly motivation and written assignments. Every week the trainers from Boot Camp Hub will provide you with a motivational video to give you the extra "umph" you need. After all, you can't have triumph without "umph", right? And to help you hold yourself accountable, we'll be giving you weekly written assignments to make you realize your goals and reach your full potential.
A CHANCE TO WIN A TRIP TO MEXICO! That's right. If you participate in this challenge, you will be entered to win a trip to Mexico! Here are the rules and contest instructions and here is where to sign up! NOTE: You must sign up by MONDAY, JULY 14, to be eligible to win this awesome vacation. 
Watch the below video from Boot Camp Hub trainer Jonathan Roche to learn even more about this exciting experience! 
What are you waiting for?! GET STARTED BY CLICKING ON THE LINKS BELOW
Motivation
Workouts: Aim to complete 3 cardio and 3 strength workouts per week.
Daily Missions
Win Tomorrow Checklist
ENTER TO WIN A TRIP TO MEXICO!!!! You must complete this entry form by Monday, July 14, in order to be eligible. Read all the rules, HERE.
Want MORE workouts? Check out the Boot Camp Hub website.