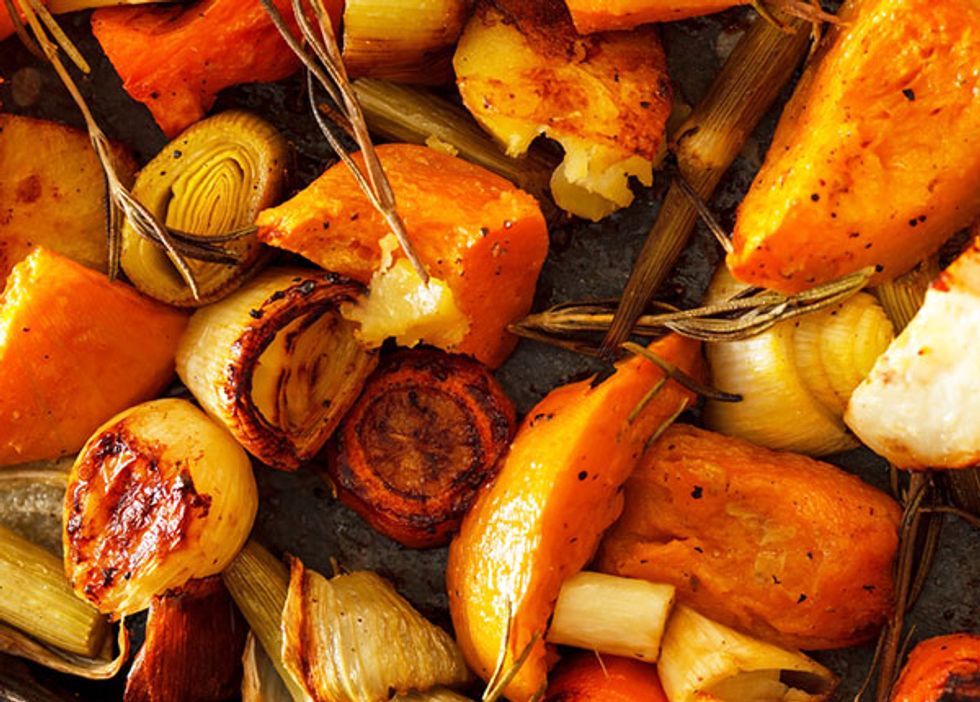 ---
The turkey may be the focal point and centerpiece of the Thanksgiving meal, but it's important to remember the side dishes. That's why you've pulled out your grandma's stuffing recipe and already frozen a batch of cornbread.
But what about the vegetables? Carrots, green beans and other veggies need their time to shine. So don't make the vegetables an afterthought—especially since you need them to offset all the pie you'll eat come dessert time!
That's why we've gathered 15 Thanksgiving vegetable recipes just for you. Have fun choosing which ones you'll serve this year.
Roasted Butternut Squash
When making this recipe, spread the squash pieces on a baking sheet in a single layer. That will help ensure that they get a caramel, brown outside. You'll likely need multiple baking sheets if you're making more than one batch. If you do that, rotate them on the oven racks halfway through the roasting.
Garlicky Sautéed Spinach
Serve this tasty spinach as a side dish and it will give your meal even more of a gourmet feel. Courtesy of the American Diabetes Association, it's a diabetes-friendly and gluten-free recipe.
Simple and Sweet Creamed Corn
Everyone will eat up this corn dish on Thanksgiving. And cook it beyond the holiday because it complements chicken, grilled steak and other meals. It serves four to six adults, but you can double it easily.
Roasted Vegetables
This recipe has no cholesterol, 123 calories and 4.7 g of fat per serving. Plus, it boasts mass appeal, since it contains an array of vegetables including red bell peppers and butternut squash.
Baked Sweet Potatoes
Sweet potato recipes don't have to be complicated. The potatoes can shine on their own with  minimal additional ingredients. This dish contains just sweet potatoes, dried oregano, salt and ground pepper.
Roasted Stuffed Onions
Uncomfortable hollowing out an onion? If you work carefully, a melon baller will do the trick. You can even hollow the onions a day or two in advance. And you can make the stuffing ahead of time, too, bringing it to room temperature before filling and baking.
Bacon-Braised Brussels Sprouts
The blogger says you should try this recipe if you dislike Brussels sprouts. She says that braising them gives them a more pleasant flavor compared to the bitter flavor that many people don't like when Brussels sprouts are steamed or boiled.
Coriander Roasted Rainbow Carrots
Thanksgiving carrots don't have to be bland and boring. Try rainbow carrots, which are slightly sweeter and milder than orange ones. Look for them at specialty grocery stores or your local farmers market.
Garlic Mashed Cauliflower
Seeking an alternative to mashed potatoes? Consider mashed cauliflower. Just steam or roast the cauliflower until tender. Mash it. Then mix in the seasonings and flavors you want.
Lemony Roasted Potatoes and Broccoli Rabe
This flavorful side dish includes broccoli rabe, which resembles flat, long broccoli but tastes like kale. The rabe is tossed with golden potatoes and the Parmesan cheese is melted into it. You can even serve the dish for breakfast the day after Thanksgiving with fried, hard-boiled, scrambled or poached eggs.
Waffle Iron Winter Squash With Chipotle Maple Glaze
In this fun recipe, you'll cut slices to accommodate your waffle iron. As you cook the squash, check the slices often to see if they're tender. The squash will be done in about five minutes. When finished, brush immediately with the glaze and sprinkle with chili powder.
Savory Sweet Potato Casserole
This casserole is savory, minus the marshmallows. To make this in advance, cook and mash the potatoes the day before Thanksgiving. Then put them in a covered serving dish in the refrigerator, without heating them in the oven or adding the pepitas. Before dinner, bring the dish to room temperature and then bake.
Cranberry Pecan Greens
Want to use fewer dishes and save some time? Cook the green beans briefly in the microwave and toast the pecans in a dry skillet.
Roasted Green Beans and Mushrooms With Herbed Breadcrumbs
This recipe offers a healthier take on the traditional green-bean casserole. Just use whole-wheat panko breadcrumbs. Can't find panko? Make your own by pulsing toasted or stale whole-grain bread in a food processor.
Sautéed Swiss Chard With Ginger
Swiss chard has broad, long leaves and a slightly buttery, mild flavor. It cooks fast, like spinach. Here, the garlic and ginger add the spiciness, and the lemon juice complements the spices.