In autumn, the Appalachian Trail bursts into bright orange and red foliage. But as I hike up the trail, I see palm and citrus trees.
This year, I am virtually hiking the Appalachian Trail. Every day, I leave my Florida apartment and walk. Using the app Walk the Distance, I log into the virtual trail. The app tracks my steps and shows how far I would have walked up the actual Appalachian Trail. The path cuts up the East Coast, stretching from Georgia to Maine. I began my journey several weeks ago. Since then, I have slowly plodded my way up the map.
The Appalachian Trail offers hikers valuable lessons about Appalachian culture and nature, but the trip isn't always accessible. Although I grew up in the Appalachian Mountains of North Carolina, I never completed the trail.
I remember seeing scraggly hikers walking along interstates and through state forests. But I'm a queer, chronically ill woman, and I accepted that I would probably never be able to hike the path by myself. While many hikers have safely tackled the Appalachian Trail, researchers like Kathryn Feener have pointed out that LGBTQ+ women face more danger. And for people with disabilities or financial insecurity, the Appalachian Trail may feel like a pipe dream.
Fortunately, Walk the Distance makes the Appalachian Trail more accessible to everyone — even people with chronic illnesses, like me. Virtual thru-hikers will miss some major parts of the Appalachian Trail: the cultural experience of trying new foods, meeting locals, observing wildlife. However, Walk the Distance provides an empowering alternative when the Appalachian Trail may be unsafe or out of reach.
In-person thru-hikers can see peach orchards, apple trees, stunning waterfalls, and mountain views. As I hike, I download music and nature soundscapes from the different Appalachian Trail states. Moonshine Kate kept me company with her banjo as I walked through Georgia.
On Walk the Distance, hikers can also enjoy scenic views of real Appalachian landmarks, all from their phone screen. When I've walked far enough to "unlock" one of these new virtual pit stops, I can see a Google Maps view of the landscape. I see hikers in some of the images. A satellite camera had captured one moment of these hikers' journeys through the mountains. With this technology, I am making my own journey. And for the first time, I feel like I belong on the Appalachian Trail, too.
Although I am walking by myself around my Florida neighborhood, I am not hiking the Appalachian Trail alone. When I joined the app, I could see a cohort of other virtual hikers who, like me, had just begun their trip. Every day, the app shows my progress alongside these familiar faces. Some of the people I met when I joined have outstripped me in pace, but that's OK.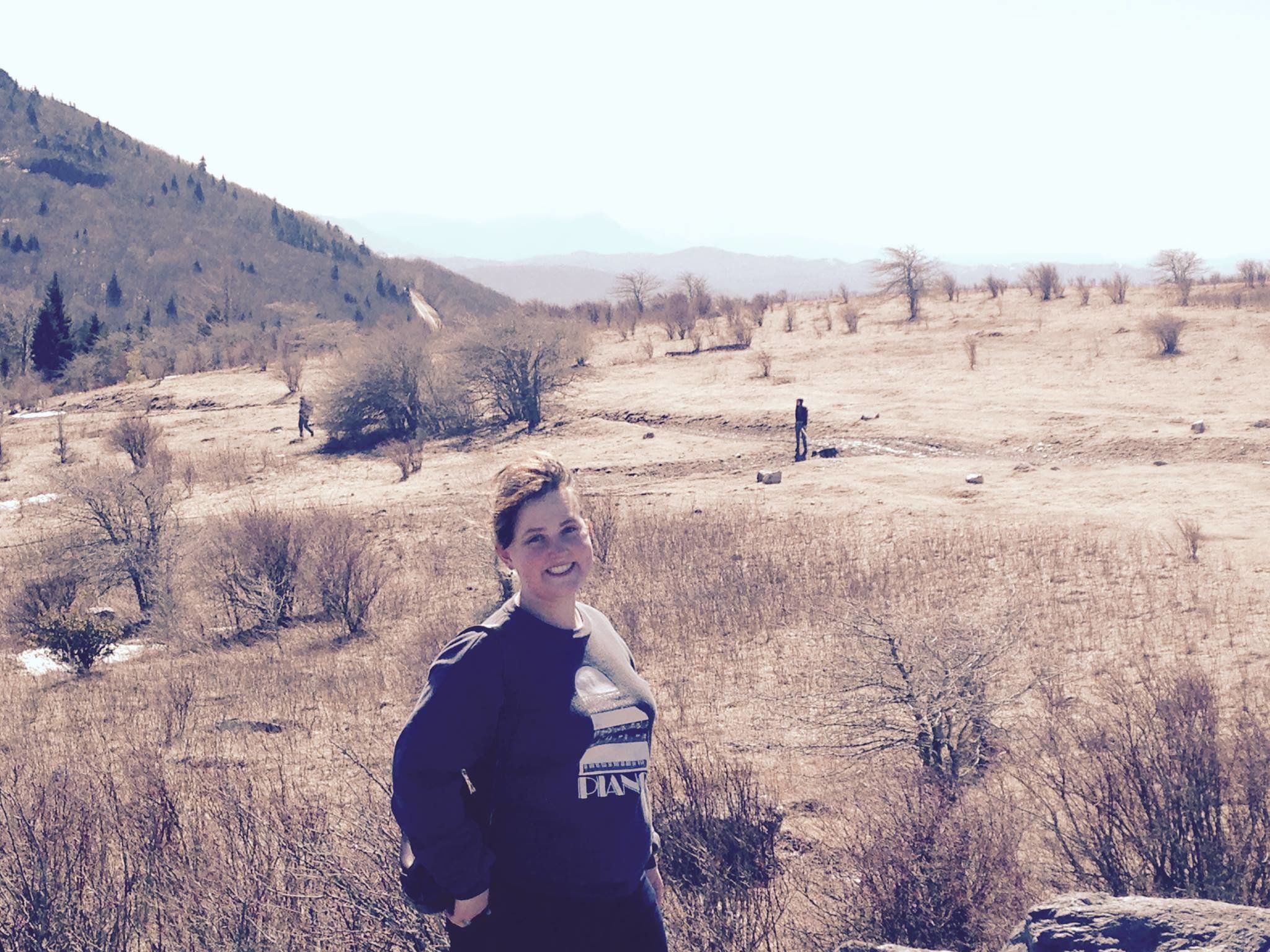 The author hiking the real Appalachian Trail, in different times.
Even when I lived on the Appalachian Trail, I always took my time on the hiking paths. Now, when I close my eyes, I can almost hear the crisp leaves crunching under my feet as I walk. I can imagine the vinegary-sweet smell of rotten apples that deer have left behind. And even in the Florida heat, I feel close to the Appalachian Mountains that I call home.
This app invites more people than ever before to learn about the trail. And that engagement can help save the actual Appalachian Trail. When people invest their time and energy into hiking, even virtually, they may be more likely to promote conservation efforts and educate themselves about policies that could harm the Appalachian Trail.

Yesterday, I took a break from walking to watch an alligator sunning itself on the bank of a lake. My phone showed me finally crossing into North Carolina, my home state. Most Appalachian Trail thru-hikers complete the trail in five to seven months. I'm on track to finish my own hike in late April or early May, so I'll walk throughout the winter and into the spring. While I miss living on the trail, I won't miss trudging through the snow.
You can prepare for your own virtual Appalachian Trail thru-hike by downloading Walk the Distance: no boots or backpacks required. Even if you don't have a group of friends to walk with you, you'll find many friendly faces cheering you on in the app. You may even consider donating to the Appalachian Trail Conservancy to preserve the trail for generations of future hikers, virtual and physical.
My trip will end in Maine, and I have many virtual miles to go. But as the parable goes, a journey of 2,190 miles begins with a single step.
Laken Brooks is a PhD student at the University of Florida where she studies disability, gender and digital humanities. When she's not studying and teaching, she is a freelance writer for CNN, Inside Higher Ed, Good Housekeeping and other national publications.