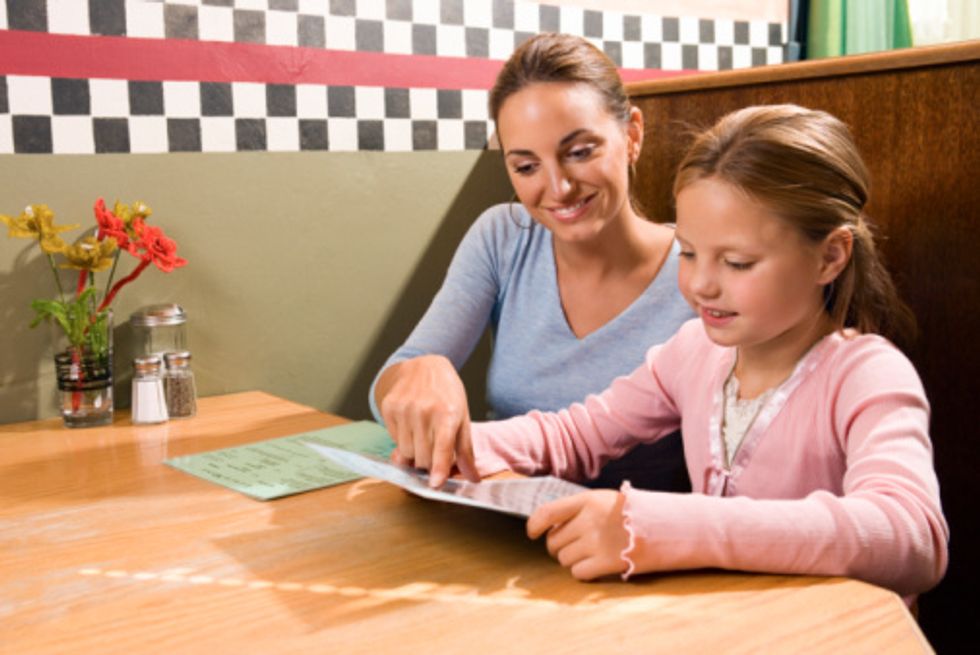 by Marcia Mangum Cronin
---
A press release just arrived in my inbox from the Family Travel Conference, recently held in New York. The travel professionals offered some great ideas for better family vacations. The number one suggestion from their survey was that restaurants, hotels and cruise lines improve children's menus to make them tastier and healthier.

I would take that a step further and suggest that they could offer small portions of regular menu items to kids. It would be easy and healthy. My husband and I raised our children to go with us to nice restaurants and to be adventurous and (mostly) healthy eaters. But it was sometimes a struggle when they'd see the kids' menu and be tempted by chicken nuggets, hamburgers, grilled cheese sandwiches and spaghetti.

At home, we have never made separate meals for our kids (who are now teenagers). They eat what we prepare and have done so since they were able to eat solid foods. They didn't always eat everything on the table, but they ate something we were serving. It would be nice if restaurants applied the same principle, instead of tempting kids with the same ol' predictable, unhealthy food.

I will note that restaurant dishes aren't always healthy—often cooked with lots of fat and heavily sauced. It's entirely possible that a simple bowl of spaghetti or chicken nuggets (approximately 200 calories for four) could be the healthier option. But, those nuggets and burgers usually come with fries. If restaurants even added apples and green beans as side dishes, it would help teach children what a well-balanced meal looks like.

I know it won't harm a kid to have the occasional meal of chicken nuggets or hamburgers, but how about if we leave that to the fast-food restaurants and encourage better dining at family restaurants? If kids are exposed to good foods, they will learn to like good foods. If they're continually exposed to junk, they'll like junk. (Have I mentioned that my kids love broccoli, salads, Brussels sprouts, squash, shrimp, salmon and almost anything else you can think of? And, yes, as teenagers, they still like hamburgers and chicken nuggets but they don't make a steady diet of such stuff.)

Many restaurants have pasta on the menu. How about offering a child-size portion of the pasta, however it is normally prepared? Many kids would enjoy a small serving of pork loin or chicken, prepared or served with some fruit and/or vegetables. Fried seafood is also popular with many kids. Fried isn't the healthiest way to serve seafood, but it does expand the young ones' palates beyond hamburgers and hot dogs.

Would restaurants be willing to offer child-size portion of some of the dishes on their regular menu for a reduced price? (There would probably be some seniors who order those smaller portions, too.) Another option, which we frequently encouraged, is to let children order from the appetizer menu (seniors often like this option, too). But, when that children's menu tempts tots with chicken nuggets and grilled cheese, it's hard for children to see beyond that.

Ultimately, it will be up to restaurants and cruise lines as to whether they heed the travel professionals' suggestion.  But a move toward healthier, more adventurous dining for children would certainly be a welcome move by this mom!