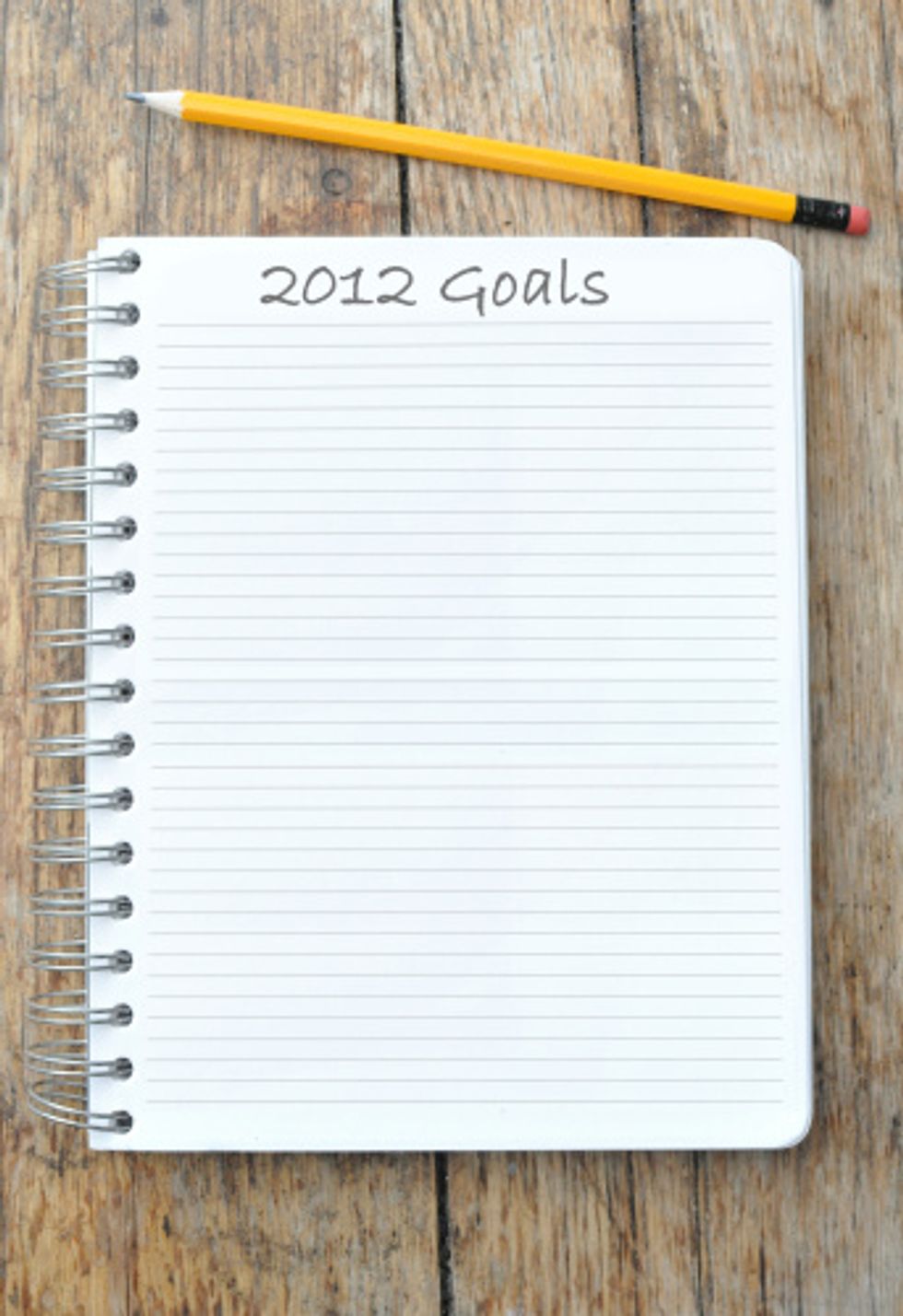 Have you made New Year's resolutions for 2012? Perhaps you've vowed to lose weight or to exercise more, or maybe you would like to quit smoking. Maybe you want to stress less or volunteer more. No, I'm not going to cite a study that says how often we fail on our resolutions. Instead, I'll be more positive (my resolution) and say that setting goals is the first step to any change that happens in your life. Goal-setting is more than making a wish and hoping it will come true. It's proven to be effective for making real changes.

So, instead of resolutions, let's call them "intentions." When we set out with a clear intent on where we want to be in the future—whether it's in one month or one year from now—everything we do moves us in that direction. However, oftentimes our resolutions don't stick because we make them too grand or abstract, so here are some tips to help make the short-term goals stick and to put our long-term intentions out into the universe.

1. Be specific. Choose a precise, positive goal for a short period. Make it challenging enough to motivate you, without being beyond your capabilities.

2. Stagger your goals. For instance, perhaps by March you would like to run a mile and then by May, a 5K race, and a 10K in September (you get it). When you string together several short-term goals, you'll discover that you've accomplished the long-term goal that once seemed so impossible.

3. Reward yourself. When you do run that mile by March, make sure to reward yourself—maybe it's by getting a pedicure to soothe those jogging feet or buying a new pair of running shoes.

4. Keep going. If you are trying to lose weight but end up indulging in a pint of ice cream one night, don't beat yourself up. Someone once said to me, a plane flying across the country goes off course many times, but it always gets back on track and makes it to its destination.

5. Dream big. Setting short-term goals helps us to achieve those resolutions, but it's also important to keep in mind the destination and visualize a desirable future. Consider where you want to be in the coming months or years. In fact, take out a piece of paper and write it down (it works, really; I've experienced it firsthand). Start with one month and then one year, three years, five years, 10 years, etc. (you catch my drift). And be bold, don't put limitations on your dreams. That's the beauty of dreams and desires; they are whatever you want them to be. Are you hoping to find a new job, buy a home, purchase your dream car, double your salary, get married, have a child or even just be happier? Set your intentions and put them out in the universe; allow yourself to dream and see where it takes you.

BONUS TIP: 6. Enter to win a Target New Year, New You giveaway!
Target wants you to stay well and meet your New Year's resolutions, so they're offering three of our readers the chance to win a special New Year, New You giveaway!

How to enter: Tell us your New Year's resolution in the comments section below and be entered to win. It's that simple! Enter by noon on January 10, 2012.

What you get: Target is offering some awesome items for making 2012 the best year yet, including:
---
C9 by Champion outfit, personalized by size, and moisture-wicking socks (look and feel good heading back to the gym!)
Up & Up Minerals or Supplements
Archer Farms Healthy Snacks (perfect for being healthy on the go!)
Archer Farms Pure Green Tea (can you say antioxidants?)
Embark Pilates Band 3-Pack (these resistance bands will help you tone and strengthen your entire body)
Up & Up Hand Sanitizer (stay germ-free this flu season)
What are you waiting for? Enter below!