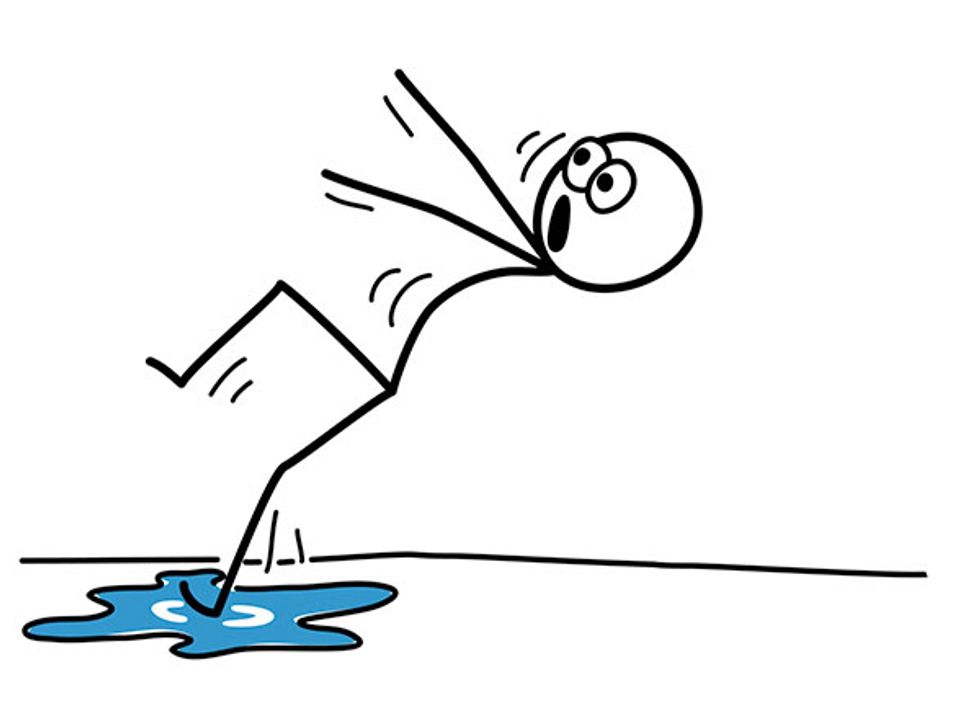 ---
One of the reasons I study and practice yoga is to maintain my balance during my life after 50. We do poses to improve our balance on two feet with poses such as "Warrior" and on one foot with poses such as "Tree." Being better balanced can help prevent falls as we age.
As the snow piled up on my doorstep recently, I was reminded of how easy it is to slip on icy and wet surfaces during the cold-weather months. Several family members and friends fell on black ice last winter. One friend fractured her elbow.
According to the National Safety Floor Institute (NSFI), falls are the leading cause of hospital emergency room visits. An AARP Bulletin in December 2015 says, "Injuries caused by falls are affecting adults ages 45 to 64, just as they are for those 65 and older, according to data collected by the Consumer Product Safety Commission's national injury-surveillance system." Not good news.
So now that you know falling is a serious health issue, what can you do to prevent a fall?
"Shoes Designed With Your Sole In Mind"
Besides practicing yoga for balance, I was interested to learn about a line of shoes that was engineered to be slip-resistant. "We are a footwear company that makes casual flats and sandals for women. However, we use a fully patented outsole that provides the strongest grip on all slippery surfaces. We focus on primarily shoes designed to prevent slips and falls," said Rhea Footwear's cofounder John Lee in his email. He offered to send a pair for me to try.


Rhea Footwear makes slip-resistant shoes and flip-flops.
The Rhea website says John and his cofounder, Paul Ahn, brought together the technology that provides superior grip on all terrains and a stylish design while at Cornell University (my alma mater). During their time in Ithaca, New York—a place where it rains and snows more often than it shines—they were unable to find shoes that were practical in the rain and snow while being stylish. Rhea was founded with the mission to deliver high-quality shoes that integrate style with technology. (Wish I had these shoes when I had to climb Libe Slope to make it to class during winters in the '70s. Half the time I felt like when I put one foot forward the other foot went backward.)
I took my Rhea blue suede loafers out for a walk after the snowstorm yesterday. They did grab the wet ground nicely—and I didn't fall. I didn't try any ice skating with them—not a sport I wanted to test out with loafers, even if they do have a high COF, better known as coefficient of friction.
John says that "as a general number in the slip-resistant shoe industry, a coefficient rating of 0.5 or above (from a scale of 0.0 to 1.0) is considered to be slip-resistant." It's like checking the tires on your car for tread.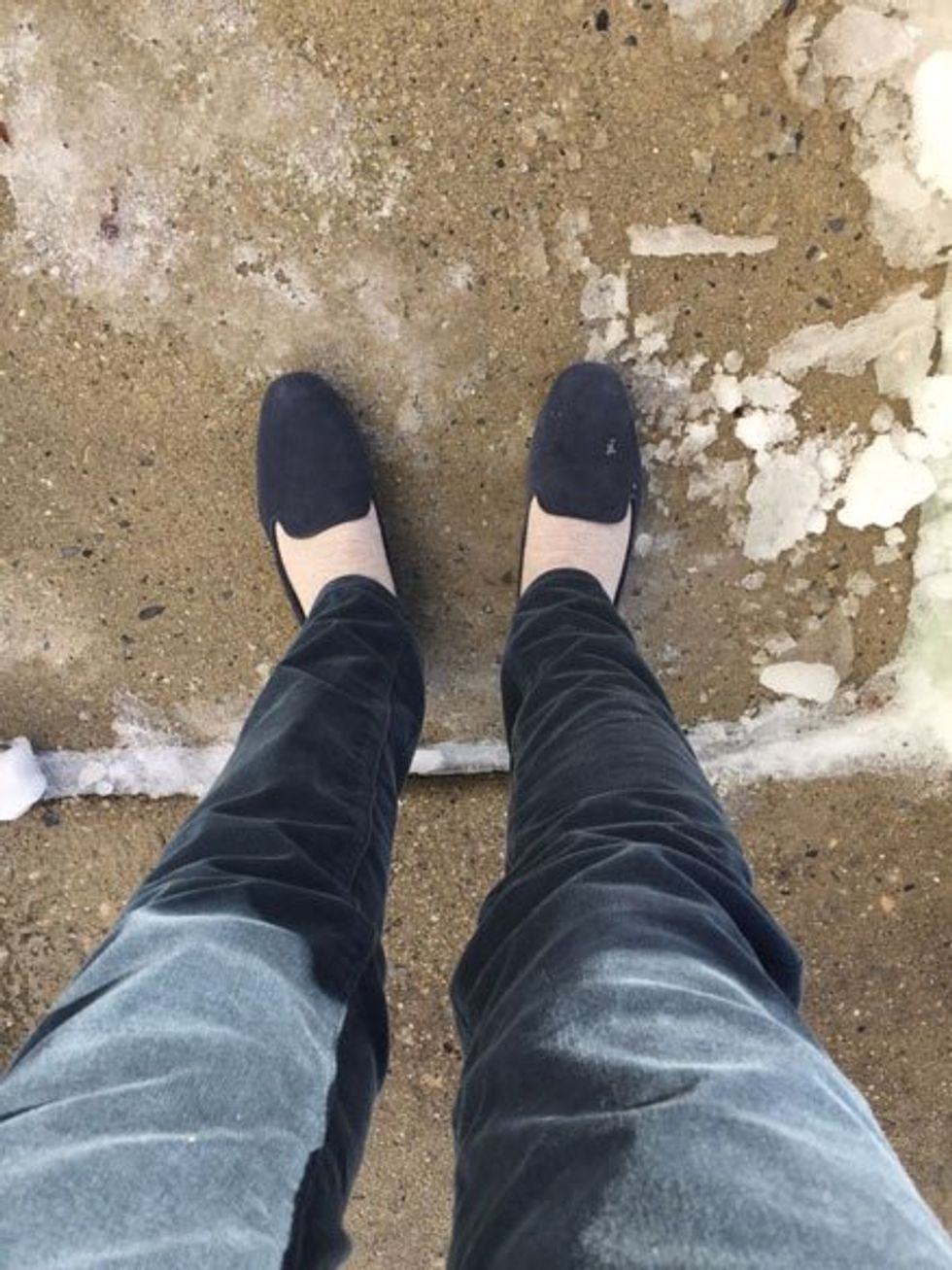 I tested out my Rhea blue suede loafers on the ice yesterday.
Finding Stylish Shoes for My Flat Feet
I do like my blue suede loafers, but I need a more supportive shoe for my flat arches. So I am sending a challenge to the smart Cornell grads of Rhea Footwear to ask them to develop a stylish woman's shoe that has more support with a thicker sole than a loafer. The shoe must also be able to fit my orthotic insert.
I just bought a new pair of SAS shoes that my podiatrist recommended with laces and  rubber soles. They aren't the most flattering fashion statement, but they are really supportive, fit my orthotic and, most important, I can wear them all day with comfort and ease.
After visiting the Rhea website and looking at the men's collection, I think the company could easily design a nice stylish lace-up shoe that would work for me. (Let me know if you are game to try it, guys!) I bet there would be a big market among boomer women.
More Tips for Preventing Falls
The NFSI has more tips for preventing falls including:
Always tie loose shoelaces.
Check the outsole of your shoes for excessive wear. Shoes provide less grip as the outsoles wear out.
Inspect and clean your shoes regularly to remove any debris that gets stuck in the outsole. Debris can reduce the resistance of the shoes.
Be extra careful when walking indoors from outside, especially when it is wet outside. Use mats to wipe and dry your shoe's outsole at the entrance to your home. (Be careful that the mats have good grippers so they don't slip around, which can cause falls, too.)
Is It Summer Yet?
The best part about summer is walking barefoot in the sand. That's when my feet are the happiest. You can find nice flip-flops that have strong nonslip soles at the Rhea website. Check them out and order a pair ahead of time at the sale price.
From my soul to your sole, I leave you my friends with a shoe quote from designer Christian Dior. As Christian says, "You can never take too much care over the choice of your shoes. Too many women think that they are unimportant, but the real proof of an elegant woman is what is on her feet."
This post originally appeared on aboomerslifeafter50.com.