"Would you like to try our teas?" said the representative from Adagio Teas. 
---
"Yes, yes, yes," I replied. I received a gift certificate to purchase some tea and tea ware. The package arrived a few weeks ago, and I waited until my BFF R visited last week to enjoy a relaxing pot of tea for two.*
I was excited to try Adagio Teas and carefully unpacked the gift items I had ordered: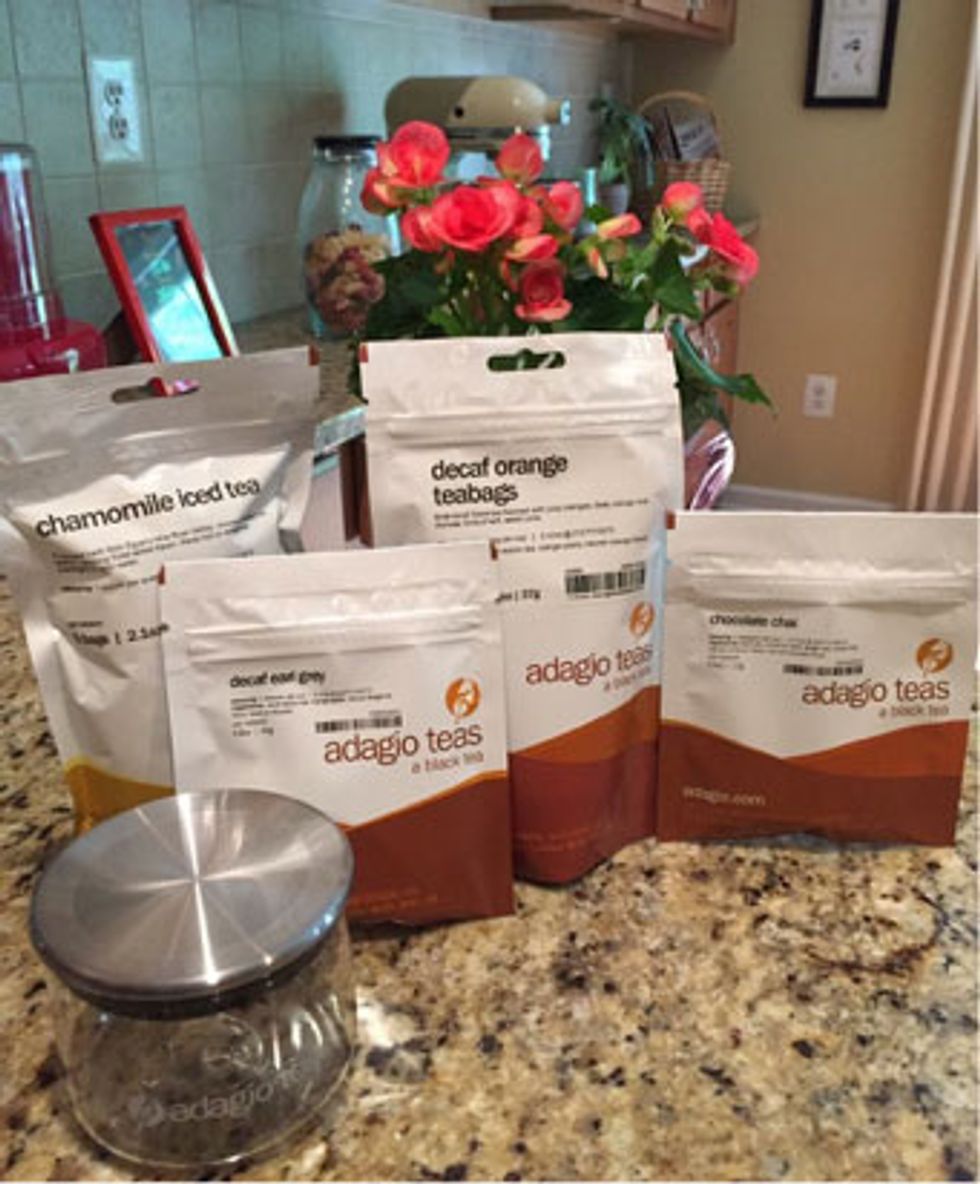 Glass jar for: The jar blocks UV rays that can harm the tea.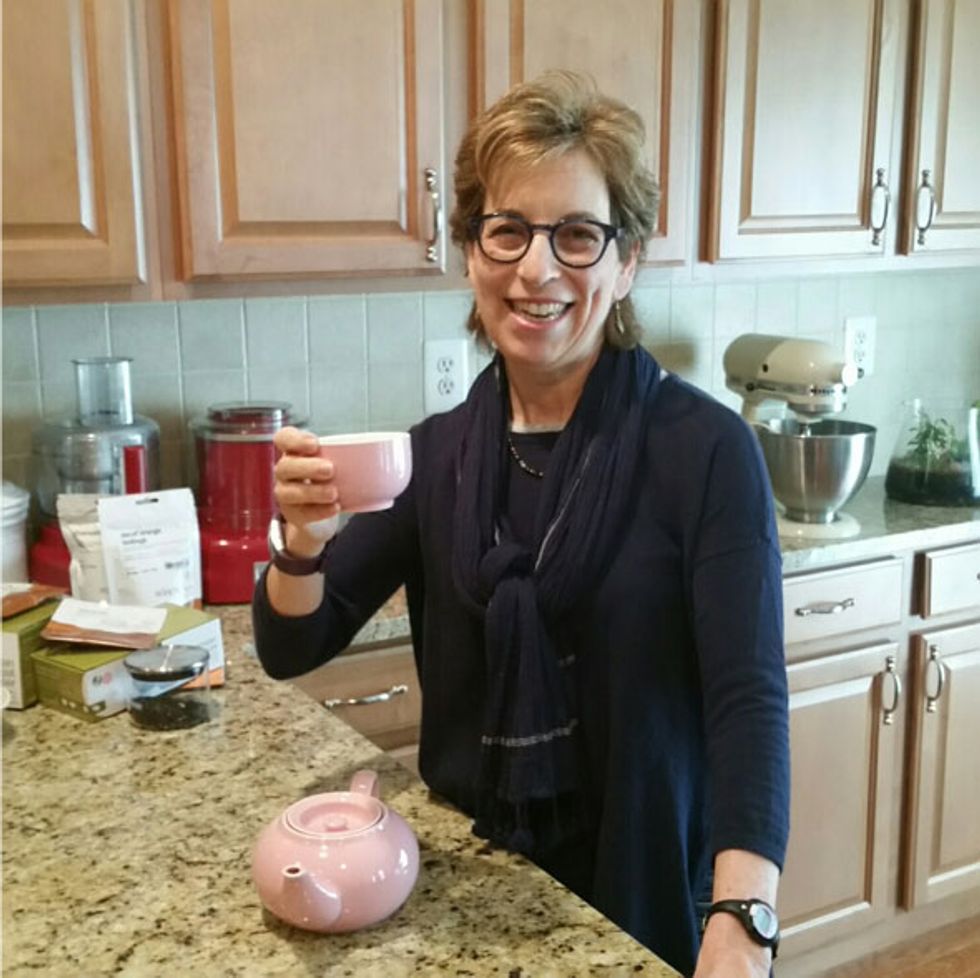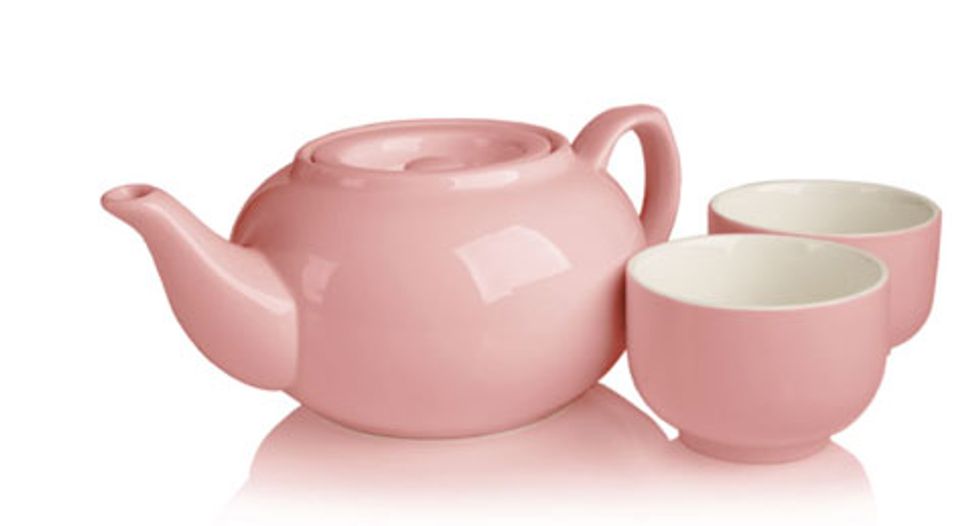 I found both the teas and the tea ware reasonably priced. Definitely a good gift idea for a housewarming party, birthday present or for anyone who likes tea. The teapots cost $14 for ceramic; $24 to $34 for glass; and $49 to $59 for cast iron. And you can try sample packs of loose teas for as little as $2.
Stop, Breathe and Enjoy a Mindful Cup of Tea
Preparing a cup of tea using tea leaves can be a very mindful experience. Boiling the water, measuring the tea (all you need is 1 teaspoon of loose Adagio tea per cup), inhaling the fragrant tea leaves, watching the water change color and then savoring each sip.
If you want to practice meditation while the tea steeps (which takes about 3 minutes for most Adagio teas), I recommend sitting down, closing your eyes and silently repeating the mantra "So Hum." Being a yogi, I find this helps me relax and gain mind body awareness. "So Hum" is an ancient Sanskrit mantra meaning "I am that," which represents the connectedness of all beings. Repeat "So" on the inhale and "Hum" on the exhale.
Fresher Than Store-Bought
The decaf Earl Grey tea was an amazing improvement on my British blend tea bags and was great for breakfast. According to Adagio Teas, its teas come direct from growers and are fresher than store-bought.
R and I liked the decaf orange tea, too. We enjoyed a cup after dinner. 
And yesterday I made a pitcher of the decaf iced chamomile tea. It is ideal for today's 90-degree weather and hot summer days.
Steeping a Perfect Cup and Other Tea Tidbits
The Adagio Teas website provides an abundance of information about the key ingredients to making a perfect cup of tea. They say the "trick to steeping tea correctly comes in five parts: water, weight, temperature, time and equipment." 
If you are passionate or simply curious about tea, I highly recommend you check out their tea-making tips and explore all their other fun websites, such as teamuse.com (filled with practical insights on the benefits of tea) and teamap.com (great places to find tea nearby and wherever you travel). The content is written in a fun and friendly manner. 
Reading My Tea Leaves
Drinking these teas brought back memories of my childhood—when I would enjoy a cup of tea with my nana. Sometimes she would read my tea leaves after we finished drinking our tea. Like a dear nana, she always gave me positive fortunes.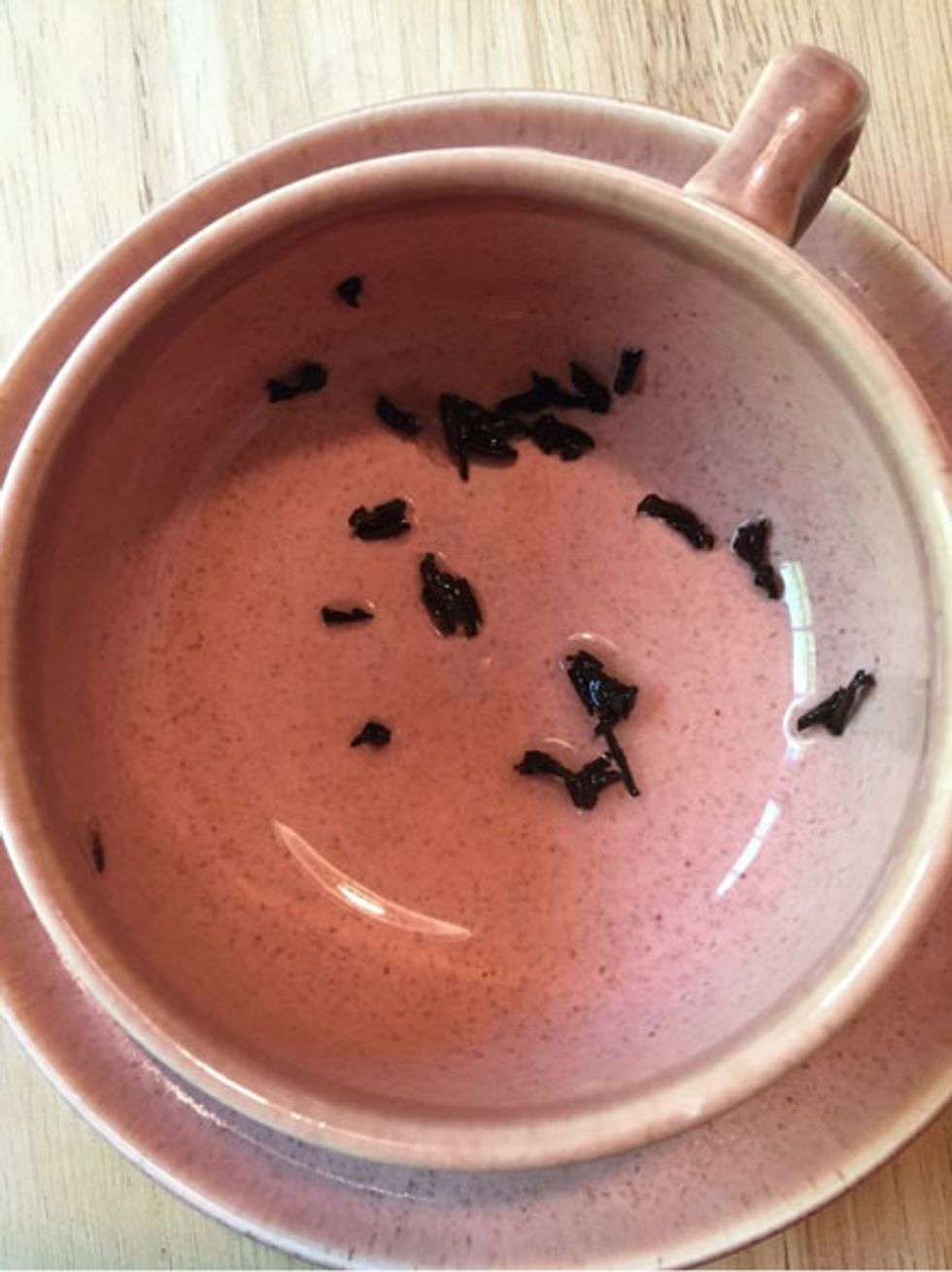 Being ever inquisitive, and older and wiser, I decided to try to read my own tea leaves. I sipped my Earl Grey tea and then googled the ritual to learn more about "Tea Reading Tasseography" from the Tea Association of the U.S.A. 
It was all so fascinating. I followed their directions, circling my cup of leftover leaves. What mysteries would my leaves reveal? Hmm, hmm, hmm! 
I saw a few straight lines on the bottom of the cup; this means quick journeys.
I saw what looked like a flying bird near the rim; birds bring good luck and, if flying, good news from the direction it comes.
I saw an ax on the bottom of the cup—oh no, oh no, oh no. This can mean difficulties in the near future. (Note: Please take a look at my tea leaves above and let me know if you see an ax, too. Or what do you see?)
I wish my nana were here to tell my fortune. She was definitely a better fortune teller than me!
This post originally appeared on aboomerslifeafter50.com.