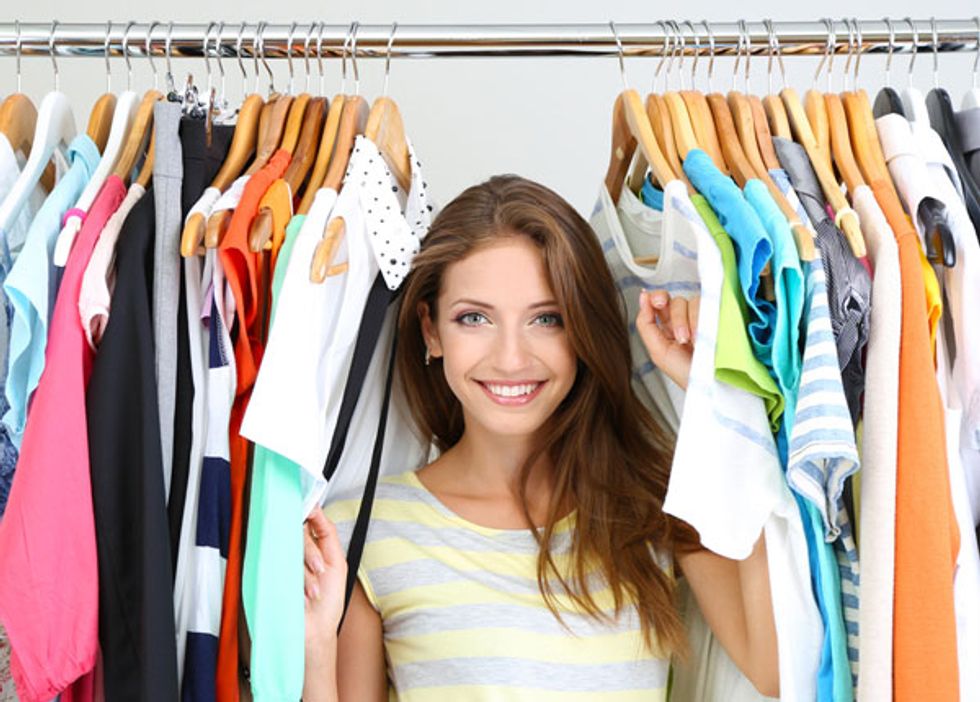 ---
Happy spring! It's time for my fashion forecast. After reading a total of 2,000+ pages including Vogue, InStyle, MORE, and O, The Oprah Magazine, plus countless Nordstrom catalogs, and my favoriteT Magazine and weekly Style sections of The New York Times, I'm ready to give you the lowdown on this season's trends.

The good news is that I just decluttered my closet so there's plenty of empty space waiting to be filled. It's been two years since I left my full-time job—out went all my tailored suits, skirts, dresses and heels. While I'm still a fashionista, my semiretired lifestyle demands more casual attire. As for the corporate gig, I now enjoy helping my daughter A establish her career-building wardrobe.

Spring Fashion Trends to Rock the Season
Here are highlights along with pictures from my recent purchases and some candid commentary. There are so many trends that it sometimes feels like anything goes:


White is always in season. This year you'll see white lace tops and white eyelet skirts and dresses. (I bought a pair of white jeans last year, but not too many whites for me—I always seem to get blueberry stains on my white tops.)
"'70s Are Back Again." That was the headline in a recent New York Times Style section. Vogue editor-in-chief Anna Wintour mentioned the '70s decade in her letter last month. (Remember the hippie styles? I had my share of peasant blouses and patchwork prints. Sadly, I didn't save any of these oldies.)
Gingham is popular. (I like gingham in pastel colors for the summer, especially gingham sundresses.)
Jumpsuits are jumping. (I don't know about this trend. I like the look of jumpsuits but don't like undressing when I have to go to the bathroom. Ugh!)
Jungle, tropical and floral prints are popping. Look for a variety of bold colors beyond the standard green. (Wasn't this a trend last year?)
Slim tunics are stylish. Wear them alone, belted, or wear them over leggings. (This style may be good for petite frames like mine. The team at Coolibar sent a stylish tunic to try. All their clothes are made with sun protective fabrics so UV rays cannot penetrate through to your skin.)
Maxi dresses are made for day and night. (Designer Camilla Olson sent a sample of her new tucked maxi. I'm such a lucky blogger. I can't wait to wear the maxi to my niece's destination wedding. The simple darts coupled with my Spanx slim out my middle-aged middle. Plus the modal fabric is easy to pack without wrinkling.)
Wide-leg trousers and culottes to cover your legs. (Did someone say culottes? They seem to crop up again and again. I think culottes belong in the '70s or was it the '80s when I wore midi-culottes. Maybe they're best forgotten.)
Relaxed trench for rain or shine. (I tried on a dark blue relaxed trench at the Loft but even an XS was swimming on my petite frame.)
Jeans are a standard, whatever the weather. Whether you like them skinny, distressed, boyfriend, ankle or short, you can have it your way. (I still love my DL Florence Instasculpt  jeans. They are the best and don't stretch out. However, I bought a pair of distressed boyfriend striped jeans at the Loft because they fit me perfectly. Am I too old to wear distressed jeans? It was final sale so I cannot return them. Let me know what you think with a comment. I'm a bit distressed about wearing my distressed jeans during my life after 50.)
Activewear is for exercising—or all day long. (This is my favorite type of clothing and occupies the largest section of my closet. I love Zella leggings for yoga. Covered Perfectly, created by boomer Pauline Durban, sent a Simple Comfort Orchid tee that I like to wear to yoga too.)

Color Trends to Brighten Your Spring Wardrobe
The editors at InStyle magazine shared a wonderful section on the top 10 color trends in their April issue. They worked with the experts at Pantone Color Institute to create "An Insider's Guide to This Season's Colors." And the winners are:


Strawberry ice
Classic blue
Aquamarine
Toasted almond
Lucite green
Scuba blue
Custard
Marsala
Tangerine
Glacier gray

Accessories to Activate Your Sunny Styles
I always like to accessorize, unless I'm going to the gym. (I take that back, I usually also wear coordinated socks and sneaks. Sorry, I cannot help myself. I do need a fashion detox—maybe during my life after 60 or 70. Or will I forever be like the 90-year-old style icon, Iris Apfel,  whom I adore.)

Here's the accessory report from my 2,000+ pages of reading. You don't have to buy them all—just treat yourself to a few. Mother's Day is coming up next month so if you're a mom, perhaps send this list to your kids.


Sheer pink sunglasses
Sporty accents like sneakers with a dress
Strappy sandals (some are wearing these with socks)
Bucket bags
Pale gems and pastel watches
Skinny silver and gold long necklaces
Neutral nail colors
Retro pink lips
"Au natural face"
Classic black shades

There you have it. My fast-paced forecast of spring 2015 fashion trends. Let me know your favorites and what looks you'll be wearing this season.

Let the sunshine in!

This post originally appeared on aboomerslifeafter50.com.